Affiliate Disclosure: This post contains affiliate links to eBay, Amazon, and other platforms within the content, sidebar ads, and in other areas. As I am part of the eBay Partner Network and other affiliate programs, if you follow these links and make a purchase, I will receive a commission. Likewise, as an Amazon Associate I earn from qualifying purchases.
I'll just come right out of the gates with an opinion on this one. I like the fact that with some card grading companies like SGC and BGS (and even new grading company TAG) there is some sort of differentiation between 10 grades. For Beckett it's the "Pristine" black label and with SGC, it's the "Pristine" gold label.
Why doesn't PSA have some sort of "special" 10 grade? It's because PSA doesn't offer any type of subgrade like Beckett or SGC, and thus it's impossible to know how one gem mint PSA 10 compares to another.
What is the SGC Gold Label?
The SGC Gold Label is awarded to cards with perfect centering, corners, edges, and surface, and is the highest available grade a card can receive when graded with SGC. In SGC's words, it's a "flawless" card, and thus if SGC awarded subgrades, they'd all be perfect 10s.
Label Look & Design
The SGC Gold Label is exactly how it sounds, while also being nothing like it sounds at the same time. Meaning, while the label does include some gold, I'd almost prefer the entire thing to be flashy, in-your-face, can't-miss-it gold. I also love 90s inserts with explosions, fireworks, and laser beams, so I might not be the best person to ask, but still. I think many would agree that, while cool, it could be cooler.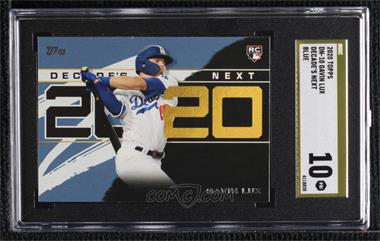 SGC 10 Pristine Gold Label vs. Gem Mint
A little unknown fact in card grading is that even when a card receives a "gem mint" grade, it can still have a minor imperfection. For instance, a gem mint SGC 10 might have 55/45 centering and/or a slight print spot "if it does not detract from the aesthetics of the card." Thus, the "pristine" is perfectly centered and spotless.
Gold Label Values
Is an SGC 10 Pristine Gold Label worth more than its SGC 10 Gem Mint counterpart? I'd sure hope so, but let's take a look. While the examples below may seem random, that's because they are—there aren't a lot of gold labels out there, so finding cards that were sold recently as both a Pristine Gold Label and Gem Mint 10 is difficult.
On 2/22/23 a 2019 Finest Fernando Tatis Jr. SGC 10 Pristine Gold Label sold for $180! That same card as an SGC 10 Gem Mint sold for $38.50 in early February and $27 in late January.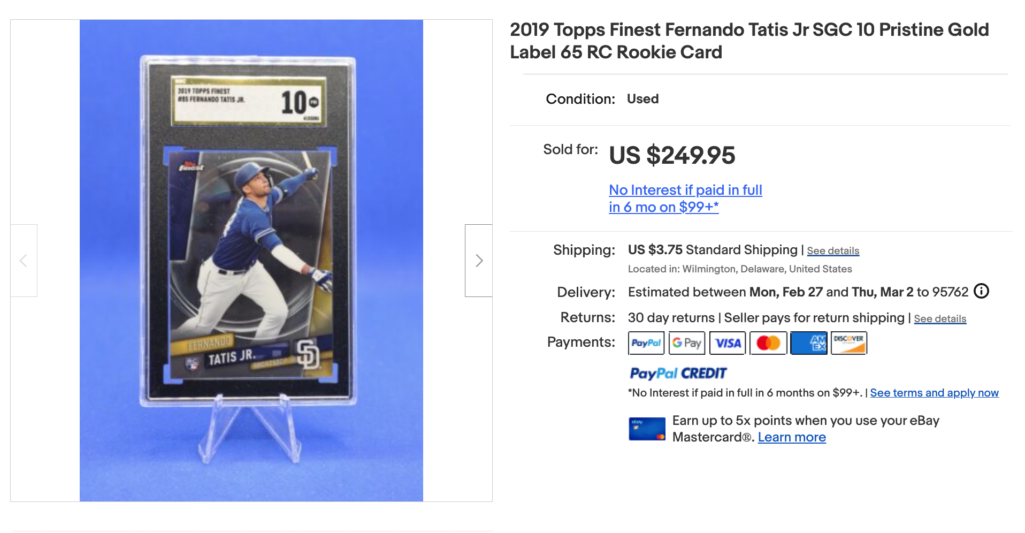 Similarly, a 2019 Bowman Chrome Mojo Wander Franco SGC 10 Pristine Gold Label sold for $300 in mid-February, and while I don't see any recent sales of the same card in Gem Mint condition, the lowest-priced option currently for sale is much lower, at $124.99.
Last, for lower-priced card, the 2020 Topps Gavin Lux SGC Pristine Gold Label sold for $40 in late January, while a regular gem mint sold for just over $2 in December!
So, yes, there is such a thing as the SGC Gold Label bump…Would I try and submit all of my Gavin Lux base rookies trying to land one? No, but just saying.