Affiliate Disclosure: This post contains affiliate links. As I am part of the eBay Partner Network and other affiliate programs, if you follow these links and make a purchase, I will receive a commission. Likewise, as an Amazon Associate I earn from qualifying purchases.
In order to tell if a card is worth grading, there are two main factors. One, check to make sure the condition is worthy of grading. Visually inspect the corners, centering, surface, and edges. If the corners are sharp, the card is centered, and the surface and edges are free of blemishes, it's a great first step. Next, you need to check if grading makes sense for that particular card. That is, will grading increase the value of the card? The answer here depends on the type of card, population, demand, and more.
The above instruction is general in nature, and each different card will present a different scenario in which these factors are weighed against each other. There are also other factors to consider, like how much it costs to grade a card, how quickly a card can be graded, and more.
Here are a couple of common examples.
Modern Cards
When it comes to newer "modern" cards, you'll find most of them pass the condition test in terms of corners and edges. That is, because they were printed recently – as in this year, last year, etc. – they will typically have sharper corners and smooth edges.
Centering, though, knows no age. Meaning, a card can be brand new and fresh out of the pack, and still be wildly off-center. You see it all the time, and unfortunately, you see it with some of the biggest cards in a set. It just happens.
Don't know if it's just my packs but the centering on @Topps update are pretty off center. 90% of the cards I've opened look like this pic.twitter.com/gY2KQUzacR

— CHEFCOUCH (@CHEF_COUCH) April 30, 2023
Surface issues can be a result of consumer handling, like if I were to drop a quarter on the face of a Topps Chrome card, damage may result, or, can just be something that happens while printing and manufacturing.
All this to say, modern cards are going to be in better condition than vintage, for the most part. I think we can all agree on that.
On the other hand, though, because there are "many" cards in PSA 9 or 10 condition, the question of "does it make sense" to grade this card comes into play more and more.
It's at this point you should become familiar with "pop" or population count from PSA and other graders. The "population" of a graded card tells us how many cards of a specific type have been graded. From this information, we can also see how many of a particular grade exist.
Almost five thousand 2022 Topps Series 1 Wander Franco base cards have been graded so far pic.twitter.com/UccPh5yjQm

— Card Purchaser (@CardPurchaser) October 10, 2022
Knowing that 5,000 of a particular card have already been graded is a good sign that grading your copy might not provide much of any value.
Let's look at a "today" example. We know that Adley Rutschman was one of the hottest names in 2023 Topps Series 1 which was released in late February. So if I wanted to check out how many of his rookie cards have been graded by PSA, I'll head to the PSA Pop Report and will search by player name, category, or set.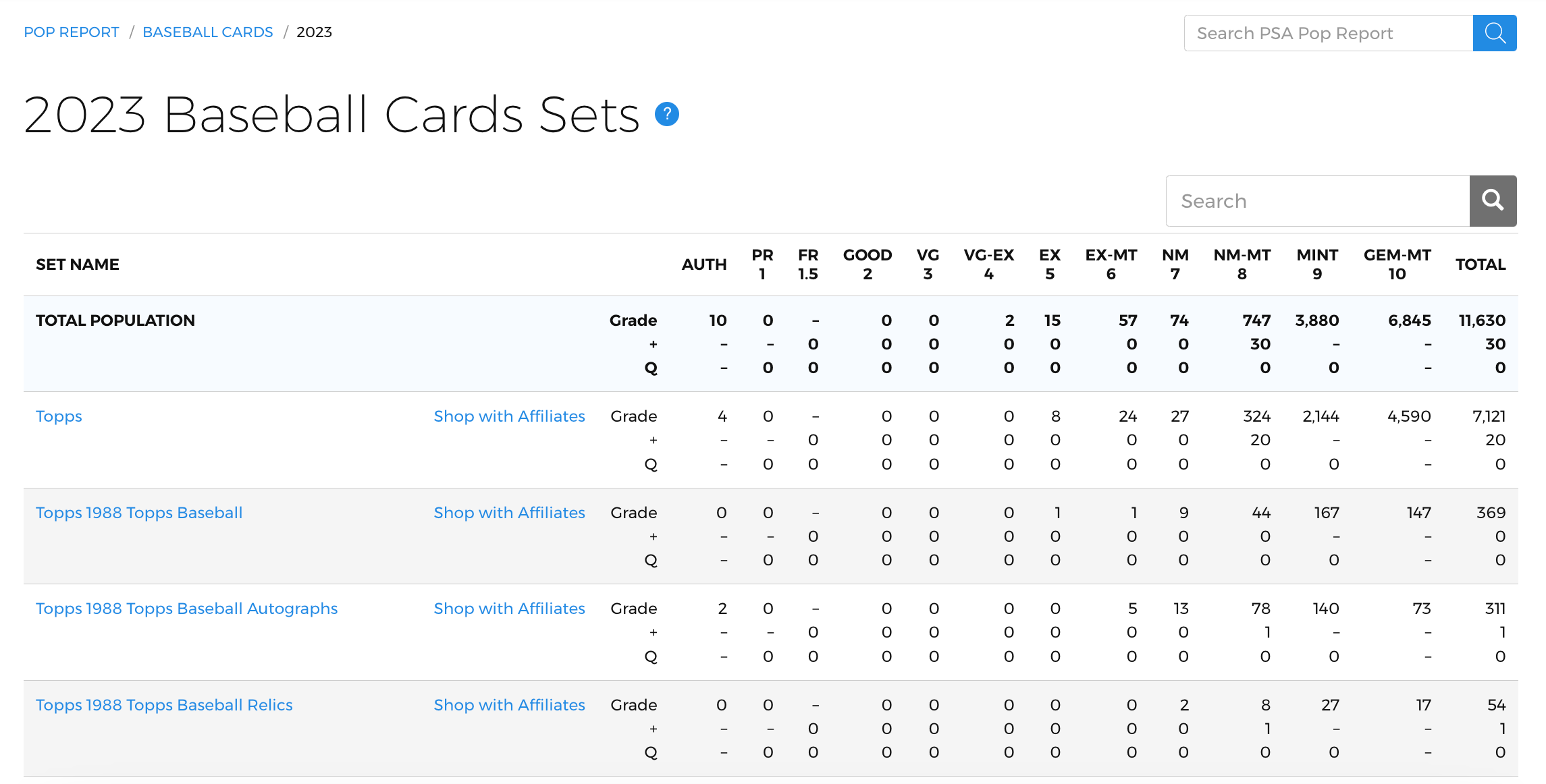 Here you can see all of the 2023 Topps sets. If I wanted to check Adley Rutschman's flagship rookie card, I'll click into "Topps." Through this link I can see that card #250 has been graded 1,025 times. 702 of those resulted in a PSA 10 and another 268 in a PSA 9. That's a lot of cards for a couple of months' time span.
What does this mean for value? The lowest-priced copy of that card is available on eBay for $49.99 plus shipping. Thus, if I were to get that card graded with the expectations of selling it right now, I'd probably need to list it for lower than $49.99.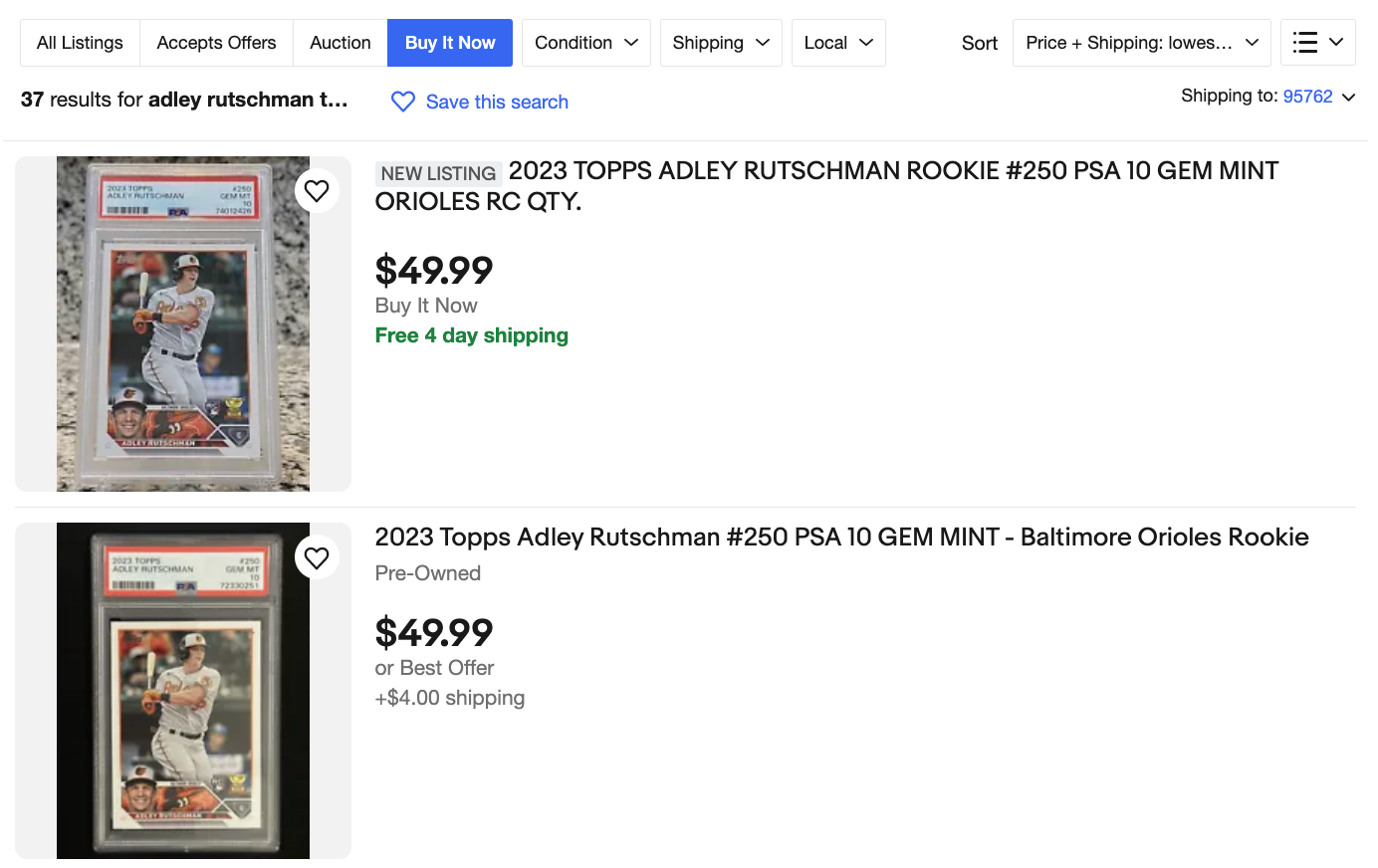 And this is assuming your card receives a 10 from PSA. If it were to receive a 9, the lowest-priced card is $28.99. 
And here lies the challenge—is this worth it? If you're part of the PSA Collector's Club, you can submit for as low as $19/card, but must submit a bulk 20-card order. If you didn't want to grade in bulk, the next-best option is $25 per card, which is where it gets interesting. Does it make sense to pay $25 (plus shipping etc.) for grading, and wait 65 days for a card to be graded? If you get a 10, it seems to be worth it—but a 9, not so much!
So, you can see in this modern card scenario, you'll not only want to be examining the condition to see if grading is worth it, but also what the population counts look like, and what the current sales data is telling you. 
Vintage Cards
Now, it's not to say condition doesn't mater with vintage cards, but rather it could be very well "worth it" to grade vintage cards even if the highest grade you'd expect for a card was only a PSA 8 or even well lower.
Again, it all depends, but the idea is that vintage cards are of course older, and there are fewer in circulation. So, given that those cards that are out there might have been handled by multiple people, their condition is thought of to be generally worse. Thus, even if you had could only be a PSA 7 or 8 of a vintage card, it could still be worth it.
For example, while there have been over 3,600 1964 Topps Hank Aaron cards graded by PSA, there are only 8 PSA 10s (not to mention only 85 PSA 9s). Meaning, top grades are scarce! Here is a quick list of how certain grades translate to value:
PSA 7 $535.78 5/1/23
PSA 6 $450 4/26/23
PSA 5 $133.78 4/29/23
So at these prices, you can see why it still might make sense to pay $40-$75 to grade a vintage card like this if you have one that might get a PSA 5.
All in all, it's important to take both condition and expected value into consideration when considering grading your cards and figuring out what might be worth it or not.