Affiliate Disclosure: This post contains affiliate links to eBay, Amazon, and other platforms within the content, sidebar ads, and in other areas. As I am part of the eBay Partner Network and other affiliate programs, if you follow these links and make a purchase, I will receive a commission. Likewise, as an Amazon Associate I earn from qualifying purchases.
Yes, more jersey cards, but let's talk about it—the Jersey Fusion checklist is not from your average baseball card set.
What is Jersey Fusion?
Jersey Fusion is a set of cards that combine classic trading cards and player-worn or player-used memorabilia. While jersey cards are a dime a dozen in today's card sets, what sets Jersey Fusion apart is that they "add" memorabilia to already-existing cards (or, "fuse" them together).
Your typical run of the mill jersey or relic card will say something along the lines of "congratulations, you've received a piece of game-worn material from player XYZ."
Keon Johnson gold disco #1/10- 50$ bmwt. Kd jersey fusion 1/1 player worn from 2015 all star game- 45$ bmwt. Julio 6 card lot- 15$ pwe. Or steal all for 85$ bmwt!!!! @CardboardEchoes @sports_sell pic.twitter.com/dNPqiEOHld

— erikk4 (@erik4395) December 5, 2022
As you can see on the back of the Kevin Durant card in the image above, you're getting more details:
Who: Kevin Durant
What: Full Practice All-Star Uniform
When: Worn on February 14, 2015
More Details: Scan the QR Code
While the above information is cool enough to see, when you scan the QR code, you're taken to this page, which shows the uniform used for the card, along with the photo match comparison (or certificate of authenticity in some cases).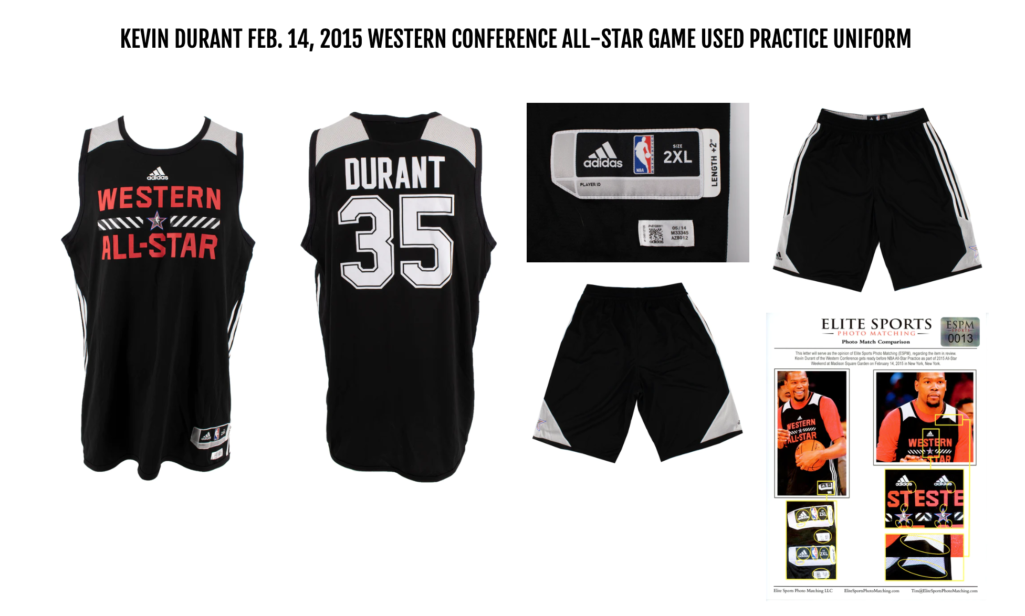 One other big difference, too…while I've never held a Jersey Fusion car in my hands just yet, I've seen a few TikTok commenters state that the memorabolia piece isn't actually a part of the card, and more or leass sits on top of it. You can check out the video and read the comments here:
Jersey Fusion Checklists
With all that said, there doesn't seem to be a traditional checklist breakdown. Meaning, if you go to their site, you have to click through different images to figure out which players are fetured, etc. So, I tried to make things easier for you by compiling this list.
There are multiple Jersey Fusion products, but I've only been able to create the Baseball 2022 breakdown so far. Check back later for new releases and additional products!
| Number | Article | Player | Product |
| --- | --- | --- | --- |
| ak80p | Pants | Kaline, Al | Baseball '22 |
| am11as | Jersey | McCutchen, Andrew | Baseball '22 |
| am513 | Jersey | McCutchen, Andrew | Baseball '22 |
| ao82 | Jersey | Oliver, Al | Baseball '22 |
| ap01 | Jersey | Pujols, Albert | Baseball '22 |
| ap07 | Jersey | Pujols, Albert | Baseball '22 |
| ap613 | Jersey | Pettite, Andy | Baseball '22 |
| ar02 | Pants | Rodriguez, Alex | Baseball '22 |
| ar1015 | Jersey | Rodriguez, Alex | Baseball '22 |
| bb07 | Jersey | Bonds, Barry | Baseball '22 |
| bb94 | Pants | Bonds, Barry | Baseball '22 |
| bh914 | Jersey | Harper, Bryce | Baseball '22 |
| bp17u | Pullover | Posey, Buster | Baseball '22 |
| bp917 | Jersey | Posey, Buster | Baseball '22 |
| bw96 | Jersey | Williams, Bernie | Baseball '22 |
| cb715 | Jersey | Beltran, Carlos | Baseball '22 |
| cc19 | Jersey | Correa, Carlos | Baseball '22 |
| cf91 | Jersey | Fisk, Carlton | Baseball '22 |
| cj07 | Jersey | Jones, Chipper | Baseball '22 |
| crj01as | Pants | Ripken Jr., Cal | Baseball '22 |
| crj99j | Jersey | Ripken Jr., Cal | Baseball '22 |
| crj901 | Pants | Ripken Jr., Cal | Baseball '22 |
| cs811 | Jersey | Sabathia, CC | Baseball '22 |
| cs919 | Jersey | Seager, Corey | Baseball '22 |
| cy78 | Jersey | Yastrzemski, Carl | Baseball '22 |
| dd60 | Practice Shirt | Drysdale, Don | Baseball '22 |
| de97 | Jersey | Eckersley, Dennis | Baseball '22 |
| dj03 | Pants | Jeter, Derek | Baseball '22 |
| dj11 | Pullover | Jeter, Derek | Baseball '22 |
| dj614 | Jersey | Jeter, Derek | Baseball '22 |
| dl58 | Pants | Larsen, Don | Baseball '22 |
| dp514 | Jersey | Pedroia, Dustin | Baseball '22 |
| ds00 | Jersey | Snider, Duke | Baseball '22 |
| ds92 | Jersey | Snider, Duke | Baseball '22 |
| dw93 | Jersey | Winfield, Dave | Baseball '22 |
| eb80 | Jersey | Banks, Ernie | Baseball '22 |
| el419 | Jersey | Longoria, Evan | Baseball '22 |
| em72 | Jersey | Mathews, Eddie | Baseball '22 |
| fr86 | Jersey | Robinson, Frank | Baseball '22 |
| frj18 | Jersey | Tatis Jr., Fernando | Baseball '22 |
| gb83 | Jersey | Brett, George | Baseball '22 |
| gc517 | Jersey | Cole, Gerritt | Baseball '22 |
| gg87 | Jersey | Gossage, Goose | Baseball '22 |
| gs19 | Jersey | Springer, George | Baseball '22 |
| gt617 | Jersey | Torres, Gleyber | Baseball '22 |
| hk81 | Jersey | Killebrew, Harmon | Baseball '22 |
| ir02 | Jersey | Rodriguez, Ivan | Baseball '22 |
| is01 | Jersey | Ichiro | Baseball '22 |
| jb02 | Jersey | Beckett, Josh | Baseball '22 |
| jb518 | Jersey | Baez, Javier | Baseball '22 |
| jb615 | Jersey | Bradley, Jackie | Baseball '22 |
| jb716 | Pants | Baez, Javier | Baseball '22 |
| jc94 | Jersey | Carter, Joe | Baseball '22 |
| jd45 | Practice Shirt | Dimaggio, Joe | Baseball '22 |
| jd519 | Jersey | Donaldson, Josh | Baseball '22 |
| jh610 | Jersey | Heyward, Jason | Baseball '22 |
| jv509 | Jersey | Verlander, Justin | Baseball '22 |
| kgj91 | Jersey | Griffey Jr., Ken | Baseball '22 |
| kgj97 | Pants | Griffey Jr., Ken | Baseball '22 |
| kp94 | Jersey | Puckett, Kirby | Baseball '22 |
| la73 | Jersey | Aparicio, Luis | Baseball '22 |
| ld63 | Jersey | Durocher, Leo | Baseball '22 |
| lg87 | Jersey | Gomez, Lefty | Baseball '22 |
| mb911 | Jersey | Bumgarner, Madison | Baseball '22 |
| mc03 | Jersey | Cabrera, Miguel | Baseball '22 |
| mm61 | Pants | Mantle, Mickey | Baseball '22 |
| mm91 | Jersey | Mantle, Mickey | Baseball '22 |
| mp98 | Jersey | Piazza, Mike | Baseball '22 |
| mt13 | Jersey | Trout, Mike | Baseball '22 |
| mv00 | Jersey | Vaughn, Mo | Baseball '22 |
| nc72 | Jersey | Cash, Norm | Baseball '22 |
| nr80 | Jersey | Ryan, Nolan | Baseball '22 |
| nr91 | Jersey | Ryan, Nolan | Baseball '22 |
| os94 | Jersey | Smith, Ozzie | Baseball '22 |
| pm97 | Jersey | Molitor, Paul | Baseball '22 |
| ra17 | Jersey | Acuna, Ronald | Baseball '22 |
| rc85 | Jersey | Carew, Rod | Baseball '22 |
| rc97 | Jersey | Clemens, Roger | Baseball '22 |
| rj85 | Jersey | Jackson, Reggie | Baseball '22 |
| rm20 | Equipment Bag | Maranville, Rabbit | Baseball '22 |
| rp04 | Jersey | Palmeiro, Rafael | Baseball '22 |
| rs90 | Jersey | Sandberg, Ryne | Baseball '22 |
| ry91 | Jersey | Yount, Robin | Baseball '22 |
| sm54 | Pants | Musial, Stan | Baseball '22 |
| ss04 | Jersey | Sosa, Sammy | Baseball '22 |
| ss803 | Jersey | Sosa, Sammy | Baseball '22 |
| tcsj | Robe | Cobb, Ty | Baseball '22 |
| tg97g | Jersey | Gwynn, Tony | Baseball '22 |
| tg97j | Jersey | Gwynn, Tony | Baseball '22 |
| tg98p | Pants | Gwynn, Tony | Baseball '22 |
| th00 | Jersey | Hunter, Torii | Baseball '22 |
| tl80 | Jersey | Lasorda, Tommy | Baseball '22 |
| ts01 | Jersey | Salmon, Tim | Baseball '22 |
| ts86 | Jersey | Seaver, Tom | Baseball '22 |
| ts87 | Pants | Seaver, Tom | Baseball '22 |
| tw65 | Jersey | Williams, Ted | Baseball '22 |
| vg05 | Jersey | Guerrero, Vladimir | Baseball '22 |
| wa61 | Jersey | Anson, Walter | Baseball '22 |
| wb92 | Jersey | Boggs, Wade | Baseball '22 |
| wm78 | Pants | Mays, Willie | Baseball '22 |
| wmc08 | Jersey | McCovey, Willie | Baseball '22 |
| ws70j | Jersey | Stargell, Willie | Baseball '22 |
| yb73 | Pants | Berra, Yogi | Baseball '22 |