Affiliate Disclosure: This post contains affiliate links. As I am part of the eBay Partner Network and other affiliate programs, if you follow these links and make a purchase, I will receive a commission. Likewise, as an Amazon Associate I earn from qualifying purchases.
As minimal as it might sound, a key factor when selling sports cards online is the shipping cost. Why? Because when a buyer is looking to make a purchase, they are concerned with their total spend. This includes the price of the card, tax, shipping, and maybe even more.
And as we all know, there are a number of different ways to collect cards—some prefer purchasing the best packs and boxes, while others like to find big collections of cards online.
But there are also many people who, like me, prefer to seek out singles, or one specific card to fill a need.
Bringing this back to the introduction above, wanting to buy a $5 card is a really tough pill to swallow when you need to pay around that same amount in shipping.
Enter, the PWE shipping option—a popular method of sending cards through the mail at a reduced cost. Plain White Envelope (PWE) is a term used in the world of baseball card collecting to indicate that a card will be sent in a regular envelope without any additional protective packaging or tracking (as is the case with BMWT, or, "bubble mailer with tracking.")
Read More: The Best Way to Ship Baseball Cards Through the Mail
Thus, PWE is often used for lower-value cards where the cost of using a bubble mailer or other protective packaging is not justified. Although PWE is less secure than other methods of shipping cards, it is a cost-effective option for sending lower-value cards.
PWE Shipping Risks
As you can imagine, there are a number of risks associated with PWE shipping. And while we won't get into them all right now, it's important to note in order to ensure your PWE shipments are being sent as safely as possible.
Card damage: Since envelopes are not not as sturdy or reinforced as bubble mailers, the cards inside may be more susceptible to being bent or damaged during shipping. Not to mention that water and other elements can not only more easily penetrate a PWE, but the card inside is generally not wrapped or bubble-protected.
Loss of cards: Up until eBay introduced their Standard Envelope shipping option, PWEs were not at all trackable. Even with the advancements in shipping via the eBay Standard Envelope option, tracking isn't always updated on time, or if ever, meaning it is still very much possible for the cards to be lost in transit.
The eBay Standard Envelope option was born from PWE shipping, and gives sellers another shipping option geared toward lower-value vards.
Here is my process for shipping cards "PWE" using the eBay Standard Envelope option.
Following eBay Guidelines
Of course, eBay isn't the only online source to buy and sell cards, but I'm focusing on eBay since it is one of the more (or most) popular options.
So, to be able to ship "PWE" with the eBay Standard Envelope option, you need to follow these guidelines:
Maximum $20 (not including Tax) selling price
Cannot exceed 3 oz.
Dimensions can't be greater than 6.125″H x 11.5″L x .25W/thickness
Making the Option Available to Buyers
Again, with eBay, the very first thing you'll want to make sure when listing a card (in addition to following the guidelines above) is to ensure you select the correct shipping option when listing a card for sale.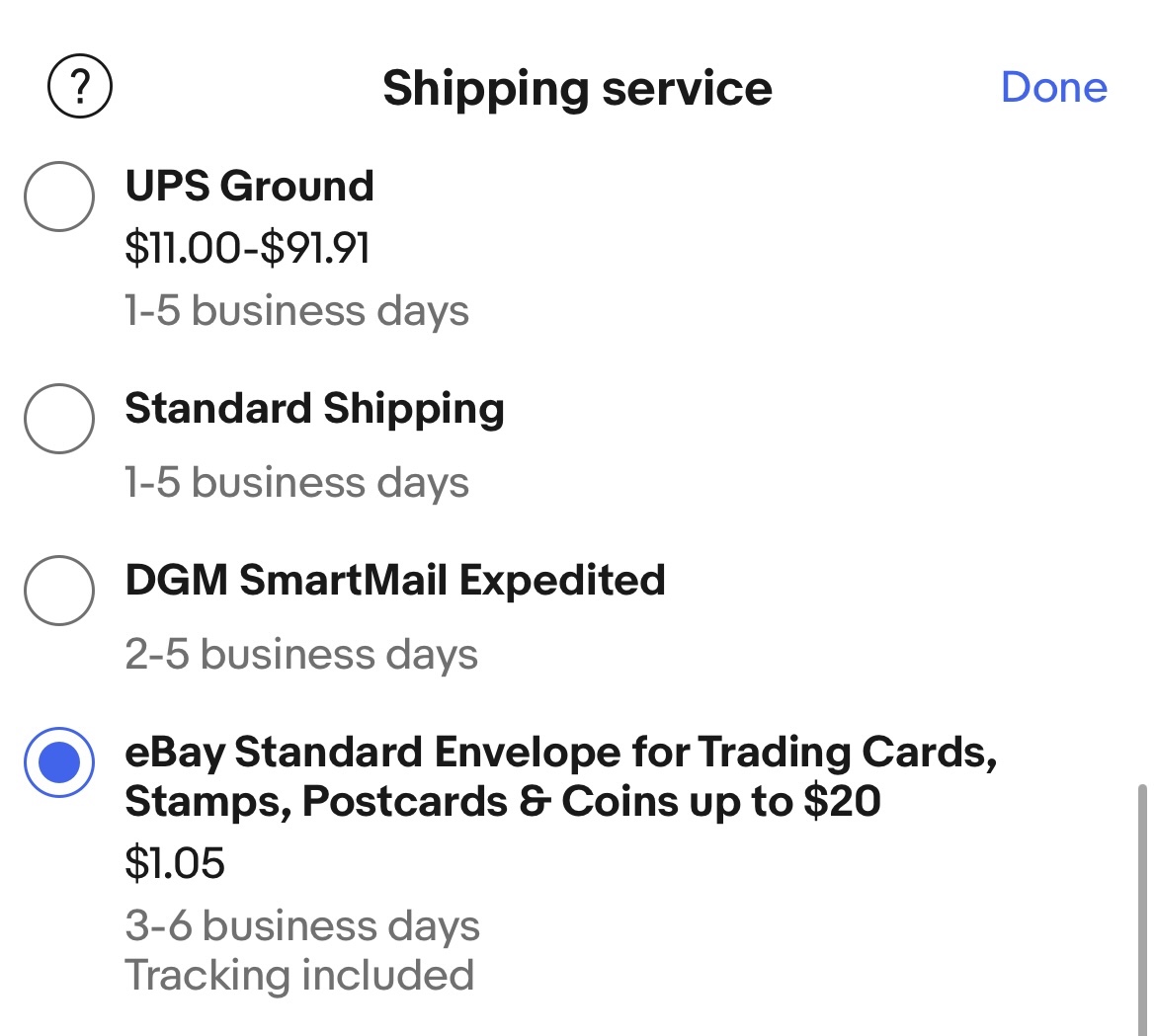 From there, once a purchase is made, the buyer will select the option when paying, you'll print off the label just like you do with packages and off you go…time to package it up.
How to Ship PWE with eBay
Before I dive in, it should be noted that there are a number of ways to ship "PWE," and a lot of it comes down to personal preference. I've only been doing it since eBay introduced the option, and have researched in order to arrive at a method I'm comfortable with.
Read More: The Fastest Way to List Sports Cards on eBay
The biggest thing for me is that I actually don't use a plain white envelope, but a photo mailer or rigid mailer (or "stay-flat") as some may call it. That's why I've actually been referring to it as "PWE."
Toploaded, with two sleeved cards sandwiching it, in a team bag. $.71 in a semi-rigid "photo mailer" envelope. Zero send backs.

— The Breaks (@WatchTheBreaks) July 13, 2021
EBay specifically addresses the "rigid envelope" method with the following:
"If you need to use a thicker or more rigid envelope to better protect what you're shipping, check with your local post office to ensure your envelope fits the postage bracket and guidelines."
It's not a point to take lightly, especially if you plan on making PWE shipping a regular activity.
Given all of this, here is my personal process:
Put card into a penny sleeve
Put piece of painter's tape over top loader opening
Put sleeved card into top loader
Put card into team set bag
Add painter's tape to all four sides of team set bag
Secure card to inside of photo mailer using tape from step 5
Seal photo mailer
Add shipping label
Drop in mail box
All of this is pretty straightforward, but to help you visualize step 5: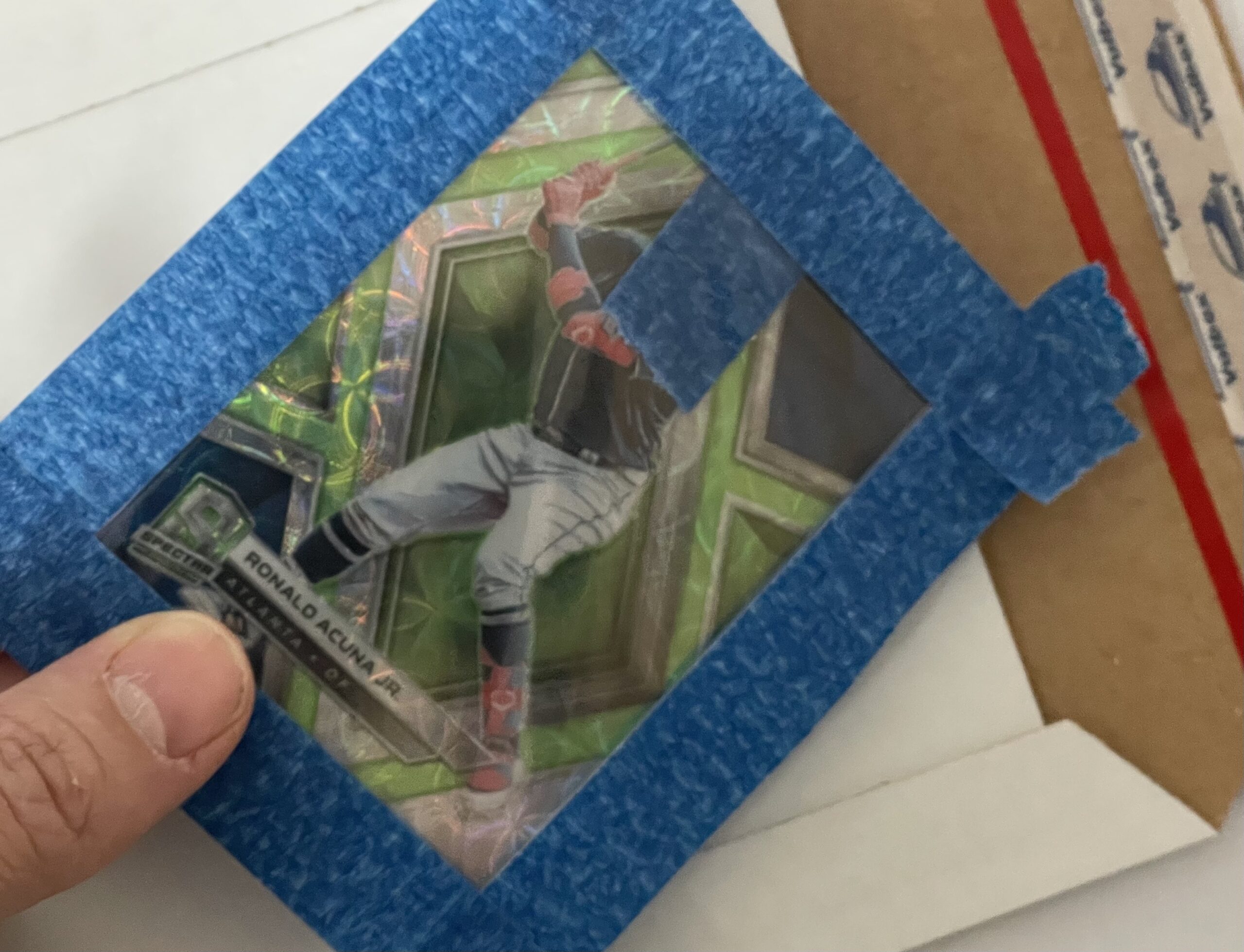 If this isn't enough, you can also browse YouTube to get some ideas. For instance, this method from Mike's Retro Trading Cards in the video below is very similar to how I go about it:
For more on packaging and sending out cards to buyers or trade partners, read about how to ship graded cards safely.