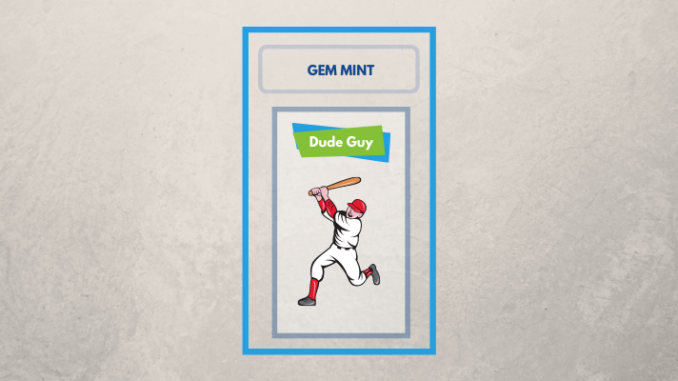 Affiliate Disclosure: This post contains affiliate links to eBay, Amazon, and other platforms within the content, sidebar ads, and in other areas. As I am part of the eBay Partner Network and other affiliate programs, if you follow these links and make a purchase, I will receive a commission. Likewise, as an Amazon Associate I earn from qualifying purchases.
July 2021 Update: PSA has just announced they will be grading cards in-person at the 2021 National Sports Collectors Convention. Please see the announcement here, but to summarize, fees will start at $250 per card. To quote: "…all "End of Show" orders must be submitted and received by Saturday, July 31, at 12 noon CDT. Any "End of Day" orders must be submitted by 12 noon CDT for same-day service. PSA will be encapsulating all sizes of cards including thick memorabilia/patch cards."
Not too long ago, I submitted my first card for grading.
It was a Luis Robert 2020 Topps Chrome Pink Refractor. I pulled the card myself and it was stunning; this was about two weeks before the MLB playoffs were set to begin. I went through the back and forth on whether or not it makes sense to grade cards, and came to a decision.
At the time, PSA 10s were selling around $400 (why are graded cards worth more?) and still had a relatively low pop (what does pop mean?)
Naively, I thought I could send the card in via the express option (the cost of grading would be $70) and I'd get the card back in time in order to capitalize on value if the White Sox made it deep into the playoffs.
Sorry to interrupt, but it seems to me you're interested in graded cards, and I have an easy way for you to

earn a free $25 to spend on graded cards

with Alt
.
Simply, Alt offers a new exchange (among other things) where you can buy and sell cards. It's easy to use and has some nice data features, and while I've only purchased and sold a few things, I'm looking to do a lot more. (Learn more about Alt.)
If you'd like to give Alt a shot, you can grab a free $25 spending credit—simply visit this referral link, and sign up for an account. Then, once you make a deposit, you'll receive $25 in promo credits to buy cards with, and I will as well.
Long story short, the card gemmed, and I was ecstatic, but I missed the window. Still happy with getting the experience, and I have no problem holding onto the card until next season, but that's my story.
I lead with that because mailing a card to be graded can be nerveracking, and especially now, the process is full of unknowns.
While it's cool to see when the card is received by the grading company, and which step of the process it's currently in, wait times make it impossible to know just how long it might take to receive the submission back.
All of this led me to the question about where you can get cards graded in person. Already knowing the answer revolved around something like, "well, you can't," there are some nuggets anyone who is wondering the same should know.
PSA In-Person Grading Options
Trade Shows
If you go to https://www.psacard.com/resources/shows, you can see a list of shows PSA is planning on attending. Further down the page is this note:
On-site Grading – Approximate one-day (24-hour) grading will be available at some of the shows listed above. Stop by with your cards and come see what PSA grading is all about. Turnaround times vary by demand; please check with the show representatives for current turnaround time.
Please note: this is a tentative schedule. Dates, times and Professional Sports Authenticator's presence at these shows are subject to change without notice.
Obviously, with COVID still looming heavy, many in-person shows have been postponed, and even when shows are cleared to carry on, you can expect decreased attendance and less of a chance that PSA would be present and available for in-person grading.
Also, on https://www.psacard.com/resources/faq#105, there is a bit mentioned:
"You also have the option of submitting your items to us at a trade show, where we will have a booth set up to accept submissions. The Show Schedule, which is always available online, is regularly updated and also lists the services we will be performing at each event."
PSA Offices
On that same resource page, there is a section regarding arranging the dropping off items at one of the PSA offices. It appears the option might be limited to the Woodbridge, NJ location, with the Southern California location accepting appointments only, which are limited and made on a case-by-case basis for high-value and high-volume submissions.
Now, I'm not sure how updated this is given our current 2020 situation, so probably best to call and check on options before moving forward. You can visit https://www.psacard.com/newjerseyoffice or call their customer service at (800) 325-1121.
Beckett
Beckett Offices
You typically also have the option to walk-in and submit your grading order directly to the Beckett offices in the Dallas Fort Worth area. It is mentioned on Beckett.com that you don't need to set up an appointment and just need to stop in during normal business hours.
In terms of turnaround when grading in-person with Beckett, "Dallas office offers same day turnarounds for customers who are interested in an expedited grading turnaround."
But again, just as mentioned above, COVID-19 has changed a lot of things or a lot of businesses, so always be sure to call and check to make sure what is listed on the site is still the case.
Here is the list of holiday dates, and the phone number is (972-448-9144).
Beckett Raw Card Review
Alternatively, Beckett offers a raw card review service, which is touted as allowing on-site review for people to get an idea of what their cards may be graded as before officially submitting them.
One of the selling points and points of comparison between grading services is "Offered at the Beckett booth at a show near you!
Why Grade Cards in Person?
Well, honestly, I'd say a lot of this section is now out of date. In normal times, you could say in-person grading offers convenience and an expedited service, but there is so much up in the air right now, it's really tough to say. Please check back when in-person shows resume!