Affiliate Disclosure: This post contains affiliate links. As I am part of the eBay Partner Network and other affiliate programs, if you follow these links and make a purchase, I will receive a commission. Likewise, as an Amazon Associate I earn from qualifying purchases.
August 2023 Update: Since there is a lot of information below, here are the important links to check out:
PSA: Check out the "walk-through" pricing info on this page, and the show calendar here. Notably, PSA will be at the Burbank Card Show 8/31-9/3. Services offered include grading, crossover, reholder, and more. Get more info here.
PSA will be offering on-site grading at National:
$150 (Collector's Club): End of Show Turnaround (Declared Value < $2,499)
$250: End of Day Turnaround (Declared Value < $4,999)
$500: End of Day Turnaround (Declared Value < $14,999)
PSA on-site grading pricing at National: pic.twitter.com/R18NOSYy6K

— Card Purchaser (@CardPurchaser) July 8, 2023
I also know some of you are here simply looking for how to get baseball cards graded and where you can get your cards graded, and not necessarily in in person, so here is some information for you as well.
There is a lot to know about the grading process, so I encourage you to also check out how much it costs to get cards graded and these card grading scales and standards.
In summary, most card grading requires you to ship your card to a grading company, wait for the grading process to take place, and then have your card mailed back to you. In terms of where you can get cards graded, here is a list.
All that said, and to the point of this particular article, you can also get cards graded in-person, which we will get into now. It's not the cheapest card grading service (and in fact might be the most expensive option), but best of luck, and feel free to contact me with questions.
Not too long ago, I submitted my first card for grading.
It was a Luis Robert 2020 Topps Chrome Pink Refractor. I pulled the card myself and it was stunning; this was about two weeks before the MLB playoffs were set to begin. I went through the back and forth on whether or not it makes sense to grade cards, and came to a decision.
At the time, PSA 10s were selling around $400 (why are graded cards worth more?) and still had a relatively low pop (what does pop mean?)
Naively, I thought I could send the card in via the express option (the cost of grading back then was $70) and I'd get the card back in time in order to capitalize on value if the White Sox made it deep into the playoffs.
Sorry to interrupt, but it seems to me you're interested in graded cards, and I have an easy way for you to

earn a free $25 to spend on graded cards

with Alt
.
Simply, Alt offers a new exchange (among other things) where you can buy and sell cards. It's easy to use and has some nice data features, and while I've only purchased and sold a few things, I'm looking to do a lot more. (Learn more about Alt.)
If you'd like to give Alt a shot, you can grab a free $25 spending credit—simply visit this referral link, and sign up for an account. Then, once you make a deposit, you'll receive $25 in promo credits to buy cards with, and I will as well.
Long story short, the card gemmed, and I was ecstatic, but I missed the window. Still happy with getting the experience, and I have no problem holding onto the card until next season, but that's my story.
I lead with that because mailing a card to be graded can be nerveracking, and especially now, the process is full of unknowns.
While it's cool to see when the card is received by the grading company, and which step of the process it's currently in, wait times make it impossible to know just how long it might take to receive the submission back.
PSA In-Person Grading Options
All of this led me to the question about where you can get cards graded in person. Already knowing the answer revolved around something like, "well, you can't," there are some nuggets that anyone who is wondering the same should know.
Trade Shows
If you go to https://www.psacard.com/resources/shows, you can see a list of card shows PSA is planning on attending. You can also sign-up to be notified of the latest updates. Each show will have different services and guidelines, so you'll want to be sure to read the details.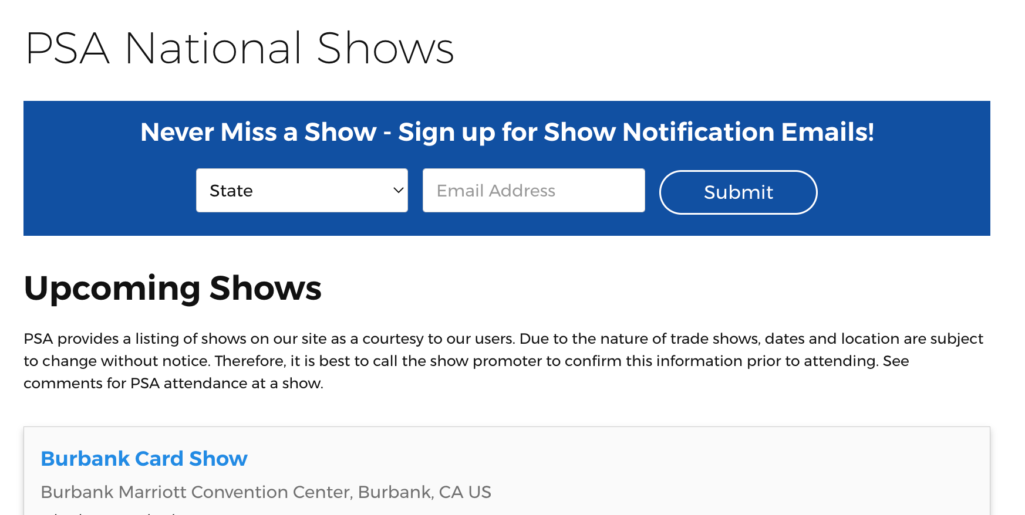 Further down the page is this note:
"On-site Grading – Approximate one-day (24-hour) grading will be available at some of the shows listed above. Stop by with your cards and come see what PSA grading is all about. Turnaround times vary by demand; please check with the show representatives for current turnaround time.
Please note: this is a tentative schedule. Dates, times and Professional Sports Authenticator's presence at these shows are subject to change without notice."
Also, on https://www.psacard.com/resources/faq#105, there is a bit mentioned:
"You also have the option of submitting your items to us at a trade show, where we will have a booth set up to accept submissions. The Show Schedule, which is always available online, is regularly updated and also lists the services we will be performing at each event."
PSA Offices
On that same resource page, there is a section regarding arranging the dropping off items at one of the PSA offices. It appears the option might be limited to the Woodbridge, NJ location, with the Southern California location accepting appointments only, which are limited and made on a case-by-case basis for high-value and high-volume submissions.
Now, I'm not sure how updated this is, so probably best to call and check on options before moving forward. You can visit https://www.psacard.com/newjerseyoffice or call their customer service at (800) 325-1121.
Beckett
Beckett Offices
You typically also have the option to walk-in and submit your grading order directly to the Beckett offices in the Dallas Fort Worth area. It is mentioned on Beckett.com that you don't need to set up an appointment and just need to stop in during normal business hours.
In terms of turnaround when grading in-person with Beckett, "Dallas office offers same day turnarounds for customers who are interested in an expedited grading turnaround."
But again, just as mentioned above, always be sure to call and check to make sure what is listed on the site is still the case.
Here is the list of holiday dates, and the phone number is (972-448-9144).
Beckett Raw Card Review
Alternatively, Beckett offers a raw card review service, which is touted as allowing on-site review for people to get an idea of what their cards may be graded as before officially submitting them.
One of the selling points and points of comparison between grading services is "Offered at the Beckett booth at a show near you!
Why Grade Cards in Person?
The biggest reason for any walk-through grading would be convenience and turnaround times. For example, right now if you submit cards to PSA for grading, the economy option of $50 has an expected turnaround time of 45-90 days. Of course, you can pay more for faster service.
Recently, at The National, grading companies were offering on-site and in-person grading; some to a larger or different degree than others.
For example, SGC offered a "raw card review" or "pre-grading on-service for $25. The benefit here is that they are "real grades" and if you would have chosen to submit your card for encapsulation, "you can pretty much count on the fact that that grade is going to stick…" as said in the video here. In addition, by submitting a pre-graded card, you would have received a 40% discount of that card's standard grading fee.
There are of course other benefits, and this is just one example, but in-person grading, while not standardized across events or companies, can offer perks and flexibility over the traditional grading submission.