Affiliate Disclosure: This post contains affiliate links. As I am part of the eBay Partner Network and other affiliate programs, if you follow these links and make a purchase, I will receive a commission. Likewise, as an Amazon Associate I earn from qualifying purchases.
I look at thousands of baseball cards every single day. It's true. I surf comc.com multiple times from morning to night, refreshing the page to catch what's new and cool for sale.
Naturally, I've seen a lot of cards I either forgot about for years or that I had never seen before.
Every time I come across something that gives me a good chuckle, I think about how many other people have seen this card, and if so, do they have the same reaction?
Anyway, I'll be honest, there are a lot of good articles and blog posts about funny baseball cards that already exist. They feature all of the classics and typically provide a nice photo and matching commentary.
If you haven't yet come across them, most of the cards featured include:
1976 Oscar Gamble and the hair that can't fit under the hat
1984 Fleer Glenn Hubbard and the snake around his neck
1984 Fleer Jay Johnston and the beer can umbrella
1986 Fleer Mickey Hatcher wearing a giant baseball glove
1989 Fleer Billy Ripken with a very bad word on his bat knob
1991 Studio Steve Lake with a parrot on his shoulder
1993 Stadium Club Oscar Azocar hugging his baseball bat
1994 Upper Deck Cal RIpken and his mobile phone
All great stuff.
The thing is, most of the cards on these lists were printed before 1995. Yes, things were different back then, but there are still some really funny, different, and weird cards that haven't been featured on such lists, and thus are just waiting to be appreciated.
Read More: Sports Cards with Celebrities in the Background
Not to mention that, if we are talking about the junk wax era specifically, there are so many cards to comb through! And while the classics don't take much reading into in order to produce a chuckle, there are plenty others that are sneakily funny beyond the surface.
1. 2017 Topps Archives "Jose" Canseco #272
Did you know Jose Canseco has a twin brother? No, this isn't some type of plot twist! To add to the confusion, both Jose Canseco and his twin brother Ozzie played for the Oakland Athletics at the same time, with Ozzie making nine appearances in 1990 with 20 at-bats (and zero home runs, unfortunately).
All of this begs the question—have the two ever been confused for each other on a baseball card?
Well, for the longest time, this 1992 Topps card just didn't sit right with me.
I grew up an A's fan, have seen countless pictures and cards of Jose Canseco, Mark McGwire, Rickey Henderson, and others. Something about this card told me this was not Jose Canseco, but his twin brother.
It wasn't until I saw this same photo used for an autograph card that I became intrigued to the point of needing to find an answer. One that was rooted in a reputable source and not just my A's brain.
So, a quick search for "ozzie canseco dugout" and voila:
Embed from Getty Images
Anyway, if Getty Images is telling me this is Ozzie, I'm going to believe it.
Oh, and here is that same photo on the autographed card I mentioned. This is what we call a sticker auto, so Jose probably didn't hold this card in his hand while he was signing, and thus didn't have a chance to notice he was signing a photo of Ozzie.
But, this is an on-card auto, meaning Jose definitely held this card in his hand while signing, and either didn't notice or didn't care.
2. 1993 Upper Deck Mike Perez #204
It's not often that a baseball card really makes you think. Like, way past the point of baseball, and more into—how the heck did they do that! I love this card, and I think it is one of the funniest for that reason.
From the grin of "Yep, what you think is happening is happening" to the fact that I and probably countless others have tried to look as far as we can into the neverending vortex of what appears to be a card within a card!
It won't land on any list of most valuable Upper Deck cards, but a very fun card nonetheless.
3. 2015 Topps 50 Cent First Pitch #FP-14
I'll have to do another blog altogether about these first pitch cards. One, there are a number of them that are pretty funny for different reasons. And two, some of them are actually worth decent money.
Anyway, this 2015 Topps card of 50 Cent's first pitch on May 27, 2014 falls into both categories. Why? Well before I show the card, here is the clip:
Now, I'm fearful of what I'd do if I was ever tasked with a first pitch, and I've played baseball my entire life. So, I won't pile on top of this video that has over 900K views (and that's only counting YouTube).
The fact that Topps printed a card to commemorate the occasion is funny enough:
4. 2022 Topps Ronald Acuna Jr. Blooper Mascot Variation #200
Some traditionalists think this is cheating, given the card is enhanced with a bit of Photoshop. On one hand, I accept that, and some of the funniest baseball cards of all time are simply raw and entertaining photos.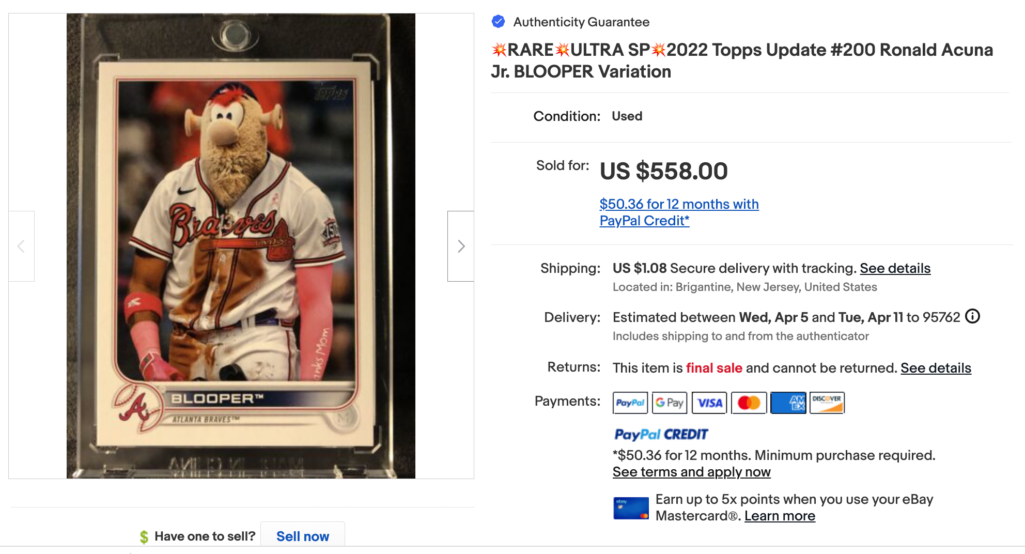 On the other, though, you know how many funny baseball cards I've seen where the funny part about them is the awful airbrushing Topps had to resort to back in the day?
So yes, this one is a little different. Does it still make me laugh? Most definitely.
(And in case you're wondering, this is an Ultra Short Print, and incredibly rare.)
5. 2000 Topps Gallery Miguel Tejada #14
Those who don't love to watch baseball probably find it difficult to find joy and/or entertainment in the simple aspects of the game. I mean, it's a sport that has a million moving pieces. I won't get into breaking them all down now, but just think about everything that goes into each and every pitch and at-bat. These athletes make it all look so easy and graceful.
Well, most of the time. I mean, when you're running full speed trying to catch a little white ball, while having your brain and body simultaneously prepare to throw that ball with all your might somewhere else, things like this happen.
Read More: Coolest Baseball Cards
For entertainment's sake, we are glad it did!
6. 2021 Topps Didi Gregarious #561
This world has been through some weird times over the last few years. I don't think anyone has forgotten that. But, it has also made for some funny baseball card moments.
And sure, while the mask itself is enough to generate a second look, it's the Mortal Kombat-style kick that goes with it for me. Finish him!
7. 1958 Topps Brooks Robinson #307
This is a throwback, but not one I see on a lot of lists. Maybe it's just funny to me, I odn't know.
But does that not look like a gigantic baby? It could be the collar or the facial expression. Either way, just makes me chuckle. And poor Brooks, while a heck of a baseball player; one of the best ever, this isn't the only card of his on this list.
8. 2019 Topps Alex Bregman SP Variation #700
Some of the funniest moments in baseball happen during on-base and dugout celebrations. And while some people loath SPs, variations, and the like, they make for some of the best baseball card photos!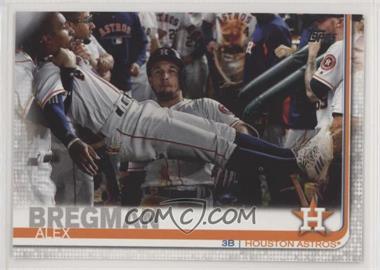 Though, upon closer look, I'd be willing to argue this is more of a Tony Kemp card as the limbo stick than it is an Alex Bregman card!
9. 2012 Topps Skip Shumaker Rally Squirrel SP #93
As a card collector, it's so easy to jump from card to card, from need to want, and then want to need, etc. Your attention is constantly being pushed and pulled from here to there with each and every new and shiny release.
Squirrel! No, seriously—squirrel!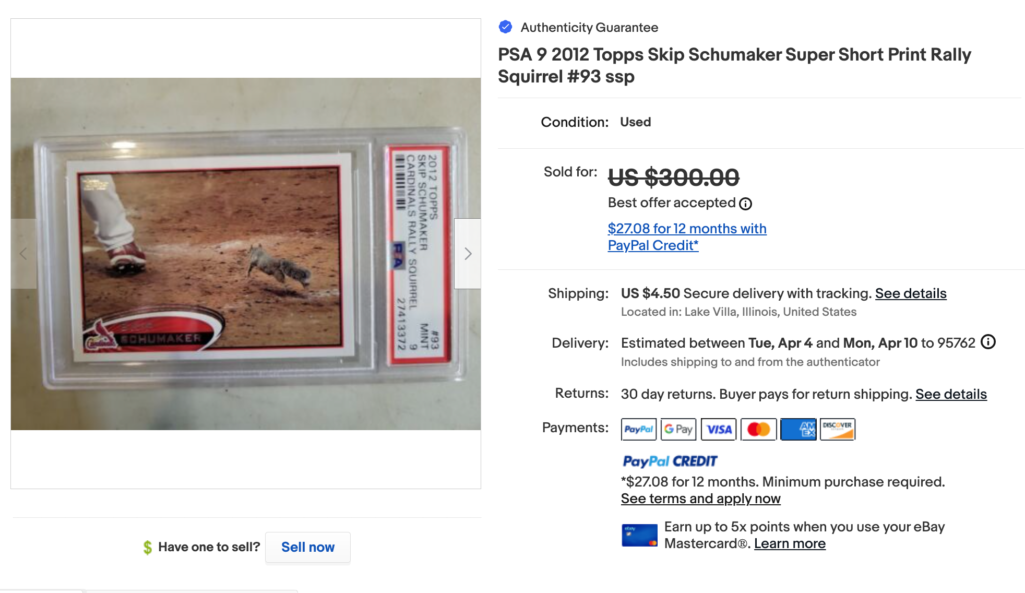 Anyway, I'm sure you saw what I did there, but it's true. And while this card didn't sell for the $300 listed price, the card sells better than what you'd think a squirrel on a baseball card would sell for (and that might be the funniest thing on this list).
10. 1971 Topps Brooks Robinson #331
As a baseball player, when things aren't going your way on the field, it can sometimes feel like you're alone on an island. With that, I present to you:
Now, Brooks Robinson was one of the greatest fielders to ever play baseball, so I don't think that's literally what's going on here. (In fact, I know it's not—"B. Robinson Commits Robbery" is an exclamation for a defensive player who just "stole" a hit from another.)
But, the picture sure does look like the surrounding infield of the hot corner is a vast wasteland of nothingness, and poor Brooks is just crawling around trying to find something to drink.