Affiliate Disclosure: This post contains affiliate links. As I am part of the eBay Partner Network and other affiliate programs, if you follow these links and make a purchase, I will receive a commission. Likewise, as an Amazon Associate I earn from qualifying purchases.
The thought of doing a "most valuable" anything gives me the chills given just how many there are of one single thing—whether it's years and years of Topps cards, a list of Ken Griffey Jr. cards, and the like, that's a lot of options to sift through.
But, Upper Deck? I can do Upper Deck. The baseball card brand that ripped onto the scene in 1989 with its glossy cards, awesome photos, and even a packaging that just felt different and superior to anything else out at the time.
So, looking back – and wishing the company was still offering licensed masterpieces – here are the most valuable and expensive Upper Deck baseball cards.
And a note, as I often do, I'll try my best to stay away from autos, etc. in hopes of sticking to "attainable" cards or cards you might not otherwise peg as valuable. Meaning, sure, Barry Bonds Upper Deck autos are amazing and valuable, but you'd probably know that without my help. I'm also going to try and stick to Upper Deck "flagship" because things get a little harrier when you start to include SP, SPx, and all of the different Upper Deck brands. 
1989 Upper Deck #1 Ken Griffey Jr. RC
And after all of that, I start with the most obvious valuable Upper Deck card possible. But really, what is an Upper Deck card list if you don't include this card? Plus, it's always a great reminder that Ken Griffey Jr. doesn't have a regular issue rookie card—he has a Topps Traded, but it's not the same. Thus, he needs a true rookie replacement, and while a 1989 Donruss "Rated Rookie" sure is cool, the 1989 Upper Deck has always been the perfect option.
Not to mention that this is card #1 of the set (read about Upper Deck Low Series vs. High Series); think about that—card #1 of the first set of the hobby-changing Upper Deck just happens to be the best rookie card from one of the greatest to play the game. It's on the list, no questions asked.
So if you're a collector born out of the junk wax era, you know this is one of the few baseball cards worth money, and perhaps the most valuable from 1989.
1994 Upper Deck Ken Griffey Jr. & Mickey Mantle Dual Autograph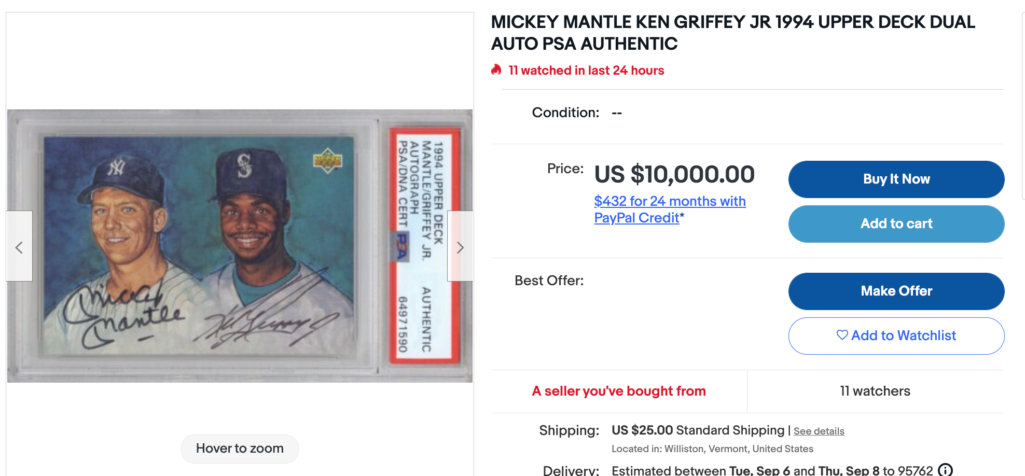 If we are talking Upper Deck, a card brand that blew up in the 90s, it's only right Ken Griffey Jr. be included here multiple times. But Mickey Mantle? I mean, wow.
Well, first of all, you might see the card with a Ken Griffey Jr. auto only, or a Mantle auto only, and then of course, the dual auto that is basically the greatest combo dual auto to ever grace a baseball card. But going back to the Mantle-only auto card…what's stopping anyone from getting Griffey to sign after the fact, thus turning a pack-pulled Mantle auto into one that resembles the daul?
Surely Upper Deck has a way to account for this, right? Right!?
Well, no, actually. I won't get into it here, and there's a great article on PWCC that dives deeper that was just written this past June, and offering this nugget:
"The pack pulled, dual Mantle and Griffey auto is one of the most desirable dual auto pack pulled cards ever. But how do you know whether it was pack pulled or signed post pull by Griffey? Some of the Mantle-only autos were pulled, then later signed by Griffey."
There are clues that will help you tell which was an original dual and which was signed by Griffey after the fact, so be sure to check it out.
1991 Upper Deck #SP1 Michael Jordan
News flash! Michael Jordan is unquestionably a basketball legend. His impact on the game and his tenure as the leader of the deadly Chicago Bulls cements him as an NBA legend and in the conversation for greatest to ever play for years and year.
But, basketball wasn't the only sport Jordan took a crack at. And if you've seen Space Jam you know he liked to golf, but he also loved baseball, and was decent! He made his official run from basketball to baseball in 1994, and there are plenty of cool cards to show for it, but in 1991, Upper Deck captured what is now one of Jordan's most valuable UD cards in PSA 10 condition—Jordan during batting practice for the Chicago White Sox. Thus, the 1991 Upper Deck SP1 card is really the first Jordan baseball card and has tremendous historical significance. 
1995 Upper Deck Michael Jordan #200 (with Harry Caray)
So another Jordan, and this is one that will appeal to low-end and high-end card collectors alike. On the low-end, the raw base version of this card can be had for only a few bucks, say $5. So, then, why is it on the list? Well, because this is Upper Deck we are talking about, which means there are Electric Diamond parallels, of which this card jumps up to closer to $20. Ok, still not really extremely valuable, but wait, there's more.
Growing up as a 90s card collector, you probably know that where there is base or silver, there is also gold. And that goes for this card as well, with the gold Electric Diamond card increasing the value to about $200.
Now, while I don't usually like to incorporate grading into these lists, I think this one warrants it. This gold PSA 10 sold for over $3,000!
2001 Upper Deck #295 Albert Pujols RC
Yes, just a base card! If you can believe it—no gold, silver, or special parallel. Just one of the game's best in a sweet action photo (probably hitting a bomb). While Pujols is winding down his Hall of Fame career, he is in the middle of something special, only a few dingers away from joining the 700 club.
Thus, the lowest current buy it now price on a raw version of this card is around $65. There is a PSA 8 for $95, a PSA 9 for $145, and the lowest PSA 10 is just under $600.
2001 Upper Deck #271 Ichiro RC
And yes, let's keep the base rookie train rolling! Not to mention that if we are talking about 2001, we must also include Ichiro as a card to look out for as you're combing through your collection.
While Ichiro has been away from the game for a while now, and of course, didn't join the MLB until later in his career, he made just as much of an impact as most superstars. Thus, you'll want to check out his Upper Deck RC, with the lowest raw buy it now on eBay at about $15, a PSA 8 for $40, a PSA 9 under $60, and a gem mint PSA 10 for around $300.
1990 Upper Deck Reggie Jackson Auto
Not many people realize just how much Upper Deck changed the game of card collecting. As I noted in this recent post on Legendary baseball cards, apparently one idea for the company was born from the fact that it seemed to be too easy to counterfeit cards from existing manufacturers. From there, the glossy finish, hologram, and so much more that was "new" was introduced to us from Upper Deck.
Well, you have one more thing to thank the card company for—the autograph chaser. That's right, way back in 1990 before anyone was ripping packs open for a signed card, Upper Deck was inserting signed cards from Mr. October himself, Reggie Jackson.
As Baseball Cardpedia notes, "Upper Deck had Jackson autograph 2500 cards that were also inserted into the High Series packs — the first autographed inserts." And it's tough to see in the image above, but the High Series boxes call out "Find the Reggie."
The most recently sold 1990 Reggie Jackson autograph on eBay went for $350.
1993 Upper Deck #449 Derek Jeter Gold Hologram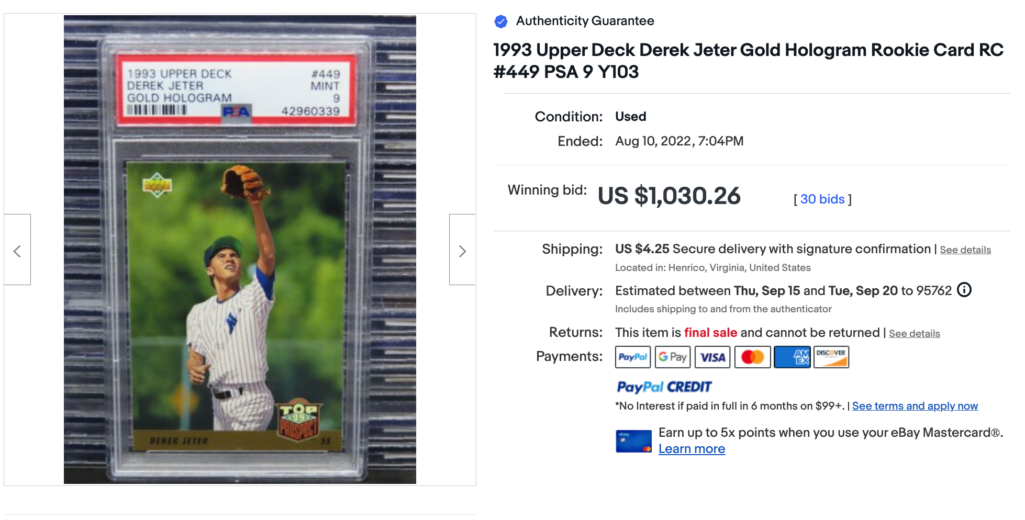 Unlike Griffey mentioned above, Derek Jeter actually has a Topps rookie, and a sweet one at that, and a gold version to boot! Plus, that's not even his most coveted rookie card as the beautiful 1993 SP takes the cake.
So why the heck is Derek Jeter on this Upper Deck list? Well, because no matter how non-assuming a card might appear to be, rareness means value, and the 1993 Upper Deck Derek Jeter Gold Hologram is a really tough card to get your hands on. How tough? Gold holograms are only found in factory sets, and only one factory set per case! Not to mention if you find one, what are the chances it's Jeter?
(And to curb any excitement, this isn't your typical baseball hologram card. When I say "gold hologram" in this instance, we are only talking about the small Upper Deck hologram on the back of the card."
1989 Upper Deck #13 Gary Sheffield RC Error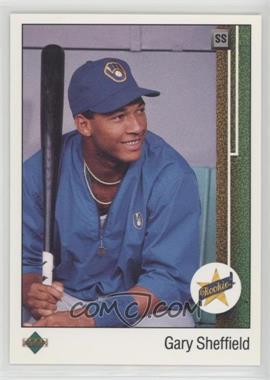 And what's an Upper Deck post if we don't include some error cards. (This isn't picking on Upper Deck specifically, but just more along the lines of it being a brand that popped up in the junk wax era, of which there were a lot of cool and unique error cards.)
I'll admit—I had no idea this was a thing until doing research for this post! After all of these years; and all of the cards I've touched, I never knew to keep an eye out for this. Anyway, if you have a stack of 89 UD Sheffields, be on the look out for an upside down "SS" printed in the top right corner of the card. Obviously an upside down SS looks pretty similar to a normal SS, so it might be hard to catch unless you have something to compare it to.
The raw error isn't hugely valuable, but like most things, a PSA 10 could net you some nice earnings.
1994 Upper Deck Minors Gold # MJ23 Michael Jordan
Upper Deck was also a player in the minor league card game, and was at the right place at the right time when Michael Jordan made his surprising switch from basketball to baseball. Now, Jordan has a handful of baseball cards out there (but don't be fooled by the Jordan Rated Rookie card) but aside from 1991 Upper Deck, I personally think this is one of the better photos.
Again, you can grab the base raw version of the card for only a few bucks, but if you ever come across a gold, check the condition—a gold PSA 10 sold for over $2,500.
Other Notable Upper Deck Cards
I also realize some of you might be here because you're thumbing through an old collection you either found at home or picked up on Facebook Marketplace, and thus want a quick idea of the cards you should be looking for. While these cards might not register as the most valuable (unless pristine, etc.) you might want to check for:
1989 Upper Deck Randy Johnson RC
1989 Reverse Negatives (like Dale Murphy)
1991 Upper Deck Chipper Jones RC
And, you'll probably see a lot of these from various legends like Ted Williams, Reggie Jackson, Hank Aaron, Willie Mays, Nolan Ryan, and more:
While cool cards, these aren't really valuable unless you happen to come across one of the rare autograph versions!
With all of these, I do also like to bring your attention to a few other special Upper Deck cards to keep an eye out for. One, while I mentioned the base rookies for Pujols and Ichiro above, they have a number of other Upper Deck cards like those from Victory, SPx, Pros & Prospects, and others, so keep an eye out.
Two, Barry Bonds pack-pulled autographs are hard to come by, but Upper Deck offers a number of really nice ones:
And for "The Kid," if I was going to include another card of his, it would have been one of my favorite Ken Griffey Jr. jersey cards – and the first jersey baseball card set – 1997 UD Game Jersey.