Affiliate Disclosure: This post contains affiliate links. As I am part of the eBay Partner Network and other affiliate programs, if you follow these links and make a purchase, I will receive a commission. Likewise, as an Amazon Associate I earn from qualifying purchases.
The hottest rookie cards right now include 2023 Bowman Chrome Ethan Salas BCP-171 Raw, 2022 Donruss Brock Purdy #374 Raw (and Optic #277 Raw), 1989 Score Deion Sanders Raw, and 2023 Topps Chrome Corbin Carroll Raw. This is based off the number of sales over the last 7 days as reported by Market Movers. ;
Here are the top 10 cards and their sales volumes over the last 7 days (as of 9/23/23):
Ethan Salas 2023 Bowman Chrome #BCP-171 (176)
Brock Purdy 2022 Donruss #374 Base (122)
Brock Purdy 2022 Optic #277 Base (117)
Deion Sanders 1989 Score #246 Base (96)
Corbin Carroll 2023 Topps Chrome #95 Base (90)
Brock Purdy 2022 Mosaic #367 Base (84)
Brock Purdy 2022 Prizm #353 Base (78)
Felnin Celesten 2023 Bowman Chrome #BCP-156 (68)
Ken Griffey Jr. 1989 Upper Deck #1 Base (67)
Gunnar Henderson 2023 Topps Chrome #2 Base (56)
Please note: The information that follows is simply commentary on what rookie cards appear to be hot at the moment. In no way does the mention of a card below serve as a recommendation to buy, nor am I saying these cards will increase in value.
Up until last week, Jasson Dominguez rookie cards were still selling at great volumes, but that trend seems to have cooled for now. Of course, we see a number of Brock Purdy cards now that football has started and the 49ers are off to a quick 3-0 start with solid play from Purdy.
Here is the entire list of the 50 hottest rookie cards right now, as of September 15, 2023:
Now, due to the nature of the sports card world, this is not an inclusive list and can change tomorrow!
It wasn't long ago that Davis Schneider 2021 Bowman autos, Shohei Ohtani RCs in general, Jackson Chourio 2022 Bowman Chrome PSA 10s, and other topped some of the popular card charts.
Not to mention that people have different definitions of "hottest," whether that means the total number of cards sold, average selling price, and more.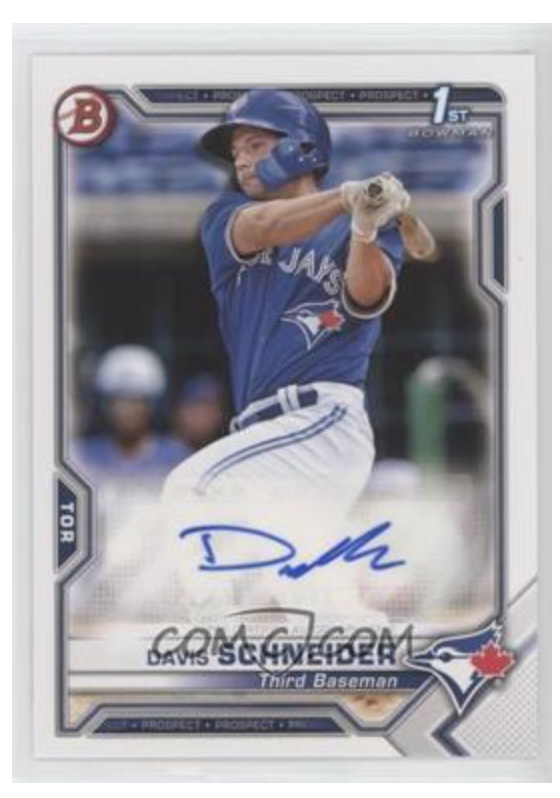 A good time to remind that if I've said it once, I've said it a hundred of times—the baseball card market is fickle, often doesn't make sense, and could be overhyped on a guy who doesn't deserve it while completely cold on another who is setting the world on fire.
A lot of it has to do with time of year; some of it has to do with visibility. Actually, there is a lot that goes into it, but for every player, it just depends. There are countless examples, but I just remember sitting there waiting for Yordan Alvarez rookie cards to take off, only to see little movement.
My point is, things can change fast (or never change), can change at the beginning of the season (or at the end), for guys beating the cover off the ball (or not), etc. There might not ever be a rhyme or reason, so try not to go too far down the rabbit hole of trying to find one.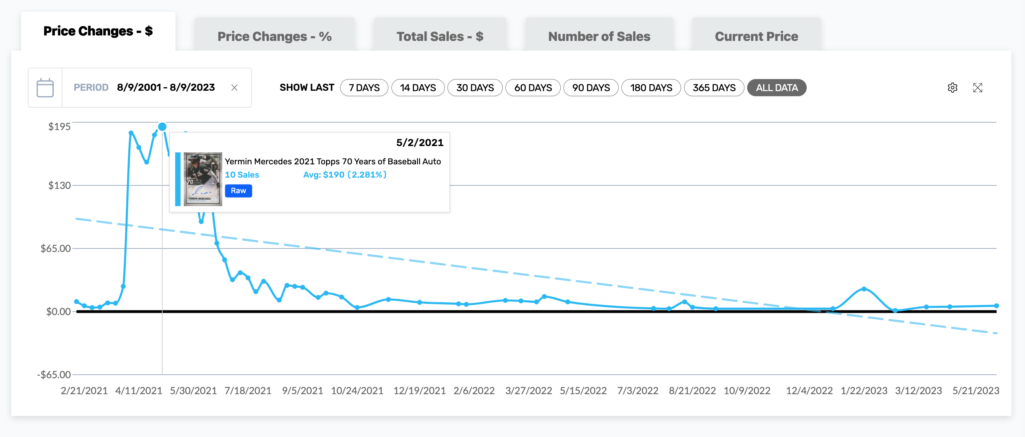 Also, it's for that reason that this list will be forever changing and will never be right on the money. While Ohtani and others are atop of the list now, I wouldn't be surprised to see a shake up at any point soon.
In terms of methodology, I'm simply looking at random data from Market Movers, Card Ladder, YouTube, and other sources. These are my interpretations, and I'm drawing my own conclusions. It's haphazard and dependent on wherever my eyeballs take me.
"Hot" also means different things—is it an increase in value or is it number of cards sold? Also note that I'm looking at all cards types, both raw and graded. So, if I mention a player's raw card being hot, you might want to consider their graded copy to be hot as well.
All said, let's have some fun looking at and talking about baseball cards.
Davis Schneider 2021 Bowman (Raw)
Davis Schneider's rise from an 849th draft pick to a key player for the Blue Jays has not only invigorated the Jays' lineup but also significantly impacted the value of his baseball cards.
Schneider's story serves as another reminder of the unpredictability of sports and the potential for unknown players to rise to prominence. It's also a cautionary tale for those buying at today's prices, as we have seen time and time again that these phenomenons come back down to earth at some point.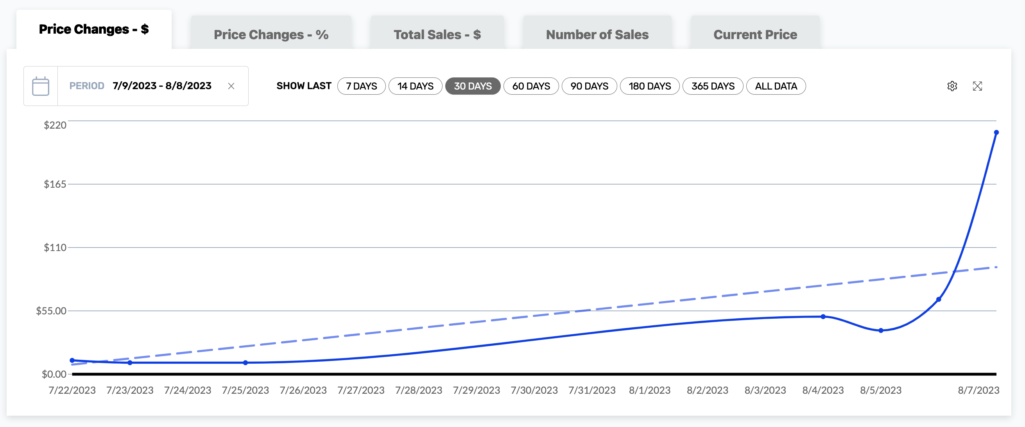 Here are dates and sales prices according to Market Movers, along with some commentary:
August 5th, 2023: The card was listed for $4.84. This low price might have been due to Schneider's relative obscurity at the time.
August 6th, 2023: A day after his legendary debut, the card's value jumped to $65.00. Schneider's performance against the Boston Red Sox, especially his unexpected home run, likely played a role in this price surge.
August 7th, 2023: The card reached its peak price of $210. This spike can be attributed to Schneider's continued excellence on the field and the buzz surrounding his unexpected rise.
Earlier Listings: Throughout late July and early August, the card was consistently listed between $10 to $71.10. These prices reflect a steady demand for the card, with occasional spikes in interest.
Currently, the lowest BIN price on eBay is $175.
Shohei Ohtani 2018 Bowman #49 (Raw)
While the growth of this card is definitely more subdued than the example above, I'm including here to show just how hot Shohei Ohtani rookie cards are right now.
Meaning, is this specific card the hottest? Not at all. But the fact that it is a Bowman paper RC selling around $50 tells you something. I mean, this is not a rare card, and it stands out on the "hot" charts because there are so many copies being sold (Market Movers says over 600 in the last 30 days).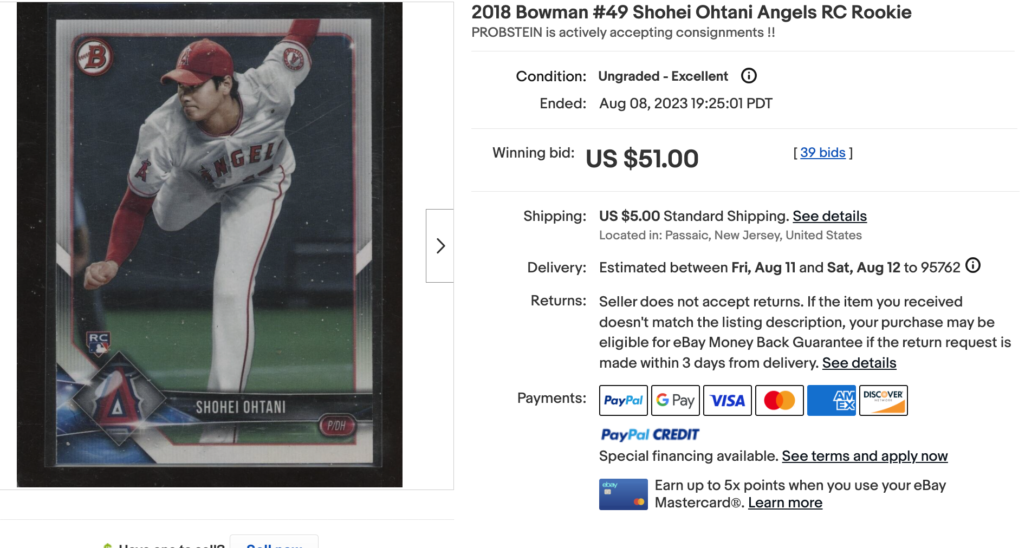 Sure, Ohtani doesn't have a "1st Bowman" card which probably gives this one a bump, but still. In early August this one was selling around $30 on average—now the cheapest BIN eBay option is $39.99, with many auctions topping that figure and reaching the aformentioned $50.
Jackson Chourio 2022 Bowman Chrome PSA 10
In an attempt to add variety to this list, I started with a player who came out of nowhere to have an unprecedented debut, followed with perhaps the greatest player in the history of Major League Baseball, and now talking about a prospect who has yet to suit up for a major league team.
Thus, this isn't even a rookie card, but since we all combine 1st Bowmans into most rookie cards list and conversations anyway, why not.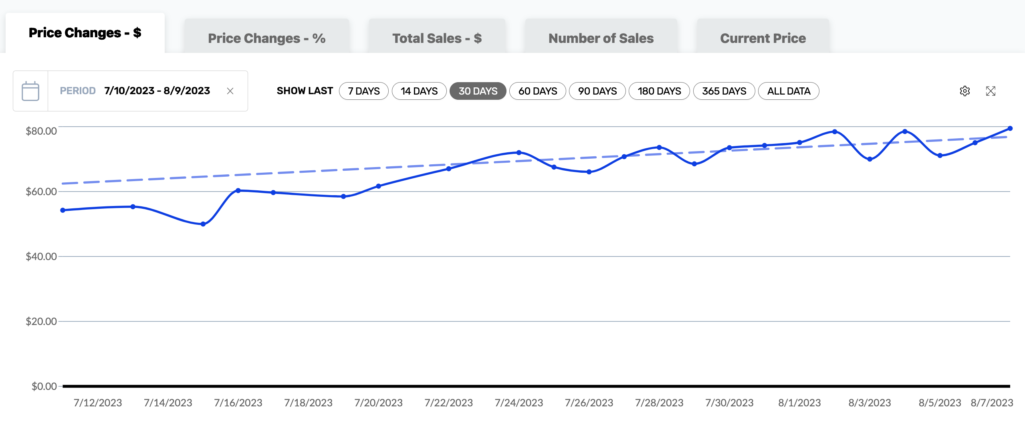 In early July, this card was selling for around $55 on average, and today it is reaching up to $75-$80. I'll also remind you that this card has a massive PSA pop already (2,600) so it's not like it's rare.
Comparing this to a new young superstar who has performed in the big leagues, the same card for Elly De La Cruz is available for around $150 BIN, and selling for around that same price.
Want more? Subscribe to stay up to date as the market evolves!