Affiliate Disclosure: This post contains affiliate links. As I am part of the eBay Partner Network and other affiliate programs, if you follow these links and make a purchase, I will receive a commission. Likewise, as an Amazon Associate I earn from qualifying purchases.
A BGS 9.5 is not the same as a PSA 10. While the conditions of the cards graded as such might be similar or even identical, there is a large difference in value between the two grades. Of course, each card and situation is different, but in a general sense, the value of a PSA 10 is greater than that of a BGS 9.5.
All that said, another argument for the difference between the two grades could stem from the root of the PSA vs. BGS argument—the grading scales of the two companies. If a PSA 10 is the absolute best grade a card can receive from PSA but a BGS grading scale has a 9.5 one step below the best grade a card can receive from BGS, then it's tough to say the cards are equal.
One counter point here is the fact that both a PSA 10 and BGS 9.5 are referred to as gem mint. Another counter point could be the fact that a BGS 10 might be more valuable than a PSA 10, and thus if you had to compare PSA and BGS grades, then a PSA 10 and BGS 9.5 would be the closest.
Read More: What is the PSA Crossover Cost?
All that said, we could go around and around for hours debating the topic, but the one "hard" piece of data is value, so let's take a look.
To compare, let's take a look at an example. Now, a card's value could go up and down just as easily as the wind blows, so I'll try to eliminate variables by focusing on retired greats and well-known cards.
So what better example to start with then the 1989 Upper Deck Ken Griffey Jr.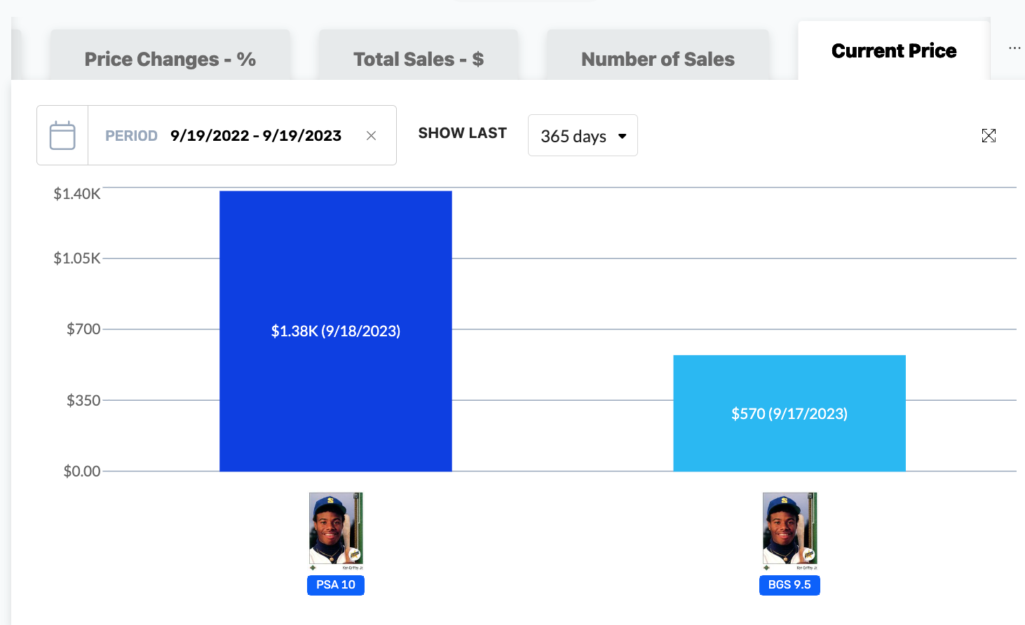 According to Market Movers data, the PSA 10 has an average sales price of $1.38K over the last year, which is over 2X of that of the BGS 9.5 ($570).
Now, there are a number of factors even within the BGS slabbed cards that will push the value on direction or another. Notably, the BGS sub-grades can have an impact, where, say, a "quad" 9.5 (meaning 9.5 sub-grades on corners, surface, centering, and edges) would be more desirable than a card that had a 9 sub-grade for one of the condition factors.
I won't go into details on these, but here are a few other examples. A Mike Trout 2011 Topps Update PSA 10 RC has averaged $1.5K over the last year, with the BGS averaging $829 (though, the last ones sold of each were only separated by $120).

Read More: Examples of Different PSA Grades
Looking at Tom Brady cards to collect, his 2000 Bowman RC as a PSA 10 has sold for $6.64K on average the last year, and the BGS 9.5 copy is averaging $2.37K.

Of course, these are only a few examples, and the difference in value can certainly be more for some cards, or even less. But for the most part, I'd say you can't consider a PSA 10 and BGS 9.5 to be the same.