Affiliate Disclosure: This post contains affiliate links to eBay, Amazon, and other platforms within the content, sidebar ads, and in other areas. As I am part of the eBay Partner Network and other affiliate programs, if you follow these links and make a purchase, I will receive a commission. Likewise, as an Amazon Associate I earn from qualifying purchases.
In comparing all of the different card grading companies, everyone is quick to look at BGS, SGC, and CSG as main PSA competitors. While that might be valid, there are also a number of other grading companies out there that don't get talked about as much.
So today, we are going to look at ISA and how their grades, process, and more compare to the similar-sounding and industry-leading PSA.
What is ISA Grading?
ISA stands for International Sports Authentication, and is a card grading company that launched in 2010. In 2014 they celebrated their first major milestone – 5,000 cards on eBay – and grading their 100,000th card in total in 2016.

Is ISA Legit?
I've never personally graded with ISA, but here are some signs that would point to "yes." One, there are plenty of ISA graded cards on eBay from various sellers. Two, I did create an account and everything checked out.
Three, there is a reviews page, although it doesn't look like you can verify the reviews in any way. Four, checking their social media presence, ISA only has around 140 Twitter followers, but I found this video speaking to their legitimacy:
Have a great experience with ISA Grading! #whodoyoucollect #cards #sportscards #thehobby #basketballcards #investment #stockmarket #rookiecards #sportscardinvesting #sportscardsmarket #nba #sportscards101 #nsccshow pic.twitter.com/1TSNzyz9Rh

— isagrading (@isagrading) October 5, 2022
Their Instagram seems a lot more active, with over 6K followers, along with a TikTok channel and Facebook page.
The shop i go to here in Indy charges $20 a card, & my turnaround time is right around 2 weeks after isa receives them. ISA is gaining a bigger foothold in the market by doing non slabbed authenticated grades at shows for $10 & they recently graded their 1st 1952 Mantle as well.

— Michael Snow (@snowman4217) September 14, 2022
Grading Scale
When it comes to the card grading scale, the ISA method is very similar to that of PSA with a 1-10 rating system featuring a "Gem Mint 10" as the best, and a "Poor 1" at the worst. Not much more to get into here, other than you can have peace of mind that a "10" is "Gem Mint" which isn't the case with BCCG grading.
And just a note, but the slab looks very similar to a PSA slab, but with blue instead of red: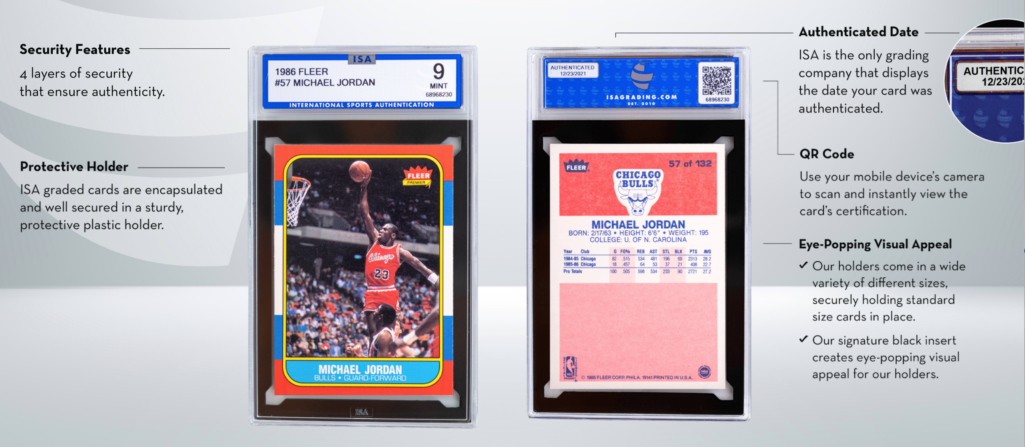 One difference between the ISA and PSA slabs is that ISA actually displays the date the card was authenticated, which is a nice touch.
Pricing & Turnaround Time
ISA offers three simple and straightforward submission options:
$20/card for 20 business days
$28/card for 5 business days
$45/card for 2 business days
As a reminder, the cost to grade a card with PSA is as follows:
$50/card for 45-90 days
$100/card for 15-30 days
$150/card for 14 days
$300/card for 7 days
$600/card for 3 days
That said, PSA Collector's Club members have access to $30/card pricing (90-120 days) and a bulk submission option at $18/card for 120 days.
Note: This has all been updated since publishing. I encourage you to check out our newer post on whether or not the PSA Collector's Club is worth it.
Graded Value
Looking at the above, you may wonder why anyone would pay $50/card and wait at least 45 days with PSA when they can get cards graded faster and cheaper elsewhere, like they can with PSA. The simple answer is that not all grades are created equal, and a GEM with one company doesn't hold the same value as a GEM with another.
For example, looking at Aaron Judge rookie cards, there is an ISA 10 Aaron Judge 2015 Bowman Draft Paper available at a BIN price of $80, but the lowest PSA 10 of the same card is listed at $154.99
A recent 1991 Chipper Jones Upper Deck RC ISA 10 sold for $13 on 10/6/22 but a PSA 10 of the same card sold for $54.99 on 10/5/22. Someone grabbed a 1989 Score Tim Brown ISA 10 for $9.99 while the PSA 10 is selling for around $100.
Of course, there are more examples, with some having much smaller differences and others having much wider differences. While it is a case-by-case basis, PSA will generally sell for more than the same card and grade with ISA.
Submission Process
To submit a card for grading with ISA, it's a pretty easy and straightforward process:
Click the "Submit" button in the top right corner
Choose the service level you want and click either "Online" or "PDF" submission
If you click "Online Submission" you'll be prompted to create an account
Next, click the "Start a Submission" button
Finally, fill in the card info!

It's similar to the PSA submission process, but one thing I do like about the PSA process is that the card auto fills and you choose your card. For me, it's just peace of mind that I'm selecting the right card.
And then I'll add this, even though it might not mean a ton, but I really like the ISA website. Nice looking, great UX and design. Fun to click around and check out the different corners.