Affiliate Disclosure: This post contains affiliate links to eBay, Amazon, and other platforms within the content, sidebar ads, and in other areas. As I am part of the eBay Partner Network and other affiliate programs, if you follow these links and make a purchase, I will receive a commission. Likewise, as an Amazon Associate I earn from qualifying purchases.
Monopoly Prizm: NBA Edition is a new collaboration between Panini and Hasbro resulting in a brand new trading card version of the classic board game. The new game features player tokens, new gameplay and board, and unique Prizm cards that affect the outcome. Of course, the game is of interest to collectors who might want to get their hands on the new release and card parallels only found as part of the venture.
"Based on fan insights, we noticed a unique crossover opportunity between individuals who love classic gameplay and card collecting, which ultimately lit the spark to create and bring this innovative trading card element to Monopoly," said Adam Biehl, Hasbro Gaming's Senior Vice President and General Manager.

Beckett.com
Now, before we get into the details, this right here represents everything people love and hate about the current state of cards. Those who don't like to see things like this might be called traditionalists who prefer the simple hobby they grew up loving. On the other side of the coin, you have people who absolutely love the innovation and then of course those who see this as another revenue stream.
I'd say I fall into the "I like innovation" crowd but I'll also say I haven't purchased any of this product, and thus haven't sold any of it, and thus, can't see myself doing so anytime soon.
And, being this is a card blog more than anything, let's take a look at the hobby specifics.
What Cards Are Included?
Monopoly Prizm cards can be found in the main game and also through booster and blaster boxes.
Main Game
The full game that can be purchased from Target and Amazon ($39.99) includes 16 total cards made up of a single 8-card starter pack and then two 4-card Prizm packs. Of course, you have a chance to pull all the stars you'd expect including Steph Curry and Luka.
Cards exclusive to the game board box include Monopoly Black Classic Icons.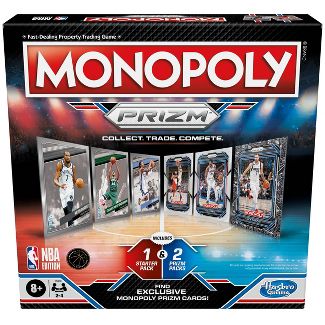 Blaster Boxes (Panini icollect)
In addition, Panini has rolled out 2022-23 Panini Prizm Monopoly blasters that come with 6 packs of 4 cards each.
True to blaster form, there will be 1 blaster-exclusive "Free Parking" parallel per box on average.
"After nearly two years of development and collaboration, we are excited to bring the Monopoly Prizm: NBA game to market," added Jason Howarth, Panini America's Vice President of Marketing.

Beckett.com
Booster Boxes
Booster boxes also come with 6 packs of 4 cards each ($29.99).
Guess what's here!

2022-23 Panini Prizm Basketball Monopoly 6-Pack Blaster Booster Boxes are available for purchase and for breaks at Steel City Collectibles!#WhoDoYouCollect #Prizm #Monopoly pic.twitter.com/xXMSs3s180

— Steel City Collectibles (@SCCTradingCards) April 21, 2023
Checklist & Parallels
The total set includes 90 total cards, with a number of monopoly-themed parallels Here is the total checklist with the parallel list beneath it:
| Number | Player | Team | RC |
| --- | --- | --- | --- |
| 1 | Trae Young | Atlanta Hawks | |
| 2 | Dejounte Murray | Atlanta Hawks | |
| 3 | John Collins | Atlanta Hawks | |
| 4 | Jayson Tatum | Boston Celtics | |
| 5 | Jaylen Brown | Boston Celtics | |
| 6 | Marcus Smart | Boston Celtics | |
| 7 | Kevin Durant | Brooklyn Nets | |
| 8 | Kyrie Irving | Brooklyn Nets | |
| 9 | Ben Simmons | Brooklyn Nets | |
| 10 | LaMelo Ball | Charlotte Hornets | |
| 11 | Terry Rozier III | Charlotte Hornets | |
| 12 | Mark Williams | Charlotte Hornets | Rookie |
| 13 | DeMar DeRozan | Chicago Bulls | |
| 14 | Zach Lavine | Chicago Bulls | |
| 15 | Nikola Vucevic | Chicago Bulls | |
| 16 | Darius Garland | Cleveland Cavaliers | |
| 17 | Evan Mobley | Cleveland Cavaliers | |
| 18 | Donovan Mitchell | Cleveland Cavaliers | |
| 19 | Luka Doncic | Dallas Mavericks | |
| 20 | Christian Wood | Dallas Mavericks | |
| 21 | Jaden Hardy | Dallas Mavericks | Rookie |
| 22 | Nikola Jokic | Denver Nuggets | |
| 23 | Jamal Murray | Denver Nuggets | |
| 24 | Michael Porter Jr. | Denver Nuggets | |
| 25 | Cade Cunningham | Detroit Pistons | |
| 26 | Jaden Ivey | Detroit Pistons | Rookie |
| 27 | Jalen Duren | Detroit Pistons | Rookie |
| 28 | Stephen Curry | Golden State Warriors | |
| 29 | Klay Thompson | Golden State Warriors | |
| 30 | Draymond Green | Golden State Warriors | |
| 31 | Jalen Green | Houston Rockets | |
| 32 | Jabari Smith Jr. | Houston Rockets | Rookie |
| 33 | Tari Eason | Houston Rockets | Rookie |
| 34 | Tyrese Haliburton | Indiana Pacers | |
| 35 | Myles Turner | Indiana Pacers | |
| 36 | Bennedict Mathurin | Indiana Pacers | Rookie |
| 37 | Kawhi Leonard | Los Angeles Clippers | |
| 38 | Paul George | Los Angeles Clippers | |
| 39 | John Wall | Los Angeles Clippers | |
| 40 | LeBron James | Los Angeles Lakers | |
| 41 | Anthony Davis | Los Angeles Lakers | |
| 42 | Russell Westbrook | Los Angeles Lakers | |
| 43 | Ja Morant | Memphis Grizzlies | |
| 44 | Desmond Bane | Memphis Grizzlies | |
| 45 | Jaren Jackson Jr. | Memphis Grizzlies | |
| 46 | Jimmy Butler | Miami Heat | |
| 47 | Bam Adebayo | Miami Heat | |
| 48 | Tyler Herro | Miami Heat | |
| 49 | Giannis Antetokounmpo | Milwaukee Bucks | |
| 50 | Khris Middleton | Milwaukee Bucks | |
| 51 | Jrue Holiday | Milwaukee Bucks | |
| 52 | Karl-Anthony Towns | Minnesota Timberwolves | |
| 53 | Anthony Edwards | Minnesota Timberwolves | |
| 54 | Rudy Gobert | Minnesota Timberwolves | |
| 55 | Zion Williamson | New Orleans Pelicans | |
| 56 | Brandon Ingram | New Orleans Pelicans | |
| 57 | Dyson Daniels | New Orleans Pelicans | Rookie |
| 58 | Julius Randle | New York Knicks | |
| 59 | RJ Barrett | New York Knicks | |
| 60 | Jalen Brunson | New York Knicks | |
| 61 | Josh Giddey | Oklahoma City Thunder | |
| 62 | Shai Gilgeous-Alexander | Oklahoma City Thunder | |
| 63 | Chet Holmgren | Oklahoma City Thunder | Rookie |
| 64 | Cole Anthony | Orlando Magic | |
| 65 | Jalen Suggs | Orlando Magic | |
| 66 | Paolo Banchero | Orlando Magic | Rookie |
| 67 | Joel Embiid | Philadelphia 76ers | |
| 68 | James Harden | Philadelphia 76ers | |
| 69 | Tyrese Maxey | Philadelphia 76ers | |
| 70 | Chris Paul | Phoenix Suns | |
| 71 | Devin Booker | Phoenix Suns | |
| 72 | Deandre Ayton | Phoenix Suns | |
| 73 | Damian Lillard | Portland Trail Blazers | |
| 74 | Shaedon Sharpe | Portland Trail Blazers | Rookie |
| 75 | Jerami Grant | Portland Trail Blazers | |
| 76 | De'Aaron Fox | Sacramento Kings | |
| 77 | Domantas Sabonis | Sacramento Kings | |
| 78 | Keegan Murray | Sacramento Kings | Rookie |
| 79 | Keldon Johnson | San Antonio Spurs | |
| 80 | Jeremy Sochan | San Antonio Spurs | Rookie |
| 81 | Malaki Branham | San Antonio Spurs | Rookie |
| 82 | Pascal Siakam | Toronto Raptors | |
| 83 | Fred VanVleet | Toronto Raptors | |
| 84 | Scottie Barnes | Toronto Raptors | |
| 85 | Collin Sexton | Utah Jazz | |
| 86 | Lauri Markkanen | Utah Jazz | |
| 87 | Mike Conley | Utah Jazz | |
| 88 | Bradley Beal | Washington Wizards | |
| 89 | Kristaps Porzingis | Washington Wizards | |
| 90 | Johnny Davis | Washington Wizards | Rookie |
| Parallel Name | Print Run |
| --- | --- |
| Gold Money Shimmer Prizms | /500 |
| Brown Prizms | /249 |
| Light Blue Prizms | /199 |
| Pink Prizms | /149 |
| Orange Prizms | /124 |
| Red Money Shimmer Prizms | /100 |
| Red Prizms | /99 |
| Purple Money Shimmer Prizms | /50 |
| Gold Prizms | /49 |
| Green Prizms | /24 |
| Green Money Shimmer Prizms | /20 |
| Boardwalk Blue Prizms | /15 |
| Blue Money Shimmer Prizms | /10 |
| Gold Wave Money Prizms | /10 |
| Neon Green Prizms | /10 |
| Black Gold Prizms | /5 |
| Pink Money Shimmer Prizms | /5 |
| Black Prizms | 1/1 |
| White Money Shimmer Prizms | 1/1 |
| Deal Prizms | NA |
| Dice Prizms | NA |
| Free Parking Prizms | (iCollect only) |
| GO Prizms | NA |
| Monopoly Black Prizms | (board game only) |
| Monopoly Man Black and White Prizms | NA |
| Question Mark Prizms | NA |
| Silver Prizms | NA |
| Teal Wave Prizms | NA |
| Tiger Stripe Boardwalk Blue Prizms | NA |
| White Sparkle Prizms | NA |