Affiliate Disclosure: This post contains affiliate links. As I am part of the eBay Partner Network and other affiliate programs, if you follow these links and make a purchase, I will receive a commission. Likewise, as an Amazon Associate I earn from qualifying purchases.
This is a very long post that details all of the different types of cards out there, and how you can collect each of them. This introduction will summarize the best cards to collect, but understand the "best" for you will be completely different than the "best" for me or someone else with different tastes.
Also as noted below, we are talking about "collecting" and not flipping, speculating, or profiting from. So, keep that in mind as we continue. Best of luck, and enjoy!
---
As a product of the early '80s, I grew up in the golden era of cards. (Well, more like the infamous "junk wax era.")
My earliest card memories involved frequenting two different flea markets. There was the De Anza Community College Flea Market that was more "boutique fair" than it was a flea market, but it still had regular card vendors to interact with.
And then there was the Capitol Drive-In Flea Market that was held multiple times per week and was a dump of an experience (which is exactly how it should be).
Capitol was the true honey hole, with collections upon collections for sale. I'd tag along with my dad who was on the hunt for art and antiques, and I'd set out to discover a whole new world of cards—vintage cards from the 1960s and 70s, as well as the flashy and exciting inserts of the 90s.
Through my experiences and extensive childhood research (sifting through card bins and binders), I was far from a Ballcard Genius, but I was learning.
Years later, I feel like I've seen every card imaginable, which is why I'm sharing my journey here as we explore the best cards to collect, the history of the hobby, and the ins and outs of buying and selling (or, flipping cards for profit).
(It's also worth noting we are talking about the best cards to collect. Not the best cards to invest in, flip, or sell in any capacity. Really, those who handle cards can be boiled down to two broad categories—those in it for the hobby and those for the business. Sure, people can do both (I do both), but the point is, this article is talking about collecting. Here is a definition:
The hobby of collecting includes seeking, locating, acquiring, organizing, cataloging, displaying, storing, and maintaining items that are of interest to an individual collector. Collections differ in a wide variety of respects, most obviously in the nature and scope of the objects contained, but also in purpose, presentation, and so forth.

Wikipedia
Best Cards to Collect
The best cards to collect depend on personal interests, budget, tastes, and more. With so many different cards available, it's difficult to say which is best for you versus the next person. With that said, here is a generally-accepted strategy when it comes to collecting the many different cards available:
Baseball Rookies: Topps Flagship, Topps Chrome, 1st Bowman Chrome
Football & Basketball Rookies: Base Prizm, Silver Prizm; Prizms & Holos from other brands
Autos: Low-numbered, on-card autographs (as opposed to sticker autos); pack-pulled (not TTM)
Relics: Multi-color patches as opposed to white "napkins"
Variations: SPs, SSPs, or Ultra SPs
Baseball Parallels: Team color matches; Topps Chrome X-fractors and negatives
Football & Basketball Parallels: Animal print Prizm like zebra, tiger, and more
Serial-Numbered Cards: Low-numbered serials, or first or last printed (1/50 etc.)
Vintage: Rookies and Hall of Famers; cards in good condition
Are there more cards than this to collect if you wanted? Of course! And f you don't know what a lot of these different types of cards are, or, why they are included among the best, let's dive into the bulk of this article.
Different Types of Cards to Collect
I don't know why, but whenever I think about all of the different cards out there, I can't help but also think about that song "My Favorite Things" from The Sound of Music. (What's weird is that I've never seen The Sound of Music and don't think I've ever listened to the song all the way through, but I digress).
Like,
Rookies of Griffey, and cards of big home runs
Autographed legends, the thrill never quite done
Vintage designs with retro colors that sing
These are a few of my favorite things.
I mean, am I right? Anyone else? Sorry, I just can't help myself.
'90s fresh inserts with gold shine are so good
Relics with jerseys and bat cards with cool wood
Packs to be opened, the excitement it brings
These are a few of my favorite things…
I won't put you through any more, but just know I can rattle off a few additional verses thanks to chrome refractors, rainbow foil finishes, silly SPs; all the different card brands, and then some.
Read More: Holo Cards vs. Foil Cards
Point is, no matter who you are or what your card-collecting interests are, there is probably a card or a whole PC's worth of them just waiting to be tracked down.
Base Cards
When some people hear "base cards" they hear "junk" whereas in reality, there are a number of fun and entertaining ways to collect base cards.
Set Collecting
One of the more obvious ways to collect base cards is chasing an entire set's worth. For example, the 2001 Topps base checklist – including both series 1 and series 2 – has 790 cards.
Collecting the entire base set can be a fun and rewarding challenge (and sometimes frustrating along the way!). The process can involve trying to acquire each card in the set through trades, purchases, and other means.
I don't chase a lot of sets, but I do really love Topps Archives each year. Thus, I'll purchase a hobby box to kick things off. Doing so will certainly help me accumulate a good number of required base cards, but it also gives me a shot at two autographs, serial number cards, and more.
Here is me ripping a blaster:
Once the set is complete, you can display it proudly or store it for safekeeping. My preferred method, for now, is to file everything in a binder by card number.
I won't go into separate sections with these, but obviously, if you're going to go after the set, team sets is another obvious choice. And then, if you're a player collector, you're going to need to collect base, if
Cool & Different Backgrounds
While base cards might lack a lot of the glitz and glam that make other types of cards so shiny and collectible, they do usually feature the player on the field or court in front of a crowd or among other players. Thus, it's not only the one player on the card, but potentially a few players and then the fans cheering behind them.
Have you ever looked at these backgrounds?
I just went through a few of the biggest recent examples in my post on how to flip cards for money, which include the Menendez brothers sitting in the front row at a New York Knicks game on a Mark Jackson basketball card, and others. That said, most people who collect base cards with backgrounds, there is a universal theme that generates the thrill of the chase.
I'm actually included in this group of collectors, as I collect non-A's player baseball cards sitting in the Oakland dugout. One, there are a ton of these cards, which makes it fun, but two, it allows me to tie together my love for the A's with other players I wouldn't normally collect!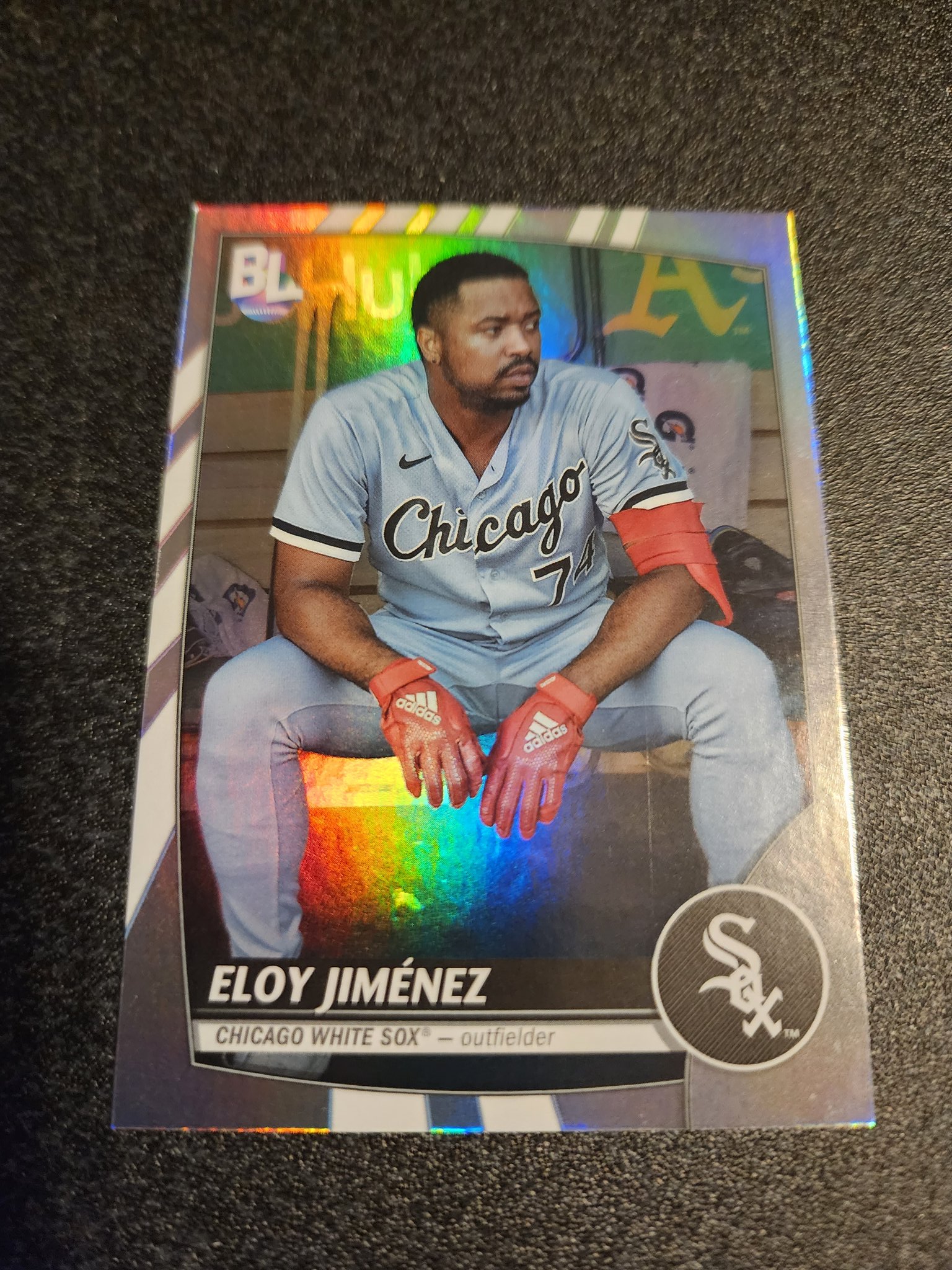 If you went down this route, which background base cards would you collect? I've seen people collect basketball cards with Michael Jordan in the background, or Kobe Bryant. A fun follow is @refsintheback, which as the name suggests, documents the collecting of basketball cards that have referees in the background!
Recently acquired in a @tradingcarddb trade:

1992-93 Star Stellar #103 Dikembe Mutombo

The non-licensed, no-logo look isn't my favorite, but the nearly head-to-toe ref makes its pretty cool. pic.twitter.com/dU4XMbxkXH

— RefsInTheBack (@RefsInTheBack) April 16, 2023
Parallel Cards
Ok, if base cards are still a bit too mild (even though I think we spiced things up a bit), parallel cards can be thought of as turbocharged base cards. First, think about the definition of "parallel" and the fact that as a noun, means it's something similar to something else.
So in the case of parallel cards, they are close to their base counterparts, but with some added flare. For instance, here is the 2018 Optic "base" Patrick Mahomes on the left and then the Silver "Holo" parallel on the right. It's the same card in terms of the photo, number, etc., but the "holo" has a refractor finish.
That could be a different finish, as is the case with rainbow or gold foil cards compared to paper base cards, or the different types of refractors and prizms for chromium base cards.
Would you by chance have the 2020 Certified Mirror Purple /10? It's the last one I need to complete the rainbow pic.twitter.com/3aDyblpksC

— Ian (@StarrsCards) December 18, 2022
Parallel cards are required for anyone looking to collect a "rainbow;" that is, one card of every type available for a certain player in a particular year.
I'm going to keep this section relatively short, as we will be revisiting parallel cards in a bit (under "insert cards).
Rookie Cards
Flat out, rookie cards are classically great cards to collect. And for the sake of not making an already long post even longer, I'm going to lump in 1st Bowman Chrome baseball cards here as well.
Point is, the "first" cards of a player are going to be among their most desirable. For vintage cards, it's easy to see the appeal—who wouldn't want to own the oldest baseball card of Hank Aaron or the first football card of Joe Namath?
And for modern cards, there is a lot of speculation among young players, and so you'll see "rookie" baseball cards for guys who have never set foot on a big league diamond selling for astronomical amounts.
IT SOLD FOR $474K. 😳🤯 THE Jasson Dominguez 2020 Bowman Chrome Superfractor Auto 1/1 PSA 10 just sold for nearly $500K via @goldinco, and this will go down as one of the riskiest sports card purchases of all-time. 📈📉 pic.twitter.com/0DuuLzytSX

— SlabStox (@SlabStox) February 6, 2022
Given all of that, what even is a rookie card? For one, it's a lot easier to explain with football cards and basketball cards, but even then it's not crystal clear.
For the sake of simplicity, the rookie card is the first released card of a player after they have signed on with their professional team. These cards could picture the player in their college or pro uniforms. Though, many collectors would agree in saying the "true" rookie is the one you should be striving for, and that card is almost always going to feature the player in their pro uniform.
In baseball, though, it's a completely different ballgame, no pun intended. Thanks to the draft and minor leagues, players can start getting licensed baseball cards while they're still in single A and far from the major leagues (per that Jasson Dominguez above).
Read More: Jasson Domingue Rookie Cards
Thus, a 1st Bowman card is a player's, well, first Bowman card ever printed, and you can tell these cards apart from others thanks to their "1st Bowman" logos:
Just like rookie cards, these are highly desirable for big names, and maybe even more so than something like the player's Topps flagship rookie card.
So with all of this, which is the best "rookie" card for you to collect? In baseball, it's going to be the true flagship rookie and/or the 1st Bowman. And to kick things up a notch from there, it's going to be the Chrome versions of these cards, or even the refractors.
In football and basketball, Prizm is the leader, so the Prizm rookie is generally the one you want to get your hands on; Select is a close second. There is also the conversation around "RPAs" or rookie patch autos, but we will get to those in a bit.
Insert Cards
Alas, my personal favorite of the bunch. Insert cards!
Imagine the scene. It's 1992, and you're a young baseball card collector. You've just come home from a long day at school, and after a quick stop at the grocery store, you're back home ready to relax with some bagel bites.
Your mom was nice enough to buy you a Fleer fat pack. Your mission? To pull a Rookie Sensation insert card. As you tear open the pack, you feel a rush of excitement as you catch a glimpse of blue among the regular base cards—the possibility of finding a Frank Thomas or Ivan Rodriguez inside is enough to make your heart race.
You flip through the base cards, admiring the crisp images but really just passing time until you reach the middle of the pack. Finally, you reach the center, and you see it: a Rookie Sensation insert. You don't even mind the fact that its of pitcher Steve Chitren and not one of the young stars you were looking for, but you can still hardly contain your excitement as you hold it up to the light, admiring the intricate design and the way it shimmers in your hands.
This card is different – it's special. You feel a sense of pride and satisfaction, knowing that you've found something out of the ordinary. As you tuck the card away in your collection, you can't help but smile, knowing that you've just experienced the thrill of the hunt that makes collecting baseball cards so addictive.
Ok, so that was loosely based on a real-life scenario, but you get the point. Inserts were "it" back in the day before auto and relic cards. That sense of nostalgia is why the old and shiny cards are still coveted today.
There are so many different insert cards, and thus you can find any one of a bunch of themes to make collecting them fun and amazing.
Antique Cards
You know the ageless icons like Babe Ruth and Ty Cobb, right? One could argue that these are the players that put the game on the map, and in return, any collector would love to add a piece of such history to their collections.
So, while these cards are typically older and more expensive, you can certainly make a collection out of them, especially at lower grades.
T206 Cubs for sale:
Kling P350 PSA 1 $160
Howard SC350/25 SGC 3 $200
Sheckard Sovereign 460 SGC 1 $175 pic.twitter.com/oBZX46Ql39

— Eric Peters (@ericaaronpeters) February 11, 2023
One of the most sought-after Walter Johnson cards is the 1910 American Caramel Co. Set C (E91), with the magic of this card being found in its age and time, easily seen by the artwork on the card itself.
How about Christy Mathewson? One of his best cards is the 1909-11 Sweet Caporal 206. But if you're seeking the most elegant and beautiful card (hell, any of the old antique cards), then you need to keep your eye on the 1909 Dockman & Sons E92. Thanks to Mathewson's gorgeous throwing motion and an amazing background, everything together makes for one of the best antique baseball cards ever.
And aside from Mickey Mantle, is there a card more in the headlines than Honus Wagner's T206 card by the American Tobacco Company? Considered the Mona Lisa of sports cards, only 50-60 of these cards still exist mainly because only about 200 of them were ever produced in the first place.
Auto Cards
Maybe one of the most popular types of cards to collect, the autographed card. First, to clarify what I mean by autographed cards, there are two different forms here. One is the pack-pulled auto that comes from, well packs of cards. These autographs are certified by the card companies and then randomly inserted.
The second is the in-person or through-the-mail autograph, in which any card is presented to the athlete and they sign it on the spot.
Now, when it comes to which type is more valuable, it's typically going to be the type that is pulled from packs. That's not to say they are more collectible, as there are plenty of scenarios that make collecting each or both fun and exciting.
Under the pack-pulled umbrella, there are two types of autographed cards. One is the "on-card" auto in which the signature is written directly on the card. Thus, the player held the card in their hands and signed it.
The other type is the sticker auto, where instead of signing the card, the player signs a sticker, and then that sticker is placed on the card.
I personally prefer to only collect on-card autos, though I'll buy a sticker auto in rare times. I just feel it looks cleaner, while others like knowing the player possessed the card they now own.
Relic Cards
Relic cards are terrible only if you allow them to be. I mean, they have been here for years and will be here forever, in seemingly every release, until the end of cardboard. So, let's embrace them!
And what better way to embrace them than looking at some of Mike Trout's greatest (that is, other than Ken Griffey Jr. jersey cards).
I mean, can you imagine owning any of these Mike Trout cards?
Bat Knob Relics
Bat (Barrel) Nameplate Relics
Multi-Color Patch Relics
Jersey Nameplate Letter Relics
More!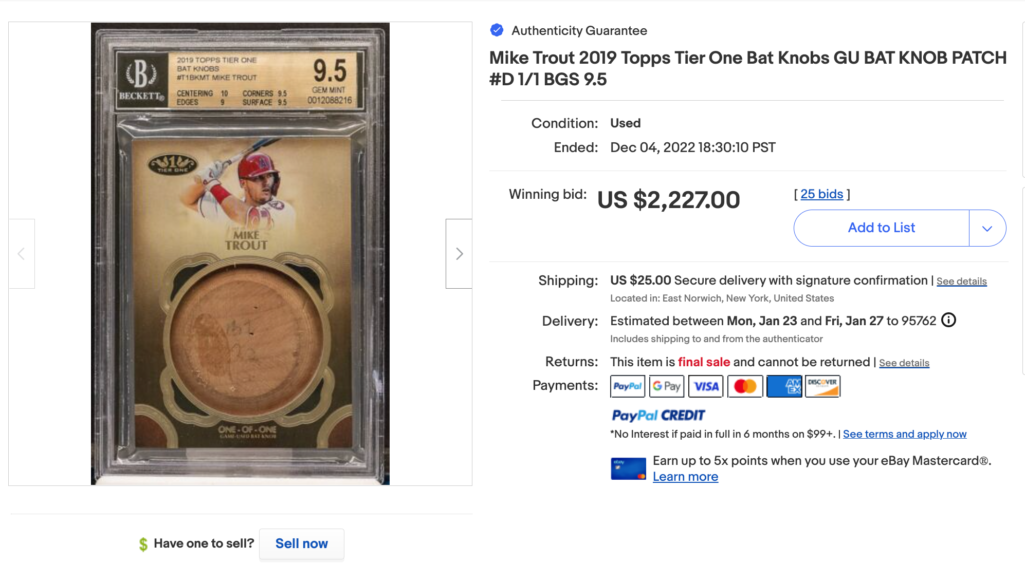 When it comes to relic cards, the bat knob is the pinnacle; the ultimate chase. Think about it—you have your jersey pieces, which are a dime a dozen, and then your jersey patches, which are a bit chunkier and more colorful. From there, relics can go in a number of directions—cleats and gloves are cool, but when stuck into a card, come up a bit short.
The bat knob, though? It's perfect. Well, it's a perfect circle, and it's the part of the bat you know the player touched (if that's your thing).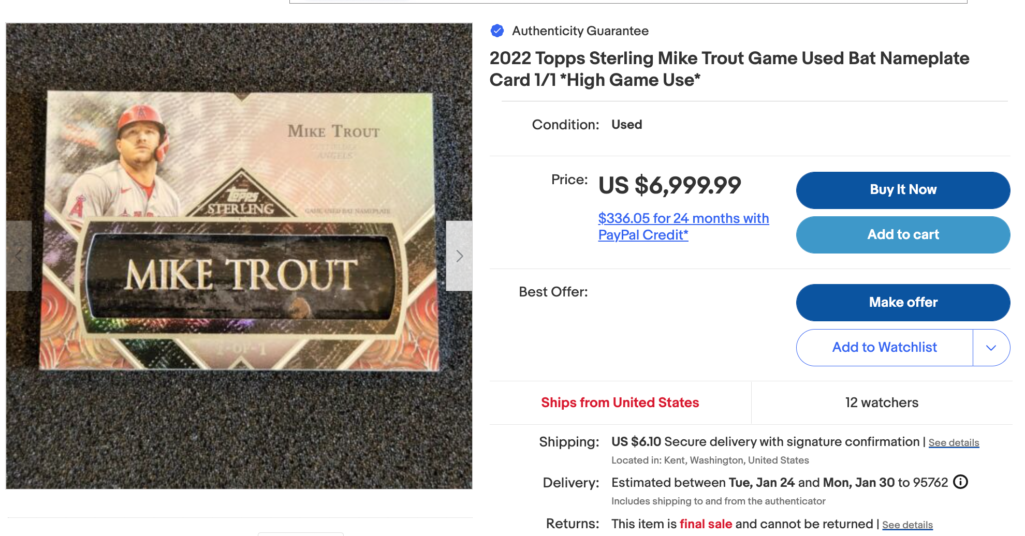 If not the knob, though, why not the barrel?
While the barrel of the bat might not be touched as much as the knob, think about how many home runs could have bounced off that baby? Not to mention that, while I love the pencil "trout" and "27" on the knob, the etched "MIKE TROUT" with pine tar and/or other pieces of crud aren't half bad either?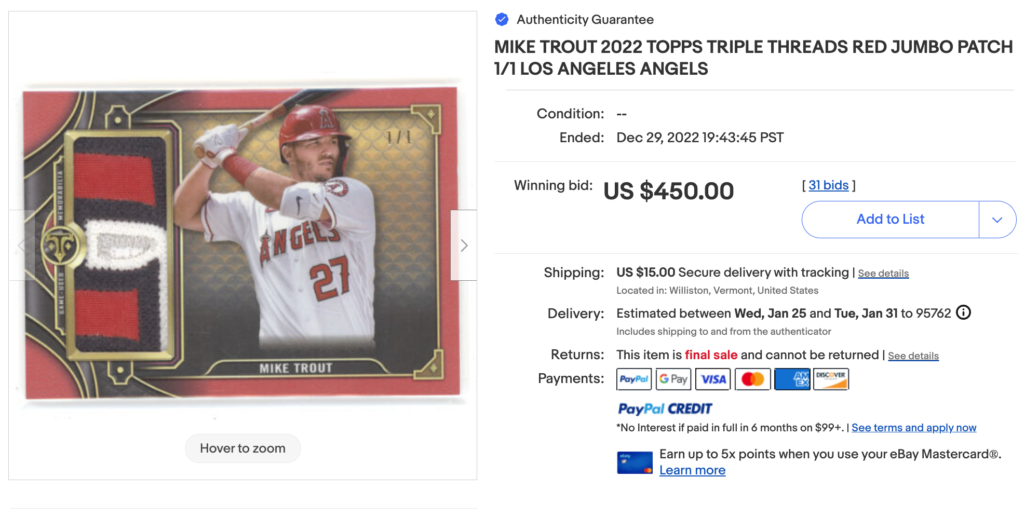 Even if just a piece of the jersey, not all relics are created equal! Sure this is a 1/1 and a team color match at that thanks to the red, but if not this one, there are others waiting.
Why do people love patches? Usually the colors, as most patches are going to be at least 2-color, and some (like this one) could be 3 or 4 colors. Some also like the "chunkiness" a big patch card brings, giving you the feeling that you are holding something truly unique and different.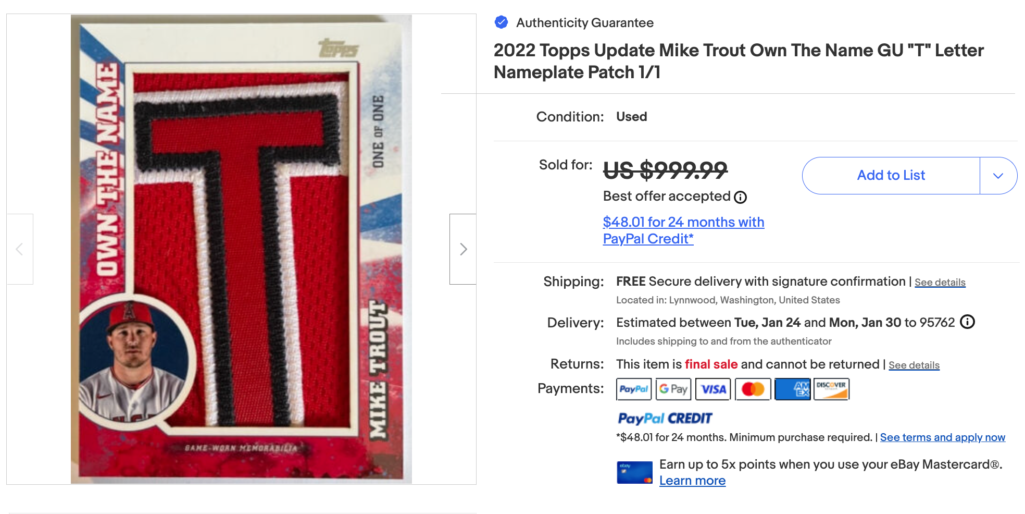 Speaking of patches, some collect for beauty, and others collect as a spelling excercise. Enter, the nameplate patch. As you can see it offers everything a patch would, but the clear letter cutout makes it extremeley collectible either as a "one-off" or especially so for those looking to put together the full name, like this:
We finally completed the @JoeyGallo24 nameplate all from various years of @Topps In/Own The Name Game Used Letter Patches. pic.twitter.com/YPRXdcU6gt

— Chris Burton (@CburtonPoker) September 2, 2022
(I hope there Saltalamacchia hasn't ever been on the nameplate checklist.)
The point being, see how fun relic cards can be to collect?
Variation Cards
In most card sets, there is a base checklist filled with "regular" cards for each player. In addition to the base checklist, though, there are sometimes image variations of select players. These image variations look like normal cards, and even have the same checklist number on the back of the card, but the front features a different photo.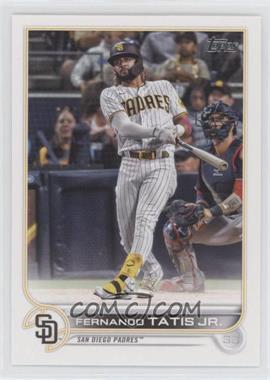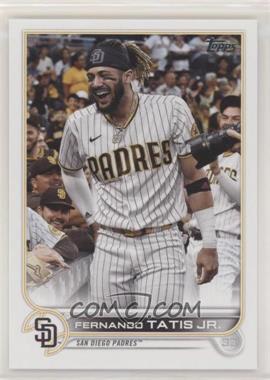 Thus, because these cards don't look special or flashy in any way, they are easy to completely miss when opening packs of cards. That said, there are some patterns to look for, so I advise you to take a look at these blog posts to get a better feel:
In terms of specific examples, some of the most regular instances occur in any of the new Topps baseball cards, but especially flagship products, as is the case with 2022 Topps Update's best cards, and valuable 2022 Topps Chrome cards as well.
With that said, most sets have some type of variation card to look out for.
The Derek Jeter Gold Hologram card is an interesting case, as is the Buster Posey Diamond Sparkle, which you can see me talking about below:
Serial Numbered Cards
Now, serial-numbered sports cards aren't a special or specific type of card. Meaning, you can have a base card that is serial numbered, which means it's a parallel. Autos, relics, inserts, variations, and more can all be serial numbered.
So, since we have covered all of those collectible cards already, let's take a look out how one can specifically collect serial-numbered cards where the serial number is the focus.
Just to make sure we are all on the same page, a serial number on a card tells us how many of that type of card was printed. This is called its "print run." Thus, if a card has a serial number with the number on the right being "50" as in "/50" that means the print run of that card is 50 copies. The number on the left will be 1-50 and identifies that specific card. So, when you get your hands on a serial-numbered card it might look like "12/50."
In this example above, the serial number is printed on the front of the card, near the top right under the Bowman Chrome logo. It reads "5/25" so the print run is 25, which means 25 of this type of card (Orang e Shimmer auto) exists.
So now with that base knowledge, some people choose to only collect cards of a certain serial number. Most commonly, that could mean only 1/1 cards, or only cards /10.
A bit more creatively, though, there are some people who will collect when the four numbers present some sort of significance to them. For instance, let's say you were born in 1999. You could only collect cards /99, but to take it a step further, how about only card 19 out of that 99-card run? As in "19/99."
Another example is if your birthday is April 25th, how about collecting cards numbered "04/25." See how that works?