Affiliate Disclosure: This post contains affiliate links. As I am part of the eBay Partner Network and other affiliate programs, if you follow these links and make a purchase, I will receive a commission. Likewise, as an Amazon Associate I earn from qualifying purchases.
An eBay comp is a comparable of what a similar trading card has sold for in the past or what it is currently selling for. It is way for buyers and sellers to measure the value of a card when deciding to buy and sell. For example, if a card's last three eBay card sales were $20, $18, and $22, one could reasonably say eBay comps are $20.
While there are a number of ways to check card sales, eBay comps remain among the most used and trusted. That said, there are different ways to go about the process, and a few things you should know when look at sold card data.
How to Check eBay Comps
There are a few different ways to check comps when selling your cards on eBay, with the process differing depending on the user's device.
Mobile
The first way is to utilize the search filters to view sold listings. On your eBay mobile app, search for a card like you normally would and then click "Filter" in the top right of the screen.
Then, scroll down toward the bottom of the different items and toggle "sold items" to on (blue). When you hit close ("X") you'll now see cards that have been sold.
Desktop
On eBay.com, again, search for a card like you typically would and then scroll down along the filter checkboxes on the left of your screen until you see "sold items." (You can also just hit "ctrl + f" and search "sold items.)
Once you click that checkbox, you'll see your results switch from cards currently for sale to those that have recently been sold.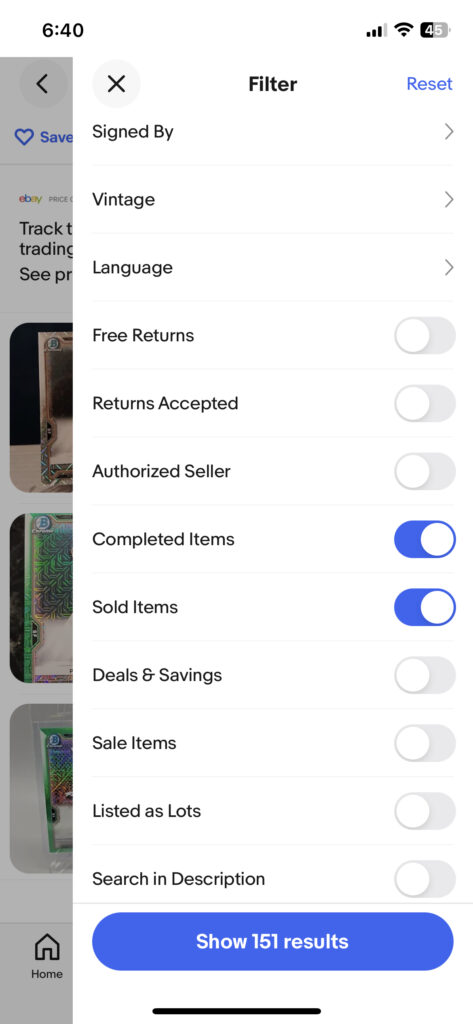 Limitations
While a straightforward process, it's also easy to mistakenly comp a card due to a few limitations.
One is that eBay sold item data only goes back 60 days. So, if you're looking to comp a card that is a little more rare, you might have a tough time with this method.
Read More: Best Selling Cards on eBay
The other limitation is that if a card was sold via "Best Offer," you probably won't be able to see the true price it was sold for. Even worse. you'll see a price, but that price won't be the actual sales price.
Third, if a card is sold on eBay but then returned or cancelled by the buyer, the card will still show in the sold items as a completed transaction.
Unfortunately, there isn't really any way to account for the third limitation, but the good news is, there is a way to check eBay comps older than 60 days, and also find the true "sold for" price even when sold as "best offer."
365 Days of Data with the eBay Price Guide
There was a time way back in the day where eBay offered 365 days worth of data, but at a price through their Terapeak Research. Now, that same info is free and easily accessible.
It can be found through the eBay Price Guide, but while checking values is pretty easy, being able to do so is not always obvious.
To find it, perform a search for your card. In this example, I've searched "1964 hank aaron psa 8" and received these results: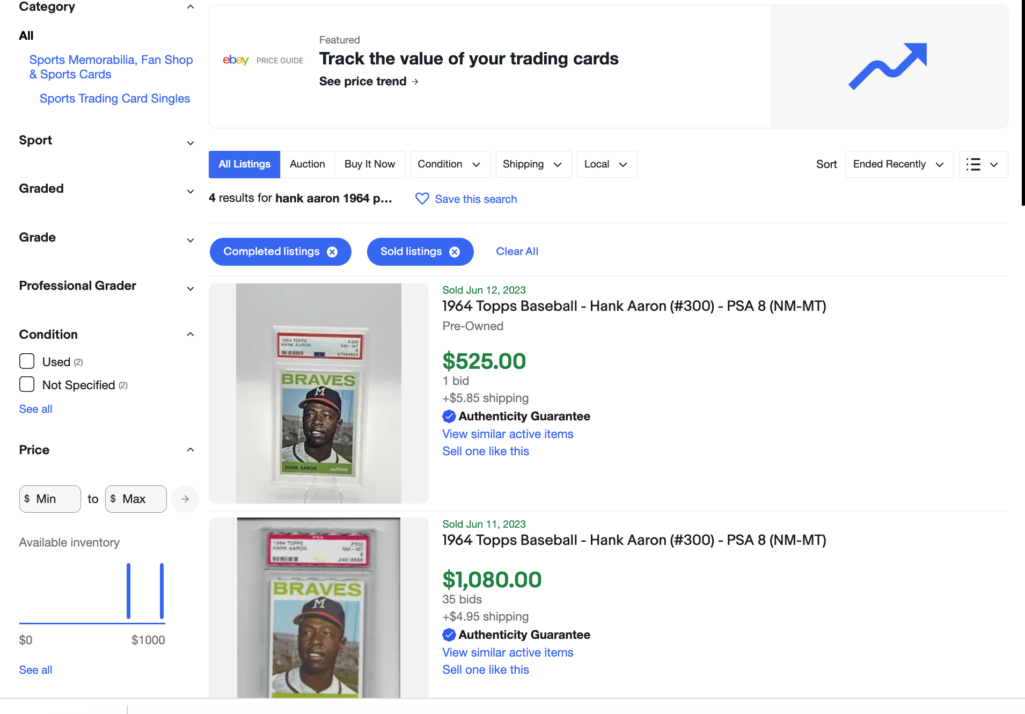 While not all pictured here, there are four results, and the earliest comp was from late May. Now, given that the 6/12 and 6/10 sales appear to be outliers (selling for $525 with one bid), I'd love to have more info.
Well, if you look above the results you see the jagged blue arrow and "Track the vale of your trading cards." While it might not look like it, that entire area is one big button, so go ahead and click it.
In doing so, we unlock more information, including a handful of older results, with the earliest going all the way back to July 2022.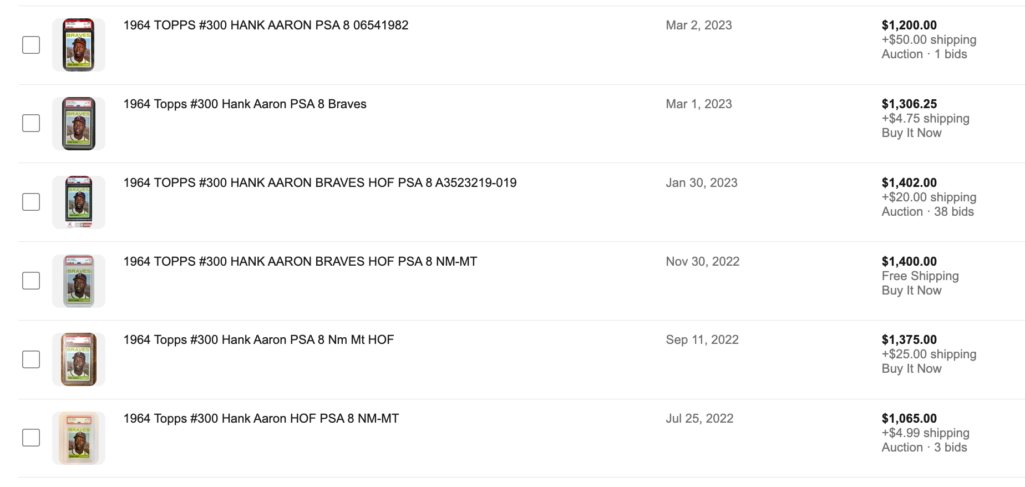 Seeing Best Offer Price with eBay Price Guide & 130 Point
Addressing the second limitation – not seeing the true sales price when sold at best offer – we can first try with the eBay Price Guide, which sometimes uncovers that data, or the more reliable 130 Point.
To first show you the eBay Price Guide solution, you'll do everything the same as we did above. This time, though, we are going to be looking at "2022 corbin carroll topps series 2 ssp gold mirror."

Wow, it sold for $999.99! Right?
Unfortunately, no. This is an instance where the eBay comp steers us in the wrong direction. They give you a little hint with the strikethrough, but that really only tells us the card was sold via best offer.
To help find the correct amount, we can click into the eBay Price Guide. As mentioned above, though, sometimes this step gives us the info we need and other times it doesn't. In this case, clicking into the Price Guide doesn't produce the information we are looking for, so now what?
Enter 130 Point—a website separate from eBay that will tell you the actual sold price for items that were sold at best offer. Go to their site, search for your card like you would on eBay, wait a few seconds, and voila:

As you can see here, the card actually sold for $700!
Now you know how to check comps! One extra step I like to take, though.
Sure, it's good to know what a card sold for, but you need to remember that "past performance is not indicative of future results." Meaning, just because a card sold for $100 last month or even yesterday, that same card might sell for less (or more) today.
So, I like to also take a look at current listings to see what the card is listed for now because that too should inform us of its current market value.
Going back to my example above—a card's last three sales have been $20, $18, and $22, so I might say comps tell us the card we want to sell is around $20. But, if there are also two cards like it currently for sale, one for $10 and another for $20, then we have to think differently.
Especially if the card has been listed at $10 for a few weeks, we can reasonably say the card probably isn't worth $20 anymore and that recent comp doesn't exist, or a new value is $10 or less.