Affiliate Disclosure: This post contains affiliate links to eBay, Amazon, and other platforms within the content, sidebar ads, and in other areas. As I am part of the eBay Partner Network and other affiliate programs, if you follow these links and make a purchase, I will receive a commission. Likewise, as an Amazon Associate I earn from qualifying purchases.
For as simple and straightforward as collecting a piece of cardboard can be, there are a few ins, outs, and minor details to be aware of when it comes to certain bits of terminology.
What are Uncirculated Cards?
Uncirculated cards are those that come encased and sealed directly from the manufacturer, and thus, aren't touched or handled.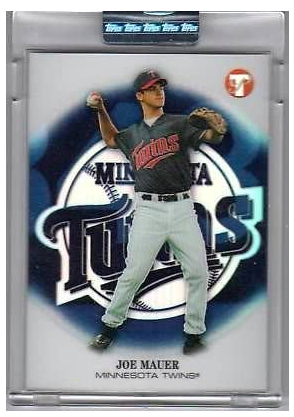 On the flip side, if you purchase a pack of cards, those cards also are sealed and not handled, but there is also no way of knowing the contents. Thus, once the pack is opened, the cards are handled (and circulated), and then either traded or sold, or stored and organized into one's personal collection.
History of Uncirculated Cards
Like anything "new and shiny," it seems that uncirculated cards were more popular when they first arrived to the hobby scene. My personal first memories of uncirculated cards came in the form of 2003 Topps Pristine, and I really fell in love with the Xfractors, and then the uncirculated autos of 2004 and beyond.
While there are still plenty of new release uncirculated cards today, those cards are desirable not because they are uncirculated, but because the actual cards are thought of to have value.
For instance, Archives Signatures (and Retired) and Clearly Authentic are probably the most popular examples, coming one card per box, and featuring "buyback" cards only with autographs, or clear chrome renditions of older designs, also with autographs, respectively.
In a funny turn of events, though, an auto card from a set like Archives Signatures doesn't hold as much value as a comparable, non-uncirculated set, probably best illustrated when you look at value of a 1/1 in both instances.
Topps Project2020
Deserving of its own section, Topps Project2020 hit the hobby with a flurry.
I'm not going to get into whether its presence was/is good or bad, where it can and should go from here, etc. All I know is that it certainly made its mark on the hobby, and, more to the point of this post, was an uncirculated card entry.
Briefly, for those who might not know, Topps commissioned 20 artists to reimagine 20 legendary baseball cards, including the 1969 Topps Nolan Ryan, 1980 Topps Rickey Henderson, 1985 Topps Doc Gooden, 1985 Topps Mark McGwire, and many more (view the archive here).
These cards were originally made available for purchase directly via Topps.com, where each card that was released was sold within a 48-hour window before closing. Thus, cards varied in print run based on how many were sold during that time. From there, the cards are shipped directly and uncirculated from Topps to the purchaser.
Now it a good time to mention it, but two of the reasons why someone would get their cards graded is to protect and authenticate. With Project 2020 cards that are already encased and direct from Topps, you're pretty much covered in both areas. 
With that said, you can get Project 2020 cards graded, and many have, as you can see below. 
List of Uncirculated Cards
Here is a running list of uncirculated cards and sets that I've recently come across on eBay (and not separating for chrome and paper versions).
I'll keep adding as I find more!
2001 eTopps
2001 Topps Reserve
2002 Bowman
2002 Topps Pristine
2003 Bowman
2003 Topps Chrome Auto
2003 Topps Finest
2003 Topps Pristine
2004 Bowman
2004 Topps Chrome Auto
2004 Topps Finest
2004 Topps Pristine
2005 Bowman
2005 Topps Chrome Retired Auto
2005 Topps Pristine
2006 Bowman Sterling
2006 eTopps
2007 eTopps
2008 eTopps
2009 eTopps
2009 Topps Auto
2010 eTopps
2011 eTopps
2012 Bowman Platinum
2012 Topps Tribute
2015 Topps Tribute
2016 Panini Flawless
2017 Panini Flawless
2017 Topps Clearly Authentic
2018 Topps Archives Signature
2019 Topps Archives Signature
2020 Topps Archives Signature
2020 Topps Project2020