Affiliate Disclosure: This post contains affiliate links. As I am part of the eBay Partner Network and other affiliate programs, if you follow these links and make a purchase, I will receive a commission. Likewise, as an Amazon Associate I earn from qualifying purchases.
January 2023 Update! Victor Wembanyama cards have arrived in the latest edition of Sports Illustrated for Kids. It's probably the most valuable card to be inserted in the magazine since I originally wrote this article. At the moment, it's selling for around $50, which doesn't come close to something like a Tiger Woods rookie, but a cool piece to have if you're a collector, and who know where it goes from here!
I'd be surprised if you found any issues in the stores at this point, but the one you're looking for is the January 2023 issue with the orange Philadelphia Flyers mascot on the front cover. Good luck!
It's time to admit it—the hobby is weird right now. But by weird, I mostly mean that it is booming, and because it is booming, you're seeing all sorts of weirdness in terms of cards hitting ridiculous prices.
And not just the classics or legendary cards you'd expect to skyrocket…
1991 Michael Jordan Upper Deck PSA 10 is selling for over $2,000. Impel Marvel cards are spiking. Wrestling cards started to pop.
And of course, to the point of this post and why you are here—Sports Illustrated for Kids cards are going bonkers.
Yes, Sports Illustrated for Kids, the magazine we all probably subscribed to when we were younger, only to have copies trashed long ago right along with many of your favorite childhood collections.
If you don't know, and you're here to learn. You've heard of Sports Illustrated Magazine, right? Well, there is a version of Sports Illustrated for Kids, as it is aptly named.
But the reason why certain issues of the magazine are selling for a ton of money right now is because each magazine has a sheet of 9 sports cards that represent athletes of the moment. It just so happens that back in 1996, a Tiger Woods SI for Kids rookie card was featured, and in 1999 there was a Serena Williams card, and so on.
Thus, the copies of the magazines holding key "rookie" cards are selling well. The sheets of those cards detached from the magazine are also selling well. The perforated cards ripped from their sheets are selling well. And, as you might imagine, high-grade copies of those cards are selling well.
More so, think about those athletes who don't have regularly-issued cards because of the sport they play or are a part of—Simone Biles, Naomi Osaka, and more. Cards of such athletes are few and far between.
So, the question is now, which issues should you be hunting for in your – if you're lucky – stacks of magazines your parents never threw away?
(But also, for the forward thinkers, how can you try and catch the next wave of superstar cards? SI for Kids magazine subscriptions are only $20 for 6 issues per year—you can grab them through Amazon.)
Sports Illustrated for Kids Cards
Here is a list of the different Sports Illustrated for Kids magazines to watch out for and to search through.
June 1989
Cover: Janet Evans
Headline: Splash
Card to Chase: Andre Agassi
9-Card Sheet:
Andre Agassi
Chris Sabo
Rickey Henderson
Evelyn Ashford
Curtis Strange
Connie Young
Lyn St. James
Roger Kingdom
Andre Dawson
Latest eBay Sales:
May 1990
Cover: Ed & Tony George
Headline: The Right Stuff
Card to Chase: Tony Hawk
9-Card Sheet:
Tony Hawk
Merlene Ottey
Mark McGwire
Reggie Miller
Rex Chapman
Boris Becker
Wendy Williams
Sheryl Johnson
Dwight Gooden
Latest eBay Sales:
August 1992
Cover: Kirby Puckett
Headline: Kirby!
Card to Chase: Mia Hamm
9-Card Sheet:
Mia Hamm
Richard Petty
Anita Nall
Matt Williams
Deion Sanders
Bobby Bonilla
Dawn Staley
Chuck Finley
Fred Couples
Latest eBay Sales:
December 1996
Cover: Larry Johnson
Headline: LJ Comes to Play
Card to Chase: Tiger Woods
9-Card Sheet:
Tiger Woods
Lisa Leslie
Jerry Stackhouse
Curtis Martin
Michael Finley
Martina Hingis
Ed Jovanovksi
Chen Lu
Doug Flutie
Current eBay Sales:
February 1997
Cover: Jackie Robinson
Headline: An American Hero
Card to Chase: Kobe Bryant
4-Card Sheet:
Kobe Bryant
Allen Iverson
Marcus Camby
Kerry Kittles
(There is also a 9-card sheet, but Kobe featured on a separate NBA rookies 4-card sheet as listed above.)
Latest eBay Sales:
July 1999
Cover: Sammy Sosa
Headline: Smash Hit
Card to Chase: Serena Williams
9-Card Sheet:
Serena Williams
Allen Iverson
Randy Moss
Rickey Henderson
Mo Vaughn
Doug Swingley
Vinny Castilla
Peter Nowak
Jennifer Gillom
Latest eBay Sales:
May 2003
Cover: Yao Ming
Headline: It's Good to Be Yao
Card to Chase: LeBron James
9-Card Sheet:
LeBron James
Michelle Kwan
Brad Johnson
Jaromir Jagr
Tim Duncan
Alfonso Soriano
Diana Turasi
Derek Lowe
Clinton Portis
Latest eBay Sales:
September 2008
Cover: Eli Manning
Headline: 2008 NFL Preview
Card to Chase: Usain Bolt
9-Card Sheet:
Usain Bolt
Chris Bosh
Angela Tincher
Knowshon Moreno
Josh Hamilton
Rafael Nadal
Hannah Nielsen
Marques Colston
Edison Volquez
Latest eBay Sales:
October 2008
Cover: Terrell Owens
Headline: Showdown
Card to Chase: Steph Curry
9-Card Sheet:
Steph Curry
Laura Bennett
Tim Lincecum
Clinton Portis
Mario Williams
Paul Pierce
Johan Franzen
Jill Kintner
Tommy Mendonca
Latest eBay Sales:
April 2009
Cover: Cole Hamels
Headline: Ready, Aim, Baseball
Card to Chase: Lewis Hamilton
9-Card Sheet:
Lewis Hamilton
Shelly-Ann Fraser
Nate Robinson
Cliff Lee
Tim Thomas
James Harrison
Kevin Durant
Adrian Gonzalez
Megan Hodge
Latest eBay Sales:
June 2015
Cover: USWNT Soccer
Headline: The Avengers
Card to Chase: Jordan Spieth
9-Card Sheet:
Jordan Spieth
Jake Hoyle
JJ Watt
Simona Halep
Kytra Hunter
Stephen Curry
Zane McIntyre
Jacob DeGrom
Tyus Jones
Latest eBay Sales:
November 2018
Cover: Larry Fitzgerals
Headline: The Photography Issue
Card to Chase: Naomi Osaka
9-Card Sheet:
Naomi Osaka
Kirk Cousins
Jayson Tatum
Victor Hedman
Josef Martinez
Simone Biles
Justin Turner
Carsen Edwards
Jonathan Taylor
Latest eBay Sales:
Next Steps
So, if after all of this, you were lucky enough to find a prized magazine, what do you do next? From extracting the cards to keeping the magazine whole, you have a number of options.
And while you can always just keep the magazine as a cool and valuable keepsake, here are some things to consider if you wanted to sell. I'll be using the "Tiger Woods" December 1996 issue as the example.
1. Sell the Magazine in its Current Condition
If you wanted to sell the magazine as you found it, the lowest-priced copy on eBay right now is listed for $1,200. So, if you went this route and wanted to sell the magazine relatively quickly, you'd probably have to list it lower than $1,200.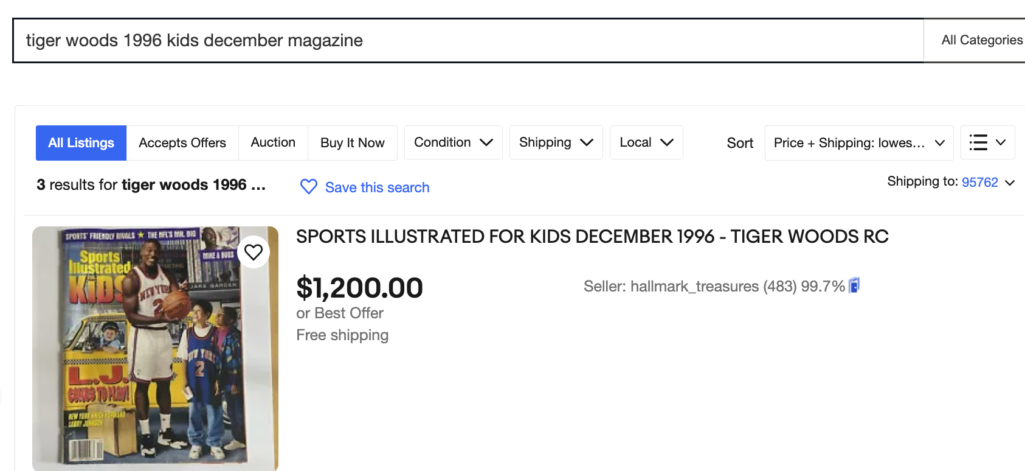 That said, this is only one side of data, and to get a better idea of what the magazine might be worth, you'd want to check eBay sold data, in which case here the most recent sales says there was a $510 sale in January in 2023, along with a $425 sale in December 2022 and a $349.99 in November 2022.
2. Sell the Card Sheet
Alternatively, there is the option to remove the sheet in its entriety and then sell. Personally, I'm not sure I understand this option a whole lot because you're taking the risk to remove the sheet, but then not go the extra step to remove the card.
It also looks like the sheet on its own is perceived to be of lesser value, with the most recent sale being for $399 in December 2022. Earlier in the month there was also a $499.99 sale along with one for $213.50.
3. Sell the Single Card (Raw)
Next, you have the option of selling the single card on its own. Of course, we are moving into risky territory, because removing the card from the perforated sheet introduces the possibility that you rip the card and damage its condition, and value.
Sports Illustrated for Kids Cards are notoriously difficult to find in Mint condition…

That's because the cards came in magazines & collectors must carefully remove the card along its perforated edges to send in for grading.

— Will Stern (@WillStern_) January 19, 2022
Alos, if you go this route, past sales tell us to not cut the card out of the sheet with scissors, as you'll see some of the lower recent sales are cards with clean (trimmed) edges: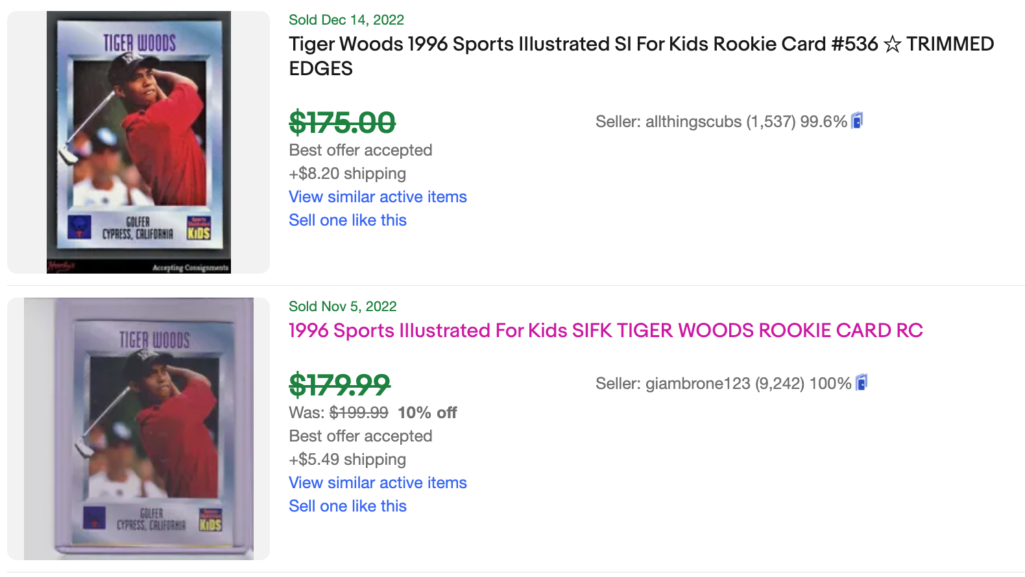 On the other hand, if you look at recent sales of cards with perforated edges, you'll see recent sales around $250-$300.
4. Submit the Card for Grading (and then Sell)
Last, the most profitable option could be extracting the card from the sheet and then submitting for grading. On the plus side, a card graded as a PSA 7 or better could provide a nice return, as the last PSA 7 sold for $564. And then as you might expect, a card graded even higher would bring in more, with a PSA 8 recently selling for $925.
Given that, PSA 9 is where things get really interesting, with the most recent sale fetching $2,500 (January 2023) and the one before that $2,700 (December 2022).
How about a PSA 10? I don't see a current sale, unfortunately. There is one currently for sale at $55,000, but again, that card is simply listed for sale and that number doesn't mean much until it becomes a sold price. Either way, a PSA 10 would certainly be a prized possession.
On the other end of the spectrum, grading doesn't guarantee a nice return, as a PSA 4 recently sold for $280 (November 2022), a PSA 2 for $220 (January 2023), and a PSA 1 $171.50 (December 2022).
How to Remove the Card
If you decide to remove the single card from the sheet, here are some things to consider. Please note I've never tried to do remove a card from a sheet, nor have I submitted an SI for Kids card for grading. These are sourced tips I've found from my own personal research.
First, and as mentioned above, if you're hoping for the best grade, don't use scissors to cut the card out of the sheet. It's hard to believe, but the perforated edges should be present and are preferred when compared to smooth, trimmed edges.
So, just like you'd approach any perforated material, you'll probably want to fold along the performated edges to make for as easy as a tear (where it's supposed to tear) as possible.
As for examples of what could cause a good or bad grade, this recent thread on the Blowout forums has a number of different cases and circumstances. For instance, one thing that could result in a lower grade is the presence of the cards surrounding the submitted card. Meaning, the Tiger Woods (in the middle of the sheet) is surrounded by yellow cards, and the presence of yellow (parts of the other cards) could lead to a lower grade.