Affiliate Disclosure: This post contains affiliate links to eBay, Amazon, and other platforms within the content, sidebar ads, and in other areas. As I am part of the eBay Partner Network and other affiliate programs, if you follow these links and make a purchase, I will receive a commission. Likewise, as an Amazon Associate I earn from qualifying purchases.
The time has come where you not only were able to locate all of your old Sports Illustrated for Kids magazines, but you've found they're actually still in decent shape after all of these years. But the kicker on top of it all is that that sheet of cards you never really gave much thought to as a kid now functions as the main value driver of the magazine, and then some.
Only to discover a Tiger Woods rookie among those SI for Kids cards? Congrats!
So now, here we are. You haven't looked up cards in a while and have seen the stories of this cards selling for a ton, but you're also thinking that can't possibly be right for all copies, right? Well, you're probably half right. But really, like all things, it depends! So, let's take a look.
Tiger Woods SI for Kids Card Sells for $55K
So, if you were anywhere around cards and were up on the news in the middle of the pandemic (I mean, we were all home with out belongings and glued to the news, so, why not) then you probably heard about the resurgence of trading cards, and how many were exploding with insane value.
Well, in February 2021, a Tiger Woods BGS 10 Pristine sold for $55,000.
Now, before we get too excited here, the market has changed a ton since then, and we will get into that shortly. The other thing to know is that this card is slabbed, as in it's graded. And not only that, it received the coveted "Pristine" rating from Beckett, which just doesn't happen all that often. That basically means this card was perfect, and scored the best it could with its corners, surface, centering, and edges.
Recent eBay Sales of Graded Cards
Now, there won't be many Pristines that come around for sale, so to give you a better idea of what a graded card is selling for these days, let's take a look at the following info.
First of all, it looks like there is only one BGS 10 that has sold over the last 365 days; which happened in July 2021 for a $50,000 transaction.
Again, 10s are rare, so let's drop down half a grade and look for any sales of a 9.5:

Here you can see a sale from November 2021 for about $6K and another more recently in June 2022 for $4K. I don't see any 9s that have sold recently, but there were three 8.5s that sold in May and June for $1,225, $1,009, and $600. (The $600 is an outlier so not sure if there was something different about that listing.)
Anyway, the point is, you can see how value fluctuates depending on grade. And quickly switching gears to PSA, I don't see any PSA 10s, but here are the last three PSA 9s that sold:

(How am I finding this data? Simply log into your eBay account and access the "selling" area. Click "research" and then have fun!)
So while all of this looks great, you have to remember, these are graded cards, and while anyone can pay the fee to get a card graded, highly-graded cards are typically worth more because they are in smaller supply. That shortage can either be due to the fact that the card itself is rare, or, that the card in a great condition is rare.
Thus, before going further, let's take a look at values of the raw Tiger Woods SI for Kids rookie card—that is, "raw" as in ungraded.
Recent Sales of Raw Cards
Now, warning—you're about to see a dramatic drop off in value, but again, it's for good reason.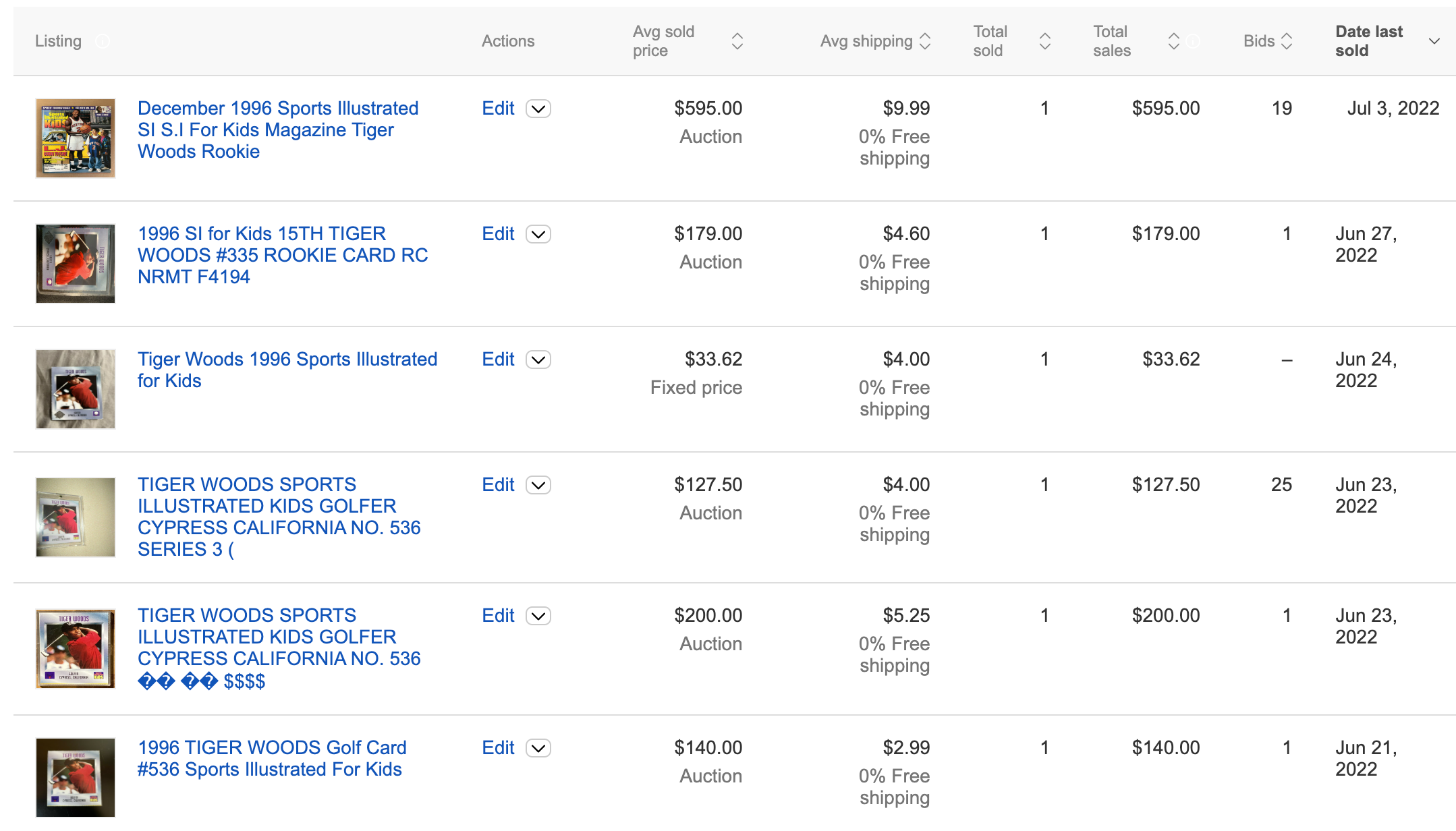 A couple things with the screenshot above. One, you can see the most expensive sale was today as I'm writing this, July 3, 2022. But, importantly, that purchase was from the entire intact magazine, with the attached sheet and cards not separated. So, naturally, you'd expect that Tiger Woods card to be worth more because it hasn't yet been torn from the original sheet.
And secondly, as mentioned, you can see raw values altogether are coming in a lot lower than their graded counterparts.
How to Value Your Tiger Woods SI RC
All that said, if you're holding a Tiger Woods Sports Illustrated Rookie Card, what's your next move?
Examine Your Card
First, examine the condition of the card. Obviously as a perforated card removed from a larger sheet by hand, it's not going to be perfectly crisp as a normal baseball card would be. But looking at the graded cards in the example above, that's definitely taken into consideration by the graders.
So, apart from the edges, are there any creases, rips, or stains? Basically, you want to look at your card and then look at the graded examples on eBay. And not only the high grades, but the mid grades too. Your goal is to try and match up the condition of your card to a graded copy to arrive at some ballpark estimation of what your grade would be if you did end up submitting.
Decide if You Want to Grade
Next, based on the previous step, the decision is now whether or not you want to grade. The biggest factors here are of course cost to get a card graded and the condition/chances of receiving anything from maybe a 7 to a 10 in order to make grading worth it (which could even maybe be a 6 depending on value.)
Take a look at the cost to get a card graded through PSA: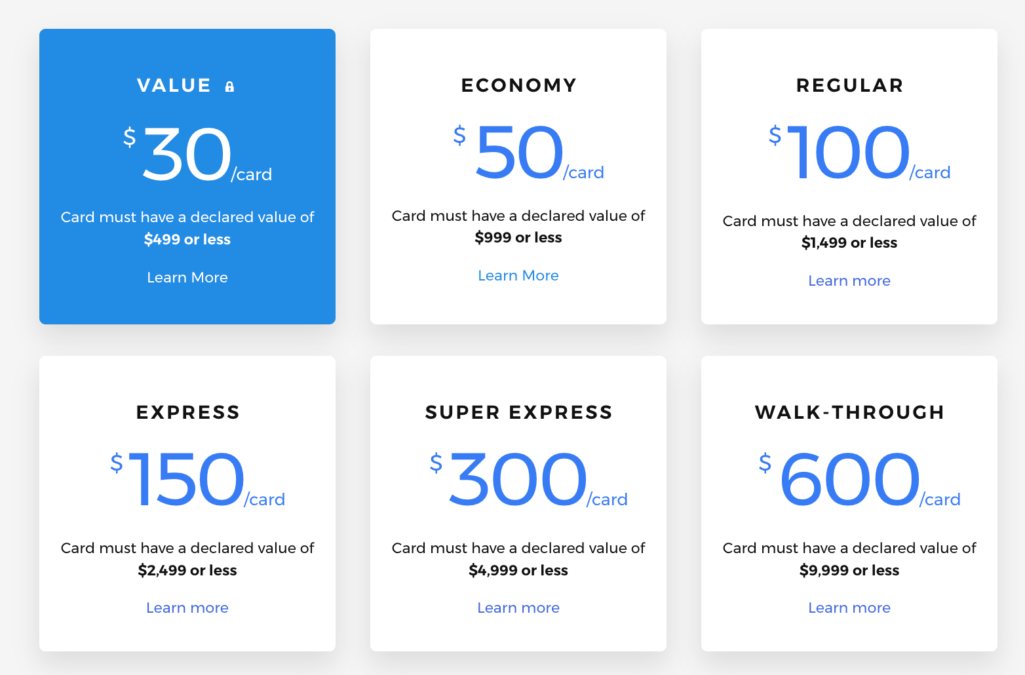 While grading the cheapest as possible is probably the mindset, you also have note the "declared value," which is the estimated value after the card has been graded. So, let's say you do expect a PSA 6, which, based off the last few sales, would lead to a declared value of around $500-$600. Based on the above, you'd have to opt for the "economy" service at $50/per card.
If you happened to just find the card and didn't have to buy it, you might be onto something—you can potentially end up with a $500 PSA 6, and the only involved cost is the $50 cost to grade. On the other hand, let's say you bought the card raw for $200. While $200 is obviously less than the expected $500 if you receive a grade of 6, your margin is a lot tighter, especially if you end up with a PSA 5.
If you do in fact have a Tiger, best of luck!