Affiliate Disclosure: This post contains affiliate links to eBay, Amazon, and other platforms within the content, sidebar ads, and in other areas. As I am part of the eBay Partner Network and other affiliate programs, if you follow these links and make a purchase, I will receive a commission. Likewise, as an Amazon Associate I earn from qualifying purchases.
PSA Definition
In cards, PSA stands for Professional Sports Authenticator, which is one of the largest and most popular card grading companies around. A card grading company evaluates cards and assigns them a grade or card rating based on their condition. The main factors include a card's centeredness, edges, corners, and surface.
What is a PSA Card?
When you're scrolling eBay you have probably seen listings like "PSA 10" or "PSA 9 OC." These numbers represent the actual grade the card received after being graded. That is, you want to make sure the card listing is in fact a PSA slabbed card (meaning it's encapsulated in the PSA holder with label affixed).
In addition, you might see other titles and descriptions like "PSA-ready card." This means the card for sale is actually a raw card (one that hasn't been graded) but the seller is saying is in good condition. Of course, this is all based on personal opinion, and you have to remember it's the seller who is describing the card this way…
What do the PSA Numbers Mean?
So if you've gotten to the point of holding or seeing a PSA-graded card, you might also be wondering what all of the information on the PSA label means. To summarize, here is an example: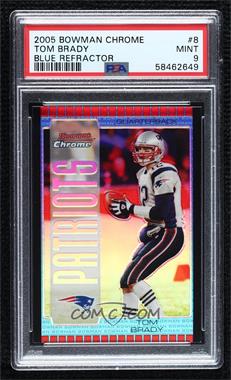 So on the card above, you see the following pieces of information:
Set Name: 2005 Bowman Chrome
Player Name: Tom Brady
Variation: Blue Refractor
#8: Card Number
Mint: Card Condition Based on Grade
9: Number Grade
58462649: Serial Number
Most of this info is pretty self-explanatory—set name is the name of the set of cards, and player name is obviously the featured player. Variation can vary or not be included if the card is a simple base card.
The "#8" is the card number found on the back of the card and pertains to the card set.
Read More: Best Tom Brady Cards to Collect
"Mint" and "9" are the PSA-specific numbers and make up the grade of the card, while the long serial number can be used to check and verify the card's grade with PSA.
Is PSA the Only Grading Company?
No! So if you're wondering what PSA stands for or means, you'll probably soon be wondering the same about BCCG grading, the SGC pop report, BGS grading cost, and more! Here are a few quick answers:
BCCG: Beckett Collector's Club Grading
SGC: Sportscard Guaranty Corporation
BGS: Beckett Grading Services
Does PSA Only Grade Sports Cards?
No! PSA grades pretty much every card from sports to Pokemon, Yu-Gi-Oh!, and more. Not to mention PSA authenticates signatures and other pieces of memorabilia.