Affiliate Disclosure: This post contains affiliate links. As I am part of the eBay Partner Network and other affiliate programs, if you follow these links and make a purchase, I will receive a commission. Likewise, as an Amazon Associate I earn from qualifying purchases.
A retrofractor is a type of Bowman Chrome card that features a legendary player who made their major league debut before Bowman Chrome products had ever been released (and thus never had a 1st Bowman Chrome card printed). The retrofractor is new for the 2023 Bowman Chrome product release, with cards of three players – Babe Ruth, Roberto Clemente, and Johnny Bench – on the checklist. In terms of design, retrofractors have a typical refractor finish and are equipped with the 1st Bowman logo.
The first Retrofractor Autograph has surfaced…and it's listed on eBay with a $5,000 starting bid.

What do you think about these Retrofractor Autos? pic.twitter.com/DXHCOplsX2

— The Collectibles Guru 🧠 (@ericwhiteback) September 14, 2023
As is the case with other Bowman Chrome cards, retrofractors will have parallels. These include gold (/50), orange (/25), red (/5), and superfractor (/1). And as you can see from the above, there are autographed Johnny Bench versions. (The inclusion of Bench alongside Ruth and Clemente was a bit curious to me, but I wonder if it was done in order to be able to include hard-signed cards?)
In terms of value, there are currently a handful or so Babe Ruth retrofractors currently for sale on eBay, with the lowest Buy It Now option for sale at $4,999 (for the orange /25 parallel version).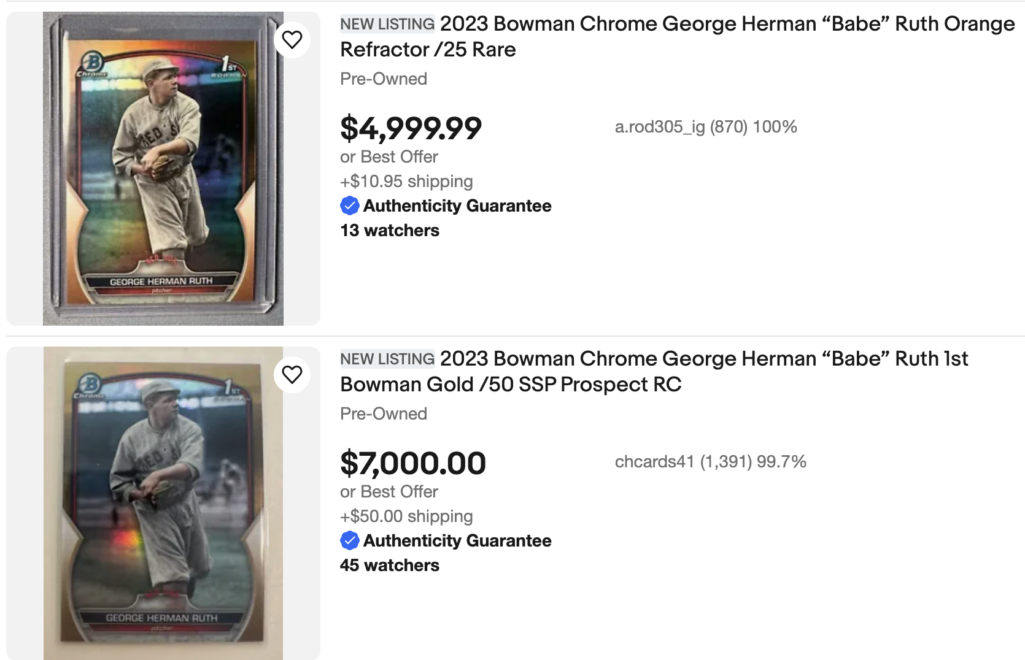 While the announcement of the retrofractor itself caused hobby news headlines, further waves have been made by online card store and retailer Dave & Adam's announcing a $200K bounty for the Babe Ruth retrofractor superfractor 1/1 parallel.
🚨BREAKING 🚨

We are officially putting out a $200k bounty on the Babe Ruth Bowman Chrome Prospect Retrofractor 1/1 SuperFractor

Coming out in the new @topps 2023 Bowman Chrome Baseball pic.twitter.com/fqs8g94jWR

— Dave & Adam's (@dacardworld) September 8, 2023
And yes, if you're thinking that you've heard the name "retrofractor" before, you'd be right? They used to be a thing, with the 2001 Topps Chrome Albert Pujols retrofractor parallel probably being the biggest and most valuable examples. These original retrofractors had a cardboard back like vintage or retro cards and the customary refractor front finish.
Better use of a name? 2001 Topps Chrome Retrofractor or the 2023 Bowman Chrome Retrofractor?

For all of the things we call parallels these days (Tacofractor, line 1), I feel like we could have used something that hasn't already been used before? Famerfractor? 🤷‍♂️ #BowmanChrome pic.twitter.com/bLXua1Mn5c

— Ballcard Genius (@BallcardGenius) September 14, 2023
Anyway, along with the game's brightest young names, the retrofractor has easily become one of the biggest chase cards in the 2023 Bowman Chrome product, and will most likely continue to be a key piece of Bowman Chrome releases from here on out.