Affiliate Disclosure: This post contains affiliate links to eBay, Amazon, and other platforms within the content, sidebar ads, and in other areas. As I am part of the eBay Partner Network and other affiliate programs, if you follow these links and make a purchase, I will receive a commission. Likewise, as an Amazon Associate I earn from qualifying purchases.
One thing to love about the hobby expansion and cards becoming more popular than ever is the innovation and opportunity. Believe it or not, there was a time when I was a young collector that we didn't have the internet, and the main source of determining what makes a card valuable was a Beckett Baseball Card Monthly. Today, there are almost too many data sources, right? Not to mention that when it comes to buying and selling sports cards and the many places you can do so, where do you even begin?
Today, we are focusing on one particular segment, the PSA graded card and the options you have when it comes to selling slabs.
1. eBay

Let's get the most popular one out of the way. If for some reason you didn't know that eBay is a great place to sell graded cards (and to sell ungraded sports cards), then here you go. In fact, by my count on my eBay app this very second, there are 1.1M results when I search by "PSA" within the "trading card singles" category.
Thus, it's a known and popular source, and one of the first places buyers go when it comes to looking for a coveted card, and one of the first places sellers think of when trying to sell a card quickly. Of course, you're going to get people who say "but the fees!" And yes, there are fees. But frankly, eBay is providing one of the best services in the world, and they aren't going to do it for free.
2. Alt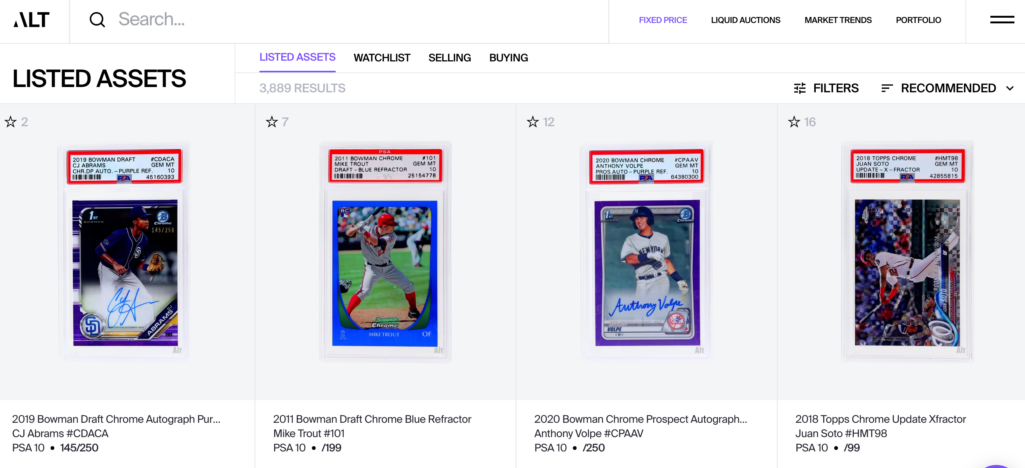 Now we will start getting into "graded-only" platforms for the next few options, starting here with Alt. Alt is relatively new, definitely compared to eBay and COMC. And one thing that wasn't mentioned above about COMC being different than eBay is that COMC operates as a vault, which is similar to what Alt offers.
What this means is, if you buy a card on Alt (or COMC) you can choose to have that card shipped home as you'd expect, but additionally, you can simply hold the card in your "vault" or "inventory" etc. for safe-keeping. You can also reprice and relist that card for sale immediately, which is a big draw for people who like to buy and sell cards.
Thus, if you're looking to sell cards, these platforms are not only watched by people wanting to buy cards for their collections, but by flippers who are looking to buy and sell.
Sorry to interrupt, but you can 

grab a free $25 to spend on graded cards

with Alt
.
Simply, Alt offers a new exchange (among other things) where you can buy and sell cards. It's easy to use and has some nice data features, and while I've only purchased and sold a few things, I'm looking to do a lot more. (Learn more about Alt.)
If you'd like to give Alt a shot, you can grab a free $25 spending credit—simply visit this referral link, and sign up for an account. Then, once you make a deposit, you'll receive $25 in promo credits to buy cards with, and I will as well.
3. COMC

Second, and while not as widely known, still a very popular destination when it comes to selling cards. To compare it to eBay, there are a few key differences.
One, COMC is a consignment service, meaning you send your cards to COMC and they scan them, populate the card details, and make the cards available for sale in their marketplace. Once you send your cards in, your job is to price them, and that's basically it. Once a card sells, since it's in COMC's possession, they take care of the shipping.
Read More: COMC Has an App!
Anyway, there is a lot more to know about COMC, and in fact, it's one of my favorite places to buy and sell—here is a write-up on whether or not COMC is worth it.
4. MySlabs

Another graded card only platform, MySlabs offers a refreshing straightforward marketplace experience. As you can see from the image above, selling on MySlabs results in a small 1% fee, which is far less than other platforms.
Compared to Alt and COMC above (and StarStock below) MySlabs is not a consignment service. Meaning, everything is on you as a seller when it comes to scanning, shipping, etc. So, you can say MySlabs is more like eBay in that sense, but it's not an auction site.
5. StarStock

Have you tried StarStock? It's a card marketplace that allows for instant card purchasing and selling, which in a sense, looks a bit like trading. It's similar to COMC and Alt in the sense that buyers are looking to keep cards in their inventory for sale at a later date, if not immediately.
The site hit the scene with a bang, but seems to be in a bit of a transitional period at the moment. Originally started with a focus on rookie cards only, there has been a shift toward graded. So, while you can still buy and sell raw cards on StarStock, these are all cards that were previously submitted, and the site is no longer accepting raw cards.
From StarStock's FAQ on which cards they now accept: "Any PSA/BGS/SGC/CSG graded sports cards. Any factory sealed sports wax."