Affiliate Disclosure: This post contains affiliate links. As I am part of the eBay Partner Network and other affiliate programs, if you follow these links and make a purchase, I will receive a commission. Likewise, as an Amazon Associate I earn from qualifying purchases.
So you've stumbled upon a stash of sports cards. Fun! I mean, fun, right? Maybe it's an old collection tucked away in your garage, an inheritance from a relative, or a lucky find at a garage sale. Whatever the case, you're now left with a big question:
Where can you sell these cards?
DIY Online Marketplaces
Consignment Platforms
High-End Auction Sites
Local Marketplaces
Community-Driven Platforms
Message Boards & Forums
Physical Marketplaces
Card-Selling Apps
If you didn't already realize, the hobby landscape is vast. With different years, releases, players, and potential values—it can seem like a never-ending cascade of cardboard. Some cards might be hidden treasures, waiting to be graded and bring you a windfall, while others might be just decorative keepsakes.
Met a very nice gentleman who is selling his storage unit full of #sportscards tomorrow evening. While I may not end up with these cards, it was great to interact with a very nice guy whom I never would have met if it wasn't for these cards. I will update what happens tomorrow… pic.twitter.com/4qU6ucdQdd

— United States Sports Cards (@USSportsCards1) September 26, 2022
In fact, did you know there are over 25,000 Cal Ripken Jr. baseball cards according to Trading Card database? That's one player from one era.
The challenge? Figuring out which is which, and ensuring you neither undersell a gem nor overprice a common card.
Where you'll get the best bang for your buck—or card—depends largely on what's in your collection. Are you looking at a singular gem or an expansive compilation spanning decades? Just as you wouldn't sell a vintage car at a regular dealership, the right platform for your cards can make all the difference in ensuring a successful transaction.
I'll warn you, when it comes to where you can sell your cards, there is no shortage of options. Per the above, there are so many different cards, and thus so many specialized selling venues.
This time around we will explore the varied avenues tailored to the specifics of what you're holding, guiding you to make informed decisions.
That said, given that simply listing out all of your different options is quite the chore, I won't have time to fully explain how to sell your cards and what to look for when value them. Good news, though—I'll certainly provide links to other valuable resources because we have covered a lot of this in great detail:
You can also ask me any questions (I might even be interested in buying).
Online DIY Sites: eBay, MySlabs & More
Of all the options, this might be the most popular. I mean, selling sports cards has never been more accessible. Online DIY sites give you full control and allow you to start selling whenever you want.
From listing the card to interacting with potential buyers and finalizing the sale, to even printing your shipping labels, these platforms offer the full-on hands-on approach.
Ideal for those who prefer direct involvement, these sites provide the tools – and audience – to make your sale successful (with options for selling PSA graded cards and others).
A known name in the online marketplace arena, eBay is a go-to platform for many sellers. Its incredible user base ensures that your cards get max visibility.
I found this card in a 5 for $1 box today. After getting a bulk deal I probably got this card for 10 cents.

It just sold for $5 on eBay within 20 minutes of posting. Rinse and repeat and you've got yourself a bankroll. Opportunity is everywhere! You too can do this!! pic.twitter.com/Sdegg9ncQ0

— Gabey (@GabeyCardStacks) May 7, 2023
Whether you're selling a rare vintage card or one of today's hottest rookies, eBay's auction and fixed-price listing options cater to various selling strategies.
The platform's search and filter tools make it easy for buyers to find exactly what they're looking for (let's face it, it's the first place many people go when trying to find. acard to buy). While eBay does charge listing and final value fees, the potential for high visibility and competitive bidding often offsets these costs.
Here are a few eBay resources I've already put together:
A relative newcomer site that is tailored specifically for sports card enthusiasts, BuySportsCards offers user-friendly interface allows sellers to list cards with ease, and its dedicated audience ensures that your listings reach genuine collectors.
Read More: BuySportsCards.com Review
Above all else, though, BuySportsCards.com is appealing to sellers because they offer 0% seller fees. Their site also boasts being able to list dramatically more cards per hour than eBay.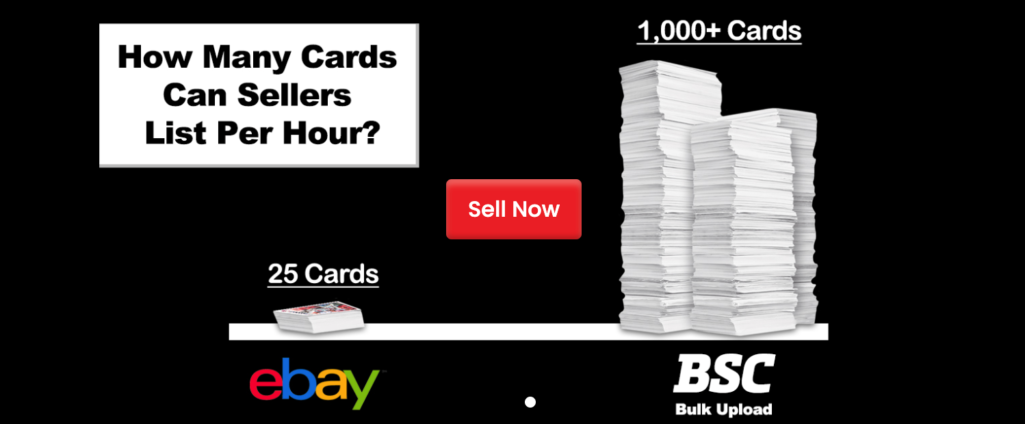 MySlabs is a unique platform that emphasizes "slabs" which is another name for graded cards. If you have sports cards that have been professionally graded, MySlabs offers a specialized marketplace to showcase them.
just sold an absolute beater 1910 Obak on MySlabs of all places at 1am ama pic.twitter.com/qlJojNDpVg

— Max (@CardsMax) June 23, 2023
With lower fees than many mainstream platforms and a dedicated audience of graded card enthusiasts, the platform's emphasis on authenticity and quality makes it a trusted choice for both sellers and buyers.
Diversifying the online selling landscape, Mercari offers a user-friendly platform that bridges the gap between dedicated marketplaces and social selling apps. It's a tough one to describe! It's like, the feeling of OfferUp, but with shipping?
Mercari is extremely underutilized for sports cards. I sold a few singles that weren't moving on eBay and put them right back into some new pieces. pic.twitter.com/iyD4DMvd5b

— Andy H (@hengesdad85) May 22, 2023
With its simple listing process and large audience, Mercari has become a favorite for many sports card sellers. The platform's mobile-first approach ensures that listings are easily accessible to potential buyers on the go.
Mercari's rating system promotes trust and transparency, ensuring both sellers and buyers have a positive experience.
Consignment Platforms: COMC, Alt & Others
Staying online, but with a little more hands-off approach. Consignment sites offer a hassle-free solution for those who prefer to just have someone else do most of the heavy lifting.
By sending your cards to these platforms, you can leverage their expertise in scanning, detailing, and even storing your cards securely. Once your cards are listed, you have the power to set your price or let them reside safely in a digital vault until the market is just right.
5. COMC (Check Out My Collectibles) (comc.com)
By sending your cards to COMC, you're entrusting them to a team that meticulously scans, lists, and manages your collection on their platform.
But it doesn't stop there—what sets COMC apart is its flexibility and reach. Sellers can set their prices, adjust them based on market trends, or even seamlessly transfer cards to eBay auction. Speaking of eBay, each card you list on COMC.com is also cross-listed to eBay.
The 2023 COMC MLB All-Star Auction Event is Here!

COMC Auctions is partnering with eBay to promote our upcoming MLB All-Star card auction event!

As part of this event, COMC Auctions will be featured on eBay's homepage from July 9th through July 16th. This Baseball promotion is… pic.twitter.com/ADXC2B4Tnv

— COMC – Check Out My Cards (@CheckOutMyCards) June 14, 2023
For those who aren't in a rush, COMC's vault service ensures your cards are safely stored until you decide it's the right time to sell.
Resources:
Positioning itself as the platform for alternative assets, Alt has brought a fresh perspective to the sports card market. By sending your cards to Alt, you are getting them vaulted, like COMC above, scanned, and available to be listed. One big difference though is that Alt deals with graded cards only, which carves out a specific niche of hobby eyeballs.
Beautiful LeBron I grabbed from Alt last night, already sold but man this card is sick pic.twitter.com/LiBxbqaAiz

— CeeJay (@CeeJayCards) March 4, 2023
Cards listed to Alt are also cross-listed to eBay, and the platform provides detailed analytics, allowing sellers to understand their card's value over time.
Resources:
Higher-End Consignment Auction: Goldin, PWCC & More
For those possessing premium sports cards, the standard selling platforms might not do justice to the value and rarity of your collection. Higher-end consignment card auction sites cater specifically to the elite segment of the card collecting world. If you know you have something valuable, you might want to check out these platforms not only provide a space for listing but also bring a level of prestige, expertise, and a dedicated audience of serious collectors and investors.
A leader in the high-end sports card auction space, PWCC Marketplace has built a reputation for handling some of the most valuable cards in the industry.
#PatrickMahomes out there, setting records through @PWCCmarketplace 😎 This 2022 Absolute Kaboom! Vertical Gold card, graded PSA 10, saw a new record set in #PWCC's weekly auciton #54. pic.twitter.com/A5r4Vdmi4A

— GoCollect (@gocollect) February 2, 2023
PWCC's curated auctions attract a global audience of serious collectors and investors. They were also just acquired by Fanatics, so I'm expecting plenty of innovation.
Speaking of record-breaking, Goldin Auctions is synonymous with record-breaking sales and expertise in the sports memorabilia world. The name is known, which means regular high-profile auctions and a clientele that includes some of the biggest names in collecting.
:// Generate —> #CardLadder #EyeCatchingSale

Eye-catching Sale: The 2002 Upper Deck Kobe Bryant #KB3-NBA NBA Logo Mania Patches Autographed 1/1 PSA Authentic / Auto 9 sold for $182,940 via auction with Goldin on September 13, 2023.https://t.co/Hm3UflZCyb pic.twitter.com/4fAyFzlsbG

— Card Ladder (@CardLadder) September 19, 2023
8. Heritage Auctions – Sports (sports.ha.com)
As one of the largest auction houses globally, Heritage Auctions also brings a legacy of expertise to the sports card segment. Their sports division is renowned for handling iconic cards and memorabilia, often making headlines with record sales. Remember this?
We have a new king in the hobby 👑

The "Finest Known Example" 1952 Topps Mickey Mantle SGC Mint+ 9.5's auction at @Heritage_Sport closed earlier this morning at $12,600,000!

A new world record price for any sports item! pic.twitter.com/Nc3sZNaJBz

— Dave & Adam's (@dacardworld) August 28, 2022
The consignment process with Heritage is said to be seamless, with a team of experts guiding sellers every step of the way. From professional photography to detailed cataloging and global marketing, Heritage has reputation for integrity and excellence makes them a trusted choice for those with premium sports cards.
Local Marketplaces like OfferUp & Facebook
As you can see, the digital realm offers a number of platforms to reach audiences large and tailored. Yet, there's an undeniable charm and immediacy to local marketplaces. These platforms connect sellers with buyers in their vicinity, facilitating in-person transactions and eliminating the complexities of shipping.
For those who prefer face-to-face interactions and immediate sales, local marketplaces provide the perfect avenue.
9. OfferUp
OfferUp has rapidly become one of the go-to platforms for local buying and selling, and that includes cards. Its intuitive mobile app allows sellers to list items quickly, complete with photos and descriptions, and for sports card sellers, OfferUp provides a platform to reach local collectors and enthusiasts without the hassle of shipping or waiting for online auctions to conclude.
I'm hoping to find football or baseball cards tomorrow at Walmart or Target but in the meantime I'm buying this on OfferUp 🤷🏽‍♂️ pic.twitter.com/Xt7Ff1P0GF

— Chris P (@Crispeecards) November 20, 2020
The in-app chat feature facilitates smooth communication between buyers and sellers, ensuring a seamless transaction process. With its emphasis on local communities and user safety, OfferUp is an top choice for many whoe are looking to sell sports cards in their vicinity.
10. Facebook Marketplace
Leveraging the user base of Facebook, the Marketplace feature offers a convenient platform for local buying and selling. Listing sports cards on Facebook Marketplace not only reaches potential buyers in your area but also allows for sharing on personal profiles and relevant groups. The platform's integration with Facebook profiles adds a layer of transparency, as sellers and buyers can view mutual connections and past transaction reviews.
Made first purchase on FB Marketplace, $100 for over 150 MJ cards in a binder. pic.twitter.com/4VnT3oKqpN

— Tony Barrie (@AK_TommyBoy) February 1, 2021
For those with an extensive network on Facebook or those looking to tap into local collecting communities, Facebook Marketplace provides a familiar and efficient platform for sports card sales.
Community-Driven Platforms:
In the realm of sports card trading and selling, sometimes the most valuable transactions stem from personal connections and niche communities. These platforms are less about listings and more about conversations, networking, and trust.
11. Twitter
While primarily a social media platform, Twitter has evolved into a bustling marketplace for sports card buyers and seller.
The real-time nature of Twitter allows for immediate interactions, negotiations, and even auctions. Building a following and engaging with other collectors can lead to fruitful sales and trades.
Thanks to @mailmanstacks for the RAK of the Rod Smith rc and Pinnacle XPress Rice.

Thanks to @nyctaper for the great deal on the '68 leaders.

Thanks to @wrbodin for another great, albeit small, lot from his last stack sale.

All great hobby members and all deserve a follow. pic.twitter.com/vOf9ZuOs0t

— Brad Wingate (@bmw3679) September 19, 2023
Once you get involved with the right corners of card Twitter, you might have some real success in moving your cards.
12. Discord
Discord, initially a platform for gamers, has seen a surge in niche communities, including sports card collectors. I'll be honest, I've never ventured into Discord for card purposes, but there are various Discord servers are dedicated to trading, selling, and discussing sports cards.
Fast-forward to about a minute in to get an expert take on Discord.
These servers often have dedicated channels for sales, trades, and auctions. The advantage of Discord is the immediacy of chat, allowing sellers to engage directly with potential buyers, answer questions, and negotiate deals.
Message Boards & Forums
Long before the rise of social media and modern online marketplaces, message boards and forums were the primary hubs for collectors. Platforms like Blowout Forums, The Bench, Sports Card Forum, and Net54baseball have long-standing communities of passionate collectors.
Friday #MailDay!

1. Hendricks, Banks and Javy are from @Neil_Russell41 – thanks Neil!

2. The two giant stacks are ALL Sandberg cards! I don't know the seller, but @drkrmdvlpmnt found them listed for me on Blowout Forums for a ridiculous price. Thanks for the hookup Drew! pic.twitter.com/xUcPh9160i

— CarolinaCardExchange ⚾ (@CarolinaCardEx1) September 4, 2020
These forums often have dedicated sections for sales, trades, and auctions. The tight-knit nature of these communities means that trust and reputation play a significant role, often leading to repeat transactions and long-term relationships.
13. Blowout Card Forums
14. Sports Card Forum
15. The Bench
16. Net54
Physical Marketplaces
In an increasingly digital age, the allure of physical marketplaces remains undiminished for many sports card enthusiasts. These venues offer the tactile experience of handling cards, the thrill of spontaneous finds, and the camaraderie of fellow collectors. Here's a look at some of the primary physical venues where sports cards are bought and sold:
17. Card Shows
Card shows are events dedicated to sports card trading, buying, and selling. And nope, I'm not just talking about the National and having to fly hundreds of miles to attend a cool event. They range from local community gatherings to large national events attracting vendors and collectors from across the country. These shows provide a unique opportunity to see a vast array of cards, negotiate deals in person, and even get cards graded on the spot by professional services.
18. Card Shops
There has been a lot of chatter about whether or not Fanatics is good for the hobby, and all I can say is I love what is going on at local card shops. There eems to be more talk than what I've seen in a while about people heading to their local stores to buy and sell cards. From the MVP Buyback program to simply increasing interest in cards thanks to new and fun things like the Tacofractor and the Retrofractor, I'd be surprised if card shops weren't receiving more foot traffic these days.
Anyway, in a general sense, local card shops are the heart and soul of many collecting communities. Beyond just a place to buy or sell cards, they often serve as hubs for local events, trade nights, and release day gatherings. Building a relationship with local card shop owners can lead to consignment opportunities and insights into local market trends.
19. Trade Nights
Often hosted by card shops or local collector groups, trade nights are informal gatherings where enthusiasts come together to trade, chat, and share their passion for the hobby. It's a relaxed environment, often with a focus on community building and trading rather than outright selling. While they take place in card shops, you're mostly dealing with other everyday collectors and card handlers.
20. Flea Markets & Conventions
While broader in scope, flea markets often have dedicated sections or vendors for sports cards. These venues offer the chance to reach a different audience, often people who might be casual collectors or those looking to rediscover the hobby.
In fact, the flea market is where I gained a love for cards. There were certain regular sellers who made it a fun event and a memorable experience.
Specialized Sports Card Apps:
In the age of smartphones, apps dedicated to sports card selling have emerged as powerful tools for collectors on the go. These apps offer a blend of community engagement, marketplace features, and tools tailored specifically for the sports card enthusiast.
Collx provides a modern approach to sports card collecting. And when. Isay modern, I'm talking snapping pics with your phone, having AI figure out what card it is, seeing pricing info, and more.
Thanks to @CollX_App Card Dealer Pro! This Jordan Montgomery was gonna be listed for $1.50….until the AI identified it as a SSP! I had to double check…and sure enough it is. pic.twitter.com/84Yghvu0Ti

— onemillioncubs (@onemillioncubs) August 30, 2022
Designed with the user in mind, the app offers a seamless experience for listing, buying, and tracking card values. Its intuitive interface and integrated tools make it easy for sellers to showcase their cards to a dedicated audience.
NextGem positions itself as a comprehensive platform for sports card enthusiasts. Beyond just a marketplace, the app offers tools for collection management, wish lists, and community engagement.
Friday Morning:
Scott Wright from the NextGem App joins us to discuss the app and how it's geared towards collectors. #Thehobby pic.twitter.com/ritLYKjTHY

— Sports Card Nation Podcast (@Sportscardnati1) February 1, 2023
Sellers can list their cards with detailed descriptions, images, and pricing, reaching an audience of passionate collectors.
With its unique "List-It" feature, sellers can quickly list cards for sale or trade. The platform emphasizes transparency, with detailed card histories and user ratings.
Here's how easy it is to list your cards on @eBay using Ludex! #thehobby #ebay #sportscards pic.twitter.com/C0REFBGecy

— Ludex: Sports + TCG Card Scanning App (@LudexApp) September 5, 2023
This ensures that both sellers and buyers have a clear understanding of each card's provenance and value. Ludex's user-friendly interface and community-driven approach make it a standout choice for those looking to sell or trade sports cards in a modern, digital environment.