Affiliate Disclosure: This post contains affiliate links to eBay, Amazon, and other platforms within the content, sidebar ads, and in other areas. As I am part of the eBay Partner Network and other affiliate programs, if you follow these links and make a purchase, I will receive a commission. Likewise, as an Amazon Associate I earn from qualifying purchases.
To tell if a 1993 Finest baseball card is a refractor, hold the card under direct light and then tilt the card at an angle to see light shining off of its surface. If you see what looks like a rainbow or different colors as you move the card around, it's a refractor. If all you see is the one-tone light reflecting back, it's a base card.
Another way to describe the difference is vibrance vs. dull when comparing a refractor to a base card. That is, both cards will be "shiny" given the chrome finish, but the light reflection on a refractor will be much more vibrant than that of a base card.
For example, take a look at the cards below. While I don't have a 1993 Finest refractor, you can tell between these photos.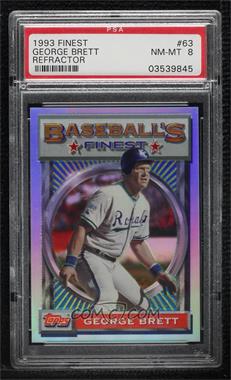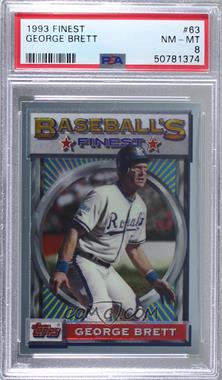 While both have the chrome finish, you can clearly see how much more vibrant the refractor on the left is compared to the base Finest right next to it.
Don't Refractors Usually Have "Refractor" Printed On Them?
Yes, they usually do, but not always. In fact, still today there are a handful of card variations that use refractor technology but don't have the word "refractor" printed on them.
Read More: Top 10 Sports Card Podcasts
Commonly, many insert sets look like refractors, but because they don't have a base counterpart, there isn't really anything special about them being refractors. Even with something like 2021 Topps Chrome Update as you see here, the ASG cards are refractors, but aren't printed with "refractor" on the back.
Why Does It Matter?
Back to 1993 Finest, being able to identify a refractor from a base card matters a great deal in terms of that card's value. For instance, let's look at one of the best cards in the set, Ken Griffey Jr. card #110. There is only one raw refractor currently for sale on eBay. Take a look at the price tag (with 61 watchers).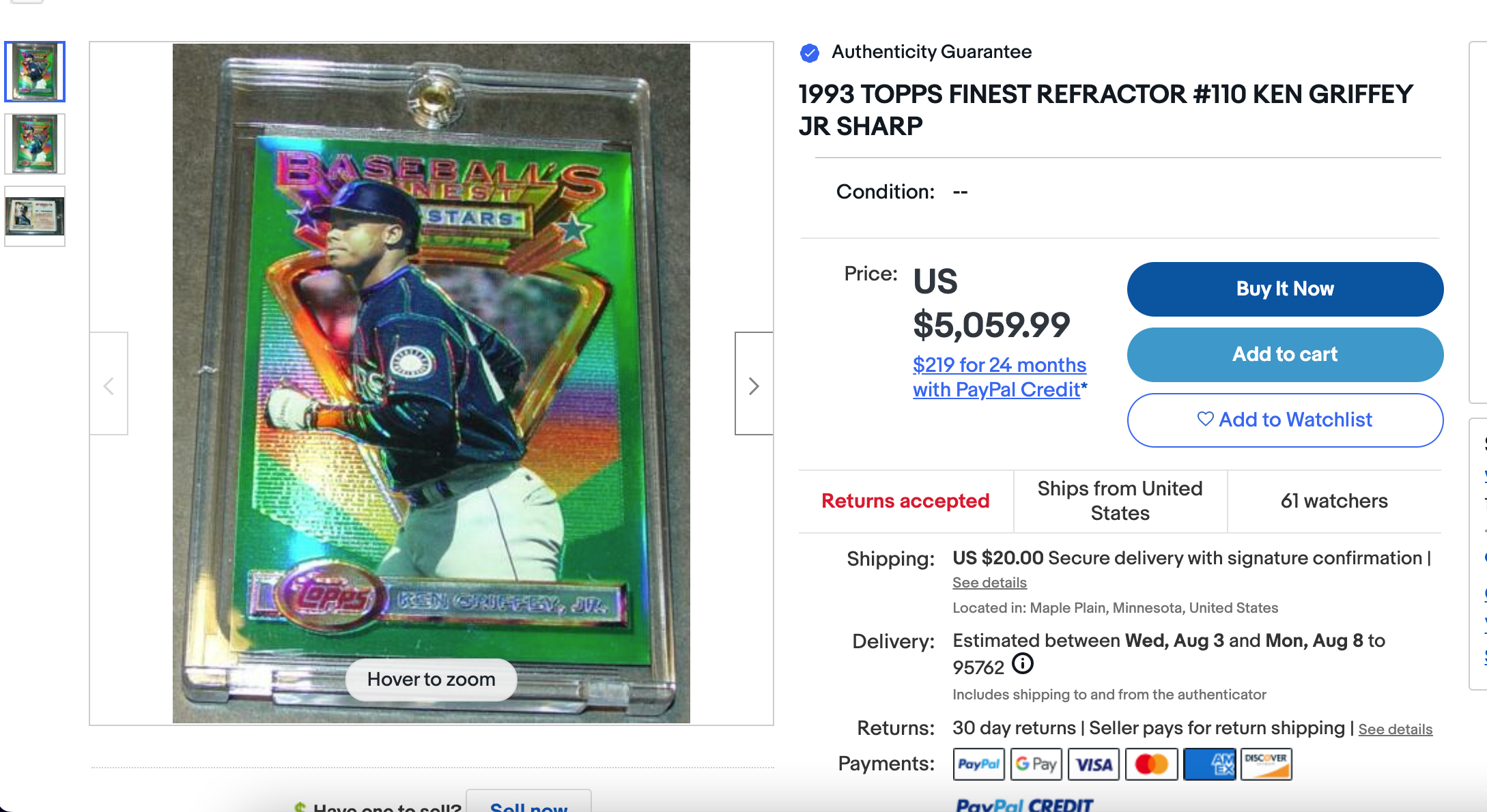 But then looking at the base non-refractors available, there are a few around $45 at Buy It Now.
What Makes These Refractors So Valuable?
First, with the 1993 Finest set itself, this was Topps first "chrome" or "chromium" release, kicking off all of the Finest, Chrome, Bowman's Best, and more that we know today.
Thus, this was also the first year of the refractor! It's for that reason that Topps didn't think to add "refractor" to the back of the cards, and was probably a decision made for later releases.
And then, of course, refractors were fairly rare, with only one maybe two coming per box.
Either way, 1993 was a great year for baseball cards, and the intro to the refractor was a big reason for it.