Affiliate Disclosure: This post contains affiliate links. As I am part of the eBay Partner Network and other affiliate programs, if you follow these links and make a purchase, I will receive a commission. Likewise, as an Amazon Associate I earn from qualifying purchases.
For those who are new or who have been away from the hobby for a while, it might come as a surprise that things can be a little confusing or much different than what you were expecting/accustomed to.
I mean, these are baseball cards—picture, name, team name, card design. How chaotic can things really be?
I may sound like an old man but can a modern collector explain this price?

Julio has hundreds of different rookie cards. The market is way too diluted to pay this kind of money for anything except a first bowman imo

This Roberto Clemente is worth half this amount pic.twitter.com/vKnJxjJIlS

— jd9cards (@jd9cards) March 12, 2023
Fortunately, while many rabbit holes you jump down will still leave you scratching your head – with no real clear answer in sight – there are some tried and true paths the hobby has carved out for itself along the way.
Now, I'm still not saying these things make total sense, but are more along the lines of "the hobby has spoken" and so we all act accordingly.
One of those things is the rookie card, and how even something as small as the rookie card logo can get people all riled up. (And if you really want to listen to a good debate, just ask someone about 1st Bowman cards.)
With the rookie card specifically, though, you've probably noticed any one player, from big names to small, can have anywhere from a handful of rookies to hundreds. The question then becomes, which is the one to collect?
What is a Topps Chrome Rookie Card?
A Topps Chrome rookie card is the chromium version of a player's "paper" RC, and can be found in Topps' annual Chrome set releases. The Topps Chrome rookie card is generally accepted to be the "best" or most coveted rookie card version of the many different rookie cards that become available.
Now, if after reading those few sentences you have more questions now than you did before, let me explain.
Topps releases a number of different sets throughout the course of the year, but their "flagship" set is the most traditional. Topps flagship is released in waves, starting with Topps Series 1 in February of each year, and followed by Topps Series 2 in the summer.
(There is also the Topps Update set, but Update is considered separate from flagship. This means if you were to buy a 2022 Topps complete set of cards, you'd be purchasing a set comprised of both Topps Series 1 and Series 2, but not Update.)
Flagship contains rookie cards and what are thought of to be "true" rookie cards given this is Topps' main, full-checklist release.
Read More: Are Topps Complete Sets Worth Anything?
These cards are of the "paper" variety, as in they are traditional paper or cardboard baseball cards just like you'd expect, and while upgraded a bit over the years, aren't that much different than what you'd find with junk wax era Topps releases of something like 1992 that we all know and love (or hate with a passion).
All of this said, once Series 1 and 2 have been released, Topps Chrome is a separate set that is released in the fall. With a limited checklist, Topps Chrome is essentially the same set as flagship in terms of the card's design and photos. It just has a heavier, "chrome" finish.
Meaning, for example, there is a 2022 Topps rookie card of Oneil Cruz (card #537) and then a 2022 Topps Chrome (#128) as well. You can see that they are identical cards, but one is "paper" and the other is chrome.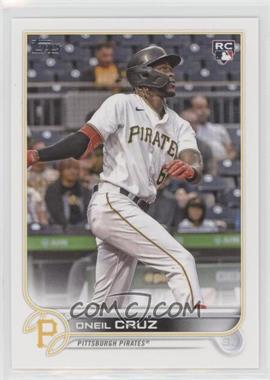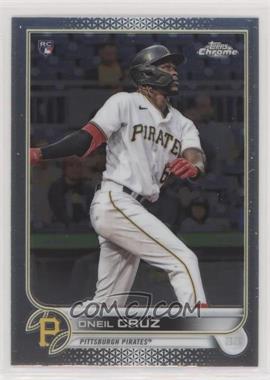 As you heard in the video above, "The cards are beautiful. They're shiny. They're metallic. They're durable. This is the granddaddy of baseball card technology."
As such, Topps Chrome cards carry a premium.
The Difference in Card Values
So other than simple look and feel, what is the difference between the types of cards? Value is a big differentiator, with Topps Chrome cards typically being valued more than their paper counterparts.
Using a different example, let's look at Julio Rodriguez rookie cards. The lowest-priced Chrome copy on eBay "Buy It Now" is around $15, while the paper version is attainable for around $5.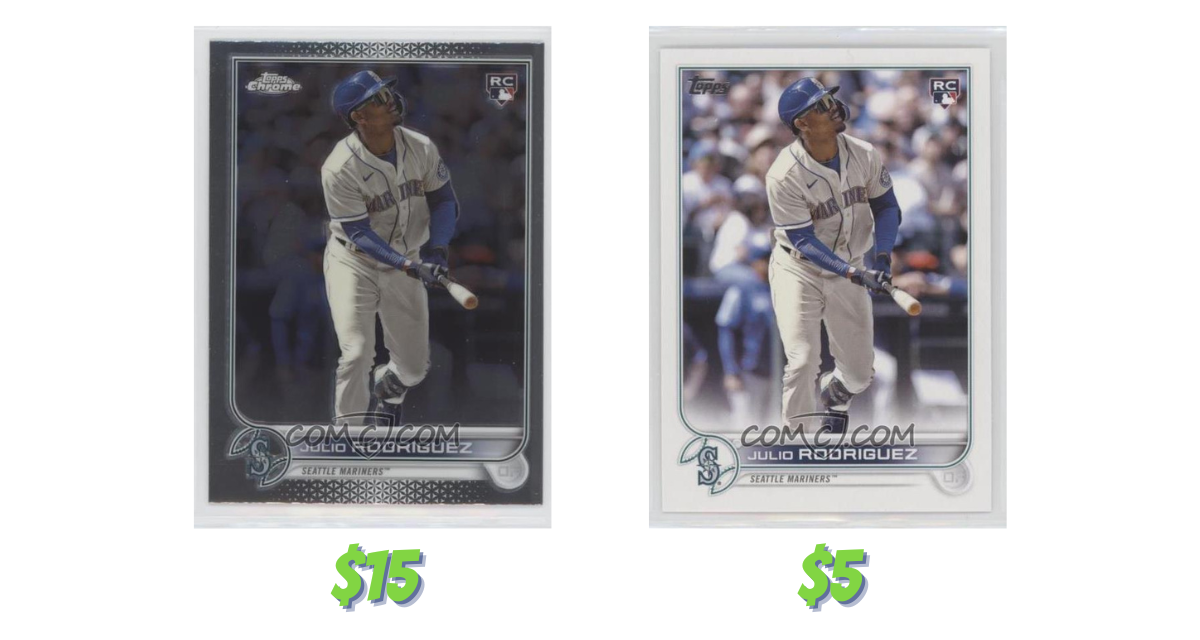 This is also a good time to mention that while we talked about Topps Chrome and Topps Series 1, Series 2, and Topps Update, there is also Topps Chrome Update, which is the set this JRod comes from. So, Topps Chrome rookie cards can either come from Topps Chrome or Topps Chrome Update releases.
With the mention of Topps Chrome Update, it's important to note, too, that while players have "base" rookies which are their true rookies, they have other rookie card variations. One to point out is the "debut" rookie card that is found in Topps Update and Topps Chrome Update:
2022 Topps Chrome Update Rookie Debut Julio Rodriguez

$5 shipped PWE @sports_sell @ILOVECOLLECTIN1 @HobbyRetweet_ @CardboardEchoes pic.twitter.com/Hmh6eh7voS

— Gibbycardcollectionsales (@GibsonHunter) February 2, 2023
As you can see here, this is a different card entirely, with a different photo, card number, and "Rookie Debut" date. From this tweet, you can also see the card is being sold for $5, which you might be confused by because I just told you the Chrome version is around $15. But remember, this is a different card, and not a "true" Topps Chrome Rookie card though it has the "RC" shield.
This is also a good time to bring up the fact that yes, there are Chrome and paper cards, but there are other, valuable parallels like Topps Chrome refractors, Topps gold foil, and others. We won't dive into them much here since there is enough to talk about with base cards, but just know a refractor is going to be much more valuable than a base Topps Chrome rookie.
Topps Chrome Rookie Card History
Given the different variations of Chrome that have been introduced over the years, it's hard to imagine a hobby without Chrome. I mean, Topps has even rolled out Chrome to "vintage" and even "antique" feeling modern cards with Heritage and Allen & Ginter, respectively. Finest, Bowman's Best, and other non-Chrome titled releases still utilize the same technology.
But if you can remember all the way back to 1995, that was the last year collectors had to endure life without Topps Chrome, with 1996 Topps Chrome representing the line's debut (although we were treated to Finest in 1993, which was Topps' first foray into the super premium market).
1995 wasn't a great or even a good year for rookie cards, and it really wasn't until Miguel Cabrera's rookie card in 2000 and Pujols/Ichiro in 2001 that Topps Chrome really had a chance to shine (pun intended).