Affiliate Disclosure: This post contains affiliate links to eBay, Amazon, and other platforms within the content, sidebar ads, and in other areas. As I am part of the eBay Partner Network and other affiliate programs, if you follow these links and make a purchase, I will receive a commission. Likewise, as an Amazon Associate I earn from qualifying purchases.
We might have a real one here my friends. When Julio Rodriguez got the call to the big leagues, I was excited, and that's even as an AL West rival A's fan. My worst fear? That he would see the same fate as teammate Jered Kelenic, and early on, things weren't looking good.
A lot of that was due to the much talked about squeezing of the strike zone, but either way, I think we all have gotten way too spoiled to the point of expecting to see these young guys light it on fire as soon as they hit an MLB diamond.
Well, luckily, JRod has stormed right back, and is easily becoming one of the brightest young stars of baseball (together with Oneil Cruz, Jeremy Pena, and others).
And if you thought his cards were hot upon his call-up, the excitement is only building as Rodriguez is showing he has what it takes to be a big name for a long time.
So, let's talk rookie cards shall we. Well, while I have some bad news that a true flagship rookie has yet to make it into packs, there is still a Topps RC option along with a 1st Bowman Chrome and many others.
2019 Bowman Chrome BCP-33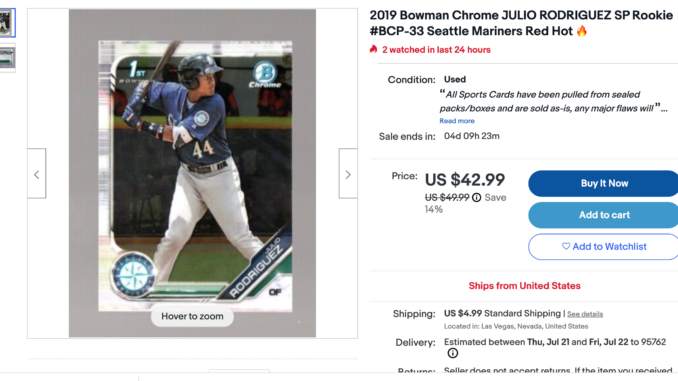 You know what's a big bummer in the baseball card world? When a guy you want to collect doesn't have a 1st Bowman. Perhaps even worse is when a player has a 1st Bowman auto, but not a 1st Bowman base. Luckily, neither of those are the case here, with Julio Rodriguez having a 1st Bowman paper, chrome, and mojo to choose from.
As you can see above, the lowest available chrome on eBay (Buy It Now) is around $40. His paper is even up around $10 based on my recent listing of a few in my COMC store.
And let me say this quick note about ripping boxes, blasters, and packs. I don't do a lot of it, but when I do, it's usually Bowman. In addition, I'm usually one to rip and store. As in, I'll open, sleeve the good stuff, and then pretty much put everything away until players from the set start blossoming. It takes discipline, or in my case, a short memory. But, it could pay off! Not to mention it's a ton of fun to reach back into that mini time capsule.
Anyway, on to the next one.
2022 Topps SP #659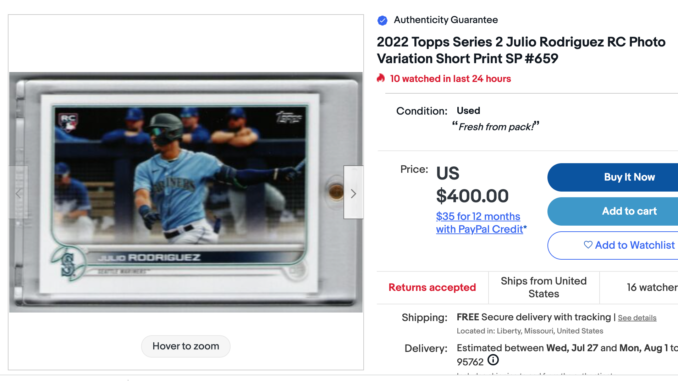 So I touched on this a bit in my post about the 2022 Topps Series 2 Rookie Cards to watch for, and that was the fact that Julio Rodriguez wasn't on the base card checklist. The card world was up in arms, but only for a short moment as it was soon discovered that while JRod, Bobby Witt Jr., and Jeremy Pena weren't on the base checklist, Rodriguez and Witt Jr. did in fact have SP cards to chase (along with others; more to come).
So, that's what makes this card special. While it won't be considered his true RC given it is an SP, it sure does hold some great value. And I personally don't love the horizontal orientation, but it is a pretty cool photo, so tough to complain.
2022 Topps Series 2 1987 Auto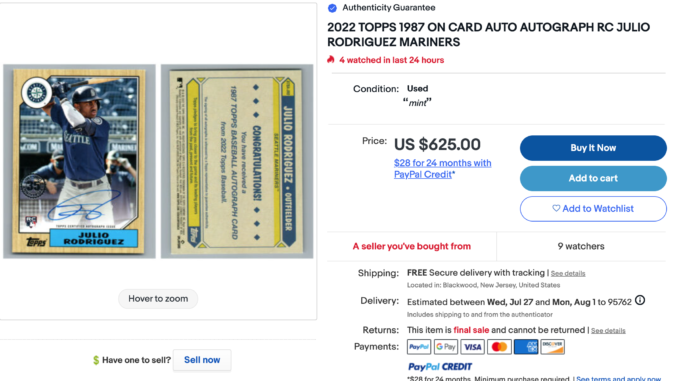 I typically don't include autos on this list, but I just couldn't resist with this one. For starters, it was his first with the RC shield, and second it's on-card, and on an iconic 1987 Topps woodgrain. On the downside, everyone else seems to think it's a great card as well—the lowest available on eBay Buy It Now right now is $625.
But not to fret, while it's tough to stomach the fact that even a Bowman paper is around $10, and a couple of the other cards on this post above are hundreds of dollars, there are still plenty of cards to choose from! Here is a list of the different Julio Rodriguez cards available from 2022, thanks to Break Ninja.
| PRODUCT | CARD # | VARIATION | SERIAL # |
| --- | --- | --- | --- |
| 2022 Topps X MLB Baseball | 47 | Topps MLBA Players Clubhouse Base Red | 10 |
| 2022 Topps X MLB Baseball | 47 | Topps MLBA Players Clubhouse Base Gold | 50 |
| 2022 Topps X MLB Baseball | 47 | Topps MLBA Players Clubhouse Base Parallel | 99 |
| 2022 Topps X MLB Baseball | 47 | Topps MLBA Players Clubhouse Base Parallel | 150 |
| 2022 Topps X MLB Baseball | 47 | Topps MLBA Players Clubhouse Base | |
| 2022 Topps X MLB Baseball | 47 | Topps MLBA Players Clubhouse Base Platinum | 1 |
| 2022 Topps Tribute Baseball | LIA-JR | League Inauguration Autographs Black | 1 |
| 2022 Topps Tribute Baseball | LIA-JR | League Inauguration Autographs Red | 10 |
| 2022 Topps Tribute Baseball | LIA-JR | League Inauguration Autographs Orange | 25 |
| 2022 Topps Tribute Baseball | LIA-JR | League Inauguration Autographs | 99 |
| 2022 Topps Series 2 Baseball | 87BA-JRO | 1987 Topps Baseball Autographs Platinum | 1 |
| 2022 Topps Series 2 Baseball | 87BA-JRO | 1987 Topps Baseball Autographs Red | 25 |
| 2022 Topps Series 2 Baseball | 87BA-JRO | 1987 Topps Baseball Autographs Gold | 50 |
| 2022 Topps Series 2 Baseball | 87BA-JRO | 1987 Topps Baseball Autographs Black | 199 |
| 2022 Topps Series 2 Baseball | 87BA-JRO | 1987 Topps Baseball Autographs | |
| 2022 Topps Pristine Baseball | PA-JRO | Pristine Autographs Black Refractor | 1 |
| 2022 Topps Pristine Baseball | PA-JRO | Pristine Autographs Orange Refractor | 25 |
| 2022 Topps Pristine Baseball | PA-JRO | Pristine Autographs Gold Refractor | 50 |
| 2022 Topps Pristine Baseball | PA-JRO | Pristine Autographs Refractor | 99 |
| 2022 Topps Pristine Baseball | PA-JRO | Pristine Autographs | |
| 2022 Topps Definitive Baseball | DRA-JR | Definitive Rookie Autographs Red | 1 |
| 2022 Topps Definitive Baseball | DRA-JRO | Definitive Rookie Autographs Red | 1 |
| 2022 Topps Definitive Baseball | DRA-JR | Definitive Rookie Autographs Purple | 10 |
| 2022 Topps Definitive Baseball | DRA-JRO | Definitive Rookie Autographs Purple | 10 |
| 2022 Topps Definitive Baseball | DRA-JR | Definitive Rookie Autographs Green | 25 |
| 2022 Topps Definitive Baseball | DRA-JRO | Definitive Rookie Autographs Green | 25 |
| 2022 Topps Definitive Baseball | DRA-JR | Definitive Rookie Autographs | 50 |
| 2022 Topps Definitive Baseball | DRA-JRO | Definitive Rookie Autographs | 50 |
| 2022 Onyx Vintage Baseball | | Base | |
| 2022 Onyx Vintage Baseball | | Base Blue Signatures | |
| 2022 Onyx Vintage Baseball | | Base Green Signatures | 50 |
| 2022 Onyx Vintage Baseball | | Base Red Signatures | 25 |
| 2022 Onyx Vintage Baseball | | Base Black Signatures | 5 |
| 2022 Donruss Baseball | 1 | Rated Prospects Vector | |
| 2022 Donruss Baseball | 1 | Rated Prospects Rapture | |
| 2022 Donruss Baseball | 1 | Rated Prospects Pink Fireworks | |
| 2022 Donruss Baseball | 1 | Rated Prospects Diamond | |
| 2022 Donruss Baseball | 1 | Rated Prospects | 999 |
| 2022 Donruss Baseball | 1 | Rated Prospects Silver | 349 |
| 2022 Donruss Baseball | 1 | Rated Prospects Blue | 249 |
| 2022 Donruss Baseball | 1 | Rated Prospects Red | 149 |
| 2022 Donruss Baseball | 1 | Rated Prospects Gold | 99 |
| 2022 Donruss Baseball | 1 | Rated Prospects Green | 25 |
| 2022 Donruss Baseball | 1 | Rated Prospects Black | 1 |
| 2022 Bowman Sapphire Edition Baseball | BCP-45 | Base Sapphire Padparadscha | 1 |
| 2022 Bowman Sapphire Edition Baseball | BCP-45 | Base Sapphire Red | 10 |
| 2022 Bowman Sapphire Edition Baseball | BCP-45 | Base Sapphire Purple | 25 |
| 2022 Bowman Sapphire Edition Baseball | BCP-45 | Base Sapphire Orange | 50 |
| 2022 Bowman Sapphire Edition Baseball | BCP-45 | Base Sapphire Aqua | 55 |
| 2022 Bowman Sapphire Edition Baseball | BCP-45 | Base | |
| 2022 Bowman Mega Chrome Baseball | HIFI-4 | Hi-Fi Futures | |
| 2022 Bowman Mega Chrome Baseball | BCP-45 | Base Chrome Mojo | |
| 2022 Bowman Mega Chrome Baseball | HIFI-4 | Hi-Fi Futures Purple Refractor | 250 |
| 2022 Bowman Mega Chrome Baseball | BCP-45 | Base Chrome Mojo Purple Refractor | 250 |
| 2022 Bowman Mega Chrome Baseball | BCP-45 | Base Chrome Mojo Aqua Refractor | 225 |
| 2022 Bowman Mega Chrome Baseball | HIFI-4 | Hi-Fi Futures Pink Refractor | 199 |
| 2022 Bowman Mega Chrome Baseball | BCP-45 | Base Chrome Mojo Pink Refractor | 199 |
| 2022 Bowman Mega Chrome Baseball | HIFI-4 | Hi-Fi Futures Blue Refractor | 150 |
| 2022 Bowman Mega Chrome Baseball | BCP-45 | Base Chrome Mojo Blue Refractor | 150 |
| 2022 Bowman Mega Chrome Baseball | HIFI-4 | Hi-Fi Futures Green Refractor | 99 |
| 2022 Bowman Mega Chrome Baseball | BCP-45 | Base Chrome Mojo Green Refractor | 99 |
| 2022 Bowman Mega Chrome Baseball | BCP-45 | Base Chrome Mojo Yellow Refractor | 75 |
| 2022 Bowman Mega Chrome Baseball | HIFI-4 | Hi-Fi Futures Gold Refractor | 50 |
| 2022 Bowman Mega Chrome Baseball | BCP-45 | Base Chrome Mojo Gold Refractor | 50 |
| 2022 Bowman Mega Chrome Baseball | HIFI-4 | Hi-Fi Futures Orange Refractor | 25 |
| 2022 Bowman Mega Chrome Baseball | BCP-45 | Base Chrome Mojo Orange Refractor | 25 |
| 2022 Bowman Mega Chrome Baseball | HIFI-4 | Hi-Fi Futures Red Refractor | 5 |
| 2022 Bowman Mega Chrome Baseball | BCP-45 | Base Chrome Mojo Red Refractor | 5 |
| 2022 Bowman Mega Chrome Baseball | HIFI-4 | Hi-Fi Futures Black Refractor | 1 |
| 2022 Bowman Mega Chrome Baseball | BCP-45 | Base Chrome Mojo Black Refractor | 1 |
| 2022 Bowman Baseball | BP-45 | Paper Prospects Platinum Border | 1 |
| 2022 Bowman Baseball | BP-45 | Paper Prospects Printing Plates Black | 1 |
| 2022 Bowman Baseball | BP-45 | Paper Prospects Printing Plates Cyan | 1 |
| 2022 Bowman Baseball | BP-45 | Paper Prospects Printing Plates Magenta | 1 |
| 2022 Bowman Baseball | BP-45 | Paper Prospects Printing Plates Yellow | 1 |
| 2022 Bowman Baseball | BCP-45 | Chrome Prospects SuperFractor | 1 |
| 2022 Bowman Baseball | BCP-45 | Chrome Prospects Printing Plates Black | 1 |
| 2022 Bowman Baseball | BCP-45 | Chrome Prospects Printing Plates Cyan | 1 |
| 2022 Bowman Baseball | BCP-45 | Chrome Prospects Printing Plates Magenta | 1 |
| 2022 Bowman Baseball | BCP-45 | Chrome Prospects Printing Plates Yellow | 1 |
| 2022 Bowman Baseball | BTP-3 | Bowman Scouts Top 100 SuperFractor | 1 |
| 2022 Bowman Baseball | HIFI-4 | Hi-Fi Futures SuperFractor | 1 |
| 2022 Bowman Baseball | B3D-16 | Bowman in 3D SuperFractor | 1 |
| 2022 Bowman Baseball | BI-1 | 2022 Bowman Invicta SuperFractor | 1 |
| 2022 Bowman Baseball | | Bowman Scouts Top 100 Autographs SuperFractor | 1 |
| 2022 Bowman Baseball | BP-45 | Paper Prospects Red Border | 5 |
| 2022 Bowman Baseball | BCP-45 | Chrome Prospects Red Refractor | 5 |
| 2022 Bowman Baseball | BCP-45 | Chrome Prospects Red Lava Refractor | 5 |
| 2022 Bowman Baseball | BTP-3 | Bowman Scouts Top 100 Red Refractor | 5 |
| 2022 Bowman Baseball | HIFI-4 | Hi-Fi Futures Red Refractor | 5 |
| 2022 Bowman Baseball | B3D-16 | Bowman in 3D Red Refractor | 5 |
| 2022 Bowman Baseball | BI-1 | 2022 Bowman Invicta Red Refractor | 5 |
| 2022 Bowman Baseball | UAC-1 | 2022 Bowman Ultimate Autograph Book | 10 |
| 2022 Bowman Baseball | BP-45 | Paper Prospects Orange Border | 25 |
| 2022 Bowman Baseball | BCP-45 | Chrome Prospects Orange Refractor | 25 |
| 2022 Bowman Baseball | BCP-45 | Chrome Prospects Orange Shimmer Refractor | 25 |
| 2022 Bowman Baseball | BTP-3 | Bowman Scouts Top 100 Orange Refractor | 25 |
| 2022 Bowman Baseball | HIFI-4 | Hi-Fi Futures Orange Refractor | 25 |
| 2022 Bowman Baseball | B3D-16 | Bowman in 3D Orange Refractor | 25 |
| 2022 Bowman Baseball | BI-1 | 2022 Bowman Invicta Orange Refractor | 25 |
| 2022 Bowman Baseball | BP-45 | Paper Prospects Gold Border | 50 |
| 2022 Bowman Baseball | BCP-45 | Chrome Prospects Gold Refractor | 50 |
| 2022 Bowman Baseball | BCP-45 | Chrome Prospects Gold Shimmer Refractor | 50 |
| 2022 Bowman Baseball | BTP-3 | Bowman Scouts Top 100 Gold Refractor | 50 |
| 2022 Bowman Baseball | HIFI-4 | Hi-Fi Futures Gold Refractor | 50 |
| 2022 Bowman Baseball | B3D-16 | Bowman in 3D Gold Refractor | 50 |
| 2022 Bowman Baseball | BI-1 | 2022 Bowman Invicta Gold Refractor | 50 |
| 2022 Bowman Baseball | BP-45 | Paper Prospects Yellow Border | 75 |
| 2022 Bowman Baseball | BCP-45 | Chrome Prospects Yellow Refractor | 75 |
| 2022 Bowman Baseball | BCP-45 | Chrome Prospects Yellow Mini-Diamond Refractor | 75 |
| 2022 Bowman Baseball | BP-45 | Paper Prospects Green Border | 99 |
| 2022 Bowman Baseball | BCP-45 | Chrome Prospects Green Refractor | 99 |
| 2022 Bowman Baseball | BCP-45 | Chrome Prospects Green Mini-Diamond Refractor | 99 |
| 2022 Bowman Baseball | BCP-45 | Chrome Prospects Green Shimmer Refractor | 99 |
| 2022 Bowman Baseball | BTP-3 | Bowman Scouts Top 100 Green Refractor | 99 |
| 2022 Bowman Baseball | HIFI-4 | Hi-Fi Futures Green Refractor | 99 |
| 2022 Bowman Baseball | BCP-45 | Chrome Prospects Aqua Refractor | 125 |
| 2022 Bowman Baseball | BCP-45 | Chrome Prospects Aqua Shimmer Refractor | 125 |
| 2022 Bowman Baseball | BTP-3 | Bowman Scouts Top 100 Aqua Refractor | 125 |
| 2022 Bowman Baseball | HIFI-4 | Hi-Fi Futures Aqua Refractor | 125 |
| 2022 Bowman Baseball | B3D-16 | Bowman in 3D Aqua Refractor | 125 |
| 2022 Bowman Baseball | BI-1 | 2022 Bowman Invicta Aqua Refractor | 125 |
| 2022 Bowman Baseball | BP-45 | Paper Prospects Blue Border | 150 |
| 2022 Bowman Baseball | BCP-45 | Chrome Prospects Blue Refractor | 150 |
| 2022 Bowman Baseball | BCP-45 | Chrome Prospects Blue Shimmer Refractor | 150 |
| 2022 Bowman Baseball | BTP-3 | Bowman Scouts Top 100 Atomic Refractor | 150 |
| 2022 Bowman Baseball | HIFI-4 | Hi-Fi Futures Atomic Refractor | 150 |
| 2022 Bowman Baseball | B3D-16 | Bowman in 3D Atomic Refractor | 150 |
| 2022 Bowman Baseball | BI-1 | 2022 Bowman Invicta Atomic Refractor | 150 |
| 2022 Bowman Baseball | BCP-45 | Chrome Prospects Fuchsia Refractor | 199 |
| 2022 Bowman Baseball | BCP-45 | Chrome Prospects Fuchsia Lava Refractor | 199 |
| 2022 Bowman Baseball | BP-45 | Paper Prospects Purple Border | 250 |
| 2022 Bowman Baseball | BCP-45 | Chrome Prospects Purple Refractor | 250 |
| 2022 Bowman Baseball | BP-45 | Paper Prospects Fuchsia Border | 299 |
| 2022 Bowman Baseball | BCP-45 | Chrome Prospects Speckle Refractor | 299 |
| 2022 Bowman Baseball | BP-45 | Paper Prospects Neon Green Border | 399 |
| 2022 Bowman Baseball | BP-45 | Paper Prospects Sky Blue Border | 499 |
| 2022 Bowman Baseball | BCP-45 | Chrome Prospects Base Refractor | 499 |
| 2022 Bowman Baseball | BP-45 | Paper Prospects | |
| 2022 Bowman Baseball | BCP-45 | Chrome Prospects | |
| 2022 Bowman Baseball | BTP-3 | Bowman Scouts Top 100 | |
| 2022 Bowman Baseball | HIFI-4 | Hi-Fi Futures | |
| 2022 Bowman Baseball | B3D-16 | Bowman in 3D | |
| 2022 Bowman Baseball | BI-1 | 2022 Bowman Invicta | |
| 2022 Bowman Baseball | | Bowman Scouts Top 100 Autographs | |
| 2022 Bowman 1st Edition Baseball | BPPF-45 | Bowman First Edition Paper Base Prospect Rainbow | 1 |
| 2022 Bowman 1st Edition Baseball | BPPF-45 | Bowman First Edition Paper Base Prospect Red | 5 |
| 2022 Bowman 1st Edition Baseball | BPPF-45 | Bowman First Edition Paper Base Prospect Black | 10 |
| 2022 Bowman 1st Edition Baseball | BPPF-45 | Bowman First Edition Paper Base Prospect Orange | 25 |
| 2022 Bowman 1st Edition Baseball | BPPF-45 | Bowman First Edition Paper Base Prospect Gold | 50 |
| 2022 Bowman 1st Edition Baseball | BPPF-45 | Bowman First Edition Paper Base Prospect Yellow | 75 |
| 2022 Bowman 1st Edition Baseball | BPPF-45 | Bowman First Edition Paper Base Prospect Blue | 150 |
| 2022 Bowman 1st Edition Baseball | BPPF-45 | Bowman First Edition Paper Base Prospect | |
| 2022 Bowman 1st Edition Baseball | BPPF-45 | Bowman First Edition Paper Base Prospect Sky Blue | |