Affiliate Disclosure: This post contains affiliate links to eBay, Amazon, and other platforms within the content, sidebar ads, and in other areas. As I am part of the eBay Partner Network and other affiliate programs, if you follow these links and make a purchase, I will receive a commission. Likewise, as an Amazon Associate I earn from qualifying purchases.
Oh, how the tides have turned. If you're just getting into the hobby, you've missed a few different waves. And, if you're returning to the hobby after some time collecting during the junk wax era, the scene has certainly shifted.
Either way, the question of buying a hobby box of cards versus retail still crashes loudly, but the answer sounds much different today than it did even a few years ago, or heck, even pre-COVID.
Anyway, if you're here for the short answer…
Hobby Box vs Retail Boxes (Blasters & More)
A hobby box of cards is generally going to have more "hits" than a retail box like a blaster. That is, more autograph or jersey cards (yes, real autograph cards). As a result, hobby boxes are more expensive, and, as the name suggests, more exclusive as they typically can be found in hobby card shops, while retail boxes will be found in retail stores like Target and Walmart.
With that said, it's not that easy anymore to just walk into these retail stores and find a box of cards worthy of purchase. And while you might think you'd have better luck on Target.com or Walmart.com, both have been impacted as well.
Of course, you can buy retail boxes (and hobby) on the secondary market online through eBay and similar sites, but the way cards are trending right now, don't expect to find them at "retail" prices, as everything will carry a markup.
In the end, you're probably still left wondering which is best for you. And that's the key—for you. Depending on the type of collector you are, or if you're even a collector in the first place, you're going to gravitate towards one option or the other.
I'll get into the details below, but my personal experiences have led me to retail boxes more than hobby. You can still pull great cards with retail boxes, and the prices are more in-line with my budget (that is, the retail prices are affordable, but require luck to be found).
Box Breakdown
Before jumping in, remember this—a lot of what can be found with hobby boxes can also be found with retail boxes, and vice-versa. Especially today where you might even have an easier time finding retail at your LCS, the hard dividing line between the two collecting options has been erased.
"Guaranteed" Hits
Even though I just mentioned it above, and will probably mention it in every section that follows, retail boxes can also "guarantee" hits, so just hear me out.
Hobby Boxes
With hobby boxes, the higher price point is going to mean more hits, generally. Take a look at this example:
This is a Hobby Jumbo Box of 2022 Topps Series 1. As you can see on the box, you can expect to get "1 autograph or and 2 "relic cards" in this box. (The fine print says you may receive a Topps redemption card instead.)
Thus, I say "guaranteed" in the heading, and the box itself doesn't say "guaranteed" because sometimes you'll hit a redemption, and rarely you might not hit the amount stated at all.
As another example, this box of 2020 Panini Select says "Find 2 autographs and 2 memorabilia cards per box, on average."
So, while not guaranteed, the hits can be expected. That said, it doesn't mean hobby boxes are always worth it.
Retail Boxes
Now, with retail, you can still hit an autograph or relic! But, you just need to be mindful of what is being stated as your expected allotment.
Second Tuesday in a row I've hit a 1/1 plate from a bowman blaster. This one from a Target in store restock. @cardrestocks pic.twitter.com/kGYzzuSdOY

— KP (@KRPhillips13) May 23, 2023
For instance, retail products come in a variety of different boxes. Let's look at the latest release from Topps, 2020 Chrome.
2020 Topps Chrome Hanger: 5 packs per box, and no mention of autographs or relic cards.
2020 Topps Chrome Cello: 3 packs per value pack, and no mention of autographs or relic cards (but 5 pink chrome refractors).
Read More: What is a Cello Pack?
2020 Topps Chrome Blaster: 7 packs per blaster plus a bonus pack of sepia refractors, and no mention of autographs or relic cards.
2020 Topps Chrome Mega: 10 packs per mega box, and no mention of autographs and relic cards.
As you can see, out of the different options, there isn't any mention of an autograph or relic as there would be on a hobby box. Yes, you can still get a "hit," but not at the "guaranteed" rate of a hobby box (which for 2020 chrome, would be 2 autographs per box, or 5 autographs per box of jumbo).
When it comes to hits in retail blasters, you'll typically find that the lower-end products offer at least one, as was the case with 2019 Topps Holliday boxes, which offer "one relic, autograph, or autograph relic" in every box, or 2020 Prizm football blasters which state "1 autograph or memorabilia card per box, on average."
Availability
I mean, I don't have to tell you that pretty much anything is available online in today's world. So, when it comes to where to buy baseball cards, the options aren't much different. You'd be surprised, though, just how many different options there are in terms of in-person purchasing (at least with retail).
Hobby Boxes
In terms of availability, hobby box options are a little more straightforward—you can find them online upon initial release through Topps.com and PaniniAmerica.net. You can also purchase hobby boxes at your LCS, or on the secondary market through eBay or even StockX.
Retail Boxes
One big upside of the retail box is the fact that it can be found around town, and in many places you wouldn't normally expect to find cards. More and more stores these days are offering cards to jump on the surging market bandwagon.
And, of course, these retailers have websites and apps through which they also sell cards just just like they would any other product (more on this below).
Here is a list of the stores at which I've seen cards or have heard of them being stocked:
Target: Blasters, megas, hangers
Walmart: Blasters, megas, hangers
Walgreens: Hangers
CVS: Repacks
Rite-Aid: Single packs
Dollar Tree: Single packs
Barnes & Noble: Blasters
Meijer
Party City: Single packs
Michael's: Single packs
Fred Meyer
Big Lots: Single packs
The problem here is, while boxes are made available, many new and hot products go quickly…even to the point where people are physically waiting at stores for vendors to show up, and then clearing the shelves within minutes. This is usually an issue at those retailers that have dedicated, regularly-stocked card sections like Target and Walmart.

The same goes for online, where a product is listed but then quickly sells out—almost to the point where you can't even get a page to load before everything has been purchased.
It's common for these boxes to then be resold online through eBay and local online marketplaces, but at prices that are double, triple, and even more than what they could have been purchased for off the shelf.
The other downside in terms of what's made available is the variability in product. A hobby box is a hobby box, but a retail box could mean anything from a hanger to a blaster to a mega, etc. So, depending on the stores around you, you never know what you're going to get. You also don't know when it's going to be stocked.
While still tough, my tip is to go to Target and search for the retail box you want to purchase. If you can't find it, make sure to select the "include out of stock" checkbox and then search for the product again. Once found, click "notify me when it's back in stock." If you do this through the app, you should get a push notification, along with an email.
Again, rarely will you be able to purchase, but I've gotten lucky a few times, which is better than never.
Cost
Hobby and retail
So, cost is relative, and given the above, you can already guess that hobby boxes are going to cost more than their retail equivalent (if you can even compare).
Frankly, that's not the argument here, and for a couple of different reasons. One, it's not like you're comparing cable providers, where each offer about the same services, number of TV channels, etc. Comparing cost in that regard makes a lot more sense.
But here, these are completely different products. Yes, it's all cardboard, but the decision to purchase goes beyond that. If you're a set builder, you may prefer a hobby jumbo box. If you are a pink chrome refractor collector, then retail might be better for you.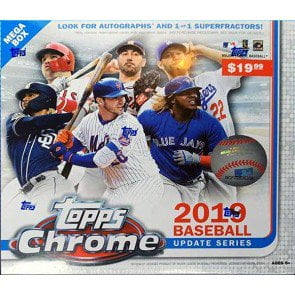 Secondly, the costs are fluctuating wildly. You have the MSRP, but then you have the secondary market price, where many collectors have to turn when they can't find a product on the shelves. So, I can sit here and say hobby boxes are more expensive, and rightly so if they are "guaranteeing" hits, but it's not like retail is cheap by any means, unless you luck out and find boxes in store.
An Alternative
To end, just know that collecting doesn't come down to buying boxes of cards and opening them. Sure, it's a big part of it, but for some, it's a non-existent piece.
So, if buying a box is outside of your comfort zone, that's OK—there are so many different ways to acquire cards, from purchasing singles on eBay or COMC, and even areas to explore trading cards with others.
Another alternative to box-buying is something like the monthly baseball card subscription box, where you subscribe to a certain package and receive a shipment of cards each month. Some offer single packs, some offer boxes, and some offer other combinations and items altogether.
Either way, best of luck! Would love to hear your thoughts, tips, and successes one way or the other.