Affiliate Disclosure: This post contains affiliate links. As I am part of the eBay Partner Network and other affiliate programs, if you follow these links and make a purchase, I will receive a commission. Likewise, as an Amazon Associate I earn from qualifying purchases.
August 2022 Update: In light of a few recent autograph-related issues with Topps, I'm adding so info here on top of the original post to help inform.
It's not often where we have a definitive case of "that's a fake auto" from a company like Topps, so I wanted to make sure to address the recent Austin Meadows/Randy Arozarena dual auto debacle out of Topps Definitive. 
So we are all on the same page, here is the card in question.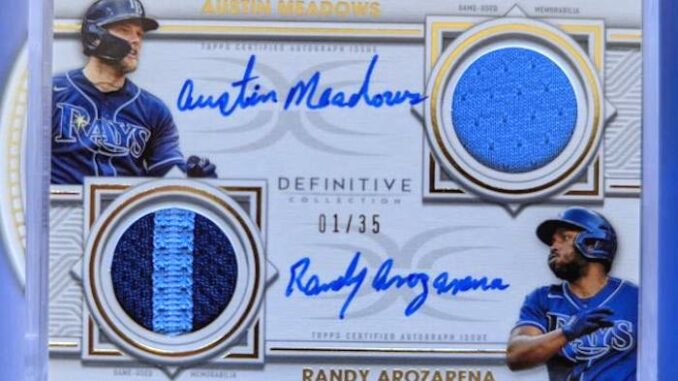 Now, without even knowing what either Austin Meadows' or Randy Arozarena's autos look like, you might still immediately get the feeling that something is up with this card given how similar the two signatures look. 
But, to compare, here is an Austin Meadow's auto:
A lot nicer than the dual auto above, right? Here is Randy's:
Another really nice signature, and even more different than the dual card above.
Thus, just by comparing the photos, most if not every single person would say these are fake and not real autos signed by the players the card says they were. Not to mention that you can make a strong argument that the signatures on the dual auto card look like they were signed by the same position.
Of course, Topps was quick to acknowledge the sitaution: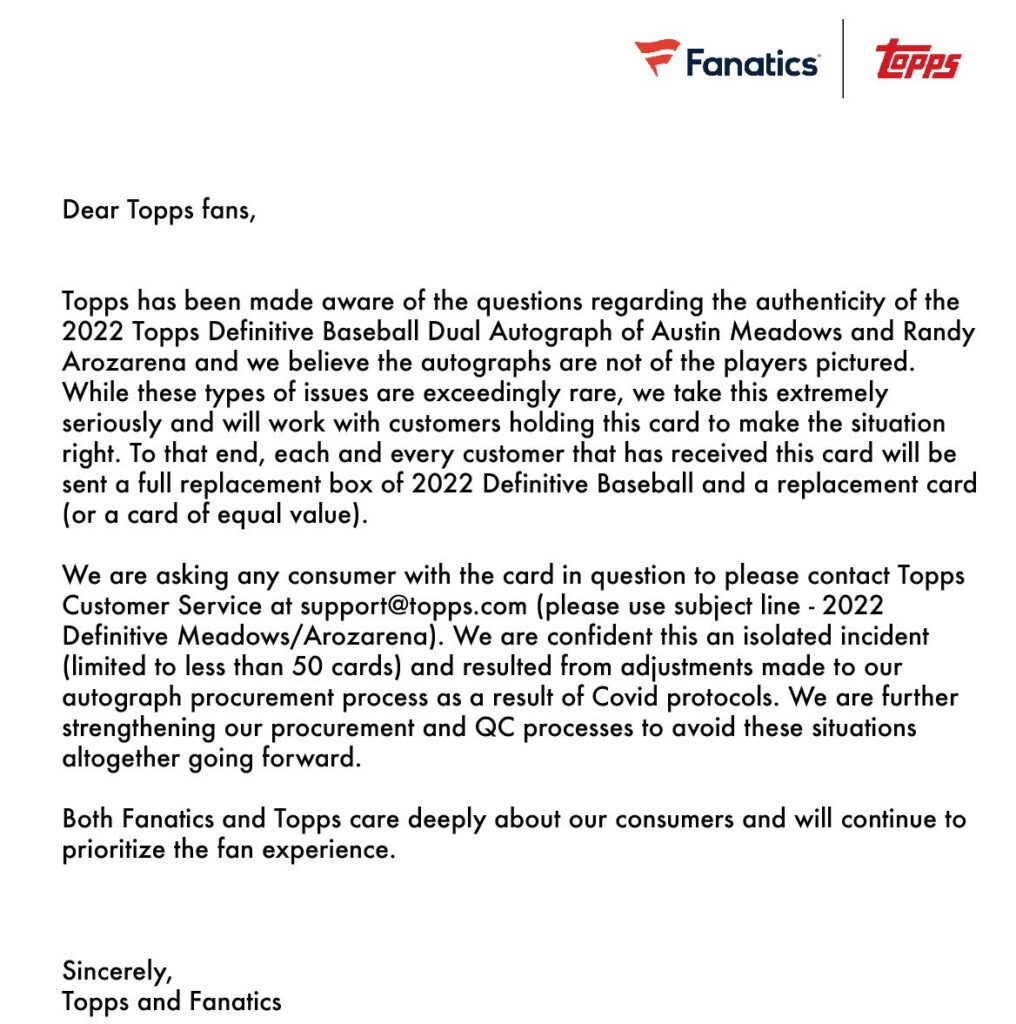 Anyway, it's nice to see Topps and Fanatics quickly admit the autographs appear fake as well, along with offering to fix the mistake for those who have the card. To spin this into a positive, hopefully it does indeed tighten up the QC process.
Read More: Fake PSA Cases & Labels
And now, the original content:
Card collecting is fun, thrilling, borderline addicting, but sometimes leads to cringeworthy experiences.
One (or many, actually) of those experiences comes when a friend or coworker learns you're a collector and proceeds to tell you all about the shoeboxes and binders filled with cards they collected as a kid, have stashed at their childhood home, and haven't looked through in years.
You know how this story ends.
Three weeks later this "collection" shows up at your door or on your desk, and you can't bear the thought of opening and breaking the news…
"Oh yeah, 1992 fleer, cool!"
You then have to endure a few more minutes of thumbing through and explanations. I mean, there is Ken Griffey, Mark McGwire, and Cal Ripken Jr.—jackpot, right?
Look, it's not your friend or coworker's fault by any means. They are just misinformed, but worse, they were taken advantage of by the junk wax era, and were never able to escape. That was their collector life. It's all they know.
Anyway, the point is, the apex of cringe comes when the "autographed cards" are unveiled. You know, 1989 Bowman, 1982 Topps, and the like. Cards with autographs, yes, but autographs that are far from real for one reason or another.
Read More: How to Identify Baseball Signatures
Which brings me to a question many beginners or casual collectors may have…
Are Topps autograph cards real?
So, simply, Topps certified autograph cards are "real," meaning that the autograph displayed is from the player Topps is showcasing and/or saying it's from.
You can check if you have a Topps certified autograph card by looking on the front and back of the card, and finding the "Topps Certified Autograph" seal/statement, and explanation that the on the back.
Certified autographed cards can be found in hobby boxes and retail boxes, and might even be represented by redemption cards which are traded in for autos.
When Did Autos First Appear?
1990 Upper Deck baseball is widely believed to be the first set to contain autographs in packs of cards. Reggie Jackson autographs could be found in 1990 Upper Deck High Series, as stated on the back of packs:
"Find one of the 2,500 personally autographed Reggie cards."
The most recently sold 1990 Reggie Jackson autograph was a PSA Authenticated copy for $327.
All of that said, mistakes happen, but the whole point of a card company issuing certified autographed cards is to get the real thing into the hands of the collector.
Now when it comes to other autographed scenarios, there is a twist, or a few of them, as there are a handful of instances where you might be holding a card with an "autograph" but one that is anything but real.
Facsimile Autographs
The most common scenario is when you have a card with a facsimile autograph (as was the case in the intro above) which is an exact signature replica that mirrors the pen stroke of the autographer, but is in fact machine-printed and thus not a real, authentic autograph.
If you scroll through the Topps design gallery over at Cardboard Connection you'll see just how prevalent the facsimile autograph has been over the years—going all the way back to 1952, 1954, 1955, and 1956, and then again in 1959, 1967, and 1971, and then rounding out pre-90s in 1975, 1977, 1980, and 1982.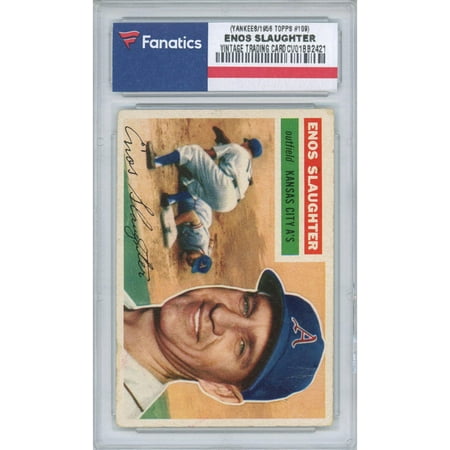 Affiliate Link: Enos Slaughter New York Yankees 1956 Topps #109
So, an easy way to tell if you have a facsimile auto is to check the year of the card. If it's of any of the sets where the autograph was part of the design, and thus printed on by machine, it's a facsimile. (Not to mention the fact that Topps didn't start issuing certified autographs until the 90s.)
In-Person Autographs
Another scenario occurs when you're holding a card with a real signature that was performed or obtained in-person. Compared to the facsimile autograph, this in-person signature is real in the sense that it's not printed, but there are still plenty of reasons to exercise caution unless the autograph has been certified by a reputable service.
Now, not to confuse things, but in-person autographs can be found on any brand of baseball card. That can be Topps, Donruss, Upper Deck, and on down the line. Think about it…an athlete could sign a toaster if presented with the opportunity.
But more to the muddying point, in-person autographs can also be fraudulent, and signed by someone who is posing as the card's featured player. It happens, and it happens a lot, and sadly, many get away with it.
So again, you can be holding a signed Topps baseball card, and yes, it can be real, but I wouldn't assume it to be authentic unless the autograph is certified by a reputable certification service.
Fake "Certified" Autographs
Less common, but this happens!
Sometimes individuals will get their hands on cards stamped with the "Topps Certified Autograph" and accompanying explanation, but have not been autographed.
These are cards that were perhaps tests or prototypes, or released by mistake, or simply counterfeit. This situation creates a blank canvas if you will, where an unscrupulous individual will forge a signature and sell to an unknowing buyer.
Here are a few examples, one from Cardboard Icons and another from Tan Man Baseball Fan.
This situation provides perhaps the ultimate conundrum…you have an autographed card with all of the markings that would lead you or most people to believe it's in fact a certified autograph, but it's not.
Re-Issued Cards of Autographs
This one is tricky! Stick with me.
Topps releases a ton of certified autographs through their different sets. Some of these autographed cards become so iconic that Topps releases additional sets to commemorate the original.
Prime example: 2017 Bowman Then & Now.
Here is an amazing 2009 Bowman Mike Trout Auto. It's a certified authentic issue.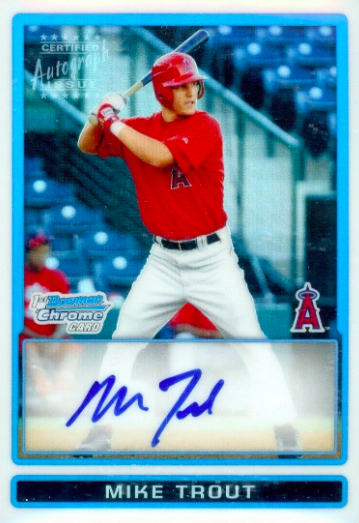 Now, here is a 2017 Bowman Then & Now Mike Trout, also beautiful, but potentially confusing to some, also with the "Certified Autograph Issue" stamp albeit on the original (now reprinted) card being showcased.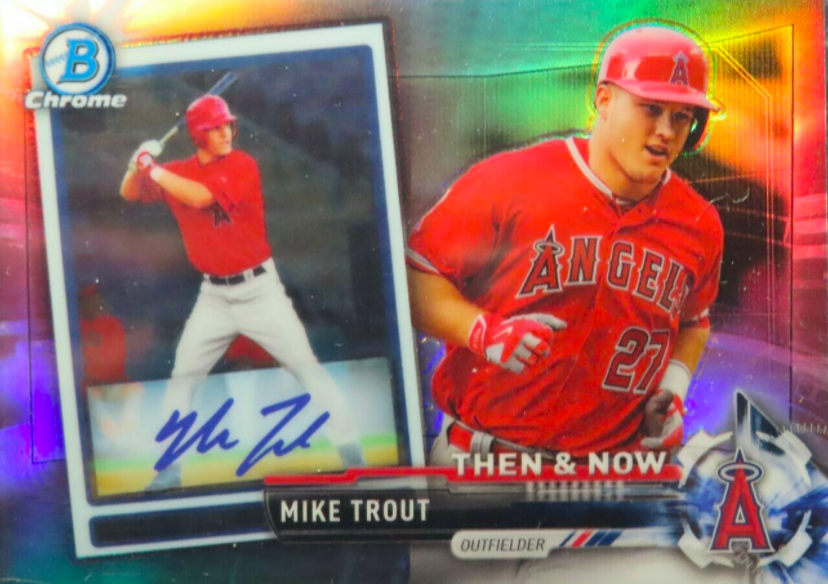 In the end, the autograph is not real, but is merely being reprinted as part of the 2017 set design. Some of you might be saying "duh" and I agree, but I've seen countless examples these types of cards being purchased with the price indicating the buyer thought they were purchasing a real autograph.
So…
If any situation was deserving of a big ol' "it depends" it's this one, with the answer of whether or not your cards are really autographed fully hinging on one of the above scenarios, or potentially something else!
It all might seem pretty confusing, but after some time in the hobby, a bit of research, and being able to hold the different scenarios in your hands, you should be able to quickly and easily determine the differences.