Affiliate Disclosure: This post contains affiliate links. As I am part of the eBay Partner Network and other affiliate programs, if you follow these links and make a purchase, I will receive a commission. Likewise, as an Amazon Associate I earn from qualifying purchases.
I know what you are thinking—do we really need another online sports card store? The quick answer is yes. Yes, we do. As a card buyer, I appreciate the many online options I can sift through, with each having its pros and cons, and specific specialties.
Dollar Box Cards is no different, and while I've talked about the site a handful of times on my TikTok channel, it's time to share the love with you.
What is Dollar Box Cards?
Dollar Box Cards is an online card platform that offers relatively cheap sports cards and lower-end singles. With that said, there are a number of enticing options that are put up for sale each day, which keep buyers like me coming back for more.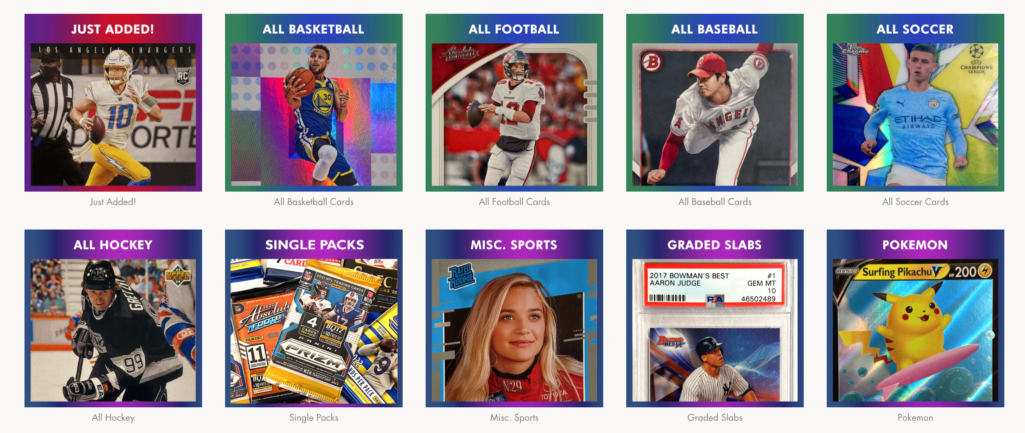 To explain further, Dollar Box Cards is not a peer-to-peer buying and selling marketplace like eBay, COMC, Buy Sports Cards, and many other places to buy cards. Instead, site operators fill the site with cards, which happens every evening around 7PM PST.
What Makes it Good?
For me, I've found a number of cards for my PC, not to mention trading cards to buy and flip. So, in terms of what makes it good—fair prices, new cards, and a wide range of players. I've placed a number of orders (I'm also not being compemnsated in any way for this post; just passing along my thoughts).
I also like the activity of scanning lower-priced cards; the thrill of the chase. I don't have an LCS that I frequent with actual "dollar boxes," which is a big reason I'm always on sites like Dollar Box, COMC, and others.
Shipping is only $3.49 no matter how many cards you buy, and even free when you purchase more than $25. To go along with that, if you purchase multiple orders on the same day, your orders – and shipping – will be combined. This is awesome.
Now, at this point you might be wondering, well that's weird…why would you purchase multiple times in a day? Keep reading!
Key Points to Know
I'm not sure if this was the original intention of the site, but the nightly "drop" of cards is a free-for-all and the time when most of the day's cards will be sold.
So, going back to the point above, because things get competitive and good cards/deals go fast, one thing you might want to do is buy as soon as you see a card you like, and then once you've completed the transaction, return to the site to look for more.
If not, and you spend too much time looking for cards and adding them to your cart, those cards might have already been sold by the time you're ready to purchase.
So, my advice is to get on the site around 7PM and refresh until you start seeing new cards pop up. Once you do, you'll see more and more added over the next few minutes. If you see something you really like and think will go fast, buy it while you can. Then, go back and search for more to take advantage of that combined shipping.
What Could Be Better?
All that said, here is the catch—if you went on the site right now, you might not even find $25 worth of cards that you'd be interested in buying (in order to take advantage of that free shipping). Meaning, because the best cards usually get bought up so quickly, and typically on the night they drop, there isn't a ton leftover.
So, I guess one thing to improve is more inventory, but again that goes back to the style of the site. This isn't one where anyone can list a card, so it relies on the site operator to supply more, and I have no idea if that's an option or even a goal.
Anyway, would love to hear your thoughts on Dollar Box Cards and any other site you buy cards from.