Affiliate Disclosure: This post contains affiliate links. As I am part of the eBay Partner Network and other affiliate programs, if you follow these links and make a purchase, I will receive a commission. Likewise, as an Amazon Associate I earn from qualifying purchases.
Cheap is a relative term. Any box of sports cards compared to National Treasures is going to be cheap. The cheapest Shohei Ohtani rookie card still isn't all that cheap. Make sense?
So in your quest to find the cheapest sports cards, what is it that you want? For me, I want to find cards that are cheap against, well, themselves. Or, said another way, that are simply priced lower than other cards like it. Thus, the card itself isn't cheap, but it is the cheapest one you can find depending on the source.
Whew. That went a little deep, but it's important we all get on the same page.
So, now that we are, here is how to find the cheapest sports cards.
Dollar Card Sites
While there are a ton of online sites where you can buy cards, there are a few that are dedicated to the cheapest.
Starting its journey on the bustling streets of Instagram in 2020, $1 Sports Cards had a vision: to be the digital dollar haven for sports card aficionados. With over 50,000 cards sold, they've not only realized their dream but have also expanded their horizons with a dedicated online store in 2021. And the cherry on top? A plethora of offerings from sealed treasures to the coveted $1 singles!
For $1 Sports Cards, transparency is key. They adhere to eBay's card condition guidelines, ensuring you get the best of the best. And for shipping, whether it's the simplicity of a PWE or the sturdiness of bubble mailers, they've mastered the art (Your cards, safe and sound.)
New for 2023, $1 Sports Cards launched a loyalty program that looks to be the real deal. Spend a dollar, earn 5 points. Rack up 500 points? Enjoy a $5 discount. Simple! Not to mention that you can refer and earn as well—Refer a friend, and both of you get to enjoy a $5 discount. Sharing is indeed caring.
Here is my referral code if you wanted that $5 right now, by the way ⚾️🏀
So, cheap cards, yes, but quality cards, swift shipping, and from the sounds of it, good packaging. But what truly sets them apart is their unbeatable pricing and the trust they've built over the years.
Check out their FAQ if you have more questions (And if you're wondering about getting a card for $0.25, well, let's just say they have a playful way to say, "Nice try!" 😉).
Staying with the $1 card theme (I mean, we are talking about the cheapest sports cards after all), Dollar Box Cards is in the game as well.
Said differently, Dollar Box Cards is on a mission: to make sports trading card collection affordable for all. They've curated a vast selection from their expansive inventory, ensuring you get the crème de la crème without the junk. From rookies to stars, autos, patches, parallels, and more, they've got pretty much everything.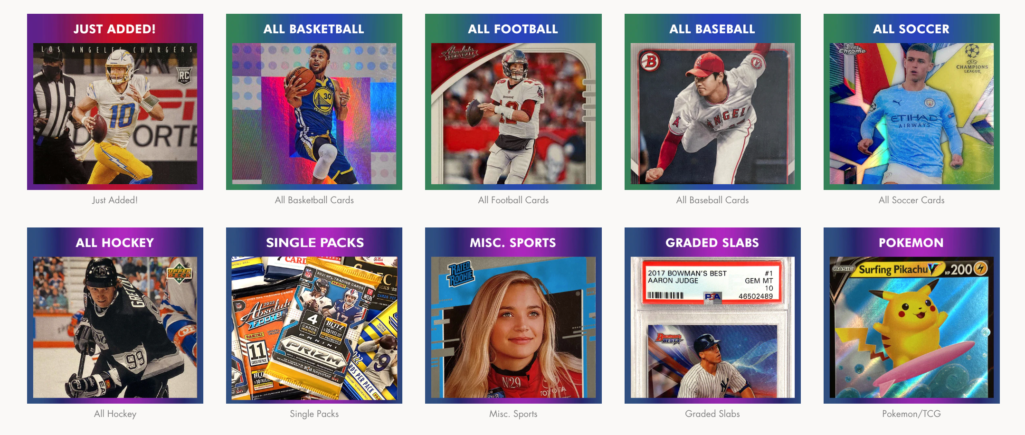 Individual raw card prices kick off at a mere $0.25, and whether you're a basketball buff, a football fanatic, or a baseball believer, they've got something for everyone. And hey, they've even got soccer, hockey, and Pokémon cards!
Once you've found what you want, with a flat $3.99 shipping rate and free shipping on orders over $30, they ensure your cards reach you safely and swiftly.
All in all, over 125,000 cards sold and counting!
Here is a review on Dollar Box Cards if you wanted more info.
Junk Wax Boxes
One thing that still throws me for a loop is just how often I'll come across a huge stash of junk wax boxes. They are everywhere, literally, just like they were newly-released a week ago.
Sealed "junk wax". Prices do not include shipping.
90 Score or UD Complete Set $15
91 Bowman $35
91 Leaf Ser 1 or 2 $10
91 Score 1 or 2 $10, complete set $15
91 Topps – $30
92 TSC Ser 1 or 2 $20
92 Leaf Ser 1 or 2 $10
93 Leaf Ser 1 Jumbo (opened) & 2 – $25
1993 Studio – $20 (x2) pic.twitter.com/veKSKHOe0N

— flywheels (@flywheels) November 12, 2022
As such, these are some of the cheapest cards you can buy, and thus are great for birthday parties, giveaways, and more.
Dollar Card Boxes at Shows & Shops
Now, if in-person card shopping is more your thing, there are still plenty of cheap cards to be found. I mean, if you need motivation, just check out the many YouTube videos about people pulling up a chair to their favorite cheap card boxes and walking away with some absolute treasures.
Now, some shops have them, some don't. Some have a ton of them, and even $.25! Talk about cheap cards. In terms of what to look for, your eyes could go in any number of directions. Here are some resources to help you spot that coveted steal:
Online Card Shops (Mailing Lists)
One thing I'm doing more and more of is seeking out online card shops and signing up for their mailing lists. In doing so, I've been pleasantly surprised at the caliber of discount and deals that end up in my inbox.
For example, I recently just received a 20% discount off graded slabs from Wahoo Sports Cards.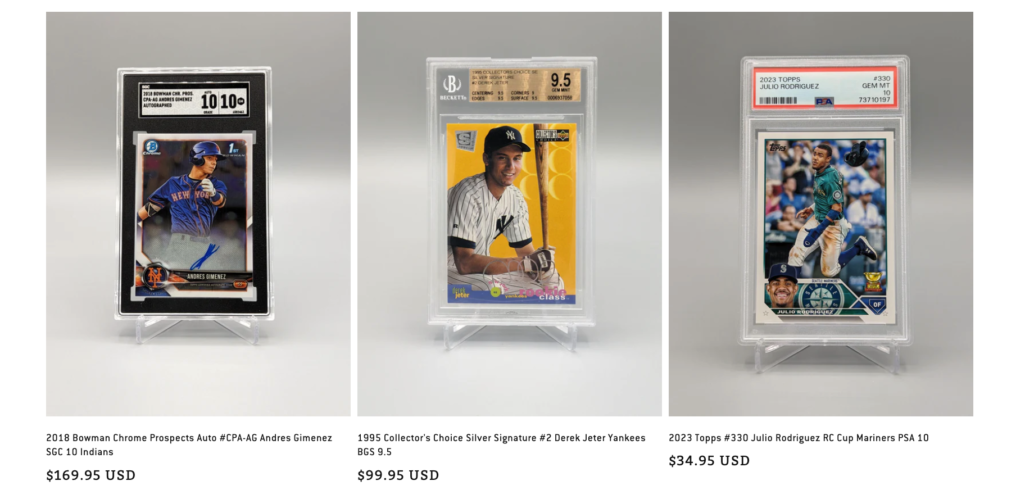 Sealed Wax (and Comparisons)
Now, remember when I said "cheapest" was a relative term? It definitely holds true when it comes to sealed wax boxes.
That said, here are some of the cheapest yet most fun boxes for new and young collectors to dig into:
But what about the times where you want to go a bit bigger? Sure, nothing will really be cheap, but there are ways to easily find the cheapest option.
One, you could simply go to eBay and sort by lowest price. Oftentimes, though, you'll be able to find that same box for cheaper on a separate website or retailer. The best way I've found to track sealed box prices and pinpoint the lowest available is WaxStat, which is a free tool that aggregates the different sales listings for a particular box, provides trends, and importantly, shows you the cheapest buy.
For instance, with this 2023 Topps Chrome Hobby Box, Roadshow Cards currently offers the cheapest at $175.

All in all, cards are rarely cheap. But, you can definitely increase your odds of finding them "cheapest" if you know where to look.