Affiliate Disclosure: This post contains affiliate links. As I am part of the eBay Partner Network and other affiliate programs, if you follow these links and make a purchase, I will receive a commission. Likewise, as an Amazon Associate I earn from qualifying purchases.
This post has been a long time coming, and really, flipping sports cards is the whole reason this blog and business exist in the first place. Taking a look back at COMC and a younger Ballcard Genius, it was a few years ago now when I first saw just how "easy" it was to buy a baseball card, reprice it, and sell for a profit. COMC made card flipping an activity that didn't require shipping or handling, and I've been hooked ever since.

As you can see here, I sold 562 cards in 2020, over 1K in 2021, nearly 1K in 2022, and 200 so far in 2023. While I have sent in cards to COMC to be sold, the vast majority of these sales have been card flips—where I've bought on COMC, repriced, and sold on COMC.
And yes, this is only COMC. You can flip cards on any platform or even across different platforms. We will go through the different scenarios, but I've flipped trading cards in the following manners:
Buy on COMC, sell on COMC (and now a COMC app!)
Buy on COMC, sell directly via eBay auction (more on this)
Buy on COMC, send home, sell on eBay
Buy on eBay, send to COMC, sell on COMC
Buy on Alt, sell on Alt
Buy on Alt, send to COMC, sell on COMC
Buy on Alt, send home, sell on eBay
Buy on StarStock, sell on StarStock
Buy on StarStock, send home, sell on eBay
Buy on Amazon, send home, sell on eBay
Buy on Amazon, send directly to COMC, sell on COMC
Buy on BuySportsCards.com, send home, sell on eBay
Buy on DollarBoxCards.com, send home, sell on eBay
Buy on Topps.com, send home, sell on StockX
Buy in-person, sell on eBay
Anyway, I can go on for more, buy the point is, there are so many different ways to flip sports cards. And this isn't even talking about flipping a raw card to graded, crossing over a card from one grading company to PSA, and other methods.
Just like anything, your preferred method should be the one that works best for you. For instance, I see a ton of people making great success by looking through dollar boxes at sports card shows or shops and then selling their findings on eBay. I simply don't have the time or a nearby shop, so COMC is a great alternative (that is open 24/7).
Whew. All of this info and we are still in the introduction. Hang with me and I'll go over all that I've learned, employed, and have had success with when it comes to flipping cards.
Sports Card Flipping vs. Speculating
Yes, sports card flipping is worth defining because there is debate around the term "flipping" and the similar activity of "speculating."
Sports Card Flipping
Sports card "flipping" generally refers to a short-term buying and selling strategy, where the goal is to make a quick profit by buying low and selling high within a relatively short period of time—often within the same day, days, or weeks. The goal of flipping is finding undervalued cards and reselling them quickly for a profit, without necessarily holding onto them for a long time.
Most of my card buying happens on COMC. I sort all of the sports cards by "recently added" so I can see the cards that are being newly listed for sale. The idea is, if there is a card that is underpriced, I want to see it before others do. So, I'll surf COMC in this manner.
Read More: Is COMC Worth It?
One of my most recent flips with this strategy was finding this Billups 24K for around $8…only to quickly sell it for nearly $800.
This would be considered a card flip because the card was purchased well below market value and then sold for market value.
Speculating
On the other hand, speculating is a different strategy where you're buying a card at market value and then hoping it increases in value over time, at which point you'd sell for a profit. You see this mostly with young players and rookies, which is one strategy, or players on the cusp of a milestone, playoff run, etc., which is another strategy.
For example, Jordan Walker is off to an amazing start for the Cardinals. Way back in 2021, I bought this 2021 Topps Pro Debut Gold /50 for $10.20. I waited until March to sell it, listing it for $85 and receiving $80.75 after fees. In this case, when I bought the card for $10.20, I wasn't expecting to sell it for more than that within the next day, coming days, months, or even years. Thus, this was more speculation than a flip.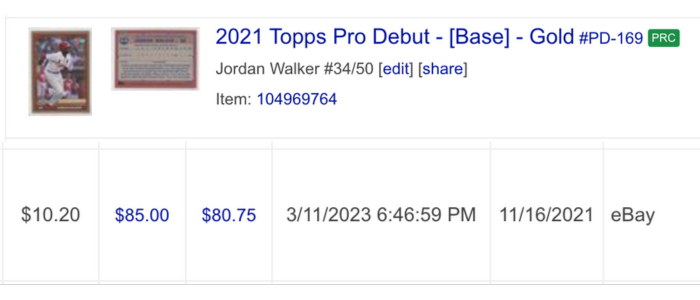 Which is Better?
So, which should you be doing? That depends on your skill set and comfort with risk. Thus, it's not a question of which is better, but which is better for you.
I personally prefer flipping because I'm buying a card at what I think is below market value. So, at the least in most cases, if I'm correct in my thinking and logic, I should be able to sell it quickly at the price I paid if I wanted.
Additionally, I simply don't have the time or knowledge to understand which players might be increasing in value over time. With so many unknowns, I'm just not comfortable with the risk in most cases. Others might feel differently.
Now, per the above, I do speculate in some cases, but when I do, it's normally at a low value and in volume. Meaning, I'm not going to spend hundreds of dollars on a single card and hope it increases over time. Instead, I might buy a handful of lower-level cards for a few bucks and hope they increase to $20, etc.
In other cases, I do a combination of the two approaches. Going back to Jordan Walker, when this 2020 Bowman Draft Class of 2020 Gold Refractor Auto /50 popped up for $65, I thought it was below market value and would have made for a nice flip, but I decided to hold on to it much like the card above.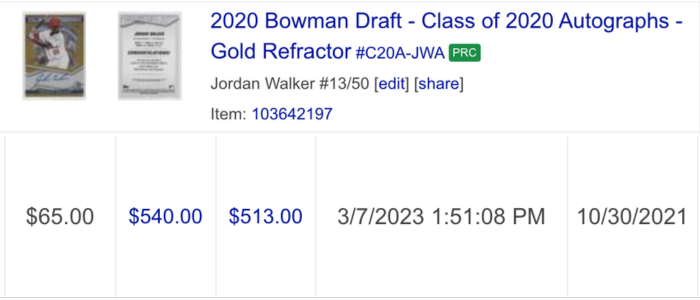 The Flipping Process
Before diving into flipping, let me outline the general process of flipping cards so that you can identify the areas you might have the most trouble with:
Understanding types of cards: Some cards make for better flips than others.
Finding cards to flip: Where can you buy cards?
Researching cards and prices: Figuring out if a card is priced low, etc.
Buying cards: Making sure the card is in good condition and more.
Grading cards: One option for flipping raw cards is grading them first.
Listing cards: With so many marketplaces, where should you sell?
Pricing cards: Once a card is purchased, how should you price it?
Shipping cards: Once sold, ship it correctly!

Types of Cards to Flip
So, part of the battle is finding cards to buy, but the bigger piece is understanding the types of cards that make for a good flip. With so many cards out there, you can't simply go buying any and every card thinking that it can be flipped.
Again, think about the different components that make for a good flip—it's not only finding cards that are priced low, but also those that are in demand.
What makes a card in demand?
Rarity: If a card is difficult to find or was only produced in limited quantities, it can be highly desirable to buyers. This is about supply and demand. While there are a lot of Frank Thomas cards, and a lot from 2002, there were only 10 copies of this 2022 Finest Flashbacks Refractor. Thus, this card is rarer than most of the others out there because only 10 exist.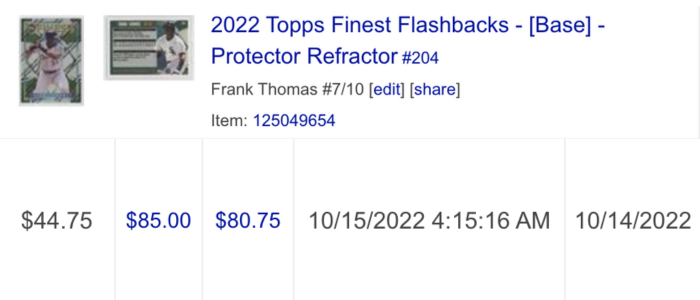 Popularity: That said, you can have a really low-numbered and rare card, but if it's not popular, you're going to have a hard time selling it.
And by popular, we are of course talking about players – stars, rookies, hall of famers – but also some sets. Meaning, regardless of the player, if it's a popular set and one many are trying to complete are drawn to, the card might have a good chance to sell. Similarly, it doesn't even need to be a low-numbered or particularly rare card if the set is popular.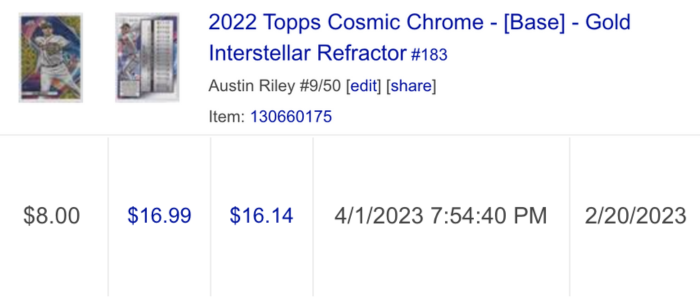 For instance, this Austin Riley 2022 Topps Cosmic Chrome Interstellar Refractor is numbered /50 which, sure, is lower than /99, etc. but isn't considered rare, especially because he has a number of cards from different sets /50. But this particular set? It's more popular than most, and so I felt good buying this card for $8 (and then flipping it for $16.99).
Read More: 2023 Topps Cosmic Chrome Release Date
To illustrate this even further, look at the prices of other 2022 Austin Riley cards /50 from less popular sets:
2022 Topps Gold Label Red /50 $7.50
2022 Topps Allen & Ginter Chrome /50 $8
2022 Topps Chrome Ben Baller Chrome /50 $11.99
2022 Panini Optic Carolina Blue /50 $7.95
Condition: Cards that are in great condition are generally more valuable than those that are damaged or worn. Thus, collectors will often pay a premium for cards that have been well-preserved. That said, flawed cards have a flip market as well.
In fact, I've seen a handful of examples where a card's less-than-perfect condition either causes the seller to price it lower than they should or to have buyers pay it no attention because it has a corner ding or surface scratch.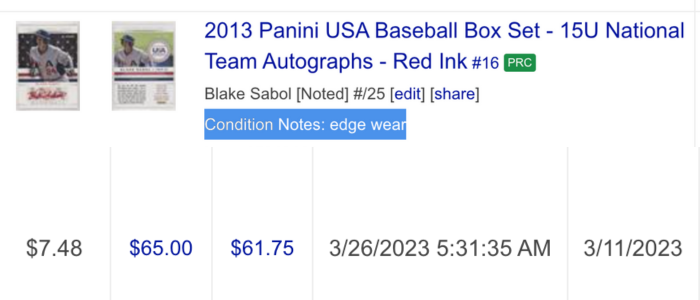 In this example, you can see I've highlighted the fact that this card had edge wear. Still, I bought it for $7.48 and sold it two weeks later for $65.
So, while the condition is important, sometimes factors like rarity and popularity are enough to overcome. With this card, it is low-numbered at /25, Blake Sabol was a hot name for the Giants, and he has relatively few cards out there, and even fewer autos.
Timing: The timing of the card purchase and listing can play a large part in the ability to flip a card. And, for anyone trying to take advantage of timing, it takes a few different forms and can be leveraged in different manners.
Time of year: The time of year can make it easier or harder to flip a card. This usually takes shape at the beginning of seasons while fans and collectors are getting excited for their favorite teams and players to start performing again, or during the playoffs/championships while players take the national stage to showcase their talents.
Acquisitions: I'm lumping in baseball player call-ups into this category because it's a big one, but I'm also talking about when a player is traded, perhaps to a contending or larger market team. In the case of the call-up. there is a lot of buzz and excitement around your players, and never more perhaps than when they get called up to the big leagues. Then, if they don't produce, that buzz and card popularity might die down.
Player Performance: This seems silly to not have "player performance" as one of the main factors if not the main factor, but remember, we are talking about flipping cards. Meaning, Lebron, Trout, Mahomes, and other stars are the kings of their sports, but they don't represent the best flip opportunities because they are usually priced accordingly.
So, when we talk about player performance, it's more about the players who might come out of nowhere to hit three home runs in a game, or score 50+ points on the court, or come off the bench and throw for three touchdowns.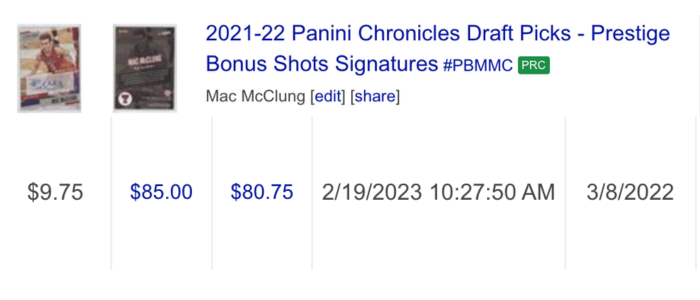 So this example above probably falls more into the speculation category, as I bought it back in 2022 for $9.75 and didn't list it for sale until the day it sold, but the point remains. Up until Mac McClung's slam dunk contest performance, you probably could have bought autos for around the same, only to turn around and sell them for much more.
What would have made this more of a flip than speculation is buying in the short window where the market was already starting to move forward with his performance, and then finding cards that hadn't updated their pricing to reflect the increase, buying the card knowing it was worth more (and not "hoping") and then selling it immediately.
Pop culture & oddities: This is a weird one, but a factor that certainly can play a part in your card-flipping pursuits. Pop culture can greatly influence a card's value in a few different ways. One, when you think about sports cards, you usually have a shot of a player taking part in their sport, with other players and fans in the background.
One of the most popular examples includes the 1990-91 Hoops Mark Jackson card with the Menendez brothers sitting right behind him in the front row. Another is the 2019-20 Chronicles Ja Morant RC with Young Dolph in the background.
Because these look like "basic cards" on the surface, sellers might price them as such, leaving a lot of profit on the table for someone to come and buy them at the undervalued price, and turn around and flip them for their true market value.
Finding Cards to Flip
Now that we know the different types of cards that make for good flips, you can't flip a card without buying it first, and you can't buy a card without knowing where to find it.
With so many online card shops and places to buy cards, one decision is to figure out where to make a purchase.
I'd encourage you to think about where it makes sense for you to buy cards with these guiding questions:
Do you have a local card shop? One of the only places to buy "single" cards in person is the local card shop. Sure there are card shows, garage sales, and flea markets, but in terms of the regular opportunity to frequent somewhere that consistently offers cards, it's going to be the local card shop.
Do you want to handle the cards? Meaning, there are card-flipping opportunities that exist solely online, in which you can buy a card online, reprice it on the spot, and then list it for sale within seconds. COMC, Alt, and StarStock all fall into this category.
NFS: Some nice Kobe's for the PC. Metal RC's were bought raw off eBay about 7 months ago and the others were pack pulled back in the day. pic.twitter.com/MXvHsRf9Na

— SlabCity (@SlabCity10) March 24, 2021
Do you want to grade cards? If so, you might want to only buy in person in order to give yourself the best chances. Meaning, if you buy a raw card on eBay in hopes of grading well, it might be tough to pick up on every little defect if any is present. That's not to say it's not possible, as plenty of found success this way, but it's not my preferred strategy.
So, given all of that, there are a ton of sources to buy cards, including:
Offer Up
Craig's List
Facebook Marketplace
Estate Sales
Garage Sales
Flea Markets
Card Shops
Card Shows
Researching Cards & Prices
In many cases, good deals don't last long, and it doesn't matter where you're buying cards in order for this statement to hold true.
So, honestly, finding successful card flips is sometimes just being in the right place at the right time. Other times, though, if you can recognize a good flip before someone else can, or, if you can research prices and "comp" cards better or quicker than someone else, you can increase your odds.
Here are a few tips.
Know Your Tools
The great thing about sports cards these days is that there is a ton of available data; probably even more than you'd ever need. On the other hand, not everyone knows just what is out there, and how to use them. I'm not going to go through all of them, but here is some knowledge every person should have when it comes to researching card prices.
Read More: BuySportsCards.com Review
First, I'd guess that most everyone knows that you can easily filter eBay listings to only see completed sales. If you don't, then that's certainly step one.
From there, though, if you take that info at face value, your eBay comps might be far off from what the cards actually sold for.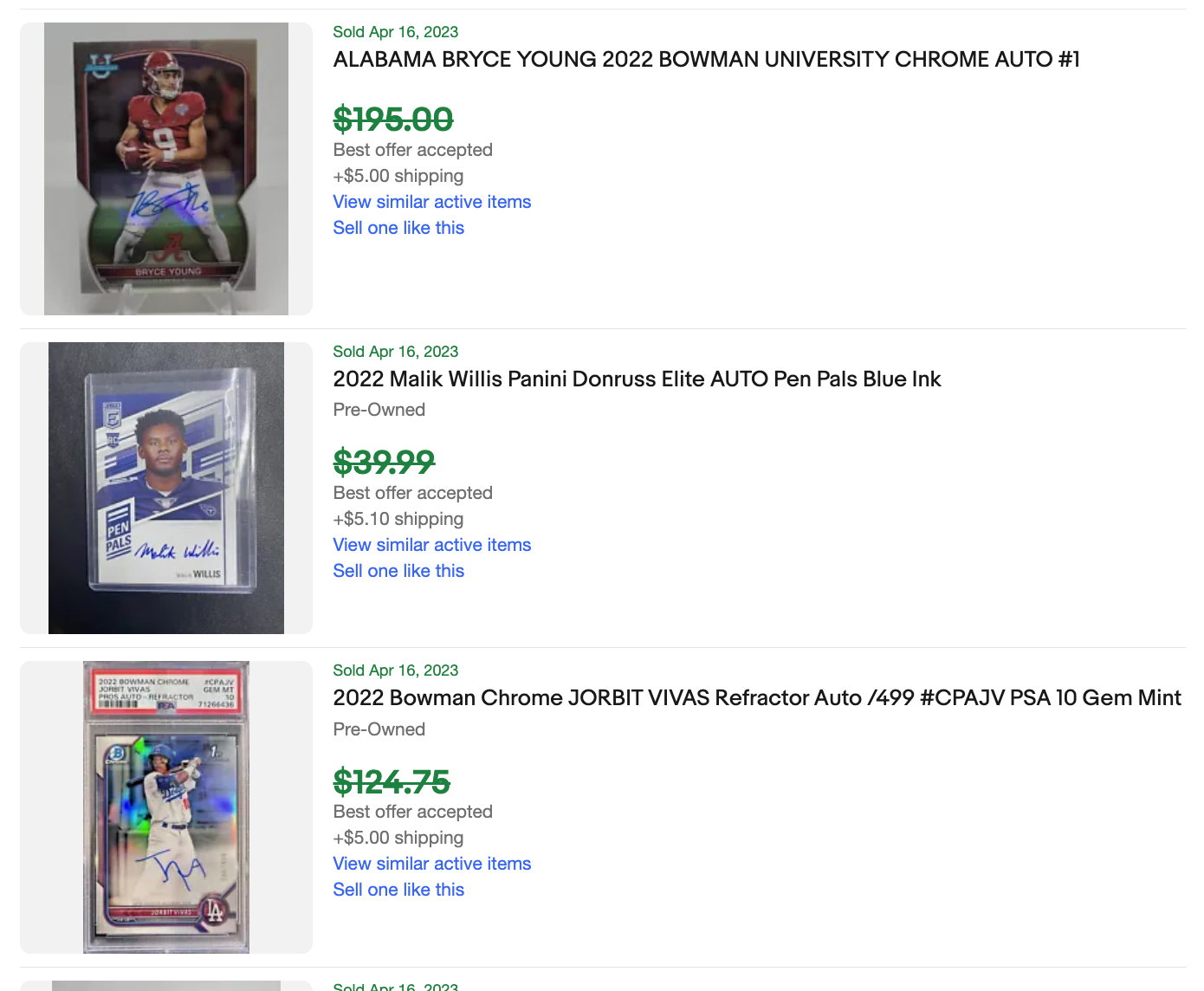 For example, with the above, the average person might see these sales:
Bryce Young auto $195
Malik Willis auto $39.99
Jorbit Vivas auto $124.75
However, this would be incorrect. Reason being, on eBay sold item that are purchased via "best offer" the price is shown with a strikethrough. The number is the original listing price, but from this view, the actual sold price is unknown. To figure out the actual sold price, you need to take additional steps.
One option is going to 130pt.com and searching for the card in question. So, if I go and search for "alabama bryce young auto" I see this:

So, while the card was in fact listed for $195, it was sold via best offer at $170—a difference of $25. Sometimes that price discrepancy between the listing price and the actual sold price can be hundreds of dollars, which obviously makes a huge difference.
The other option is to actually stay on eBay and click the "track the value of your trading cards" button, as shown here:

This will take you to the eBay price guide which also shows you the actual sold-for price. Well, sometimes. For whatever reason, sometimes the card you're searching for can be found in the eBay price guide, and other times it can't. For example, this particular Bryce Young isn't showing up in the eBay price guide. 
So, that's why it's good to know that both researching options exist—the eBay price is great because the data is only a click of a button away, but 130pt is also good because the information seems more complete and consistent. 
Other tools you might want to consider include sports card apps where you can scan a card to get an idea of value. Market Movers is another really valuable tool. See below.
Don't Rely on Sold Data Only
While sold card information is great knowledge to possess, it only tells one side of the story. Going back to the "rarity" discussion above, yes it's great to know what a card sold for, but it's also important to know how many of that card is currently for sale, and at what price.
Think about it this way. You see a card listed for $20, and its most recent comp was a card sold a month ago for $50. So $20 seems like a great buy, right? Well, what if I told you there are two other cards just like it that are currently for sale? One is priced at $25 and the other at $45. Thus, if you bought this card for $20, you'd probably have to list it for sale at $24, and after fees, etc., you'll be losing money. Just doesn't make sense, but by only looking at sold data, you wouldn't have been able to come to this conclusion.
Guesstimate When You Have to
Last, even with all of the data available, some cards won't have comps and won't have cards like it for sale. This is usually the case with vintage cards in a high grade, or cards printed in low quantities. For example, how much is a 1/1 card worth?
In this case, you'll still use the available data, but you have to make an educated guess. This tip is better told through this video retelling of a vintage card flip of mine:
The key video takeaways include:
How much do the grades above and below sell for?
How does a card look compared to others?
How many are currently for sale?
How many watchers do current cards have?
With this card, I used all of the above information to figure out if $2,000 was a good price for this Larry Doby.
On that note, this is a good time to talk about risk. Some people are more comfortable with it than others, but let me just say I would personally never spend nearly this much money on a current player. The only reason I did with this card, in particular, is because Larry Doby has long been retired (and passed away in 2003).
Thus, he's not going to get hurt, go into a slump, or really do anything to hurt his value. I felt comfortable and confident in the fact that even if I couldn't flip the card for a profit, I could sell it for around what I paid for.
Anyway, back to the last bullet point on seeing how many watchers a card listing has. Watchount.com is a great tool that will tell you how many watchers a card has. Obviously, the thinking here is if a card has zero watchers, it might be a good indicator that there isn't much interest, while a lot of watchers could tip you off that the card is in demand.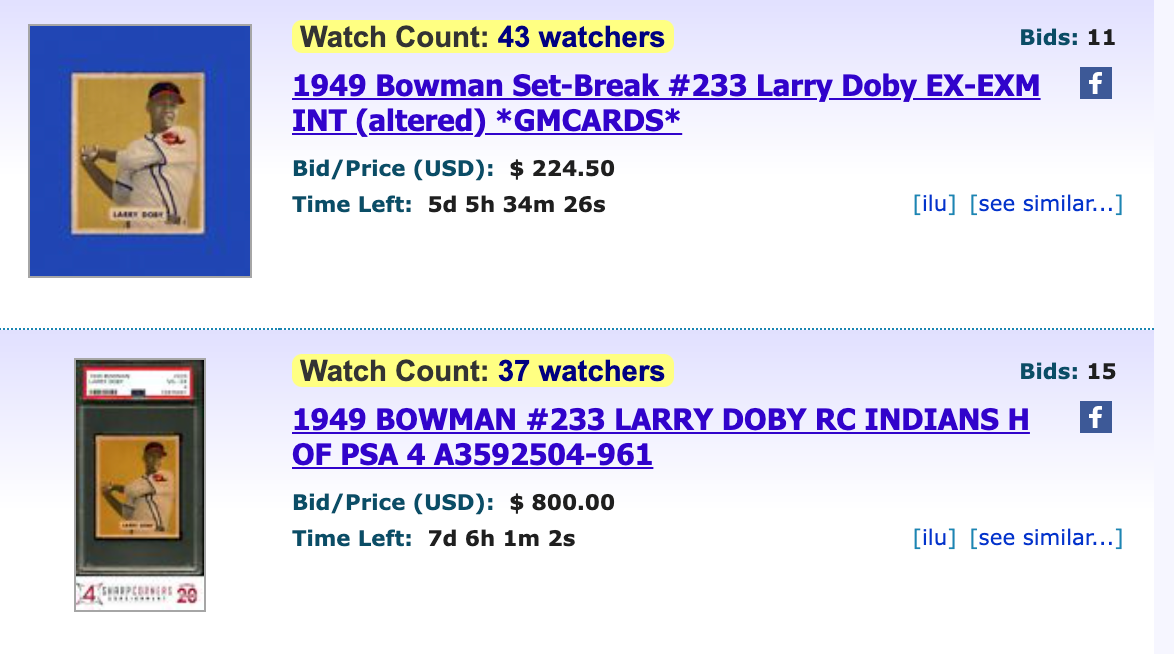 Purchasing Cards
This section will be relatively short as the act of purchasing a card isn't really different than any other online or in-person transaction.
What I do want to talk about, though, is when buying cards for business or flipping purposes, keeping track of costs and organizing properly are musts.
Tracking Costs
For me, I personally keep track of associated costs and build an inventory with all pertinent information. This is one reason I like to buy and sell online as much as I can because it's nice to have a record of every transaction just in case.
If y'all aren't using @CRT_Sportscards card-selling spreadsheet, you're doing it wrong. pic.twitter.com/4vxFpKkk1y

— nickfcards (@nickfcards) August 27, 2020
Remember, when you're buying a card, yes you're paying the card's listed price, but you'll have additional costs like taxes and shipping. All of this needs to be accounted for when flipping a card, because you're not just buying a $20 card in most cases…you might be buying the $20 card, plus $5 shipping, etc.
All of the associated costs impact your profit. Think about traveling to and from the card shop or shows, and even opportunity cost. If you spend two hours at a show, could you have put that two hours to better use in some way shape or form that would have benefitted your card flips?
I know it sounds cumbersome, but there are a ton of resources where you can find an already-built spreadsheet. I suggest checking your social media communities, sports card forums, and more.
Keeping Organized
Opportunity can strike at any time, any place. When it does, you want to be organized enough to take advantage. On the buying side, this means having a method or process for buying. For instance, I buy most of my cards online, and I do so on COMC and other platforms.
So, I do things like keep browser tabs open so I can remember to check all of the sites I want to check in a timely and organized manner. When I make a purchase that requires a card to be shipped home, I add it to my inventory immediately so that I, again, know what I have and how much it cost me.
One of the best parts of collecting is keeping up with the game and digging through older boxes to find hot cards! @cardpurchaser pic.twitter.com/uvOfKJ4sBb

— Thomas M. (@clemsongrad_02) May 22, 2022
Especially if you're speculating, a card sale can happen the same day, over a few days, or longer down the road. If a certain player has an amazing game, does something historic, or does anything that caused their card values to spike, you're going to want to be able to go to your inventory and quickly pull and list the cards you have in order to take advantage of the short sale window.
For those wanting to take the next step, there are a number of sports card software options.
Grading Cards
Next up before we get into listing and selling cards, one pit stop between buying a raw card and selling it is considering grading that card first in hopes of earning more from your flip.
Frankly, there is so much to consider here, and I've written about grading so much already that it's probably most helpful for you to just look through these resources:
All that said, here is an example of a card I purchased raw, and at a price that I believed to be below market value to the point where I could probably get it graded and still at least break even in the event it didn't grade well.
I don't do this a lot, but that's the thinking I have adopted:
Did I purchase the card below market value?
Is the card in great condition?
Do I have enough room to grade and still profit worst case?
Selling Cards
Alas, the time has come to sell! You've gone through all of the trouble of researching and finding a card to flip, you want to make sure you set yourself up to sell in a timely manner. Here are some tips to help push your sales along. Again, these are from my own personal experiences and successes. Thus, this isn't the only way, but simply something that has worked for me.
List cards quickly
All I mean by this is the last thing you want to do is buy cards only to let them sit in your boxes and not even up for sale on any platform. Again, I really like COMC because it's so easy to buy and list for sale. I don't need to scan the card, ship it, etc. I simply click a few buttons, and I'm all set. In the rare occasions I ship cards home, though, I try to be just as efficient.
Aim to be lowest-priced option
This tip goes along with the buying tip mentioned earlier—if you're going to buy a card to flip, you probably want to do so at a price where you can be the lowest-priced card for sale and still make money on it.
It's all about personal selling philosophy. Mine is, if I'm buying a card, I want to sell it as quickly as possible, even if that means leaving a few bucks on the table.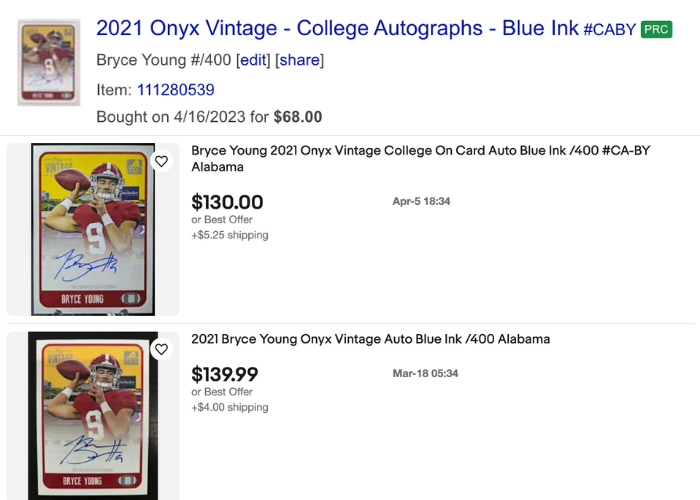 For example, I just bought this 2021 Onyx Vintage Bryce Young Auto /400 for $68. When I list it for sale, I'm going to do so that it is lower than the two other cards like it that are currently for sale. I'll probably list it for $110, and will accept an offer of $100. I knew this before I bought the card, and thus any price above $80 would have been a no for me.
Open up for best offers
Again, just an opinion, and besides the obvious point of giving buyers the confidence they can buy a card for lower than the listed price, I really like being able to gauge interest in a card, and this helps me do so. Thus, on COMC I have my offers set at 50% of my listing price, which is the lowest they can go.
"Low-ball" offers don't bother me because I can then at least form an understanding of the card's market. If I didn't have offers turned on, the only way I'd be able to tell if there was a market for the card is if it sold. If I find myself getting a lot of offers around the same price, I'll probably end up accepting one of them.
To go along with that, I'll also aim to buy a card at a price that allows me to accept a best offer and still make a profit.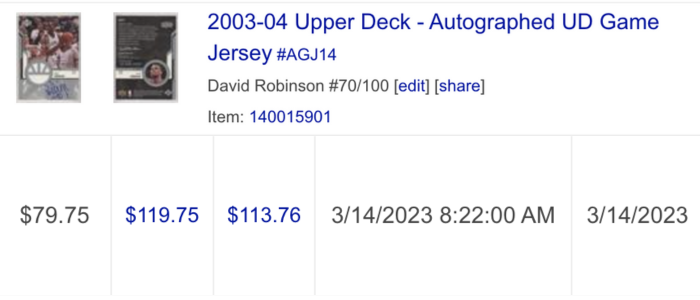 For example, I bought this 2003-04 Upper Deck David Robinson Auto /100 for $79.75 and priced it around $140. I quickly received a best offer of $119.75 the same day, and took it, making a quick $30.
I'll also take a step back and honestly say that not every card is going to work out as a successful flip. I mean, I bought over 2,000 cards last year, and about 3,500 in 2021. That's a lot of cards! Most of those were bought to flip, and while a good number of them brought in profit, there were certainly losses.
From that video, I'm not shy about my losses. It's part of the deal. I'm more than happy to admit when I get a card wrong, and will readily sell at a few-dollar loss so I can get that money back into my account so I can move on to the next challenge.
All in all, I just put down thousands of words on flipping cards for profit, and I feel like I still have a lot more to say! If you are stuck in a certain area, have additional questions,