Affiliate Disclosure: This post contains affiliate links. As I am part of the eBay Partner Network and other affiliate programs, if you follow these links and make a purchase, I will receive a commission. Likewise, as an Amazon Associate I earn from qualifying purchases.
We all know eBay is pretty much the ultimate destination when it comes to buying cards online. But, I've also discovered there are a handful of other online sports card stores with great inventory and great deals. These range from big sites that carry every new Topps release on the calendar to other stores specializing in slabbed cards, and others on dollar singles.
So, thought I'd do my part to help bring some of these card sources to light. Please note: I will say, I haven't purchased from all of these online card stores, but some of them. So, their listing here isn't a recommendation but is purely for informational purposes. I encourage you to do your own research before making a purchase.
Please also know, this isn't an exhaustive list, and I'm leaving off the many popular places where you can buy baseball cards like comc.com, sportlots.com, and others. I'll mention them all in the bulleted list, but will only expand upon those that are strictly online card stores.
eBay
COMC
SportLots.com
Beckett Marketplace
BuySportsCards.com
Real Sports Cards
4 Sharp Corners
Dollar Box Cards
Diamond Cards
Sports Card King
Wahoo Sports Cards
Charm City Cards
Sports Cards
JunctionGiant Sports Cards
1. BuySportsCards.com
Fresh on to the scene, BuySportsCards.com is quickly becoming a go-to spot for anyone looking for a particular card, or is in the mood to simply browse and see what cardboard might catch their eye. Filled with "buy it now" and "best offer" types of deals, more and more great cards are uploaded by users each day. There are still some minor bugs and things that need to be worked out, but the site has shown growth and appears genuinely interested in creating the best card marketplace experience.
2. Real Sports Cards
I recently found Real Sports Cards by chance, and have purchased a few great singles deals of late. Each transaction was smooth and seamless; cards were great. The first on this list to offer sealed wax, breaks, and singles, Real Sports Cards has some really great Google reviews as well with 4.7 stars across 100+ customers. Here is a sweet Ke'Bryan Hayes & Charlie Hayes father and son dual auto I purchased: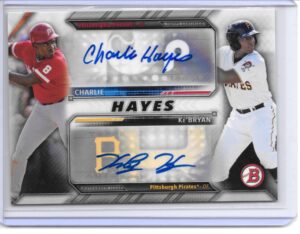 3. 4 Sharp Corners
I first came across 4 Sharp Corners after purchasing a few cards from them off eBay and realizing they had a large online store presence as well. True to their name, 4 Sharp Corners is a site that only offers graded cards for sale, but what I really like is the fact that it's not all super high-end cards, and as an A's collector, can find things like a 1983 Fleer Stamp Rickey Henderson and other obscure cards.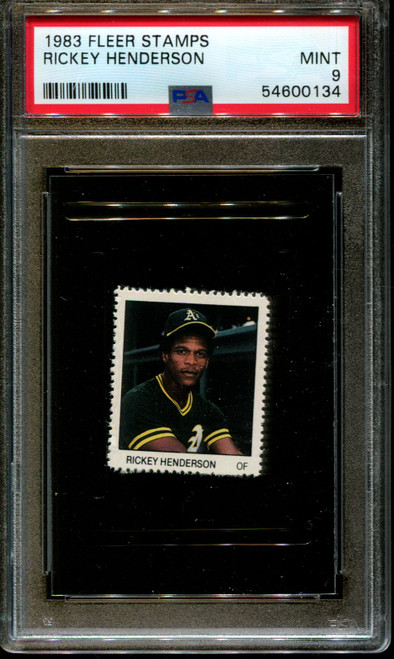 They too seem to be running a promotion with 10% off purchases less than $1,000, and have a loyalty program called the Champions Club, offering a way to earn points with purchases, unlock perks, and more.
4. Dollar Box Cards
This is a fun one, but you've got to be quick! It's exactly what it sounds like—cheap sports cards, and a bunch of card from $1-$5 primarily, with a few bigger cards sprinkled in from time to time. I've made a few orders, always pleased, and some great deals.
Read More: 7 Apps to Sell Sports Cards
I suggest you subscribe and be notified of each nightly upload, in case you forget, because you will forget. And their shipping policy really helps—$2.99 flat rate shipping and free Shipping on orders $25+.
5. Diamond Cards
I'll be honest, I've never made a purchase from Diamond Cards, but I see their name around a lot so felt right to include them here. Sports, non-sports, and gaming card boxes look to be available. A "Flash Sale" link will always earn my click, too!
6. Sports Card King
Another one I've never purchased from but see around a lot! And just like I happen to be Ballcard Genius, and know the expectations placed on me because of it (kidding), if you're Sports Card King, you must be good! Looks like singles only here, which I personally like.
And I'll say, revisiting the site now, one thing that will always get me coming back is a "new arrivals" section or the ability to sort cards by "recently added." I'm going to pause here and see if I can find any deals! (Awesome scans too, by the way!)
7. Wahoo Sports Cards
I was scouring the web not too long ago looking for Orelvis Martinez cards, and my search led me to a sweet Bowman Sterling auto which I promptly picked up. I've been a fan ever since. Inventory includes the aforementioned singles, complete sets, and packs. Some really cool stuff.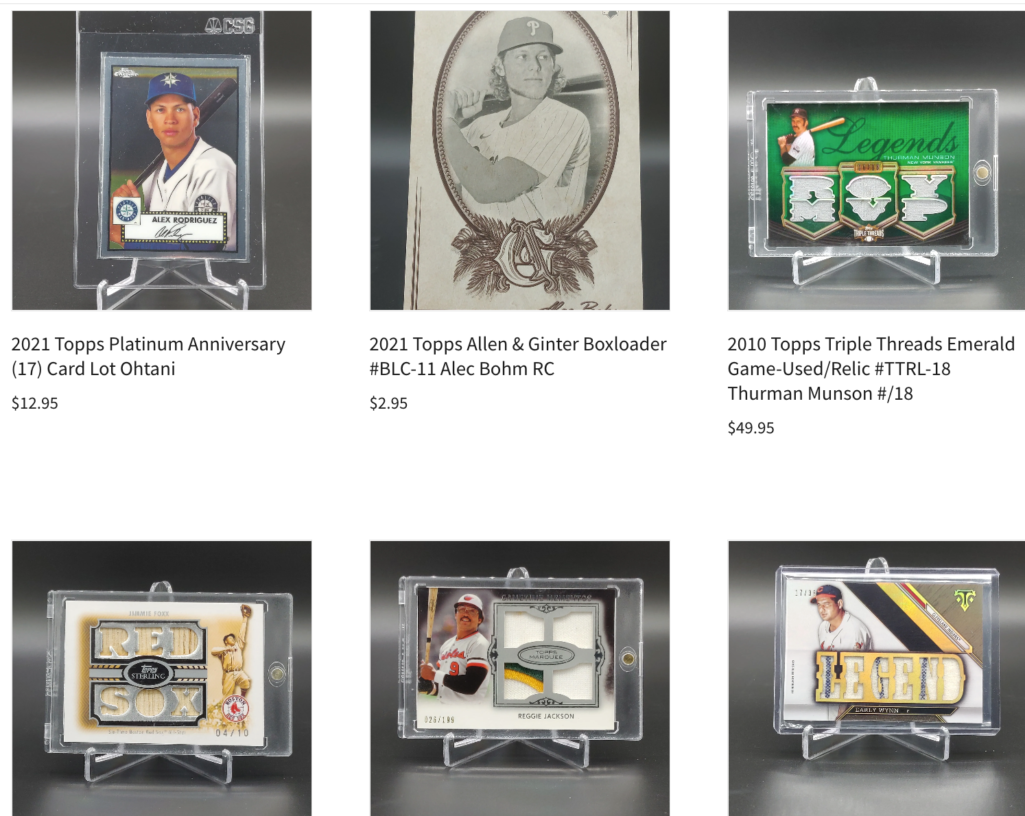 Save 10% on orders of $50+ at Chief Wahoo Sports Cards with
exclusive
coupon code BALLCARD
. That's right, Chief Wahoo Sports Cards was nice enough to extend this offer to readers and supporters of Ballcard Genius, so please enjoy!
8. Charm City Cards
Boxes, sets, supplies, and more! With handy features such as "back in stock" it's easy to keep coming back and seeing if your favorite product is once again available for sale. Dean boasts himself as a one man show, which lends itself to service consistency and familiarity.
9. Sports Card Junction
Family owned and operated since 1995, Sports Card Junction has accumulated an impressive 4.9 star rating on 185 Google reviews—they must be doing something right! Boxes, cases, and singles are available. There is an SCJ rewards option for perks, referrals, and more. For instance, I just signed up and you can earn $5 off your purchase with this link.
10. Giant Sports Cards
"The hottest releases at the lowest prices!" Not a bad statement to see upon entering the site. I was also promptly greeted with an option to save $10 off any order $100+ if I sign up for the weekly email, which I'll try and take advantage of. You can filter their shop by "deals" which is a nice feature. I don't see any singles, so may be boxes and cases for this one.