Affiliate Disclosure: This post contains affiliate links. As I am part of the eBay Partner Network and other affiliate programs, if you follow these links and make a purchase, I will receive a commission. Likewise, as an Amazon Associate I earn from qualifying purchases.
Definition
The Junk Wax Era was a sports card period between the late 1980s and early 1990s, where cards were produced in mass quantities and overproduced to the point that even some of baseball's biggest names don't hold much of any value.
Topps, Donruss, Fleer, Upper Deck, and Score all contributed to the problem, with every company simply producing too many cards. In fact, you can still easily find and purchase sealed wax from this era without issue, and without spending much of anything.
The Bad
How did it happen?
Part of it stemmed from the hobby taking off in the '80s, forcing card manufacturers to rush to meet the outrageous demand. When that growing need for cards died down, it took almost every card from that time period with it. If any eta in the history of card-collecting has been insulted by the masses, it's the Junk Wax Era.
Another glaring problem about many of the sets from this era is that they lack quality design and frankly, are quite dull and boring. Some had bad photography while others had colors that were too loud, too dull, or that looked downright wrong.
The 1988 Donruss set is a good example of a poorly designed set of baseball cards. The visual of the card itself with its blue and dark blue blended borders was part of the problem, and the photography lacked any sort of action or imagination.
Another forgettable Donruss set from the junk wax period is 1990 Donruss, or, "big red." The red card with speckled black and white dots dusted on the sides lacked flair back 1990 and it looks even worse today given how much of it is out there. A lack of a great standout rookie leads also hurts, leaving the set without one true card of value, unless it's one of the many errors.
Other candidates for the All Junk Wax Team would be 1991 Fleer (you know, the yellow set), the 1990 and 1991 Bowman "twins" (with the design looking pretty much the same), 1988 Score (too many colors yet still dull), and 1992 Upper Deck (after making a splash as a new entry in 1989).
The Good
All that said, it wasn't all terrible. No matter the era, there are still going to be cards that stand out as the best, and that's no different with the best cards from the 1980s and 90s.
While most collectors will tell you to steer clear of this era, every time period has its highlights, even if it's the worst in the history of cardboard. The positive here is that, despite its multitude of drawbacks, the era still had Hall of Fame players included, and some of the game's best at that.
Yes, even their cards were overproduced but that doesn't mean they don't have any value, but they sure are a lot more affordable than today's rookies (Ohtani Topps RCs, anyone?)
One, there is Ken Griffey Jr.
Isn't this the same guy that is sometimes talked about as one of the greatest hitters ever? If there is one single player during the early '90s that is still revered today it's Griffey Jr. and he had a few lovely cards that are accessible for collectors today.
First and foremost, arguably his most sought-after baseball card is the 1989 Upper Deck #1, which the company made as its first card in the set hoping it would attract more collectors. It did.
Griffey's name was huge at the time, even before he took his first Major League at-bat, and this card symbolizes his clout even as a rookie.
You can easily find this card if it's ungraded but if you seek a PSA 9 you're looking at $200-300, but if you want that PSA 10, you will have to fork out something in the $1800+ range.
Read More: Finding Baseball Cards at Goodwill
The other Griffey card that's worth adding to your collection from the Junk Wax Era is the 1989 Bowman #202 base or Tiffany version, which is far more expensive as only 6,000 of the 1989 sets were ever produced, apparently.
Then, there is Frank Thomas.
Another fantastic player from the time period that was very well-liked and quickly inducted into the Hall of Fame. One of Thomas' best cards, both today and back in 1990, was the incredibly expensive (at the time, at least) 1990 Leaf #300 Frank Thomas rookie card.
One reason it was such a hot item is that the 1990 Leaf set was new, cool, and expensive back then as the set itself had far better-made cards with its thick card stock and all-around glossy look. If anything, you get a card from the '90 Leaf set, which is easily one of the best sets of the Junk Wax Era.
There are a few other Thomas rookie cards on the rare side, specifically, the 1987-88 Auburn University card, which is not only his debut card but also features him in his college uniform—something you didn't see a lot of in those days. While it's affordable for most investors, it's not exactly cheap if you seek the highest grade with PSA 10 costing at least $800.
And then on the mound, Randy Johnson.
Randy Johnson was one of the most dominant pitchers of his era, and has many attainable cards from 1989 and on.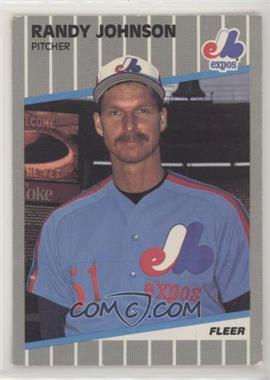 In terms of major releases, there is of course 1989 Upper Deck, like Griffey, but one other you might want to check out is the 1989 Fleer "Marlboro sign" rookie card, which has a Marlboro ad on the scoreboard behind Johnson that Fleer tried to obscure. (Some weren't obscured and those are the most sought out.)
Read More: Upper Deck Low Series vs. High Series
FAQ
What are some of the best sets of the junk wax era?
It's a really tough question, but typically you're going to find the answer in non-tops sets. This includes 1989 Upper Deck and 1990 Leaf. Both of these sets feature great rookies and produced a card look and feel the hobby had never seen before.
Can you still purchase sealed junk wax cards today?
Very much so—you'll see them everywhere, from garage sales to Offer Up posts and more. It seems even decades letter there are cases and cases of unopened junk wax era cards just sitting there.
Can junk wax era cards shoot up in value?
Outside of 1989 Ken Griffey Jr., 1990 Topps NNOF Frank Thomas, 1989 Fleer "FF" Billy Ripken, and a few others, there isn't really any sort of path towards appreciation for the bulk of the junk wax era cards. Supply is simply too high to the point that even if for some reason a card was deemed to be more valuable than it has been, it would quickly extinguish.