Affiliate Disclosure: This post contains affiliate links to eBay, Amazon, and other platforms within the content, sidebar ads, and in other areas. As I am part of the eBay Partner Network and other affiliate programs, if you follow these links and make a purchase, I will receive a commission. Likewise, as an Amazon Associate I earn from qualifying purchases.
"The Kid" has a ton of baseball cards, dating all the way back to his early rookie years like this 1989 Topps Traded Ken Griffey Jr. and continuing on to today given he's a part of seemingly every checklist as a "legend" entry. It's good and bad, though—he was such a great player, and it feels like every single card he's featured on looks amazing, but they can also get quite expensive.
So, while there will be a day and time for us to look at the coolest cards (and more affordable) Ken Griffey Jr. options, today we are looking at the rare finds; typically 90s and 00s inserts that are mind-blowingly-beautiful but don't often see the light of day.
1. 1999 SkyBox Molten Metal Fusion Titanium #33 Ken Griffey Jr. /50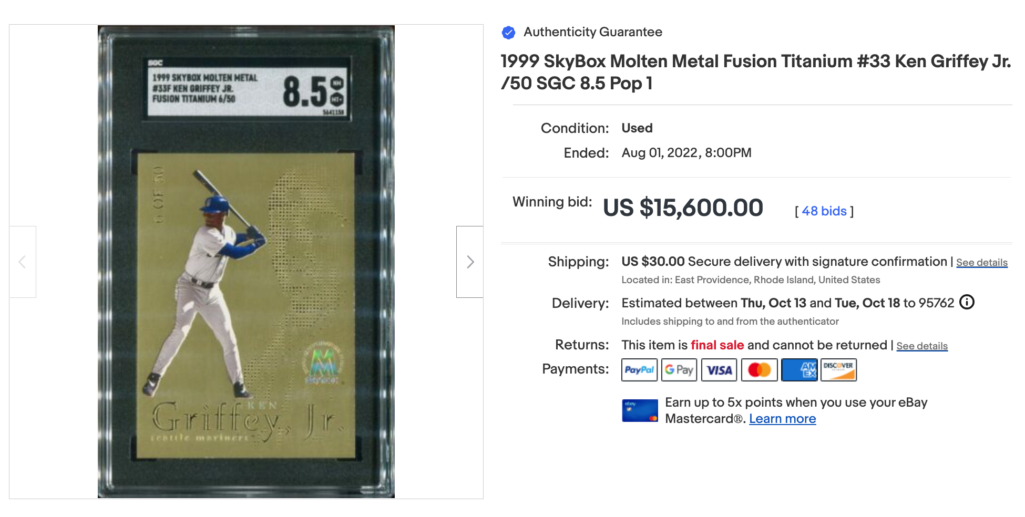 Combining the SkyBox Molten Metal Fusion mad so popular with basketball cards together with Ken Griffey Jr. is simply a match made in cardboard heaven. And I say "simply" because look at this card—no flash; straightforward. Sure, there is gold, but it's not of the in-your-face-kind you'd typically find on a card with such a price tag.
This one that recently sold is noted as a pop 1, which is a little tough to get behind because it's an SGC 8.5 and not something like a PSA 9, but still, the $15K selling price lets you know just how rare this card is, even in less than perfect condition.
2. 1998 Donruss Elite Prime Numbers Die Cut 4 #1C Ken Griffey Jr. 1/4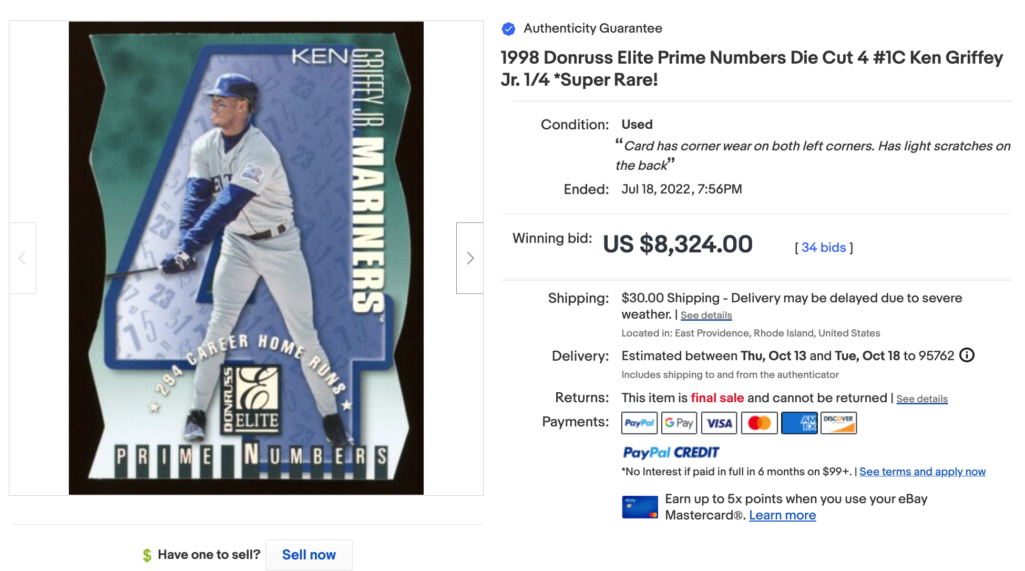 If you see a 90s Griffey card numbered to 100 or less, you stop in your tracks. If you see one /50, you start to sweat a bit as well. /25? Well, you might as well clear your schedule for the day. So seeing one out of 4? That's basically unheard of.
This jagged die cut makes for a tough grade, and if I'm being honest, I've never loved Prime number cards. The photo could be a bit better as well, but listen, rare is rare.
Read More: Most Valuable Mark McGwire Cards
And to explain the numbering on this one because it can get a little confusing. The back of this card is numbered "1c of 12" and stamped "001/294" so what gives? As Baseball Cardpedia explains:
"For card "A" in each three-card sequence, the number of cards die-cut is equal to the value of the first digit multiplied by 100. "B" is equal to the middle-digit times ten. "C" die-cuts are equal to the value of the third digit."
So, given this is card "C" die cuts are equal to the value of the third digit, which of "294" would be "4."
3. 1999 E-X Century Essential Credentials Future #17 Ken Griffey Jr. /104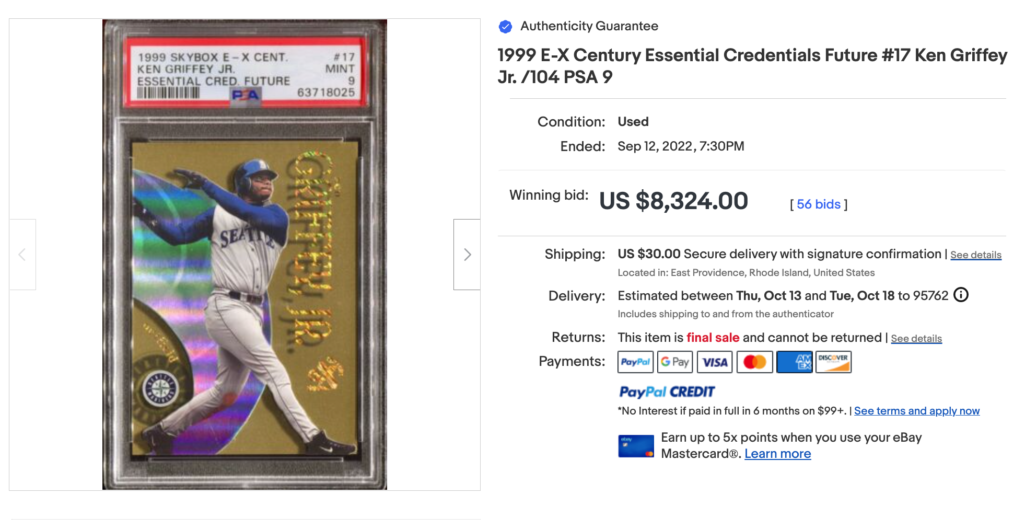 Reminiscent of the Molten Metal card mentioned first on the list, the 1999 E-X Essential Credentials Future is another brand that has seen to be rare across different sports (just check out these rare Barry Sanders cards to see what I'm talking about).
Sporting a little more of that "flash," this card pops from the glittery name to the purple "acetate" wave, and more.
And yes, if you're thinking "/104" seems a little random and must have some numbering math to work through like the example above, you're right. This one is #/100/104, and this is why:
"The serial-numbering for the Essential Credentials Future parallel was determined by subtracting the player's card number in the base set from 121. Again, due to the arrangement of players in the base set, the top current stars were featured first while the young stars were featured last – thus, the potential "Future" stars of the game featured the lowest serial-numbering in the Essential Credentials Future set."
4. 1999 UD Ionix HoloGrFX #HG1 Ken Griffey Jr.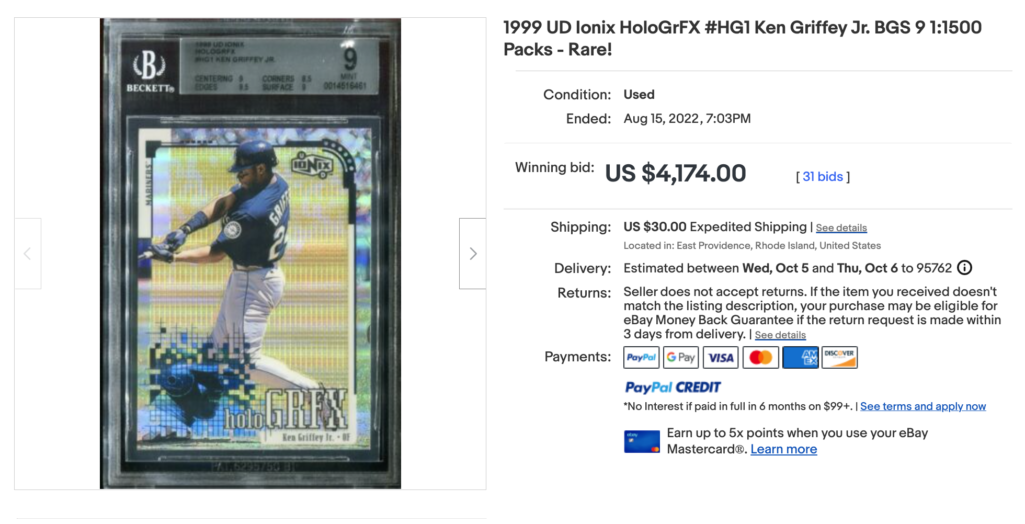 On the doorstep of the year 2000, you saw a lot of this futuristic "technology" design on a lot of cards. Looking like something out of The Matrix, the 1999 UD Ionix HoloGrFx is mega rare, as in, 1:1500 packs rare.
In terms of what such rarity looks like in the market, there aren't any 1999 UD Ionix HoloGrFx baseball cards currently for sale, and besides this Griffey which sold in August 2022, there is one other recent sale, a raw Mike Piazza selling in July for $300.
5. 1998 UD Retro Ken Griffey Jr. #Q7 Quantum Leap #/50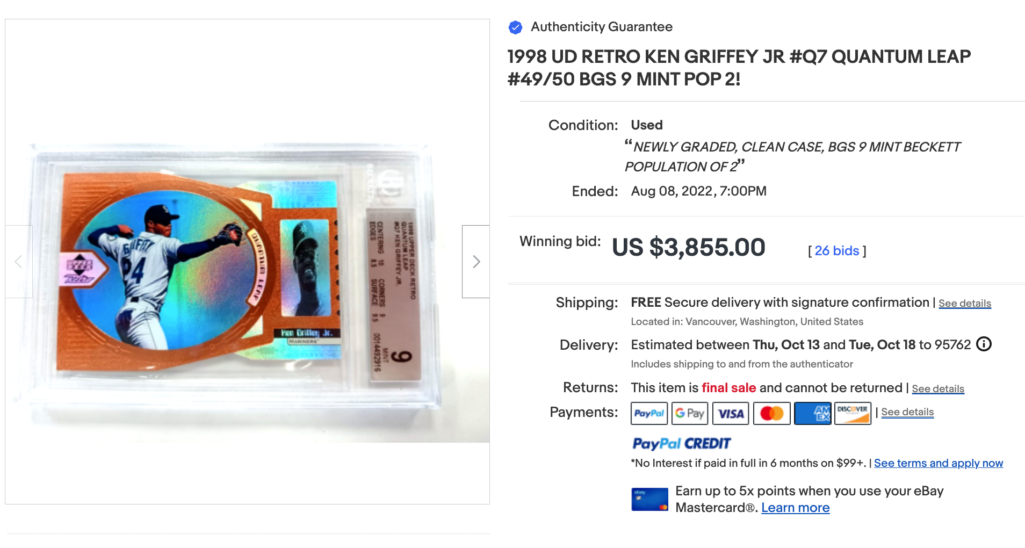 I love all cards, especially Griffey, but I really prefer your basic rectangle shape, especially for $4K. That said, that's what makes the hobby great, and me being able to collect the best cards that I want and others doing the same. So, while I prefer most of the other cards on this list, there is no denying the rarity here.
Remember, this was a time before you had low numbered serials and inserts in every set as you do now. So, to see /50 on inserts from the 90s is rare in itself. And while the checklist has 30 cards, there are only five currently for sale, with the lowest-priced option being Ben Grieve at $200 BIN.
6. 1999 Topps Chrome Fortune 15 Refractor #FF5 #/100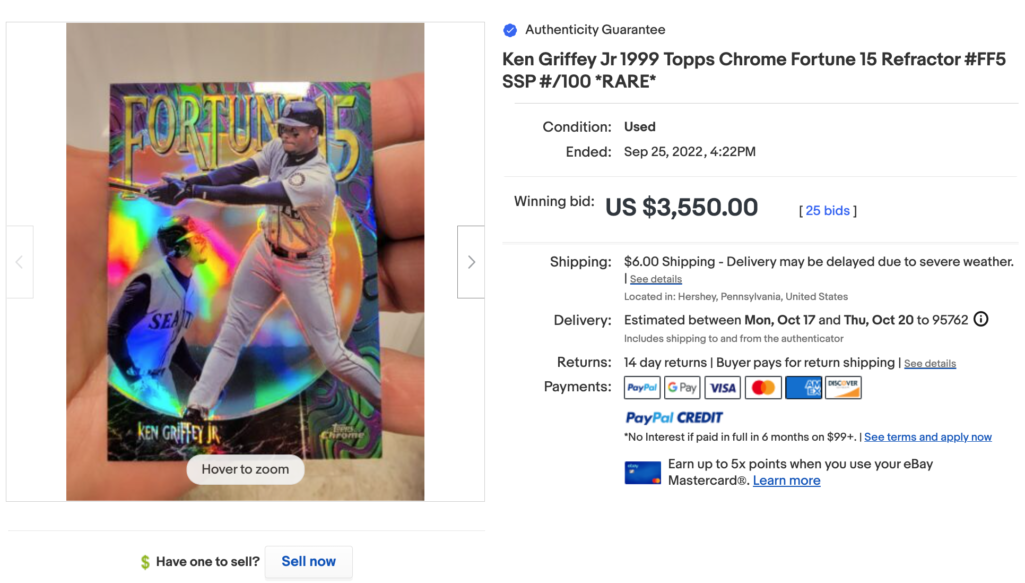 Now this is what I'm talking about (and just wait until we get to the next one). This is also a prime example of just how much refractor technology can add to a card. Meaning, I don't love the base versions of these card, but do like the set because it was one of the few with Eric Chavez. But look at that refractor!
In terms of rarity, these are only found in 1999 Topps Series 2 packs, and refractors are numbered to /100. There are only eight currently for sale, consisting of 3 Derek Jeter options (lowest is a raw at $2K) and zero Griffeys. In addition to this one pictured above, a BGS 9.5 sold in August 2022 for over $4K.
7. 1999 Fleer Mystique Established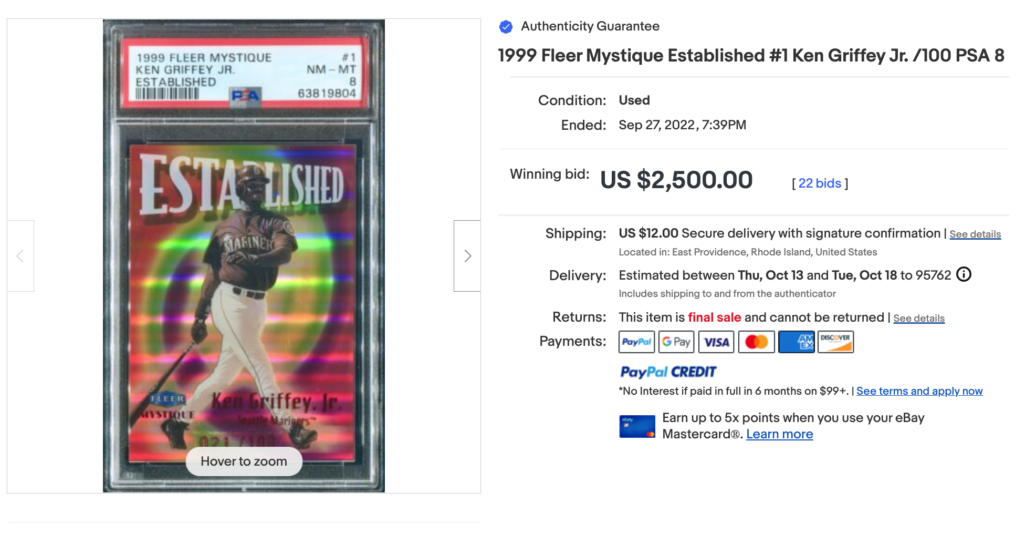 Wow. Not the rarest or most expensive by any means, but the best-looking and definitely the most hypnotizing in my opinion! While the backswing photo doesn't quite look like the homerun finish we are used to seeing on cards, it's still strong.
And let's not overlook the fact that while this card pictured above only sold for $2,500, it's a PSA 8! Looking back via the eBay price guide option, I see an April 2022 sale of a PSA 9 for…over $5K.
8. 1998 Flair Showcase Legacy Collection Row 0 /100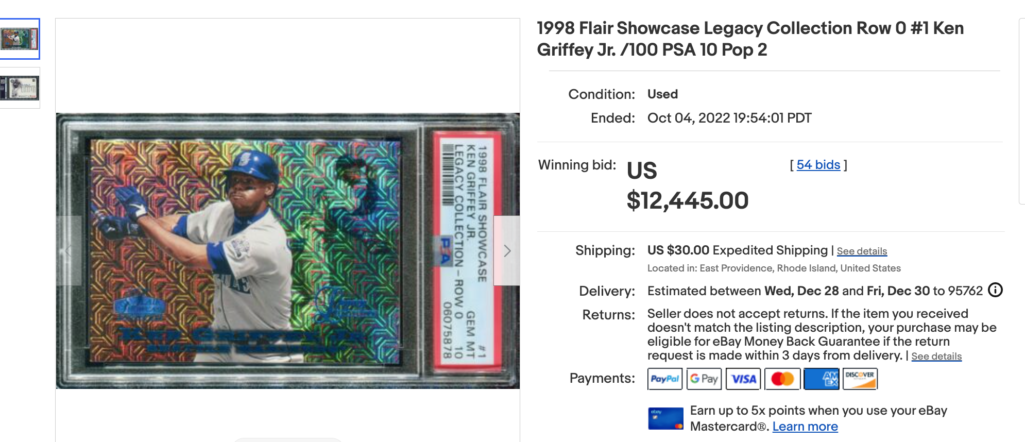 Long before today's different Select levels (like Concourse, Club Level, etc.) we had rows and seats in a variety of Flair products. BaseballCardPedia.com breaks this down nicely, but basically:
Row 3: "Flair" design
Row 2: "Style" design
Row 1: "Grace" design
Row 0: "Showcase" design
As you could probably guess from the image above, row 0 cards were the toughest to pull. So, it's no surprise this beauty of a PSA 10 ended with 54 bids and a final tally of nearly $12,500!
9. 1998 Circa Thunder Rave /150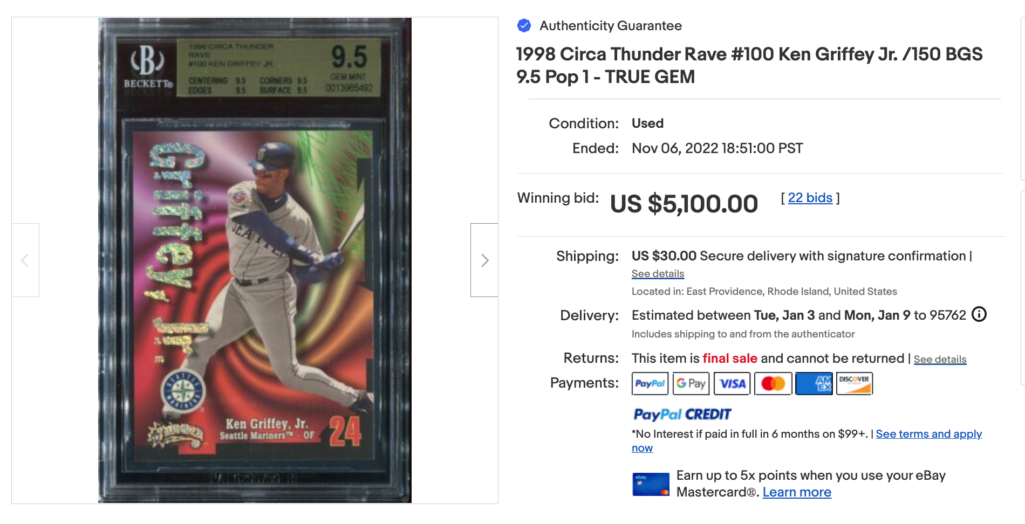 You might never find yourself in a position of needing to identify a Circa Rave /150 from its base counterpart…but on the other hand, you might! And if there is a chance, you want to be ready, right? So, let's make sure we spell things out.
First of all, what's interesting about the Rave parallels is that they came 1:36 packs, which in my book isn't too shabby. This card that sold for over $5K is a BGS 9.5. I also see a PSA 8 sold for around $1,600 and a BGS 8 currently for sale around $1,800.
All this has me thinking what a raw copy would sell for—interestingly, raw David Ortiz and Roger Clemens sold for only about $100-$120.
Read More: Most Valuable Roger Clemens Baseball Cards
FAQ
What makes a card rare?
With baseball cards, rareness depends on a few things. For new products, a card is rare if it's difficult to pull out of a pack. That is, the odds of pulling a card are much higher than others. And then further down the road, as newer products get older, less and less packs are available. You also have no idea how many of that rare card has already been pulled. Thus, you might only find a few of that card pop up for sale on platforms like eBay over the course of the year.
Does grading make a card rare?
Grading can certainly increase a card's rareness. In the case of the cards listed above, most are graded. So, you have a combination of rare raw card to begin with and the fact that it's in a great condition like a PSA 9 or PSA 10. So, not only do a lot of a particular card exist, but even fewer in such good condition.
Do all players have rare cards?
In most instances, yes. However, superstars like Ken Griffey Jr. are featured in more products than everyday "common" players. So, in terms of volume, you'll see more rare Griffey Jr. cards spread out across different products than someone like, say, Matt Williams. Don't get me wrong, Williams was a great player, but he simply wasn't in as many products as Griffey. On the flip side, you might consider a rare Matt Williams card, like a a Donruss Elite insert, to be cooler because he only has a few high-dollar cards.