Affiliate Disclosure: This post contains affiliate links. As I am part of the eBay Partner Network and other affiliate programs, if you follow these links and make a purchase, I will receive a commission. Likewise, as an Amazon Associate I earn from qualifying purchases.
In the ever-evolving world of sports card collecting, having the right tools at your fingertips can make all the difference. We previously curated a comprehensive guide on baseball card scanner and value apps (and 3 more apps on centering, specifically) to help enthusiasts determine the worth of their prized possessions. While that guide provided invaluable insights into understanding card values, this post takes a different angle.
Here, we're diving deep into the realm of selling.
Recognizing the value of a card is just the first step; the real challenge often lies in finding the right place where you can sell your cards. In this guide, we'll explore the best apps specifically tailored for selling your baseball cards, ensuring you get the best deal for your treasures (hopefully).
CollX stands out from the app crowd with its cutting-edge card recognition technology. By simply scanning your card, the app can recognize it and provide current market prices thanks to a database of over 20 million sports cards.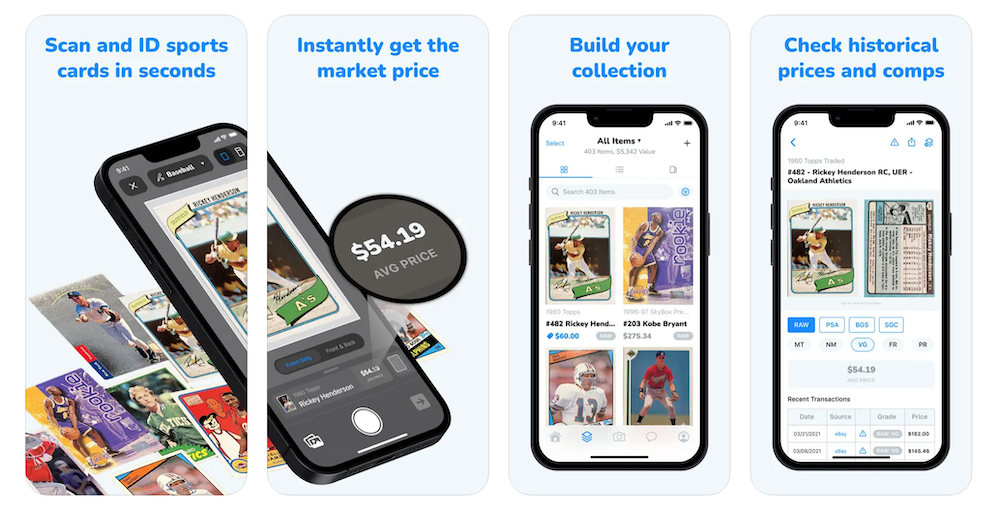 For sellers, this means no more tedious manual searches to determine a card's value. The app's marketplace is streamlined, allowing for easy listing and selling.
The platform also offers price data from multiple sources, ensuring you get a well-rounded view of your card's potential worth.
User reviews often praise CollX for its speed, efficiency, and the convenience it brings to the selling process.
Alt was a breath of fresh air in the sports card marketplace, especially for those dealing with graded cards. The platform focuses exclusively on slabs, ensuring a certain standard of quality and authenticity.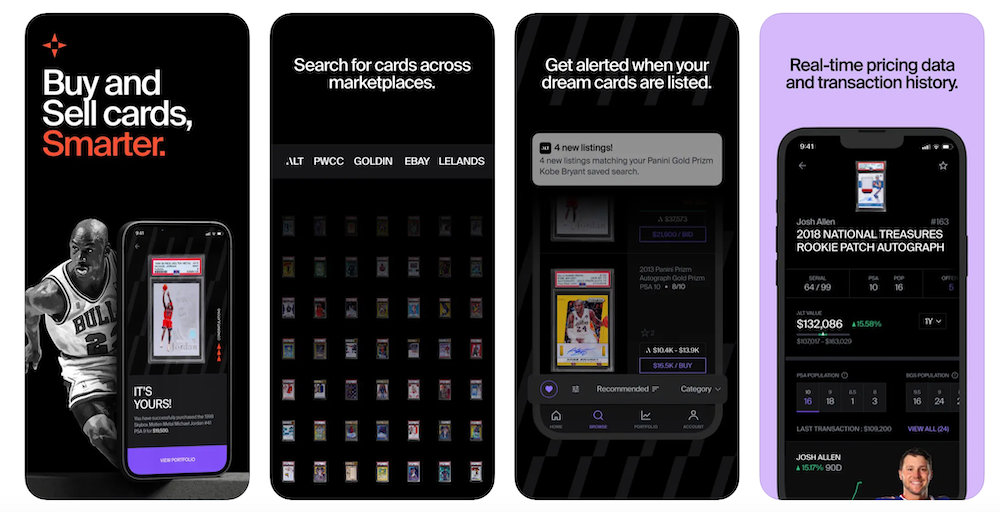 Alt's marketplace is designed with transparency in mind. Meaning, sellers can list their graded cards, and buyers can browse with confidence thanks to the troves of sales data.
The platform also offers a unique vault service, where you can store your cards securely if you don't want to ship them home (a perk for buyers, which makes it easier to sell). This is especially useful for high-value cards that you might not want to keep at home.
User reviews often commend Alt's sleek design, efficient selling process, and the added security it brings to the table.
Similar to COMC, again, the card you're trying to sell via the Alt app needs to be in the Alt vault.
Platform: iOS
COMC, standing for "Check Out My Collectibles," has revolutionized the way collectors buy and sell cards—and that's before their newly-launched app. In fact, the COMC platform is not just an app; it's a comprehensive service.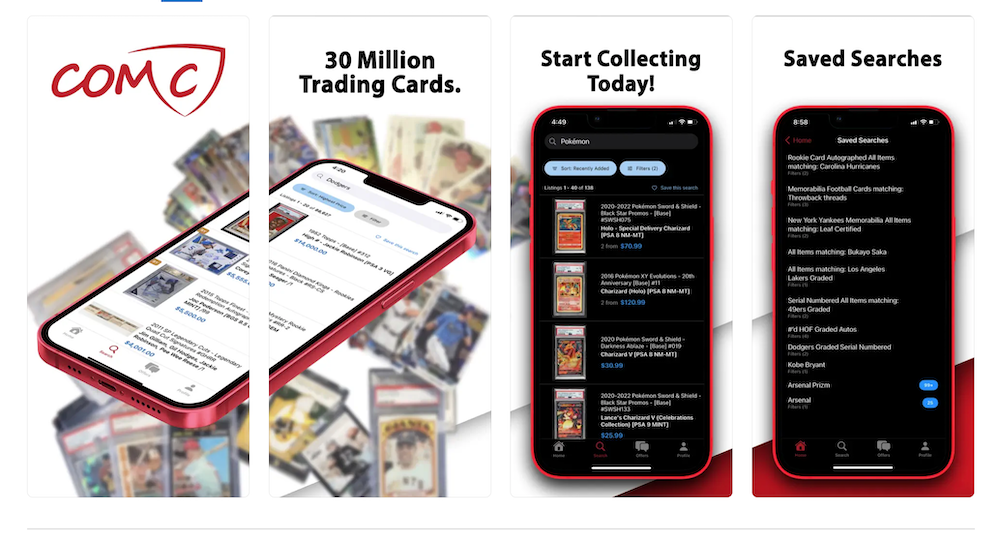 When you decide to sell your cards, you send them to COMC, and they take care of everything from scanning, listing, to shipping the cards to the buyer. This hands-off approach is perfect for those who might not have the time or expertise to list each card individually. The platform's user interface is intuitive, making it easy even for beginners.
With its vast marketplace, your cards gain visibility among a large audience of potential buyers. User reviews often highlight the platform's reliability, with many praising the ease of the selling process and the peace of mind it offers.
And, if you're more into flipping cards for profit and don't want to mess with sending cards in, but would rather just buy and sell on the marketplace, you can do that too.
So yes, this app is different than the handful of others on this list in that you can't just fire up the app and sell a card—that card needs to already be in COMC's possession.
Platform: iOS
NextGem is aptly named, as it truly is a gem for sports card enthusiasts thanks to a seamless experience for scanning, listing, and selling sports cards. Its intuitive interface ensures that even those new to the world of card selling can navigate with ease.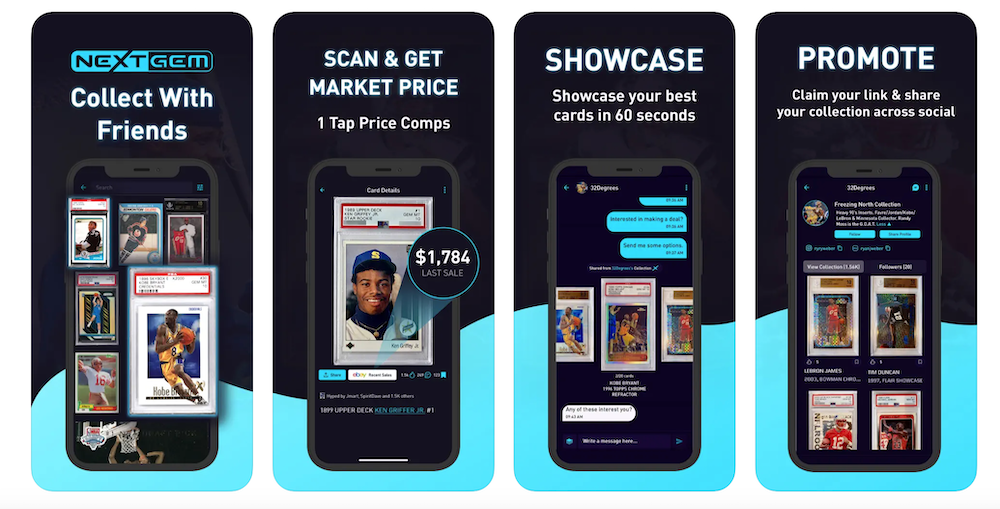 One of its standout features is the apps accuracy. When you scan, the app provides detailed information, helping you understand what you might have in your collection. This level of detail is invaluable when determining a card's value and potential selling price.
User reviews often highlight NextGem's user-friendly design, accuracy, and the comprehensive insights it provides, making it a must-have for serious collectors.
eBay is synonymous with online selling, and for a good reason—the global marketplace has been a go-to platform for sports card sellers for years. Its vast audience means your cards gain visibility among a wide range of potential buyers.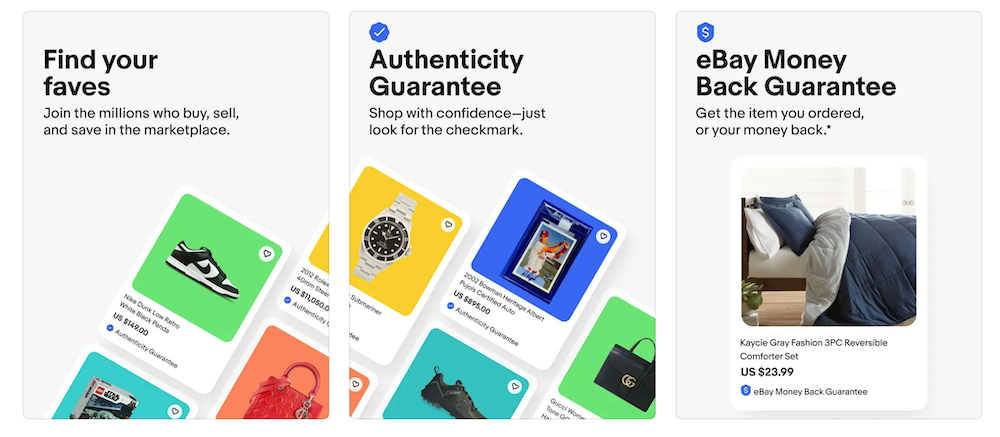 The platform offers comprehensive search and filter options, allowing sellers to research similar cards and determine competitive pricing. For those new to online selling, eBay provides a range of seller tools and resources, ensuring you have all the information you need to make informed decisions.
User reviews often commend eBay for its user-friendly interface, vast audience reach, and the myriad of tools it offers to sellers.
Offer Up brings a local touch to the world of online selling. This platform is perfect for those who prefer face-to-face transactions. Sellers can list their cards and connect with local buyers, ensuring a personal interaction for each sale.
The app offers a range of safety features, including a secure messaging system and seller ratings, which helps both parties can communicate and transact with confidence.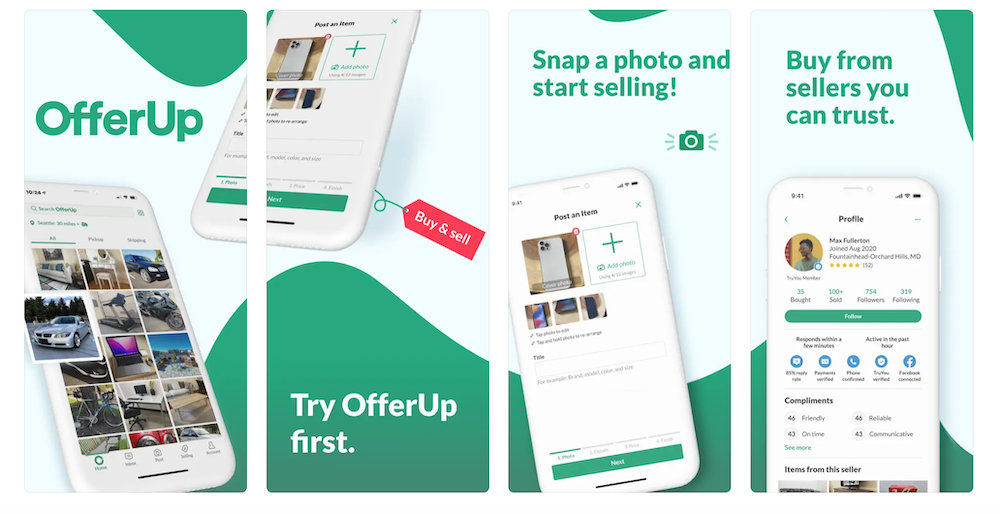 User reviews often commend Offer Up for its effectiveness in local sales, the added security it offers, and the platform's user-friendly design.
Cardbase is a dynamic platform that brings a fresh approach to card selling. The app offers a dynamic pricing system, ensuring sellers get the most up-to-date information on their card's value. Its marketplace connects sellers with a vast network of potential buyers, ensuring your cards get the visibility they deserve.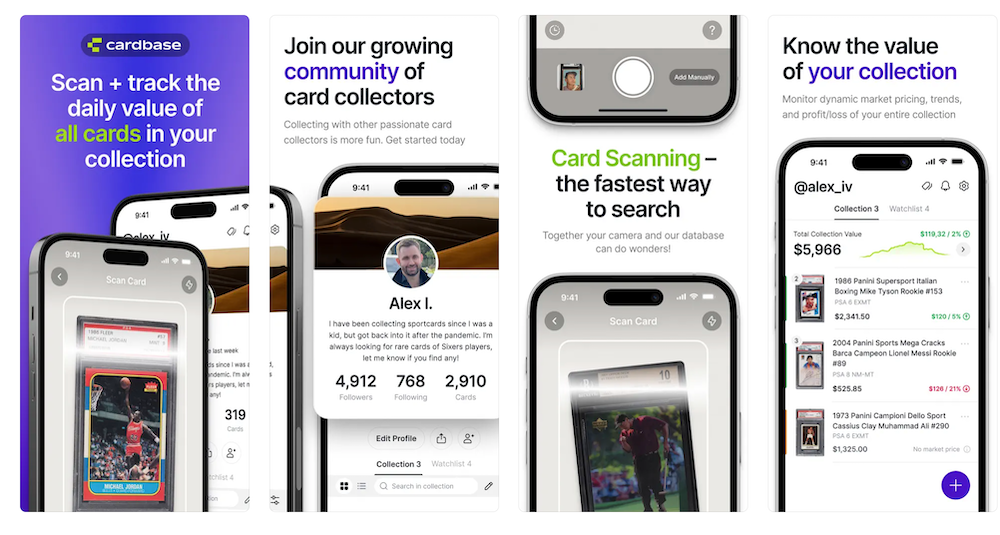 One of the standout features of Cardbase is its daily updates. This ensures the information you receive is current, allowing you to make informed selling decisions.
User reviews often highlight Cardbase's extensive database, daily updates, and the efficiency it brings to the selling process.
All in all, selling baseball cards in today's digital age has never been easier. With a plethora of apps at your disposal, you can quickly determine the value of your cards and find the best platform to sell them. Whether you're a seasoned collector or just starting, these apps can help you navigate the exciting world of baseball card trading.
Remember to do your research, compare prices across platforms, and always ensure safe transactions. Happy selling!