Affiliate Disclosure: This post contains affiliate links. As I am part of the eBay Partner Network and other affiliate programs, if you follow these links and make a purchase, I will receive a commission. Likewise, as an Amazon Associate I earn from qualifying purchases.
Not all cards are created equal, and thus the boxes in which we find the cards are a bit different as well. It's one great thing about the hobby—different collectors have different price points.
As a result, there is a big difference between retail blasters and hobby boxes. One of those differences is that hobby boxes of football cards come with guaranteed "hits" including autos, while retail blasters don't.
("Hits" because many have pulled Panini points in place of autos. Read more about Panini Wild Card Points.)
It's certainly not to say you can't pull an autographed card from a football card blaster box, but if you want to guarantee you'll pull an auto, the hobby box is the better way to go.
So with that said, which football card boxes have autos, and are the best to buy? Let's take a look, in no particular order.
1. Panini Mosaic
I wouldn't say Mosaic is known for its autographs, as it's typically a product geared more toward rookies and Mosaic parallels, but there are certainly autographs to be had. A 2022 hobby box is going to guarantee two autos, and the thing I like about Mosaic autos is that you aren't going to simply pull a base version of a card with a sticker auto slapped on it. Meaning, the design is going to differ a bit.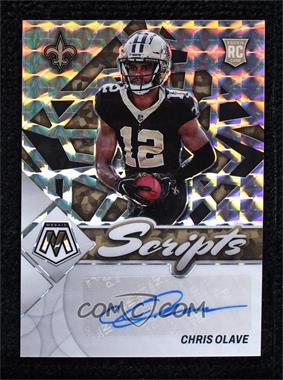 That said, there will be sticker autos, but at least the flashy Mosaic design helps make up for that across the different possibilities including the many rookie, veteran, and Hall of Fame autographs. Not a ton of variety, but again, a solid product.
2. Panini Phoenix
If you like Mosaic but want a little bit more variety across the different designs, Phoenix is a nice choice. Also offering two autos per hobby box, one of the big differences between Phoenix autos and Mosaic autos is the presence of relics and patches to go along with them.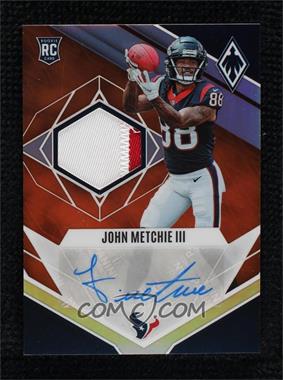 (These relic auto cards like the one shown above make up the bulk of the most expensive Phoenix autos on eBay right now.)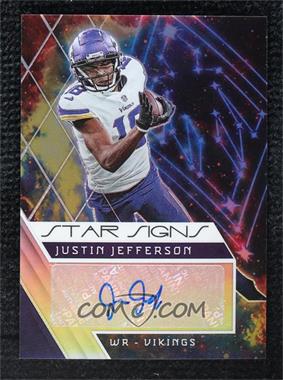 Another difference is that Mosaic autos all pretty much look like each other, where – while Phoenix also shared similarities – there are more standalone options like the "Star Signs" (above) and my personal favorite, the "Mythical" line featuring some of the most "mythical" figures to ever play the game like Joe Namath, Barry Sanders, and others.
3. Panini Spectra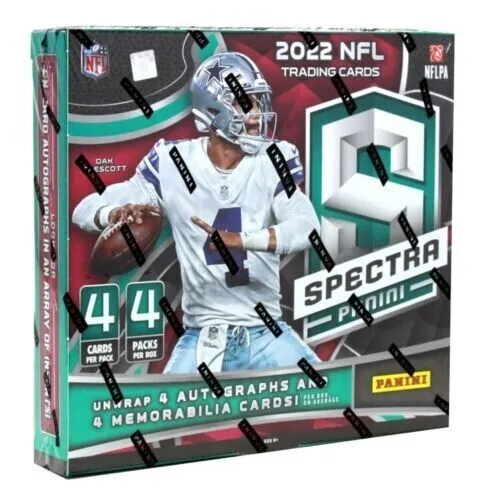 I feel like these first three options so far – Mosaic, Phoenix, and Spectra – are all pretty similar given they offer a lot of flashy colors and background designs. So, if you like the above two, you'll probably find something to enjoy from this one as well!
That said, if you are looking to go "bigger" in terms of your auto pulls, a hobby box of 2022 Spectra is going to pump out four autographs in total.
Similar to Phoenix, you're going to have a chance at relic patch autos, along with differently-designed auto insert sets like Illustrious Legends and my favorite, Full Spectrum.
(As someone who likes to see players in different uniforms, the Full Spectrum autos are fun given some of them chronicle a player's start and finish with two different photos on the same card. So, you'll have Marcus Allen on the Raiders and the Chiefs, and Tyreek Hill on the Chiefs and in a Dolphins uniform. It's why I've added the Allen card to this list of coolest Chiefs cards.)
4. Panini Contenders
OK, time to break the mold a bit. Where Mosaic, Phoenix, and Spectra all follow the same formula, Contenders goes a completely different direction with their design and autos.
Read More: Hottest Football Cards Right Now
Known as the card that looks like a gameday ticket, Contenders autos are known for their clean and simple approach. Hobby boxes offer five autos, with Sunday Ticket Signatures, MVP Contenders, NFL Ink, Signs of Greatness, and more.
This is an older example, but most Contenders "ticket" autos follow the same general format.
Something that sets Contenders apart is the Coaches Ticket auto, featuring the legendary Andy Reid and newcomer favorite Mike McDaniel, among others.
Now, Contenders is also offered in an Optic version, so I'm going to list it here because everything one might like about Contenders should also be liked, if not even more, for Contenders Optic. It's basically the same product, but with a chromium card finish, which amplifies the look and feel across the different parallels.
5. Panini Optic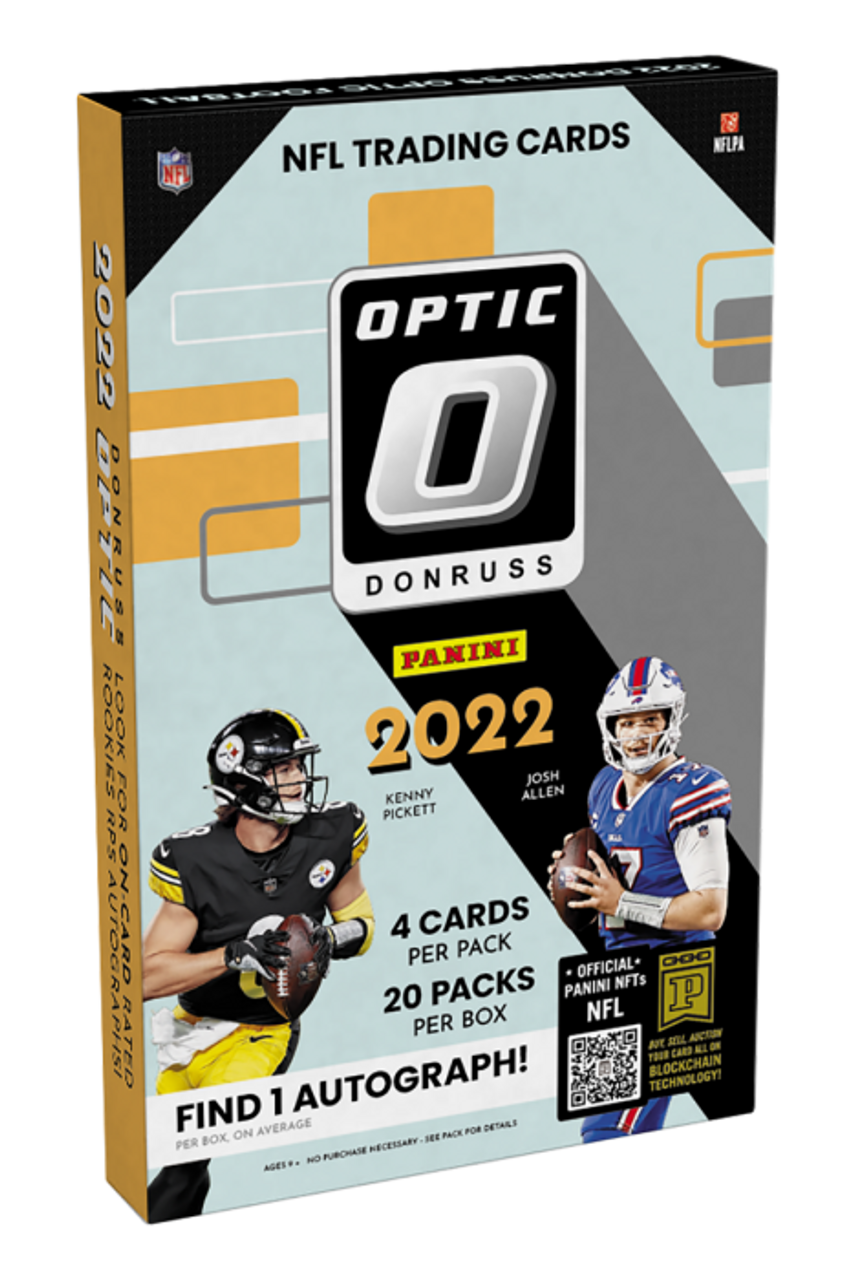 Speaking of Optic, how about…Optic!
This is a tough one because Optic cards are beautiful and in demand, and thus the autographs are highly-collectible, but, there is only one autograph in each hobby box.
So, if you're looking to stack a few autos from your box purchase, Optic probably isn't the best option. But if you're into quality over quantity, you have a lot to look forward to with this product.
With only one auto per box, you can imagine there wouldn't be a ton of different options—there are only Rated Rookie autos, Rookie Patch Autos, and Legendary Patch autos.
6. Panini Origins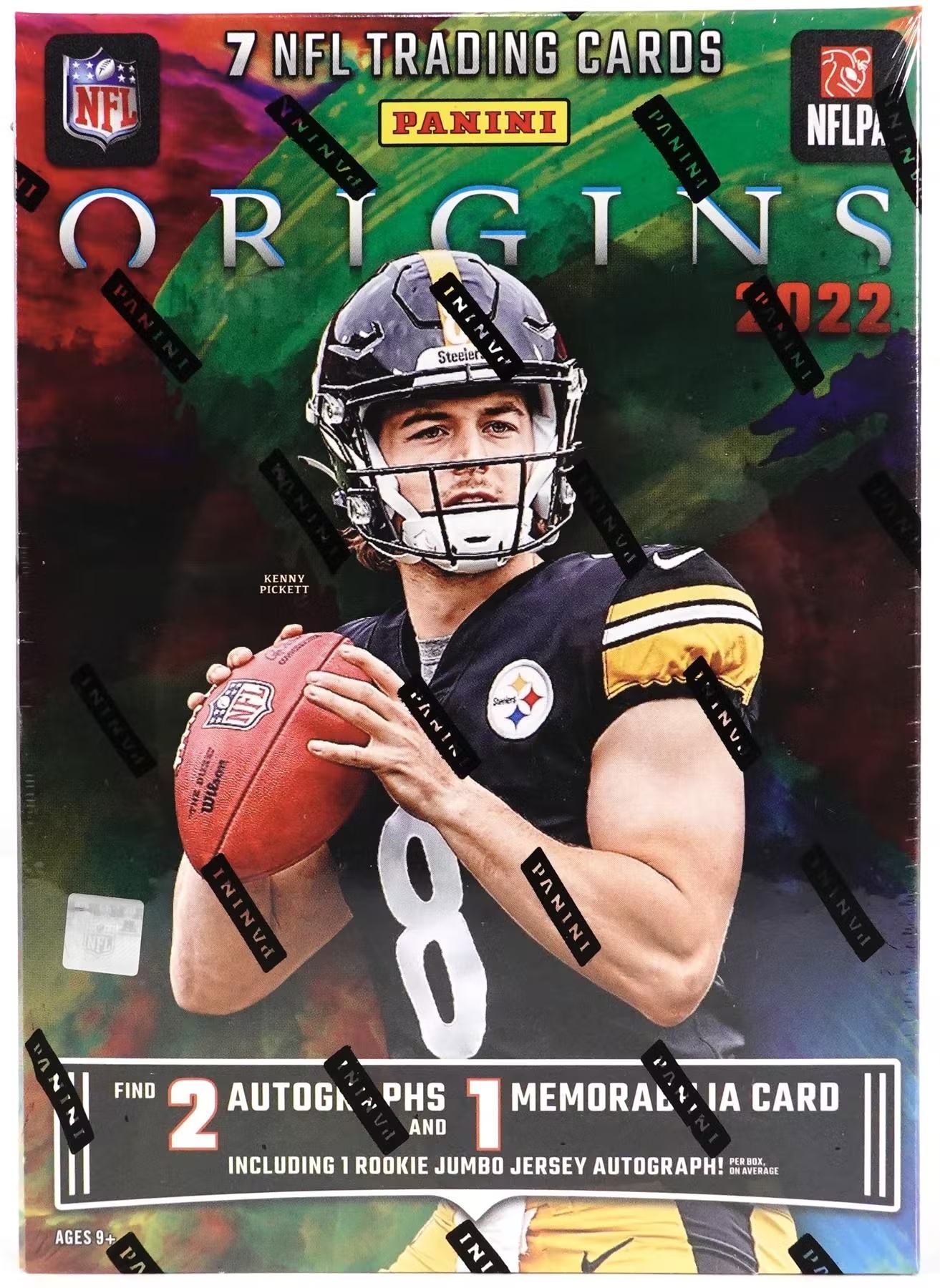 Back to cool and colorful backgrounds, but done in a more reserved manner than many of the options above, Origins offers autos that verge on the side of art as much as they do cards.
As you can see from the image, hobby boxes will net you two autographs, and the checklist includes Rookie Jumbo Jersey autos (vertical, sticker, and relic), Passing, Rushing, and Receiving Stars, and even Rookie Booklets.
Point being, there are a lot of options that cater to a number of different collectors, including those who like on-card autos over stickers, and others who might want vertical autos instead of horizontal (Origins has both!)
Case in point, I Iove the idea of combining young stars and veteran Hall of Famers, as is the case with Origins of Greatness Booklet Autos that combine players like Trey Lance and Steve Young, and Jerome Bettis and Najee Harris.
7. Panini Obsidian
I'm putting Obsidian here because it functions a lot like Origins in that it is flashy but not "chromium" flashy. There are beautiful cards, and while they are a bit more reserved than something like Mosaic, they have enough flash and vibrance to satisfy.
In terms of autos, they are cool as well, but as a hobby-only product, I'm always a bit disappointed that they are sticker autos. I feel like a lot of people might agree, which makes you wonder just how popular some of these products would be if they were at leat primarily on-card autos versus sticker.
Obsidian has some of the nicest looking cards in my opinion but sticker autos kills it for a lot of people… I don't mind so I've been on the wave lol

— AJ (@AllenSchefter) April 16, 2021
That said, a lot of people don't care, and think Obsidian are among the best/their favorites. Like I said, I still enjoy them, and my Merton Hanks 2018 Obsidian auto is one of my favorites in my 49ers collection.
I'll also add a mention of gold Standard here because I'm not detailing it below, but if you like Obsidian, but aren't a fan of the dark look and feel, Gold Standard offers a similar feel, but in, well, gold.
8. Panini Prizm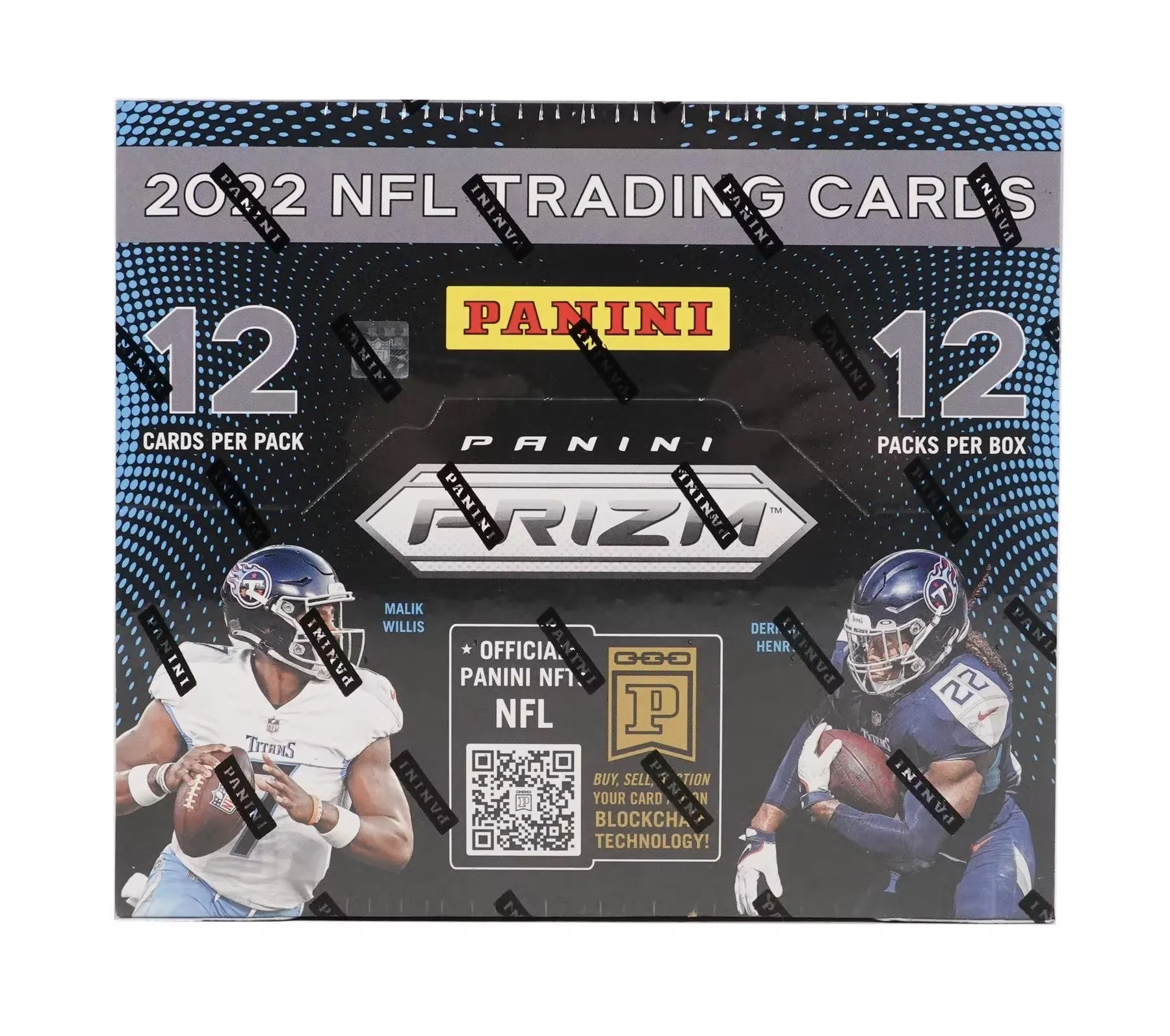 It wouldn't be a "best of" football card box list without mentioning Prizm, right? Considered to be the best of the best in all aspects, Prizm football hobby boxes offer two autos, with most people chasing big-name rookies.
As is the case with "Prizm-runner-up" Select, it's not just the base auto people are after, but one of the many different and colorful parallels.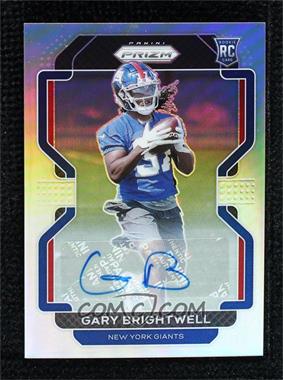 If rookie autographs aren't your thing, Prizm does offer a bit more, namely "Flashback" autos of legends like Barry Sanders and Howie Long.
9. Panini Select
Same as Prizm—you simply can't have a football card list and not talk about Select.
In terms of autos, you'll find two of them here as well, and given we have talked about a number of different products, let's focus on what Select does differently.
(Actually finishing this section up, so check back soon).
10. Panini Limited
As we are going through things here, have you ever realized just how many football card options there are? We have already detailed seven, and won't even be mentioning other options like:
Elite
XR
Donruss
Rookies & Stars
Illusions
Absolute
Playoff
Playbook
Anyway, I mention it here because Limited is one I can go either way on. I don't think it really offers anything new or groundbreaking but is a nice, steady, predictable product.
Read More: Packs That Might Have Kaboom Cards
In terms of autos, a hobby box will offer two, which could be from one of a number of possibilities like Draft Day Booklets, Monikers, Limited Ink, and Ring of Honor sets.
Some might find appeal in the fact that many of the Limited auto cards are placed on clean, minimalist backgrounds much like Flawless or National Treasures.
Other Options
You'll probably notice I haven't included premium and ultra-premium products like National Treasures, Immaculate, Flawless, or Impeccable, and frankly, it's because most collectors like myself and many of you simply can't or won't put down the amount of money these boxes command.
But by all means, if you're looking for football card autos, it doesn't get much better than these products. Encased is also a really nice cardh and will net you a graded slab. Panini One isn't as top tier, but it's a good chunk of change for only one card.