Affiliate Disclosure: This post contains affiliate links. As I am part of the eBay Partner Network and other affiliate programs, if you follow these links and make a purchase, I will receive a commission. Likewise, as an Amazon Associate I earn from qualifying purchases.
When it comes to football cards, there is no shortage of options. And while this is great for breakers, big hit collectors, and others who buy into every release, it could be tough to navigate for anyone just jumping into the hobby.
For example, did you know that Trevor Lawrence has over 6,000 rookie cards? Or just think about the number of different parallels and variations from a brand like Prizm or Select—it's a bit much.
So, today we are going to take a look at the best football brands to collect in 2023. The key word here is "collect" as yes, while we'd all love to rip a ton of National Treasures, it just isn't in the cards for many of us (pun intended).
2022 Origins
As you'll see with many of the card brands on this list, Origins focuses on the newest draft class, headlines by Kenny Pickett, Christian Watson, Sauce Gardner, and a handful of others. The big draw? As mentioned by Cardboard Connection, "Origins has the NFL collecting season's first on-card rookie autographs displaying pro uniforms." (The key being "on-card.")
Let's be real, though—not everyone hits the big stuff. To that end, the base set checklist runs 100 cards deep (with another 50 cards on the rookies base set checklist), and the card design is highly-collectable in my opinion (I'm a sucker for color, though). The checklist boasts all of the game's big names as well, with autos from Justin Herbert, Steve Young (with Trey Lance), and others. Each hobby box offers 2 Autographs and 1 Relic
2022 Chronicles Draft Picks
I covered a lot of what makes Chronicles great in my post on best overall Panini cards, so be sure to check it out for more detail. For now, I'll touch on a few of the key points.
For those who don't know, Chronicles is an amalgamation of different Panini brands brought together into one set. As you can guess, this doesn't mean National Treasures, Immaculate, and the like, but rather Elite, Plates and Patches, and more.
Said differently, if you open a pack of cards, expect to find a number of different designs.
What sets Chronicles Draft Picks apart – for better or worse – is that this is a purely collegiate product. Few current players and legends, but no NFL logos, jerseys, or helmets.
Read More: Are Hobby Boxes Worth It?
In terms of collecting, if you're out for variety, it doesn't get much better than this, as in a hobby box you might find Select and Contenders Optic autos, Tools of the Trade Triples, and more. Here is the checklist from Beckett.
2022 Panini Certified
Taking a different turn than what has been listed above, Certified is a bit more traditional in nature given the checklist and the look and feel of the cards. Meaning, with 200 base cards total (100 veterans and 100 rookies) and on-field action shots, Certified will probably appeal more to the traditional collector than say Origins or Chronicles.
Read More: What Packs Have Kaboom Cards?
In terms of design, if you like the "framed" look of Select and Prizm, you'll probably appreciate Certified, which is a bit more grandiose and closed-in than something like Donruss or Score.
All in all a fun set to take a crack at with hobby boxes that contain all of the big names, two autos (one being either a Freshman Fabric Mirror or a Pieve of the Game), and two relics.
2022 Select Draft Picks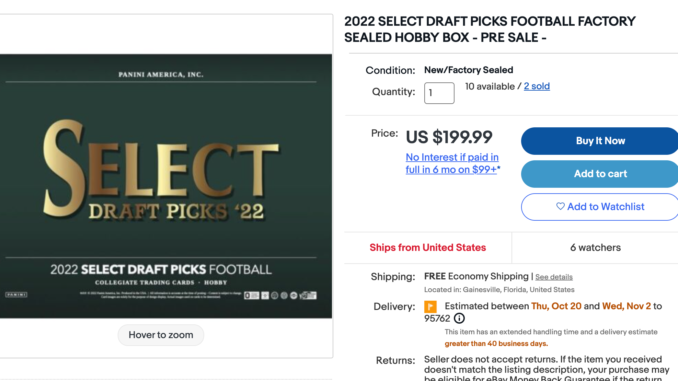 As mentioned above, you can find Select collegiate cards in Chronicles Draft Picks, but this year, we are also getting Select Draft Picks. Now, for me personally, this is a little much in terms of more draft picks cards, but it's on the list because it's a first and from a brand that has a history of being liked over the years.
So, not really sure how much to detail here—oh, the product hasn't been released yet, but is set to drop 09/28/22 according to Blowout Cards, a well-known site and shop.
True to Select form, there will be lots of color, autos; Color Wheel is the SP insert. If you want more specifics, head to Beckett here.
2022 Score
If you're a traditional card collector or someone who left and then returned recently, Score is a familiar name among a sea of new brands and products. Score falls a bit more on the lower-priced end of the spectrum, but don't let that trick you into thinking you can't a have a good time.
One, it offers a relatively large 400-card checklist, so if there are players from your favorite team that just aren't represented in most other products, here is your answer. In addition, boxes are offered in a jumbo hobby format, which means 10 packs but 40 cards per pack!
The lower price tag is also enticing because each box offers 4 autos on average. Sure, at that rate they can't all be stars…the base signature checklist is a whopping 147 cards! Add in the many fun inserts, a case hit, and more, and you have a hobby favorite.
2022 Panini Legacy
As a relatively new brand, Legacy keeps coming strong
If you're familiar with Topps baseball cards, you can think of Legacy as an equivalent of sorts to something like Gypsy Queen or Allen & Ginter—fun inserts and clean designs with a vintage flair, extra thrill-seeking with "dare to tear), a little bit of chrome (optichrome), and more.
As you'll see with most entries on this list, yes there are rookie cards, but no, they are in college uniforms. It's an ongoing headache for card collectors who yearn for balance between getting an RC in their hands ASAP, but settling it for it to be in a college uniform. Some want more Photoshopping, others can't stand Photoshop, and round and round we go.
What makes Legacy collectable is all of the above, plus the fact that it's a small 200-card base set, and spread out nicely between 100 active players, 60 rookies, and 40 retired stars.
In terms of short prints, look out for "Destiny" rookies and "Lore" football greats, and as mentioned above, if you rip sealed wax, you might even find a chance to rip again with "dare to tear" cards which are full-sized football cards that feature mini cards within them, leaving you the decision to keep the card intact or take a chance and tear away.
Lots of autos and color, so we don't have to really detail much of that, but all together a fun brand to collect. You can read more about Legacy, find a checklist, and more at Cardboard Connection.
2022 Prizm Draft Picks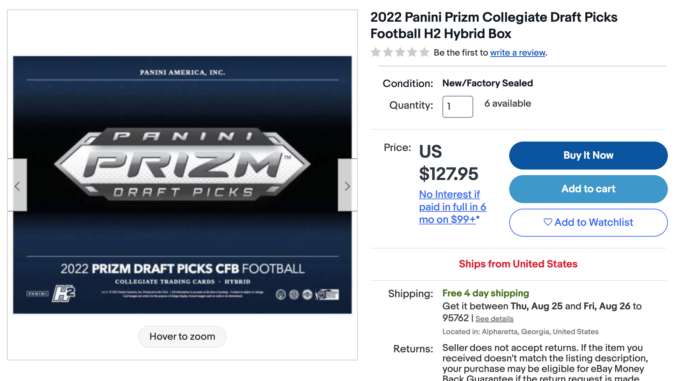 Draft picks or not, Prizm football blasters always seem to be on the list of hottest football cards, and thus, there is always excitement behind the product. Autographs, silvers, parallels, and everything you'd expect, it's all there. (Here is a refresher if you need one on the different types of Prizm cards.)
Much like you'll see with Mosaic and Select Draft Picks below, you can expect much of the same designs across the NFL and NCAA-focused products, with the main differentiator being the uniforms pictured.
2022 Mosaic Draft Picks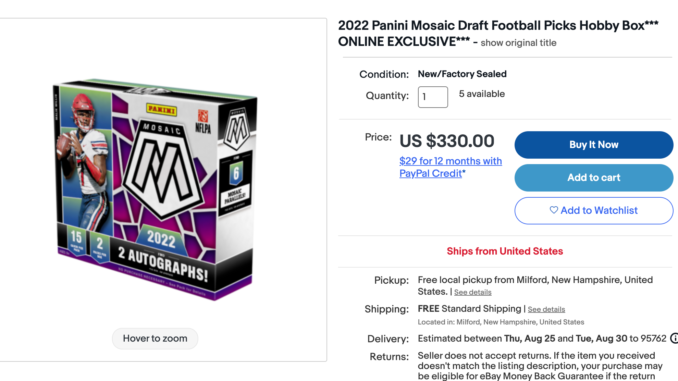 If you like color, like Select, but prefer a bit more simplicity, then Mosaic Draft Picks might be for you. That said, if you like your cards to look as if the photos came right off the sidelines, Mosaic is a bit different in that it's the player photo on top of a reflective and shiny background—no field shots, etc; just patterns.
But from a pure collecting standpoint, it's a fun set to chase given it's only 100 cards, and does also include current stars and retired greats (in their college uniforms). So, especially if you aren't much of an NFL collector but would love to get your hands on a Joe Montana as a Notre Dame collector, Mosaic might be a nice option.
Read More: Most Valuable Joe Montana Football Cards
2022 Prestige
Prestige is consistently a value card brand, and one to kick off a new season of collecting, and a great option for a young or new collector.
With a much larger checklist, collecting becomes a little more difficult for set collectors, but team and player collectors might find their favorites in Prestige where they might have been left out of a product like Legacy.
As Beckett.com notes, one thing that sets Prestige apart is the amazing action shots, and in a time where you don't even have field backgrounds in a set like Mosaic, it's a welcome sight.
In terms of SPs, be on the look out for "Decorated" (which have the same feel as Legacy "Lore" just mentioned), "City Limits," and "Slingers."
As is all of the rage these days, "Heroes" are a nod to the age of comic books, featuring animated players on colorful backgrounds and big bold action-style lettering.
List of All Football Card Brands
If a long sortable list is more your style, here is a table of most of this year's football card brand releases!