Affiliate Disclosure: This post contains affiliate links to eBay, Amazon, and other platforms within the content, sidebar ads, and in other areas. As I am part of the eBay Partner Network and other affiliate programs, if you follow these links and make a purchase, I will receive a commission. Likewise, as an Amazon Associate I earn from qualifying purchases.
For a Topps flagship release, 2022 Series 1 was just about as good as it gets. You have the excitement of a new year of baseball mixed with one of the most-hyped rookies of recent memory, and the rest is history. I mean, just pulling the base Wander Franco rookie was something to boast, and this is coming at a time of astronomical print runs and decreasing values in gem mint PSA 10 RCs, etc.
Price Alert: $109.99 + Shipping on Amazon
Of course, value has come back down to earth for those "dime a dozen" entries, but the release still has a ton of value to show for it. Much if it is still based around Wander thanks to SP variations, along with the biggest names in the hobby both new and old.
So, let's take a look at the most valuable cards from Topps 2022 Series 1.
Wander Franco RC Parallels
The number of parallels in today's card releases can easily make one feel like they are ripping wax in a multiverse of madness—gold foil, independence day, vintage stock, and many more. You multiply all of this out across the 330 base card checklist and you're in for a wild ride.
With literally too many to detail here, one very smart thing to do is if you pull a Wander Franco rookie card out of 2022 Topps Series 1, examine it closely. While some of these parallels are nearly impossible to miss (orange foilboard has entered the room), others can easily slide past even a trained eye (advanced stats says hello).
Here is a gold Wander:

And a green foilboard /499:

Here are some Wander parallels to watch for:
Gold Foil, not to be confused with Gold which are /2,022
Purple; if you're buying cards from Meijer
Rainbow Foil, which is shiny finish like a refractor but not chrome
Foilboards (flashy colors and numbered; green /499, orange /299, red /199
Advanced Stats—turn it over and check the stats and look for /300
Vintage Stock, which is also tricky—check the Topps logo on the front and /99 on back
Independence Day, aptly numbered /76 and featuring stars on the front borders
Other colors, but not foilboards: black /71, Mother's Day Pink /50, Father's Day Blue /50
Camo printed which are /25
Platinum 1/1, which has already been pulled!
Wander Franco RC SP Variations
For the average collector, the SP or variation might still be somewhat of a cloudy term to wrap your head around. Especially if you're opening sealed wax today, the excitement of pulling a Wander rookie could be quickly diminished by social media or even someone looking over a shoulder at a card shop and chiming in, is it an SP?
Well, for better or worse, that's where we are with the hobby, and I personally love the fact that yes, we have the traditional base rookie card that many can get their hands on, but there are also more valuable chase cards in the form of shorter print variations.
While most of the above parallels are pretty easy to spot thanks to their different designs and numbering, image variations are definitely trickier given there isn't any indication that the card is different from the base rookie unless you know what you're looking for.
The best suggestion I can make is to burn the base Wander Franco card into your brain, and anything you pull that differs from that card is most certainly worth checking out.
Backswing and throwback uniform:

Pointing to the sky:

Star Shortprint, SSP, and Ultra SP Variations
Let's not forget…it's not all about Wander! Acuna, Trout, Judge, and more—the game's biggest names have valuable SPs you'll want to keep an eye out for, including:
Ohtani playful All-Star game shot:

Trout thumbs up in the dugout:

Aaron Judge in the cornfield for the Field of Dreams game (be on the lookout for Gerrit Cole, Tim Anderson, and others):

Ronald Acuna Jr. running the bases:

Beyond these, if you want something even more rare and valuable, you'll want to check out the Beckett variations gallery, and then be on the lookout for super shortprint and even ultra shortprint variations.
For instance, while Trout and Acuna have SPs as noted above, they also have super shortprints, like these: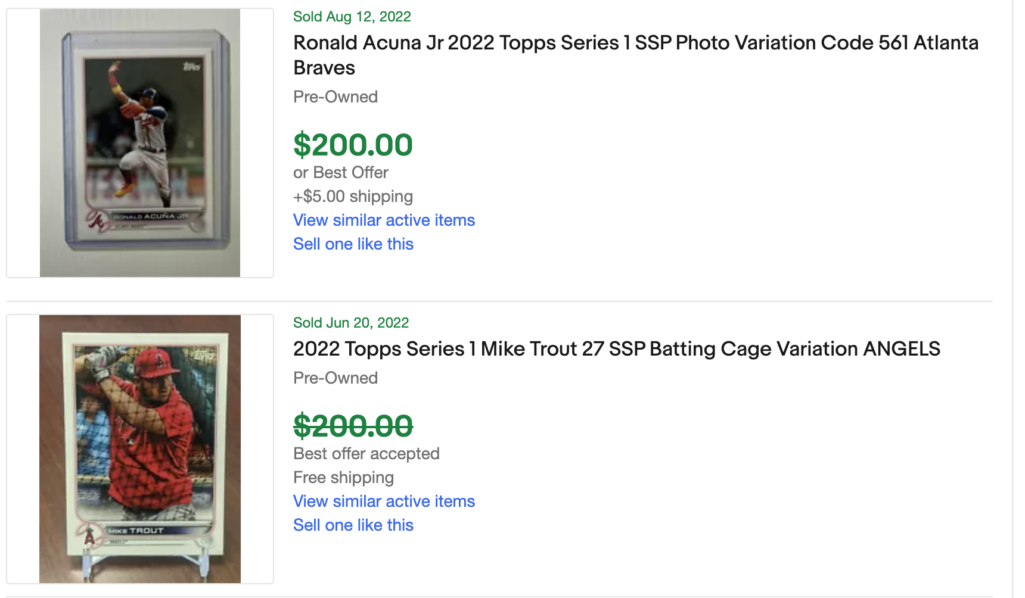 Not to mention that it's not always the superstars, as some cards like this Dansby Swanson are ultra shortprints commemorating the Atlanta Braves World Series victory:

Legend Shortprints & Super Shortprints
Another great thing about Flagship releases is the always-considerate nod to the greats of the game, which seems to regularly feature Jackie Robinson, Babe Ruth, Ted Williams, Hank Aaron, and many more.
Read More: Luiz Arraez Rookie Cards
The way to spot these? Well, frankly, if you pull a retired player out of a pack and it appears to be a regular base card and not an insert, be sure to do some research. Here are some examples:
Here is Babe Ruth kissing a bat:

Cal Ripken holding up a trophy:

Derek Jeter jump throw SSP:

Wander Franco 1987 Design
Alright, we have Wander pretty well covered, but it's worth mentioning there is even more to watch for. I won't detail too much here, but you've probably noticed by now that every flagship release, Topps brings back an "anniversary" design to commemorate a 35th anniversary. Thus, for 2022, that's the collecto-favorite "wood grain" look from 1987.
For Wander, you're going to have the base 1987 card, along with different-colored parallels including red /10, gold /75, and the blue border which isn't numbered. If you want shiny, there are silver pack entries as well, following the classic chrome number and coloring scheme of:
Red /5
Orange /25
Gold /50
Purple /75
Green /99
Blue /150
Home Field Advantage Inserts
Taking a page out of the Panini playbook, Topps has recently started adding "Home Field Advantage" inserts which greatly resemble Panini's famous Downtown inserts (like these on our Tom Brady cards to collect guide and top Walter Payton cards list).
Here is Ken Griffey Jr.:

And Roberto Clemente:

Rookie Cards
This category is a bit different, because frankly, 2022 Topps Series 1 doesn't have a whole lot to offer in the rookie category beyond Wander Franco and potentially Jarren Duran. Plus, the valuable cards of these players are going to be in the form of SPs or variations as mentioned above. So, again, make note of what a base RC looks like, and pay attention to anything that strays from that basic image.
All that said, here is a lit of rookies you'll find in S1:
| CARD # | PLAYER | TEAM |
| --- | --- | --- |
| 2 | Gavin Sheets | Chicago White Sox |
| 18 | Emmanuel Rivera | Kansas City Royals |
| 20 | Jake Cousins | Milwaukee Brewers |
| 22 | Bryan De La Cruz | Miami Marlins |
| 25 | Vidal Brujan | Tampa Bay Rays |
| 30 | Kyle Muller | Atlanta Braves |
| 31 | Matt Manning | Detroit Tigers |
| 38 | Mason Thompson | Washington Nationals |
| 43 | Josiah Gray | Washington Nationals |
| 58 | Lars Nootbaar | St. Louis Cardinals |
| 61 | Jakson Reetz | Washington Nationals |
| 62 | Luke Williams | Philadelphia Phillies |
| 66 | Connor Wong | Boston Red Sox |
| 71 | Ernie Clement | Cleveland Guardians |
| 78 | Aaron Ashby | Milwaukee Brewers |
| 85 | Rodolfo Castro | Pittsburgh Pirates |
| 97 | Curtis Terry | Texas Rangers |
| 108 | Zach Pop | Miami Marlins |
| 111 | Tony Santillan | Cincinnati Reds |
| 130 | Tyler Gilbert | Arizona Diamondbacks |
| 131 | Luis Gil | New York Yankees |
| 133 | Zac Lowther | Baltimore Orioles |
| 134 | Tylor Megill | New York Mets |
| 135 | Chas McCormick | Houston Astros |
| 140 | Ivan Castillo | San Diego Padres |
| 148 | Zack Short | Detroit Tigers |
| 158 | Riley Adams | Washington Nationals |
| 160 | Anthony Bender | Miami Marlins |
| 163 | Stuart Fairchild | Arizona Diamondbacks |
| 166 | Patrick Mazeika | New York Mets |
| 184 | Hoy Park | Pittsburgh Pirates |
| 186 | Jake Burger | Chicago White Sox |
| 187 | Jarren Duran | Boston Red Sox |
| 201 | Reid Detmers | Los Angeles Angels |
| 215 | Wander Franco | Tampa Bay Rays |
| 217 | Eli Morgan | Cleveland Guardians |
| 227 | Zach Thompson | Miami Marlins |
| 231 | Ronnie Dawson | Houston Astros |
| 243 | Brandon Marsh | Los Angeles Angels |
| 258 | Andre Jackson | Los Angeles Dodgers |
| 263 | Trey Amburgey | New York Yankees |
| 264 | Jackson Kowar | Kansas City Royals |
| 277 | Cal Raleigh | Seattle Mariners |
| 295 | Jake Meyers | Houston Astros |
| 298 | Drew Ellis | Arizona Diamondbacks |
| 308 | Sammy Long | San Francisco Giants |
| 316 | Matt Vierling | Philadelphia Phillies |
| 325 | Max Kranick | Pittsburgh Pirates |
| 1118 | Alex Wells | Baltimore Orioles |
| CARD # | PLAYER | TEAM |
Autos, Patches & More!
Now, you'll notice I didn't really get into all of the different autos, patches, and other valuable cards from 2022 Topps Series 1. Reason being, this guide is intended to help people spot cards they might have otherwise overlooked. Thus, if you pull an auto, patch or anything else that is serial numbered and or immediately looks special – especially if of a superstar – then you probably have something special!
It's definitely in your best interest to do due diligence, as a few seconds to check eBay comps and or the checklists and variation galleries mentioned above can save a lot of heartache in the future!