Affiliate Disclosure: This post contains affiliate links. As I am part of the eBay Partner Network and other affiliate programs, if you follow these links and make a purchase, I will receive a commission. Likewise, as an Amazon Associate I earn from qualifying purchases.
Stop me if you've heard this word before—"comps." Inside of the card store or online, whenever there is talk about a sports card being sold, this golden word of negotiation is commonplace.
In short, the word "comp" is short for "comparison," and refers to past sales (and even current prices) of a particular trading card. It could also be a verb, which would be used when finding the value of your sports cards.
Some cards are easier to comp than others, for instance, how much are 1/1 cards worth? Either way, comps are one of the best ways to figure out an accurate price or ballpark price of a card.
Read More: What is an eBay 1/1?
While I won't go all the way back, there was a time when you could only get so much eBay "sold" card data. Then there was the introduction of Terapeak, which was a paid service that unlocked more eBay sports card prices and information from past sales.
Eventually, this information was offered for free, and now anyone can easily check 365 days' worth of "comp" data when selling baseball cards on eBay thanks to the availability of sold listings.
How to Access eBay Sold Cards Data
There are two ways to access sold card information on eBay.
1. Filter for Sold Listings
The first way is what I'd call the "classic" way, and a method most people either know about and/or practice regularly. If on a desktop, look to the filters on the left of your search results page and click "sold items." If on mobile, this option will be under the "filter."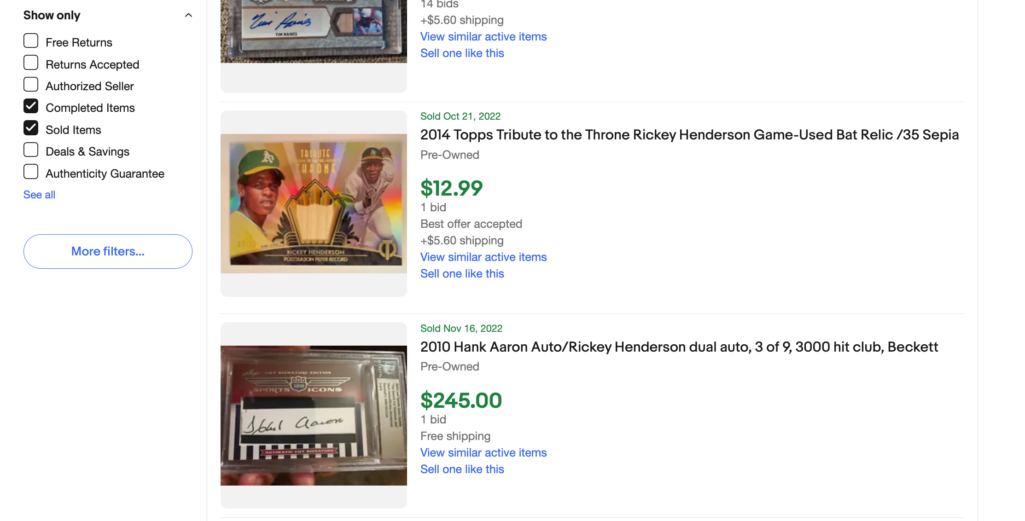 With this method, you can view 90 days of history. That's great, right? Well, it's definitely better than nothing, but does leave a little something to be desired especially when trying to comp, say, rare Ken Griffey Jr. cards or anything else that might be in short supply.
Read More: COMC & eBay: A Match Made in Card Heaven
2. Use the eBay Price Guide
Given the shortcomings and 90-day window of the above method, you might have noticed the "eBay Price Guide" pop-up when you performed your search. When you click that option, you'll be greeted with robust data, including sales from the last 365 days!
If you have a popular card that sells daily, does this really make a difference for your eBay comps? Not really, although you might be able to glean something from the accompanying charts and graphs: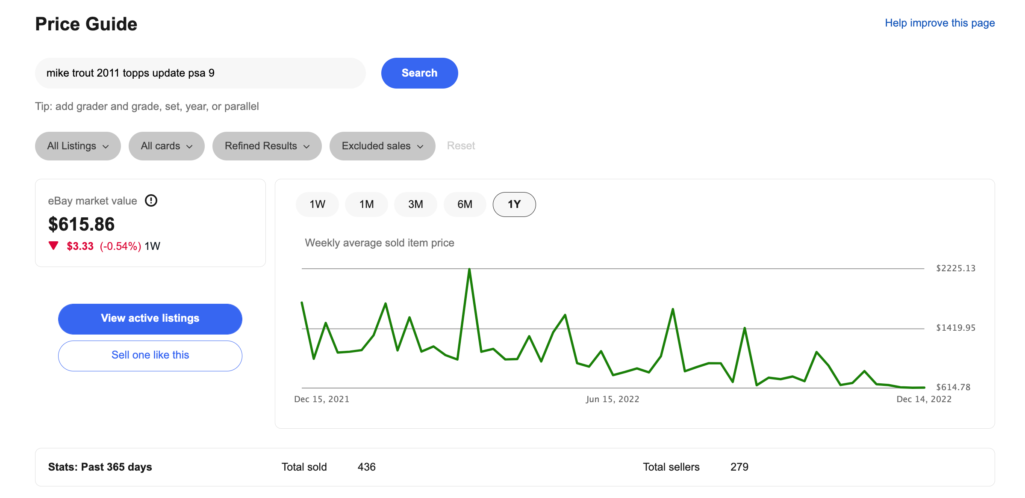 But when you're trying to comp a rare card, that's when the magic happens.
For example, say I search something like "rickey henderson mike trout 2014 auto dual." There is one current listing for $2,500 (and it's actually a 2013), and when I filter by "sold items" per option #1 above, I see this: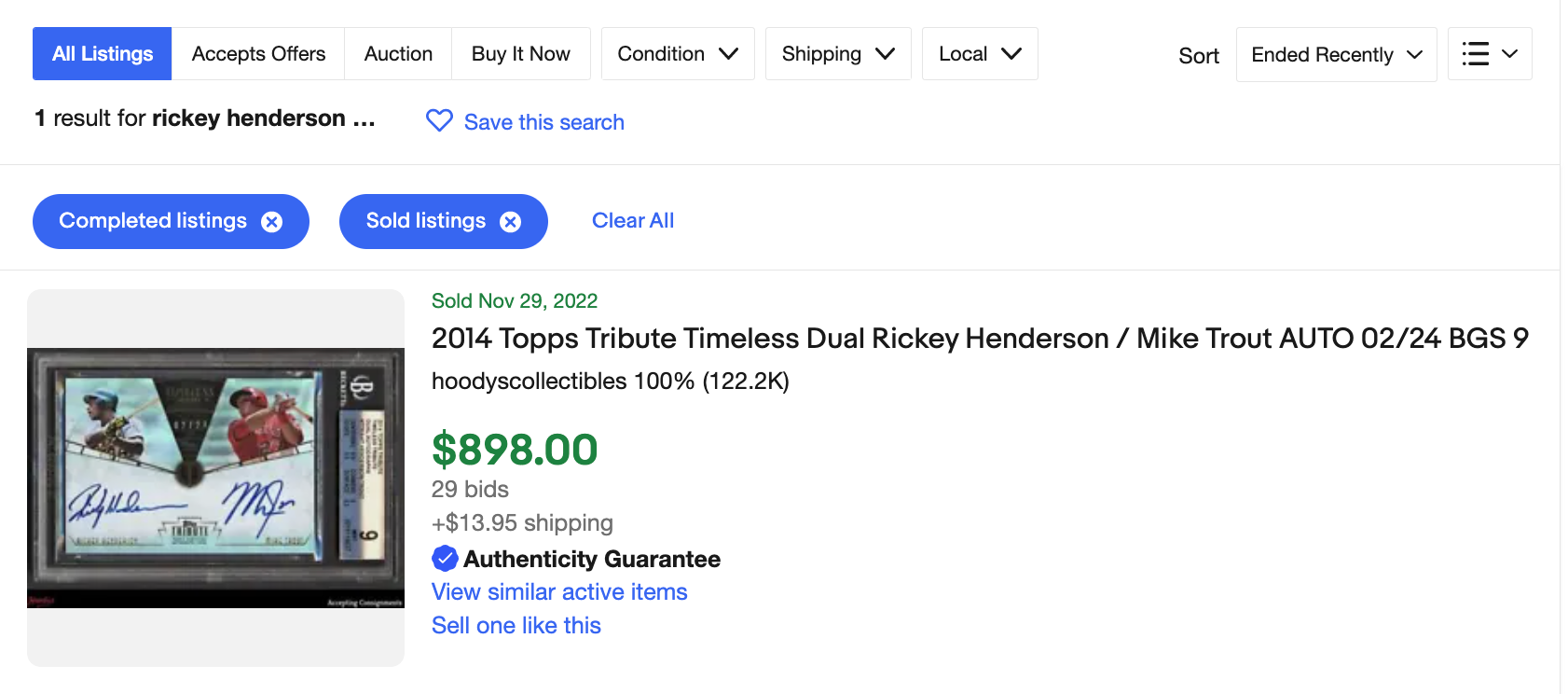 It's a "comp" but as a BGS 9 and the only available past sale, makes it really tough to put an accurate price on a raw version. 
So from there, your next best option is to click into the eBay Price Guide—again, option #1 is limited to 90 days of data, but the eBay Price Guide opens that up to 365 days. 
Upon doing so, we see that BGS 9, but in addition, a raw version of the card that sold in February of 2022 for $750.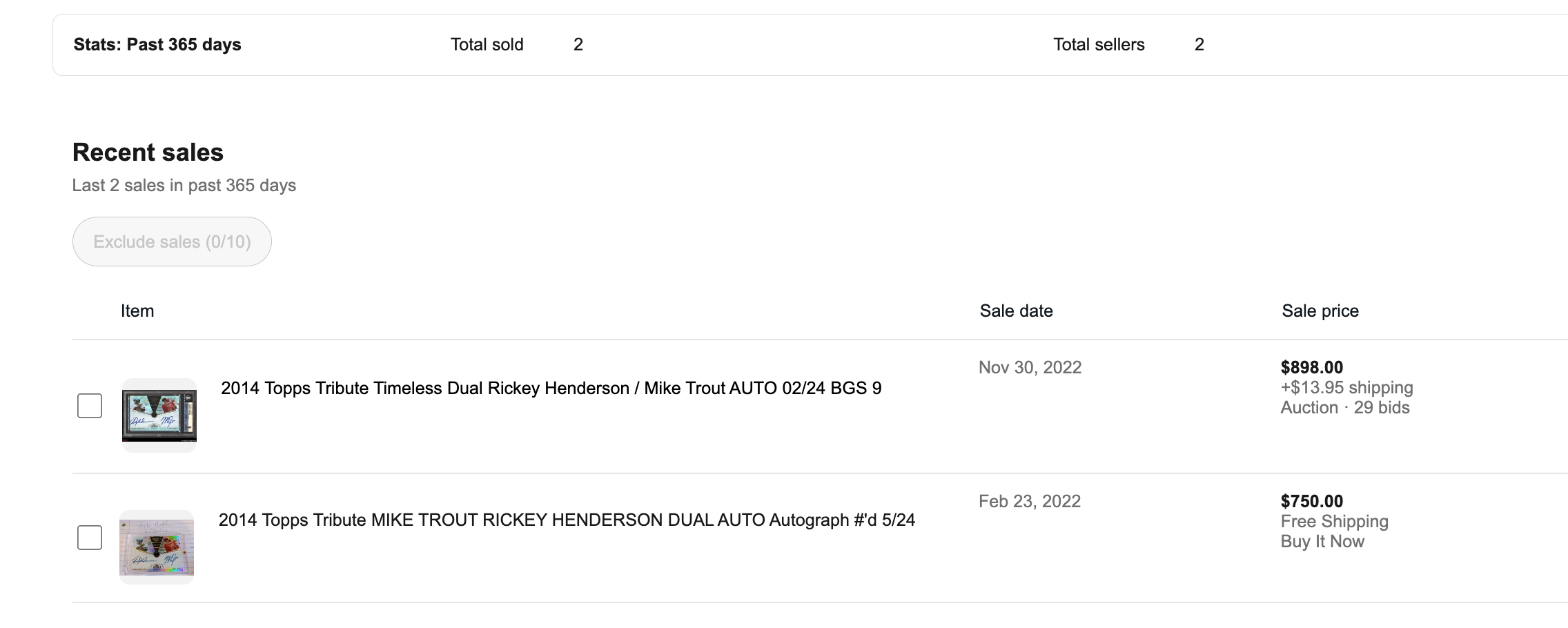 With all of this, we have 3 data points:
Current Listing: Raw 2013 card /25 for $2,500
Sold Listing: BGS 9 2014 card /24 for $898
Sold Listing Raw 2014 card /24 for $750
So, if you see this card available for purchase for $500, is it a good buy? Looks like it based on comps. But what if the card was listed for $700 and you had only consulted the 90-day sold listing? It still might look like a good buy depending on what you wanted to do with it. With the addition of the 365-day price guide info, though, $700 doesn't appear to be a great price if your plan is to flip that card.
Of course, this is. abroad example, and in this case, I'd also factor in that there aren't any 2014 cards like it for sale currently, and the one from 2013 is listed at a whopping $2,500.
Point is, when flipping sports cards or even simply buying them for your PC, you want to consult as much data as is available to you. in my opinion, eBay sold cards data and the eBay Price Guide kick research abilities up to the levels needed to make strong informed decisions.