Affiliate Disclosure: This post contains affiliate links to eBay, Amazon, and other platforms within the content, sidebar ads, and in other areas. As I am part of the eBay Partner Network and other affiliate programs, if you follow these links and make a purchase, I will receive a commission. Likewise, as an Amazon Associate I earn from qualifying purchases.
You know how they say you can watch years and years of baseball, yet in every game you seem to see something you've never seen before? Well, it's partly true, and something I tell myself every now and again.
Anyway, I feel like baseball cards are similar in the fact that you can look through a collection of thousands of cards, only to look through a different collection of thousands of cards and see a number of cards you've never seen before.
In both instances, it's all due to variables. Baseball is a game of so many different variables and possible outcomes. As are baseball cards, with multiple card brands and what seems like an endless release list each and every season.
All this to say, there are some really random baseball cards worth money that, if you didn't know better, would probably just pass by and overlook without really thinking twice about it.
(And before we get going, that 1990 Fleer Jose Uribe, 1989 Donruss Alex Madrid, 1990 Topps Ken Griffey Jr., and other random cards aren't actually worth what people are trying to sell them for, but that's a post for another day.
1. 1989 and 1990 Topps Batting Leaders
These are some of my favorite, most random valuable baseball cards because I stumbled across them my own collection, and thus was pleasantly surprised to see how valuable these cards can be. Take a look—here you'll see the 1990 "green" versions on the right and the 1989 "red" versions on the left.
Pretty unassuming, right? I mean, they look like every other oddball set that you'd find in boxed sets from Walgreens, Toys-R-Us, and others.
But according to SportsCollectorsDaily.com, these were different, and only found in special K-Mart blister packs at the time.
Issued only in huge blister packs sold at one discount store, the 1989 and 1990 Topps Career Active Batting Leaders sets are a rare challenge from an era not normally known for scarcity: https://t.co/v1NRqV7Gdx pic.twitter.com/kfnnfTfaml

— Sports Collectors Daily (@SportsCollector) February 4, 2020
Thus, the value on these reflects their rareness. Here are some recent sales:
1989 George Brett $17.79
1989 Robin Yount $8.50
1989 Rickey Henderson $25
1990 Wade Boggs $10
1990 George Brett $34.99
1990 Don Mattingly $17.69
1. 2019 Prizm Profiles Case Hits (and Others)
Panini Case Hits in general are responsible for a number of random cards people have no idea are worth as much as they are. The reason is, the cards don't have logos or team names to begin with, and then many of them are usually stripped of the normal things you'd find on a card. Thus, they can look quite plain (albeit flashy, if that makes sense).
I'm also choosing this one because I benefitted from someone pricing a Rickey Henderson too low. Here is me talking about my Rickey:
Not only that, I've seen others on Twitter who have grabbed these for cheap as well!
Found this in the dollar box at the LCS. I told the owner it was worth significantly more than that. He said if it's in the dollar box, it costs a dollar. pic.twitter.com/4vz8jr5wxd

— @Judge208 – JT Cards and Collectibles (@judge208) April 2, 2022
3. 2014 Topps Chrome All-Time Rookie Reprints
One major theme when it comes to finding random cards that are worth more than you thought is the fact that there are so many cards that now look the same that it's hard to keep track which is valuable.
For instance, how many times have you seen a 1980 Topps Rickey Henderson re-hash or reprint released by Topps?
Excited to share the newest addition to the Rickey Henderson🏃🏾💨🧤🧤rookie reprint PC! This 2014 @Topps Chrome All Time Rookie Reprint kicks the greatest card on the planet up a notch with all its glorious refractor shine! The chase continues … #rickeyhenderson #thehobby pic.twitter.com/hSc7QcLN8D

— Joshua Scott Heller (@leadofflegend24) November 30, 2021
A lot, right? Some aren't worth much, but 2014 Topps Chrome All-Star Rookie Reprints are sneaky good finds if you come across them for cheap.
For example, this lucky collector found one in a dollar box (the most recent sale of this card is around $20).
So I found this 2014 Topps Chrome All Time Rookies in the dollar box today at a show. I saw it's a 1:280 hobby pack hit so basically a case hit I think. No idea on value. Any help on that aspect? pic.twitter.com/FFTczNRozV

— Robert Inglis (@thatphotoguy007) January 7, 2023
4. 2022 Topps Camilo Doval #US30 Parallels
Sorry, random I know, but me coming across this card actually sparked the idea to put this blog post together.
Anyway, error cards as a whole make up for another big chunk of the random cards worth money. This 2022 Topps Camilo Doval falls into that category—any idea why?
Why is this card worth so much? It isnt a rookie card /50 @CardPurchaser pic.twitter.com/ehxTan5b96

— Sports_Card_Collector (@DB8119) November 19, 2022
Aside from Doval having a breakout campaign, this is in fact his rookie card, although it's missing the RC shield. So, if you come across any of the parallels, you might want to check twice.
We aren't talking huge bucks, but I know it's enough to make me stop and think. Here are some recent sales:
$19.99 for Independence Day /76
$17.69 for Pink /50
$25 for Black /71
5. 1989 Fleer Bill Ripken #616 FF Curse Word
Junk wax is called junk wax for a reason, which is unfortunate because the junk wax era was a time in which we had rookie cards from some of the greatest players to ever hit the diamond.
That said, all it takes is a bad curse word (one of the worst) to make its way onto a card for it to become a random and valuable card (and one of the funniest cards at that).
So yes, while you're hunting for Ken Griffey Jr. and Randy Johnson rookie cards in 1989 Fleer, pay special attention to .208 hitting Billy Ripken.
6. 1990 Donruss Learning Series Ken Griffey Jr.
Aside from errors, other random cards worth money resemble other "junk wax" cards that aren't worth much, but with small differences that make them a bit more valuable.
Take this 1990 Donruss Ken Griffey Jr. While the base card on the left sells for $.25, the Learning Series variation of the card sells for around $20.
The rest of the Learning Series cards should out-sell their 1990 Donruss base counterparts, but Griffey is going to be the one to look for. That said, Nolan Ryan, Rickey Henderson, and other stars might do well if graded at a PSA 10.
7. 2018 Topps Archives The Sandlot Cards
I've talked about these Sandlot cards before, well, because they are cool, but have also taken on a new life as some valuable cards that not many people realize.
The cards can be found in packs of 2018 Topps Archives—there are base and numbered parallels of different colors along with autos. Of course, Benny and Ham are going to be among the most valuable, but here are some recent sales:
The Beast $5.99
Squints $8.99
Squints Blue /25 $56.56
Benny $9.99
Ham Auto $600
8. 2004-2005 Topps Red Xfractors
This is another fun one because these cards look gorgeous…but in today's time where xfractors are pretty commonplace and not worth a ton among average players, they get overlooked, and you might have a few in your collection.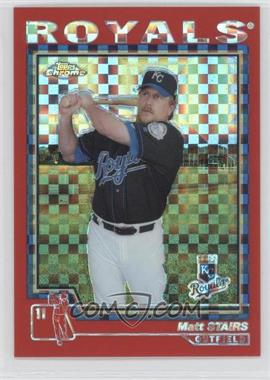 In fact, I bought this Matt Stairs card pictured above for a couple of bucks and sold it quickly for around $13. Again, not a huge score, but I've had similar luck a few times with other players like John Olerud, Roberto Alomar, and Gary Sheffield. The fact that I routinely find them underpriced leads me to believe their randomness overshadows their value.
9. 2020 Topps Series 2 Decade's Best DB-58
This was such a random card to be worth as much as it was when it was first released…and while prices have come down a ton, a numbered parallel can still be a really nice surprise. Before we get into the "why" go ahead and take a look: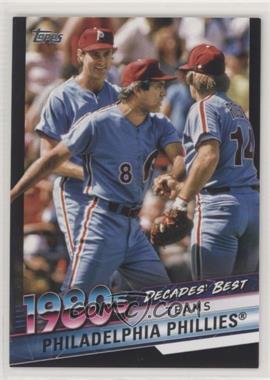 That's right—that's Pete Rose on the right side of the card, and if you're still thinking "so what?" then try and remember the last time you saw Pete Rose on a Topps baseball card. Been a while, right?
A newer entrant in my legal issue collection is Pete Rose on a 2020 Topps product.

As y'all know, Pete is banned from MLB which includes appearing on licensed baseball cards.

No lawsuit here as it was (likely) inadvertent…but I'm sure MLB just told Topps "Don't do it again." pic.twitter.com/xsXRVYAJkD

— Paul Lesko (@Paul_Lesko) September 7, 2021