Affiliate Disclosure: This post contains affiliate links to eBay, Amazon, and other platforms within the content, sidebar ads, and in other areas. As I am part of the eBay Partner Network and other affiliate programs, if you follow these links and make a purchase, I will receive a commission. Likewise, as an Amazon Associate I earn from qualifying purchases.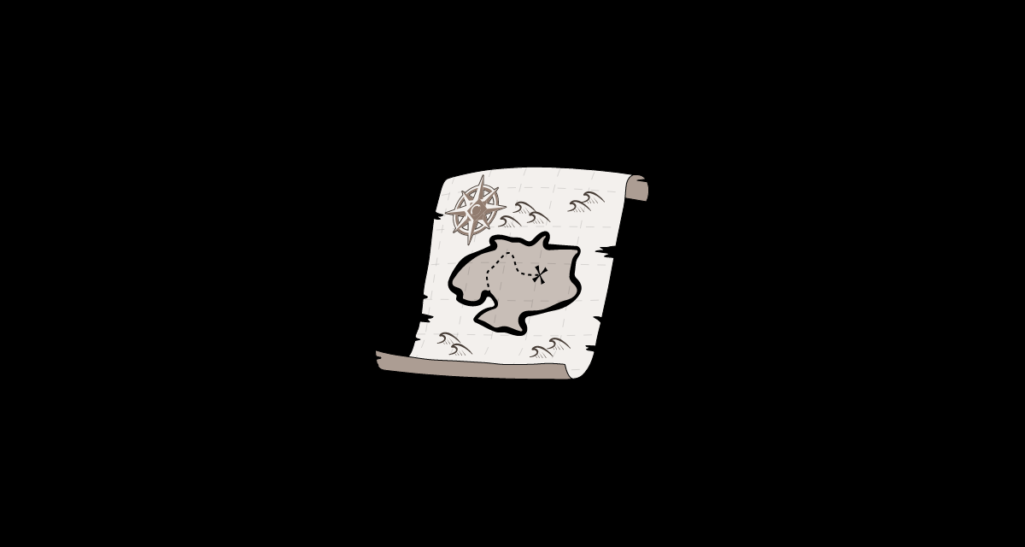 With every new MLB call-up, there is a unique excitement that stretches from the immediate fanbase to collectors or flippers in general. Especially if that young player comes up and immediately performs, the excitement turns into a frenzy, and even if it only lasts for a day or two, can be a fun or frustrating period for those looking to add cards to their stashes.
The most recent entry is Oneil Cruz, who many thought was a virtual lock to crack the Pirates Opening Day roster and never look back. But even as he continued to perform in the minors, it's not until today, June 20, 2022 where Cruz will make his 2022 campaign debut.
And thus, with that, now is a perfect time to run down the different options available for any anyone trying to get their hands on his rookie cards.
2016 Bowman Chrome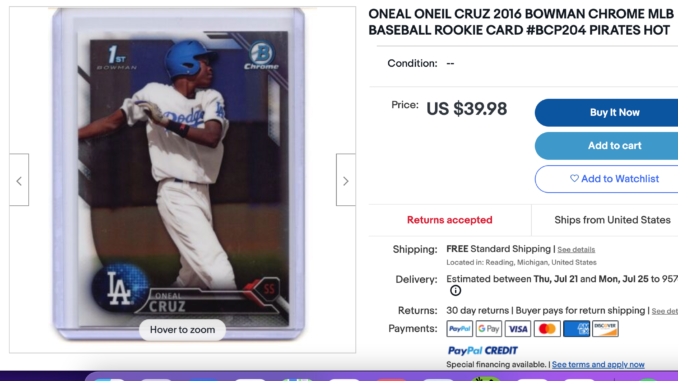 And of course, it wouldn't be a rookie card conversation if we didn't kick things off with some weirdness. For Oneil Cruz, that comes in the form of his first name being spelled wrong on one of his most coveted cards. That's right, this 2016 Bowman Chrome spells Cruz's name "Oneal." So, not only do collectors have to stomach the fact that his 1st Bowman features Cruz in a Dodgers uniform, but also the fact that is name is misspelled.
Read More: What is a Superfractor Card?
Does this hurt the card's value? It's hard to say in the case of the name, but there is chatter around the fact that having a player's 1st Bowman in a uniform other than that player's current team could make the card less desirable. Of course, that desirability is probably only impacted to a certain extent when compared to the player's performance, and if he turns out to be a superstar, I don't think uniform would matter too much.
2022 Topps Heritage (and SP Image Variation)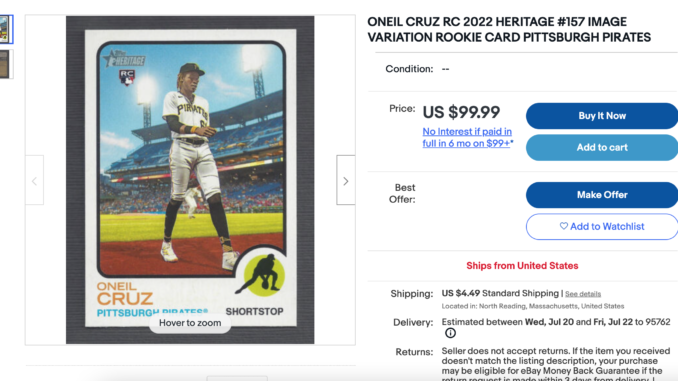 Now, to get the suspense out of the way, Cruz does in fact have a flagship rookie card. I'm only putting Heritage next because Heritage came months ahead of the flagship release, and thus, is stuck in my brain as a card to chase.
Now, is the base version of the card a beauty? Not in my opinion. While I do love the 1973 design, part of what made that design work was the action baseball shot that went along with it. So, whole Cruz has a great smile, the card doesn't get my hobby blood pumping at all.
The good news, though, is that there is an short print image variation, which is pictured above! (What's a short print?) And while it still doesn't feature much action, it at least features him on the field (albeit outside of the lines on his way back to the dugout).
Info to know:
2022 Topps Series 2 (and SP & SSP Image Variations)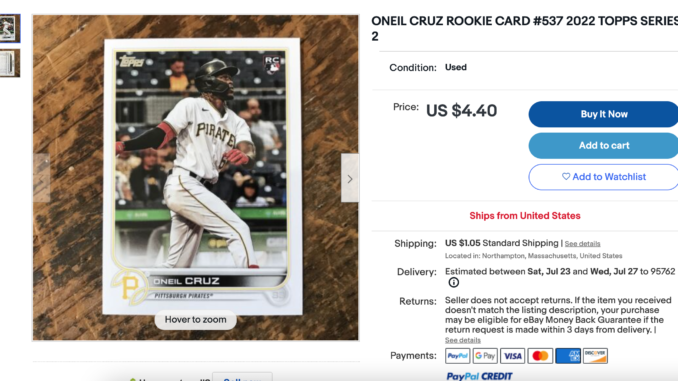 Simply, if you're looking for any RC, from Jeremy Pena rookies to other young stars, you're going to want to consider their flagship Topps RC, which is known as their true rookie.
For Cruz, his RC can be found in the series 2 checklist, so while Wander carries S1, and the excitement of Bobby Witt Jr., Spencer Torkelson, and Julio Rodriguez SPs generated a lot of buzz for S2, the inclusion of a true base rookie of Oneil Cruz is exciting as well.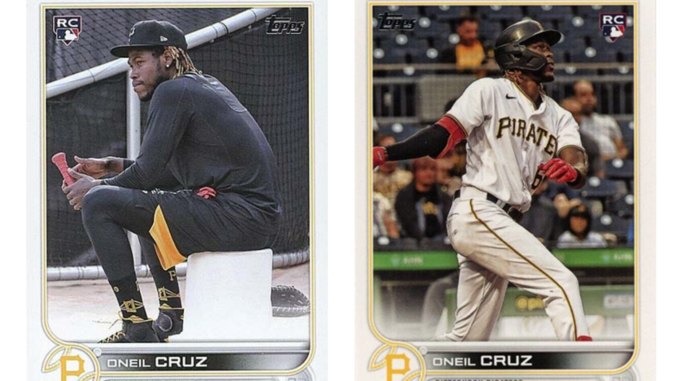 Plus, we also get an SP and an SSP variation to chase as well. (Friendly reminder, Beckett does a great job when it comes to variation info and photos to reference.) Below you'll see what one of those two short prints look like, with the SP featuring Cruz sitting on a bucket (the SSP resembling the Heritage rookie with a close-up smile). Check out Beckett.com for their SP galleries.
2022 Topps Chrome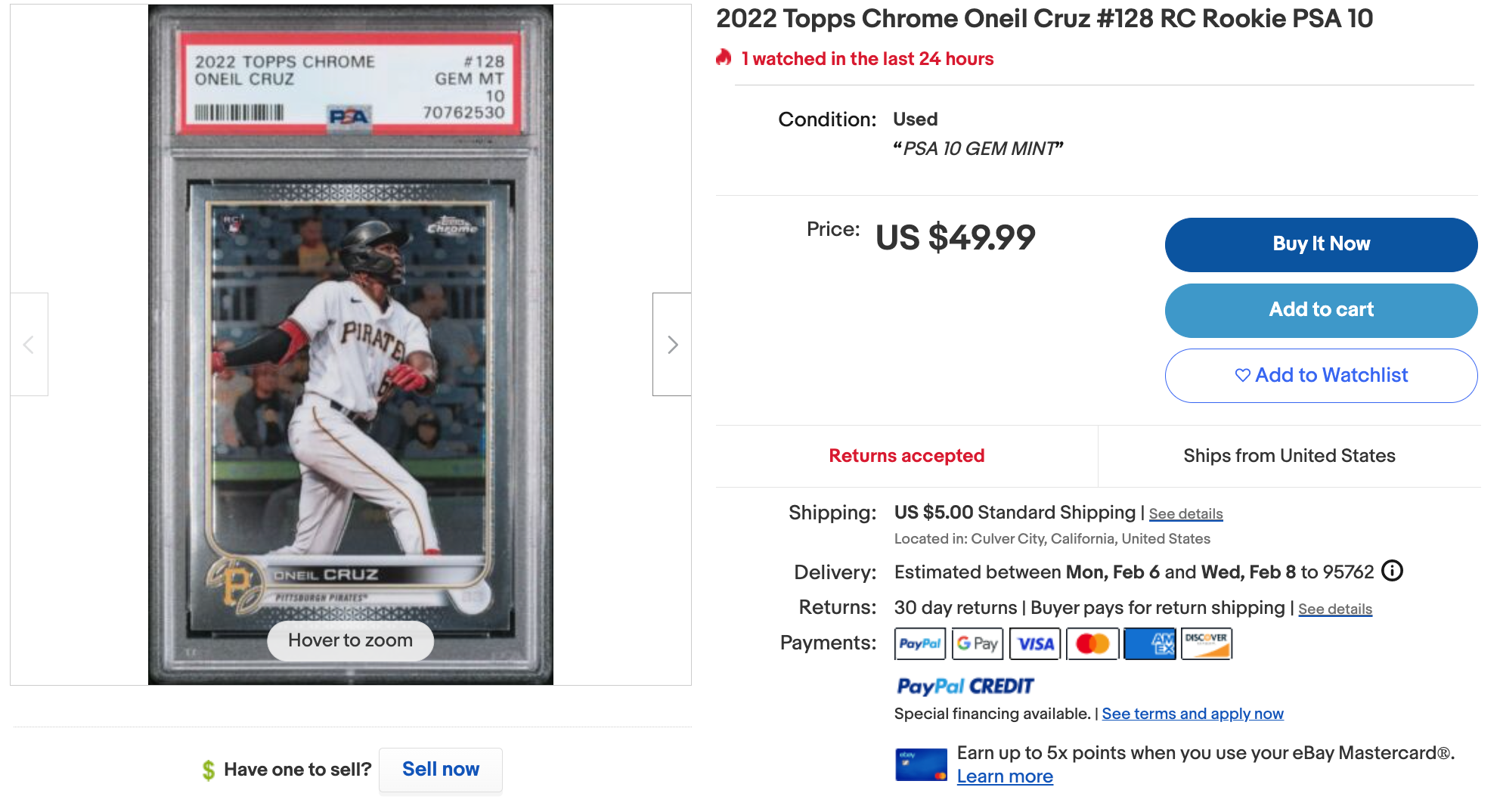 2022 Topps Update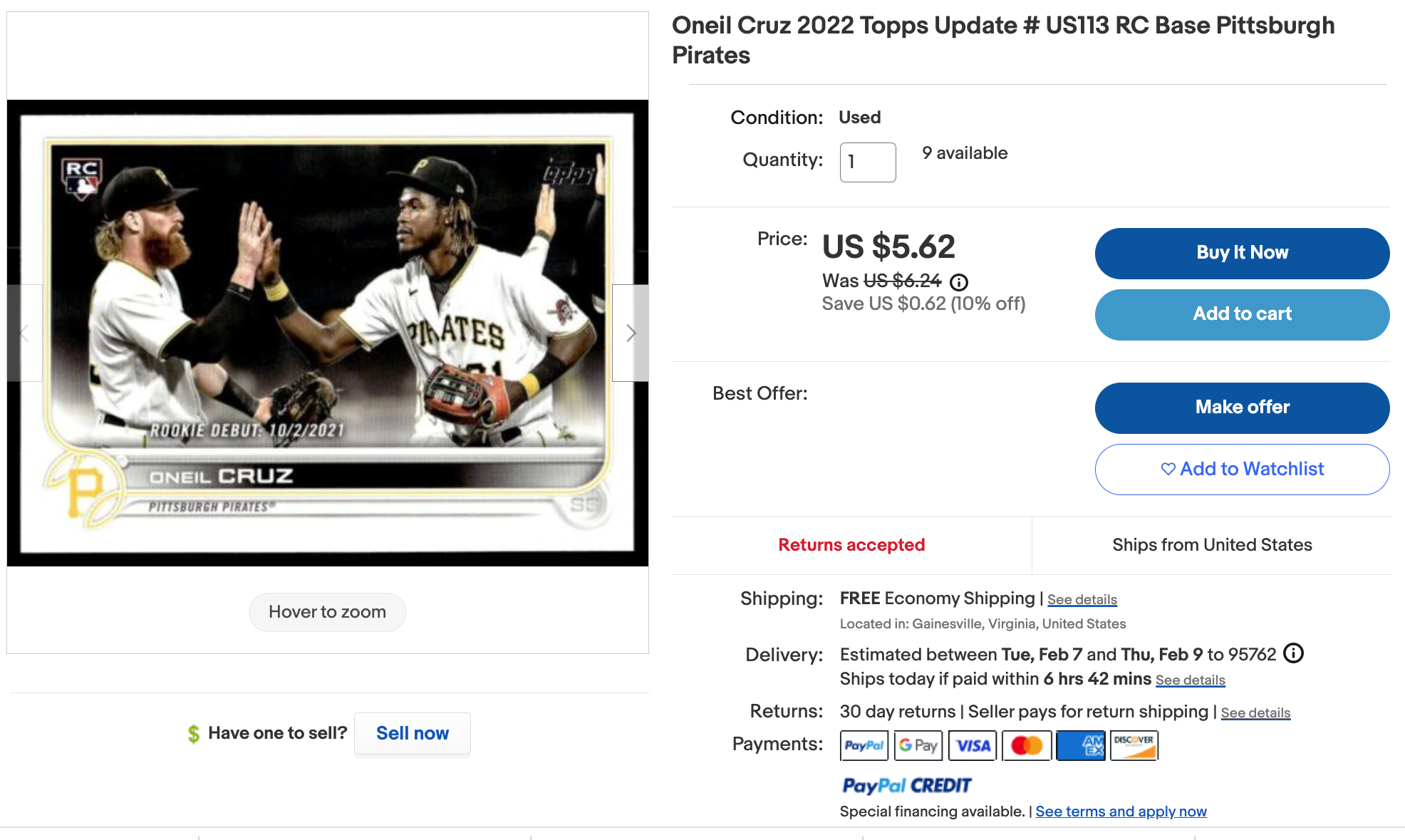 All of that said, there are plenty of other cards to choose from! Here is a list of all of Oneil Cruz's rookie cards from 2022, thanks to Break Ninja.
| PRODUCT | CARD # | VARIATION | SERIAL # |
| --- | --- | --- | --- |
| 2022 Topps X MLB Baseball | 29 | Topps MLBA Players Clubhouse Base Red | 10 |
| 2022 Topps X MLB Baseball | 29 | Topps MLBA Players Clubhouse Base Gold | 50 |
| 2022 Topps X MLB Baseball | 29 | Topps MLBA Players Clubhouse Base Parallel | 99 |
| 2022 Topps X MLB Baseball | 29 | Topps MLBA Players Clubhouse Base Parallel | 150 |
| 2022 Topps X MLB Baseball | 29 | Topps MLBA Players Clubhouse Base | |
| 2022 Topps X MLB Baseball | 29 | Topps MLBA Players Clubhouse Base Platinum | 1 |
| 2022 Topps Spotlight Andy Friedman Baseball | R-2 | Rookies | |
| 2022 Topps Series 2 Baseball | 537 | Base Platinum | 1 |
| 2022 Topps Series 2 Baseball | 537 | Base Printing Plates Black | 1 |
| 2022 Topps Series 2 Baseball | 537 | Base Printing Plates Cyan | 1 |
| 2022 Topps Series 2 Baseball | 537 | Base Printing Plates Magenta | 1 |
| 2022 Topps Series 2 Baseball | 537 | Base Printing Plates Yellow | 1 |
| 2022 Topps Series 2 Baseball | GN-48 | Generation Now Platinum | 1 |
| 2022 Topps Series 2 Baseball | 87TB-48 | 1987 Topps Baseball Platinum | 1 |
| 2022 Topps Series 2 Baseball | 87TB-48 | 1987 Topps Baseball Wood | 1 |
| 2022 Topps Series 2 Baseball | T87C2-98 | 1987 Topps Baseball Chrome Silver Pack Base SuperFractor | 1 |
| 2022 Topps Series 2 Baseball | BSA-OC | Baseball Stars Autographs Platinum | 1 |
| 2022 Topps Series 2 Baseball | 87BA-OC | 1987 Topps Baseball Autographs Platinum | 1 |
| 2022 Topps Series 2 Baseball | 87BC-98 | 1987 Topps Baseball Chrome Autographs Silver Pack SuperFractor | 1 |
| 2022 Topps Series 2 Baseball | T87C2-98 | 1987 Topps Baseball Chrome Silver Pack Base Red | 5 |
| 2022 Topps Series 2 Baseball | 87BC-98 | 1987 Topps Baseball Chrome Autographs Silver Pack Red | 5 |
| 2022 Topps Series 2 Baseball | 537 | Base Clear | 10 |
| 2022 Topps Series 2 Baseball | GN-48 | Generation Now Red | 10 |
| 2022 Topps Series 2 Baseball | 87TB-48 | 1987 Topps Baseball Red | 10 |
| 2022 Topps Series 2 Baseball | GN-48 | Generation Now Autographs | 10 |
| 2022 Topps Series 2 Baseball | 537 | Base Memorial Day Camo | 25 |
| 2022 Topps Series 2 Baseball | T87C2-98 | 1987 Topps Baseball Chrome Silver Pack Base Orange | 25 |
| 2022 Topps Series 2 Baseball | BSA-OC | Baseball Stars Autographs Red | 25 |
| 2022 Topps Series 2 Baseball | 87BA-OC | 1987 Topps Baseball Autographs Red | 25 |
| 2022 Topps Series 2 Baseball | 87BC-98 | 1987 Topps Baseball Chrome Autographs Silver Pack Orange | 25 |
| 2022 Topps Series 2 Baseball | 537 | Base Mothers Day Hot Pink | 50 |
| 2022 Topps Series 2 Baseball | 537 | Base Fathers Day Powder Blue | 50 |
| 2022 Topps Series 2 Baseball | T87C2-98 | 1987 Topps Baseball Chrome Silver Pack Base Gold | 50 |
| 2022 Topps Series 2 Baseball | BSA-OC | Baseball Stars Autographs Gold | 50 |
| 2022 Topps Series 2 Baseball | 87BA-OC | 1987 Topps Baseball Autographs Gold | 50 |
| 2022 Topps Series 2 Baseball | 537 | Base Black | 71 |
| 2022 Topps Series 2 Baseball | GN-48 | Generation Now Gold | 75 |
| 2022 Topps Series 2 Baseball | 87TB-48 | 1987 Topps Baseball Gold | 75 |
| 2022 Topps Series 2 Baseball | T87C2-98 | 1987 Topps Baseball Chrome Silver Pack Base Purple | 75 |
| 2022 Topps Series 2 Baseball | 537 | Base Independence Day | 76 |
| 2022 Topps Series 2 Baseball | 537 | Base Vintage Stock | 99 |
| 2022 Topps Series 2 Baseball | T87C2-98 | 1987 Topps Baseball Chrome Silver Pack Base Green | 99 |
| 2022 Topps Series 2 Baseball | T87C2-98 | 1987 Topps Baseball Chrome Silver Pack Base Blue | 150 |
| 2022 Topps Series 2 Baseball | 537 | Base Red Foilboard | 199 |
| 2022 Topps Series 2 Baseball | BSA-OC | Baseball Stars Autographs Black | 199 |
| 2022 Topps Series 2 Baseball | 87BA-OC | 1987 Topps Baseball Autographs Black | 199 |
| 2022 Topps Series 2 Baseball | 537 | Base Orange Foilboard | 299 |
| 2022 Topps Series 2 Baseball | GN-48 | Generation Now Black | 299 |
| 2022 Topps Series 2 Baseball | 87TB-48 | 1987 Topps Baseball Black | 299 |
| 2022 Topps Series 2 Baseball | 537 | Base Green Foilboard | 499 |
| 2022 Topps Series 2 Baseball | 537 | Base Gold | 2022 |
| 2022 Topps Series 2 Baseball | 537 | Base | |
| 2022 Topps Series 2 Baseball | 537 | Base Gold Foil | |
| 2022 Topps Series 2 Baseball | 537 | Base Rainbow Foil | |
| 2022 Topps Series 2 Baseball | 537 | Base Royal Blue | |
| 2022 Topps Series 2 Baseball | GN-48 | Generation Now | |
| 2022 Topps Series 2 Baseball | GN-48 | Generation Now Blue | |
| 2022 Topps Series 2 Baseball | 87TB-48 | 1987 Topps Baseball | |
| 2022 Topps Series 2 Baseball | 87TB-48 | 1987 Topps Baseball Blue | |
| 2022 Topps Series 2 Baseball | T87C2-98 | 1987 Topps Baseball Chrome Silver Pack Base | |
| 2022 Topps Series 2 Baseball | BSA-OC | Baseball Stars Autographs | |
| 2022 Topps Series 2 Baseball | 87BA-OC | 1987 Topps Baseball Autographs | |
| 2022 Topps Series 2 Baseball | 87BC-98 | 1987 Topps Baseball Chrome Autographs Silver Pack | |
| 2022 Topps Inception Baseball | 56 | Base Green | |
| 2022 Topps Inception Baseball | 56 | Base | |
| 2022 Topps Inception Baseball | 56 | Base Purple | 150 |
| 2022 Topps Inception Baseball | 56 | Base Magenta | 99 |
| 2022 Topps Inception Baseball | 56 | Base Red | 75 |
| 2022 Topps Inception Baseball | 56 | Base Orange | 50 |
| 2022 Topps Inception Baseball | 56 | Base Blue | 25 |
| 2022 Topps Inception Baseball | 56 | Base Inception | 1 |
| 2022 Topps Heritage Baseball | 157 | Image Variations | |
| 2022 Topps Heritage Baseball | 157 | Base Chrome Variaton Hot Box Refractor | |
| 2022 Topps Heritage Baseball | 157 | Base Chrome Variaton | |
| 2022 Topps Heritage Baseball | 157 | Base | |
| 2022 Topps Heritage Baseball | 157 | Base Chrome Variaton Refractor | 573 |
| 2022 Topps Heritage Baseball | 157 | Base Chrome Variaton Silver | 373 |
| 2022 Topps Heritage Baseball | 157 | Base Mini Variation | 100 |
| 2022 Topps Heritage Baseball | 157 | Base Chrome Variaton Black Border | 73 |
| 2022 Topps Heritage Baseball | 157 | Base Black Border | 50 |
| 2022 Topps Heritage Baseball | 157 | Base Chrome Variaton Gold Border | 5 |
| 2022 Topps Heritage Baseball | 157 | Base Flip Stock | 5 |
| 2022 Topps Heritage Baseball | 157 | Base Chrome Variaton SuperFractor | 1 |
| 2022 Topps Gypsy Queen Baseball | 30 | Base Black | 1 |
| 2022 Topps Gypsy Queen Baseball | CG-4 | Crystal Gazing Die Cut Black Foil | 1 |
| 2022 Topps Gypsy Queen Baseball | 30 | GQ Chrome SuperFractor | 1 |
| 2022 Topps Gypsy Queen Baseball | GQA-OC | GQ Autographs Black | 1 |
| 2022 Topps Gypsy Queen Baseball | 30 | GQ Chrome Red Refractor | 5 |
| 2022 Topps Gypsy Queen Baseball | 30 | Base Ruby Red Foil | 10 |
| 2022 Topps Gypsy Queen Baseball | 30 | Base Black and White | 50 |
| 2022 Topps Gypsy Queen Baseball | 30 | GQ Chrome Gold Refractor | 50 |
| 2022 Topps Gypsy Queen Baseball | GQA-OC | GQ Autographs Black and White | 50 |
| 2022 Topps Gypsy Queen Baseball | 30 | Base Mauve | 75 |
| 2022 Topps Gypsy Queen Baseball | 30 | GQ Chrome Blue Refractor | 99 |
| 2022 Topps Gypsy Queen Baseball | GQA-OC | GQ Autographs Blue | 99 |
| 2022 Topps Gypsy Queen Baseball | 30 | Base Blue | 150 |
| 2022 Topps Gypsy Queen Baseball | CG-4 | Crystal Gazing Die Cut Indigo Foil | 150 |
| 2022 Topps Gypsy Queen Baseball | 30 | GQ Chrome Indigo Refractor | 150 |
| 2022 Topps Gypsy Queen Baseball | GQA-OC | GQ Autographs Indigo | 150 |
| 2022 Topps Gypsy Queen Baseball | 30 | Base Turquoise | 199 |
| 2022 Topps Gypsy Queen Baseball | 30 | Base Indigo | 250 |
| 2022 Topps Gypsy Queen Baseball | 30 | Base Burnt Umber | 399 |
| 2022 Topps Gypsy Queen Baseball | 30 | Base | |
| 2022 Topps Gypsy Queen Baseball | 30 | Base Missing Nameplate | |
| 2022 Topps Gypsy Queen Baseball | CG-4 | Crystal Gazing Die Cut | |
| 2022 Topps Gypsy Queen Baseball | 30 | GQ Chrome | |
| 2022 Topps Gypsy Queen Baseball | GQA-OC | GQ Autographs | |
| 2022 Topps Definitive Baseball | DRA-OCR | Definitive Rookie Autographs Red | 1 |
| 2022 Topps Definitive Baseball | DRA-OCR2 | Definitive Rookie Autographs Red | 1 |
| 2022 Topps Definitive Baseball | DRA-OCR | Definitive Rookie Autographs Purple | 10 |
| 2022 Topps Definitive Baseball | DRA-OCR2 | Definitive Rookie Autographs Purple | 10 |
| 2022 Topps Definitive Baseball | DRA-OCR | Definitive Rookie Autographs Green | 25 |
| 2022 Topps Definitive Baseball | DRA-OCR2 | Definitive Rookie Autographs Green | 25 |
| 2022 Topps Definitive Baseball | DRA-OCR | Definitive Rookie Autographs | 50 |
| 2022 Topps Definitive Baseball | DRA-OCR2 | Definitive Rookie Autographs | 50 |
| 2022 Panini Select Baseball | 1 | En Fuego Black Disco | 1 |
| 2022 Panini Select Baseball | 1 | En Fuego Black Finite | 1 |
| 2022 Panini Select Baseball | 1 | En Fuego Gold Vinyl | 1 |
| 2022 Panini Select Baseball | 4 | Horizontal Rookie Jumbo Swatch Black Disco | 1 |
| 2022 Panini Select Baseball | 4 | Horizontal Rookie Jumbo Swatch Black Finite | 1 |
| 2022 Panini Select Baseball | 4 | Horizontal Rookie Jumbo Swatch Gold Vinyl | 1 |
| 2022 Panini Select Baseball | 101 | Premier Level Black Disco | 1 |
| 2022 Panini Select Baseball | 101 | Premier Level Black Finite | 1 |
| 2022 Panini Select Baseball | 101 | Premier Level Gold Vinyl | 1 |
| 2022 Panini Select Baseball | 8 | Rookie Jersey Autographs Black Disco | 1 |
| 2022 Panini Select Baseball | 8 | Rookie Jersey Autographs Black Finite | 1 |
| 2022 Panini Select Baseball | 8 | Rookie Jersey Autographs Gold Vinyl | 1 |
| 2022 Panini Select Baseball | 8 | Rookie Jumbo Swatch Black Disco | 1 |
| 2022 Panini Select Baseball | 8 | Rookie Jumbo Swatch Black Finite | 1 |
| 2022 Panini Select Baseball | 8 | Rookie Jumbo Swatch Gold Vinyl | 1 |
| 2022 Panini Select Baseball | 17 | Sparks Signatures Black Disco | 1 |
| 2022 Panini Select Baseball | 17 | Sparks Signatures Black Finite | 1 |
| 2022 Panini Select Baseball | 17 | Sparks Signatures Gold Vinyl | 1 |
| 2022 Panini Select Baseball | 101 | Premier Level Green | 5 |
| 2022 Panini Select Baseball | 8 | Rookie Jersey Autographs Blue Pulsar | 5 |
| 2022 Panini Select Baseball | 101 | Premier Level Blue Pulsar | 9 |
| 2022 Panini Select Baseball | 1 | En Fuego Gold | 10 |
| 2022 Panini Select Baseball | 4 | Horizontal Rookie Jumbo Swatch Gold | 10 |
| 2022 Panini Select Baseball | 101 | Premier Level Gold | 10 |
| 2022 Panini Select Baseball | 101 | Premier Level Gold Disco | 10 |
| 2022 Panini Select Baseball | 101 | Premier Level Pink | 10 |
| 2022 Panini Select Baseball | 8 | Rookie Jersey Autographs Gold | 10 |
| 2022 Panini Select Baseball | 8 | Rookie Jumbo Swatch Gold | 10 |
| 2022 Panini Select Baseball | 17 | Sparks Signatures Gold | 10 |
| 2022 Panini Select Baseball | 101 | Premier Level Orange Pulsar | 16 |
| 2022 Panini Select Baseball | 101 | Premier Level Tie Dye | 20 |
| 2022 Panini Select Baseball | 8 | Rookie Jersey Autographs Orange Pulsar | 20 |
| 2022 Panini Select Baseball | 4 | Horizontal Rookie Jumbo Swatch Cracked Ice | 25 |
| 2022 Panini Select Baseball | 101 | Premier Level Cracked Ice | 25 |
| 2022 Panini Select Baseball | 8 | Rookie Jersey Autographs Cracked Ice | 25 |
| 2022 Panini Select Baseball | 8 | Rookie Jumbo Swatch Cracked Ice | 25 |
| 2022 Panini Select Baseball | 17 | Sparks Signatures Cracked Ice | 25 |
| 2022 Panini Select Baseball | 101 | Premier Level Carolina Blue | 35 |
| 2022 Panini Select Baseball | 101 | Premier Level White | 50 |
| 2022 Panini Select Baseball | 8 | Rookie Jersey Autographs Tri-Color | 75 |
| 2022 Panini Select Baseball | 17 | Sparks Signatures Tri-Color | 75 |
| 2022 Panini Select Baseball | 4 | Horizontal Rookie Jumbo Swatch Tri-Color | 99 |
| 2022 Panini Select Baseball | 101 | Premier Level Neon Green | 99 |
| 2022 Panini Select Baseball | 8 | Rookie Jersey Autographs Holo | 99 |
| 2022 Panini Select Baseball | 8 | Rookie Jumbo Swatch Tri-Color | 99 |
| 2022 Panini Select Baseball | 17 | Sparks Signatures Holo | 99 |
| 2022 Panini Select Baseball | 101 | Premier Level Light Blue | 149 |
| 2022 Panini Select Baseball | 101 | Premier Level Red | 199 |
| 2022 Panini Select Baseball | 8 | Rookie Jersey Autographs | 199 |
| 2022 Panini Select Baseball | 17 | Sparks Signatures | 199 |
| 2022 Panini Select Baseball | 4 | Horizontal Rookie Jumbo Swatch Holo | 250 |
| 2022 Panini Select Baseball | 8 | Rookie Jumbo Swatch Holo | 250 |
| 2022 Panini Select Baseball | 1 | En Fuego | |
| 2022 Panini Select Baseball | 1 | En Fuego Holo | |
| 2022 Panini Select Baseball | 11 | Firestorm | |
| 2022 Panini Select Baseball | 4 | Horizontal Rookie Jumbo Swatch | |
| 2022 Panini Select Baseball | 101 | Premier Level | |
| 2022 Panini Select Baseball | 101 | Premier Level Blue | |
| 2022 Panini Select Baseball | 101 | Premier Level Cosmic | |
| 2022 Panini Select Baseball | 101 | Premier Level Holo | |
| 2022 Panini Select Baseball | 101 | Premier Level Red Disco | |
| 2022 Panini Select Baseball | 101 | Premier Level Scope | |
| 2022 Panini Select Baseball | 101 | Premier Level Tri-Color | |
| 2022 Panini Select Baseball | 101 | Premier Level Zebra | |
| 2022 Panini Select Baseball | 15 | Rookie Explosion | |
| 2022 Panini Select Baseball | 8 | Rookie Jumbo Swatch | |
| 2022 Panini Diamond Kings | 12 | Aficionado Masterpiece | 1 |
| 2022 Panini Diamond Kings | 51 | DK Material Signatures Masterpiece | 1 |
| 2022 Panini Diamond Kings | 36 | DK Materials Masterpiece | 1 |
| 2022 Panini Diamond Kings | 51 | DK Signatures Masterpiece | 1 |
| 2022 Panini Diamond Kings | 90 | Rookies I Antique Frame Masterpiece | 1 |
| 2022 Panini Diamond Kings | 90 | Rookies I Black Frame Masterpiece | 1 |
| 2022 Panini Diamond Kings | 90 | Rookies I Blue Frame Masterpiece | 1 |
| 2022 Panini Diamond Kings | 90 | Rookies I Gray Frame Masterpiece | 1 |
| 2022 Panini Diamond Kings | 90 | Rookies I Green Frame Masterpiece | 1 |
| 2022 Panini Diamond Kings | 90 | Rookies I Masterpiece | 1 |
| 2022 Panini Diamond Kings | 90 | Rookies I Plum Frame Masterpiece | 1 |
| 2022 Panini Diamond Kings | 90 | Rookies I Red Frame Masterpiece | 1 |
| 2022 Panini Diamond Kings | 51 | DK Signatures Red | 5 |
| 2022 Panini Diamond Kings | 51 | DK Material Signatures Red | 10 |
| 2022 Panini Diamond Kings | 36 | DK Materials Red | 10 |
| 2022 Panini Diamond Kings | 51 | DK Signatures Purple | 10 |
| 2022 Panini Diamond Kings | 90 | Rookies I Antique Frame | 18 |
| 2022 Panini Diamond Kings | 51 | DK Material Signatures Purple | 20 |
| 2022 Panini Diamond Kings | 36 | DK Materials Purple | 20 |
| 2022 Panini Diamond Kings | 12 | Aficionado Holo Silver | 25 |
| 2022 Panini Diamond Kings | 51 | DK Material Signatures Holo Blue | 25 |
| 2022 Panini Diamond Kings | 36 | DK Materials Holo Platinum Blue | 25 |
| 2022 Panini Diamond Kings | 51 | DK Signatures Holo Blue | 25 |
| 2022 Panini Diamond Kings | 90 | Rookies I Green Frame | 25 |
| 2022 Panini Diamond Kings | 90 | Rookies I Artist Proof Gold | 49 |
| 2022 Panini Diamond Kings | 36 | DK Materials Holo Gold | 50 |
| 2022 Panini Diamond Kings | 51 | DK Signatures Holo Gold | 50 |
| 2022 Panini Diamond Kings | 51 | DK Signatures Holo Silver | 75 |
| 2022 Panini Diamond Kings | 12 | Aficionado Holo Blue | 99 |
| 2022 Panini Diamond Kings | 51 | DK Material Signatures Gold | 99 |
| 2022 Panini Diamond Kings | 36 | DK Materials Holo Silver | 99 |
| 2022 Panini Diamond Kings | 90 | Rookies I Artist Proof Silver | 99 |
| 2022 Panini Diamond Kings | 12 | Aficionado | |
| 2022 Panini Diamond Kings | 51 | DK Material Signatures | |
| 2022 Panini Diamond Kings | 36 | DK Materials | |
| 2022 Panini Diamond Kings | 51 | DK Signatures | |
| 2022 Panini Diamond Kings | 90 | Rookies I | |
| 2022 Panini Diamond Kings | 90 | Rookies I Artist Proof Blue | |
| 2022 Panini Diamond Kings | 90 | Rookies I Blue Frame | |
| 2022 Panini Diamond Kings | 90 | Rookies I Gray Frame | |
| 2022 Panini Diamond Kings | 90 | Rookies I Plum Frame | |
| 2022 Panini Diamond Kings | 90 | Rookies I Red Frame | |
| 2022 Panini Diamond Kings | 183 | Rookies IV | |
| 2022 Panini Diamond Kings | 15 | Street Art | |
| 2022 Panini Absolute Baseball | 4 | Rookie Threads Retail | |
| 2022 Panini Absolute Baseball | 3 | Rookie Force Retail | |
| 2022 Panini Absolute Baseball | 18 | Rookie Class Retail Lava | |
| 2022 Panini Absolute Baseball | 18 | Rookie Class Retail Green | |
| 2022 Panini Absolute Baseball | 18 | Rookie Class Retail | |
| 2022 Panini Absolute Baseball | 18 | Rookie Class | |
| 2022 Panini Absolute Baseball | 9 | Kaboom | |
| 2022 Panini Absolute Baseball | 2 | Rookies Spectrum | 999 |
| 2022 Panini Absolute Baseball | 7 | Tools of the Trade 2 Swatch Signatures | 199 |
| 2022 Panini Absolute Baseball | 4 | Rookie Threads Retail Green | 199 |
| 2022 Panini Absolute Baseball | 3 | Rookie Force | 199 |
| 2022 Panini Absolute Baseball | 18 | Rookie Class Spectrum Blue | 149 |
| 2022 Panini Absolute Baseball | 7 | Tools of the Trade 2 Swatch Signatures Retail | 99 |
| 2022 Panini Absolute Baseball | 4 | Rookie Threads Retail Red | 99 |
| 2022 Panini Absolute Baseball | 104 | Rookie Leather Signatures Tan Leather | 99 |
| 2022 Panini Absolute Baseball | 3 | Rookie Force Spectrum Red | 99 |
| 2022 Panini Absolute Baseball | 18 | Rookie Class Spectrum Red | 99 |
| 2022 Panini Absolute Baseball | 18 | Rookie Class Retail Red | 99 |
| 2022 Panini Absolute Baseball | 104 | Rookie Baseball Material Booklet Signatures Red | 99 |
| 2022 Panini Absolute Baseball | 104 | Rookie Baseball Material Booklet Signatures Black/White Seams | 99 |
| 2022 Panini Absolute Baseball | 7 | Tools of the Trade 2 Swatch Signatures Spectrum Blue | 75 |
| 2022 Panini Absolute Baseball | 104 | Rookie Baseball Material Booklet Signatures Black | 60 |
| 2022 Panini Absolute Baseball | 7 | Tools of the Trade 2 Swatch Signatures Spectrum Red | 50 |
| 2022 Panini Absolute Baseball | 104 | Rookie Wood Signatures Wood | 50 |
| 2022 Panini Absolute Baseball | 104 | Rookie Baseball Material Booklet Signatures Blue | 50 |
| 2022 Panini Absolute Baseball | 104 | Rookie Baseball Material Booklet Signatures Pink | 35 |
| 2022 Panini Absolute Baseball | 104 | Rookie Baseball Material Booklet Signatures Light Blue | 30 |
| 2022 Panini Absolute Baseball | 18 | Rookie Class Spectrum Gold | 25 |
| 2022 Panini Absolute Baseball | 104 | Rookie Baseball Material Booklet Signatures Black Gold | 25 |
| 2022 Panini Absolute Baseball | 7 | Tools of the Trade 2 Swatch Signatures Spectrum Gold | 10 |
| 2022 Panini Absolute Baseball | 4 | Rookie Threads Retail Gold | 10 |
| 2022 Panini Absolute Baseball | 104 | Rookie Leather Signatures Spectrum Gold Black Leather | 10 |
| 2022 Panini Absolute Baseball | 3 | Rookie Force Spectrum Gold | 10 |
| 2022 Panini Absolute Baseball | 18 | Rookie Class Retail Holo Gold | 10 |
| 2022 Panini Absolute Baseball | 104 | Rookie Baseball Material Booklet Signatures Spectrum Gold | 10 |
| 2022 Panini Absolute Baseball | 104 | Rookie Baseball Material Booklet Signatures Spectrum Green | 5 |
| 2022 Panini Absolute Baseball | 7 | Tools of the Trade 2 Swatch Signatures Spectrum Black | 1 |
| 2022 Panini Absolute Baseball | 4 | Rookie Threads Retail Black | 1 |
| 2022 Panini Absolute Baseball | 3 | Rookie Force Spectrum Black | 1 |
| 2022 Panini Absolute Baseball | 18 | Rookie Class Spectrum Black | 1 |
| 2022 Panini Absolute Baseball | 18 | Rookie Class Retail Holo Black | 1 |
| 2022 Panini Absolute Baseball | 104 | Rookie Baseball Material Booklet Signatures Spectrum Red and Blue | 1 |
| 2022 Donruss Baseball | 8 | Trending Vector | |
| 2022 Donruss Baseball | 8 | Trending Rapture | |
| 2022 Donruss Baseball | 8 | Trending Pink Fireworks | |
| 2022 Donruss Baseball | 8 | Trending Diamond | |
| 2022 Donruss Baseball | 18 | Signature Series | |
| 2022 Donruss Baseball | 18 | Retro 1988 Signatures Holo | |
| 2022 Donruss Baseball | 18 | Retro 1988 Signatures | |
| 2022 Donruss Baseball | 80 | Rated Rookies Yellow | |
| 2022 Donruss Baseball | 80 | Rated Rookies Liberty | |
| 2022 Donruss Baseball | 80 | Rated Rookies Independence Day | |
| 2022 Donruss Baseball | 80 | Rated Rookies Holo Red | |
| 2022 Donruss Baseball | 80 | Rated Rookies Holo Purple | |
| 2022 Donruss Baseball | 80 | Rated Rookies Holo Pink | |
| 2022 Donruss Baseball | 80 | Rated Rookies Holo Orange | |
| 2022 Donruss Baseball | 80 | Rated Rookies Holo Blue | |
| 2022 Donruss Baseball | 80 | Rated Rookies | |
| 2022 Donruss Baseball | 80 | Rated Rookies Red | 2022 |
| 2022 Donruss Baseball | 8 | Trending | 999 |
| 2022 Donruss Baseball | 8 | Trending Silver | 349 |
| 2022 Donruss Baseball | 8 | Trending Blue | 249 |
| 2022 Donruss Baseball | 18 | Retro 1988 Signatures Pink Fireworks | 199 |
| 2022 Donruss Baseball | 8 | Trending Red | 149 |
| 2022 Donruss Baseball | 80 | Rated Rookies One Hundred | 100 |
| 2022 Donruss Baseball | 8 | Trending Gold | 99 |
| 2022 Donruss Baseball | 18 | Signature Series Blue | 99 |
| 2022 Donruss Baseball | 18 | Retro 1988 Signatures Red | 99 |
| 2022 Donruss Baseball | 80 | Rated Rookies On Fire | 75 |
| 2022 Donruss Baseball | 80 | Rated Rookies America | 50 |
| 2022 Donruss Baseball | 80 | Rated Rookies Presidential Collection | 46 |
| 2022 Donruss Baseball | 8 | Trending Green | 25 |
| 2022 Donruss Baseball | 18 | Signature Series Gold | 25 |
| 2022 Donruss Baseball | 18 | Retro 1988 Signatures Gold | 25 |
| 2022 Donruss Baseball | 80 | Rated Rookies Voltage | 25 |
| 2022 Donruss Baseball | 80 | Rated Rookies Artist Proof | 10 |
| 2022 Donruss Baseball | 80 | Rated Rookies Season Stat Line | 9 |
| 2022 Donruss Baseball | 80 | Rated Rookies Press Proof | 5 |
| 2022 Donruss Baseball | 8 | Trending Black | 1 |
| 2022 Donruss Baseball | 18 | Signature Series Black | 1 |
| 2022 Donruss Baseball | 18 | Retro 1988 Signatures Black | 1 |
| 2022 Donruss Baseball | 80 | Rated Rookies Printing Plates Yellow | 1 |
| 2022 Donruss Baseball | 80 | Rated Rookies Printing Plates Magenta | 1 |
| 2022 Donruss Baseball | 80 | Rated Rookies Printing Plates Cyan | 1 |
| 2022 Donruss Baseball | 80 | Rated Rookies Printing Plates Black | 1 |
| 2022 Donruss Baseball | 80 | Rated Rookies Number 1 | 1 |
| 2022 Donruss Baseball | 80 | Rated Rookies Career Stat Line | 1 |
| 2022 Bowman Mega Chrome Baseball | ROYF-5 | Rookie of the Year Favorites | |
| 2022 Bowman Mega Chrome Baseball | BRM-OC | Bowman Rookies Mega Box Autographs | |
| 2022 Bowman Mega Chrome Baseball | ROYF-5 | Rookie of the Year Favorites Purple Refractor | 250 |
| 2022 Bowman Mega Chrome Baseball | ROYF-5 | Rookie of the Year Favorites Pink Refractor | 199 |
| 2022 Bowman Mega Chrome Baseball | ROYF-5 | Rookie of the Year Favorites Blue Refractor | 150 |
| 2022 Bowman Mega Chrome Baseball | ROYF-5 | Rookie of the Year Favorites Green Refractor | 99 |
| 2022 Bowman Mega Chrome Baseball | ROYF-5 | Rookie of the Year Favorites Orange Refractor | 25 |
| 2022 Bowman Mega Chrome Baseball | BRM-OC | Bowman Rookies Mega Box Autographs Orange Refractor | 25 |
| 2022 Bowman Mega Chrome Baseball | ROYF-5 | Rookie of the Year Favorites Red Refractor | 5 |
| 2022 Bowman Mega Chrome Baseball | ROYF-5 | Rookie of the Year Favorites Black Refractor | 1 |
| 2022 Bowman Mega Chrome Baseball | BRM-OC | Bowman Rookies Mega Box Autographs Black Refractor | 1 |
| 2022 Bowman Baseball | 51 | Base Platinum Border | 1 |
| 2022 Bowman Baseball | 51 | Base Printing Plates Black | 1 |
| 2022 Bowman Baseball | 51 | Base Printing Plates Cyan | 1 |
| 2022 Bowman Baseball | 51 | Base Printing Plates Magenta | 1 |
| 2022 Bowman Baseball | 51 | Base Printing Plates Yellow | 1 |
| 2022 Bowman Baseball | BTP-39 | Bowman Scouts Top 100 SuperFractor | 1 |
| 2022 Bowman Baseball | ROYF-5 | Rookie of the Year Favorites SuperFractor | 1 |
| 2022 Bowman Baseball | CRA-OC | Chrome Rookie Autographs SuperFractor | 1 |
| 2022 Bowman Baseball | CRA-OC | Chrome Rookie Autographs Printing Plates Black | 1 |
| 2022 Bowman Baseball | CRA-OC | Chrome Rookie Autographs Printing Plates Cyan | 1 |
| 2022 Bowman Baseball | CRA-OC | Chrome Rookie Autographs Printing Plates Magenta | 1 |
| 2022 Bowman Baseball | CRA-OC | Chrome Rookie Autographs Printing Plates Yellow | 1 |
| 2022 Bowman Baseball | | Bowman Scouts Top 100 Autographs SuperFractor | 1 |
| 2022 Bowman Baseball | 51 | Base Red Border | 5 |
| 2022 Bowman Baseball | BTP-39 | Bowman Scouts Top 100 Red Refractor | 5 |
| 2022 Bowman Baseball | ROYF-5 | Rookie of the Year Favorites Red Refractor | 5 |
| 2022 Bowman Baseball | CRA-OC | Chrome Rookie Autographs Red Refractor | 5 |
| 2022 Bowman Baseball | 51 | Base Orange Border | 25 |
| 2022 Bowman Baseball | BTP-39 | Bowman Scouts Top 100 Orange Refractor | 25 |
| 2022 Bowman Baseball | ROYF-5 | Rookie of the Year Favorites Orange Refractor | 25 |
| 2022 Bowman Baseball | CRA-OC | Chrome Rookie Autographs Orange Refractor | 25 |
| 2022 Bowman Baseball | 51 | Base Gold Border | 50 |
| 2022 Bowman Baseball | BTP-39 | Bowman Scouts Top 100 Gold Refractor | 50 |
| 2022 Bowman Baseball | ROYF-5 | Rookie of the Year Favorites Gold Refractor | 50 |
| 2022 Bowman Baseball | CRA-OC | Chrome Rookie Autographs Gold Refractor | 50 |
| 2022 Bowman Baseball | 51 | Base Yellow Border | 75 |
| 2022 Bowman Baseball | CRA-OC | Chrome Rookie Autographs Yellow Refractor | 75 |
| 2022 Bowman Baseball | 51 | Base Green Border | 99 |
| 2022 Bowman Baseball | BTP-39 | Bowman Scouts Top 100 Green Refractor | 99 |
| 2022 Bowman Baseball | CRA-OC | Chrome Rookie Autographs Atomic Refractor | 100 |
| 2022 Bowman Baseball | BTP-39 | Bowman Scouts Top 100 Aqua Refractor | 125 |
| 2022 Bowman Baseball | ROYF-5 | Rookie of the Year Favorites Aqua Refractor | 125 |
| 2022 Bowman Baseball | 51 | Base Blue Border | 150 |
| 2022 Bowman Baseball | BTP-39 | Bowman Scouts Top 100 Atomic Refractor | 150 |
| 2022 Bowman Baseball | ROYF-5 | Rookie of the Year Favorites Atomic Refractor | 150 |
| 2022 Bowman Baseball | CRA-OC | Chrome Rookie Autographs Blue Refractor | 150 |
| 2022 Bowman Baseball | 51 | Base Purple Border | 250 |
| 2022 Bowman Baseball | 51 | Base Fuchsia Border | 299 |
| 2022 Bowman Baseball | 51 | Base Neon Green Border | 399 |
| 2022 Bowman Baseball | 51 | Base Sky Blue Border | 499 |
| 2022 Bowman Baseball | CRA-OC | Chrome Rookie Autographs Base Refractor | 499 |
| 2022 Bowman Baseball | 51 | Base | |
| 2022 Bowman Baseball | BTP-39 | Bowman Scouts Top 100 | |
| 2022 Bowman Baseball | ROYF-5 | Rookie of the Year Favorites | |
| 2022 Bowman Baseball | CRA-OC | Chrome Rookie Autographs | |
| 2022 Bowman Baseball | | Bowman Scouts Top 100 Autographs | |