Affiliate Disclosure: This post contains affiliate links to eBay, Amazon, and other platforms within the content, sidebar ads, and in other areas. As I am part of the eBay Partner Network and other affiliate programs, if you follow these links and make a purchase, I will receive a commission. Likewise, as an Amazon Associate I earn from qualifying purchases.
A superfractor is the rarest parallel of the refractor card, limited to only one copy per player card per set. Superfractors can be identified by their "1/1" serial numbered stamp on either the front or the back of the card, and their gold patterned finish and/or "spiral" design.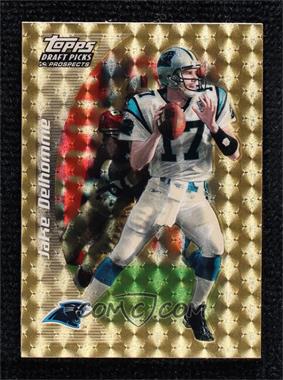 What Other Refractor Variants Are There?
A refractor is a chrome-finished card that displays a rainbow-like shine when held under light. There are a number of different refractor variants, including:
Xfractors, which feature a checker-like design with mini squares
Sepia refractors, which feature a reddish-brown refractor finish
Negative refractors, which feature a black and white color scheme
Refractors in Different Colors: pink, purple, etc.
(Speaking of rainbows and superfractors, a different type of rainbow in cards is when a collector is able to obtain all parallels of a particular card.)
The different-colored refractors like pink and purple mentioned above aren't typically numbered, and thus are considered different types of refractors as opposed to variations of the base refractor. That is, Topps and Bowman cards typically follow the same number and color scheme across refractor products. For example:
Numbered purple refractors /250
Numbered blue refractors /150
Numbered green refractors /99
Numbered yellow refractors /75
Numbered gold refractors /50
Numbered orange refractors /25
Numbered red refractors /5
This has expanded over the years with the introduction of new types of refractors like mini-diamond, lava, and others, so take this as a general list of guidance for now.
Read More: How to Tell if 1993 Finest is a Refractor
Are All 1/1s Superfractors?
No, not all 1/1s are superfractors. In fact, most 1/1s probably aren't superfractors when you think about all of the different types of 1/1s that are out there.
Are All Superfractors 1/1s?
On the flip side, yes, all superfractors are 1/1s. So, keep these two pieces of information in mind when searching for cards to buy and using certain keywords, along with when you might be selling one or the other and needing to accurately describe them.
Which 2022 Products Have Superfractors?
One way to think about it is, if the product has a refractor, it most likely has a superfractor. Looking at the 2022 Topps Release Schedule, here are the products that have superfractors so far or soon in 2022:
2022 Topps Heritage
2022 Topps Finest
2022 Topps Gypsy Queen
2022 Bowman Chrome
2022 Topps Chrome
2022 Topps Cosmic Chrome
2022 Topps Pristine
2022 Bowman Sterling
2022 Topps Stadium Club
Does Panini Have Superfactors?
Just like the similar looking yet differently-named silver prizms and refractors, Panini doesn't have "superfractors" but something very similar in their gold vinyl 1/1 cards. Here is a side by side of a Topps Chrome superfractor and a Panini Prizm Gold Vinyl.