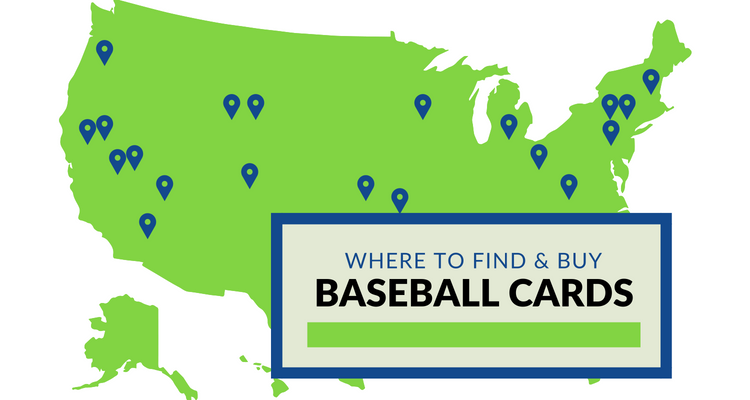 Affiliate Disclosure: This post contains affiliate links to eBay, Amazon, and other platforms within the content, sidebar ads, and in other areas. As I am part of the eBay Partner Network and other affiliate programs, if you follow these links and make a purchase, I will receive a commission. Likewise, as an Amazon Associate I earn from qualifying purchases.
Please note: Ballcard Genius does not specifically endorse or recommend any of the following businesses or websites. Please perform your own research and use your own judgment when it comes to making a purchase. 
October 2022 Update: I've gone through and added a handful of more sources! If you have suggestions or questions, don't hesitate to get in touch.
Growing up, this wasn't even a question. Card stores were among some of the most well-known establishments in the city—if you needed a pack of baseball cards, you knew where to turn.
Just like an arcade or bowling alley, card shops – and cards – were talked about amongst friends and family. Shops were weekend destinations; a place where you could spend your hard-earned allowance. You got to know shop owners, attended special events like autograph signings and trading days, and took part in so much more.
Today, sadly, shops are a lot harder to come by. I'll leave the potential reasons why out of the conversation because that's for another blog and time, but the point is, the landscape has changed.
The good news is, thanks to, well, internet connectivity and eCommerce (and the recent hobby boom), you can find cards across the web and in your local retailers.
And not just eBay—sellers have been utilizing giant online sources like Amazon for a while now, and then there are other, more "flip focused" marketplaces like StarStock and COMC, along with Alt and others. And by others, even places like Poshmark, Etsy, and sites you wouldn't first expect.
Here is a way to earn a free $25 to spend on cards with Alt
.
Want $25 to spend on cards? With Alt, I don't have nearly much experience as I do with COMC or StarStock, but I've bought and sold a few cards, and looking to do more. If you'd like a free $25 spending credit, simply visit this referral link, and sign up for an account. Then, once you make a deposit, you'll receive $25 in promo credits to buy cards with, and I will as well.
Of course there is Walmart and other popular outlets, and even the manufacturers themselves like Topps.com but also lesser known sources like Fanatics.com (which I've had some great success with, and, they even release their own exclusive sets!). There is a 65% sale happening right now.
Really, if it's cards you want, cards you will get.
So, if you've been out of the collecting game for a while, or are just getting started, here are the top places you can find cards these days.
Where to Buy Baseball Cards
Each of these sources will specialize in one type of "card" or another—meaning Walmart will carry blasters, CVS will have repacks, and Dollar Tree may only have single packs. And then StockX only offers graded cards, and then eBay and others offering access to it all.
(I'm continually updating this list, so if you find cards elsewhere, please do let me know!)
Here are the details on what to expect with a few of the options mentioned above.
Online Hobby Shops
Yes, you know eBay, COMC, and the like (and if you don't, there is more info that follows) but did you know there are a number of other online sports card stores for you to shop? Just like a physical card shop you can walk into and purchase single cards or unopened boxes, online retailers have plenty to choose from, and are open 24/7.
Options include:
(And if you're reading this post word for word, you're in luck—I've had some really great luck purchasing from Real Sports Cards and Chief Wahoo Sports Cards. You're welcome!)
Save 10% on orders of $50+ at Chief Wahoo Sports Cards with
exclusive
coupon code BALLCARD
. That's right, Chief Wahoo Sports Cards was nice enough to extend this offer to readers and supporters of Ballcard Genius, so please enjoy!
Online Platforms (eBay)
Probably one of the most obvious stops along your card search journey would be the auction site, which includes:
Where online card shops are great for boxes, other online platforms are great for singles. A few new sites I enjoy for some of the cheapest sports cards include:
For now, I'm going to dive into eBay given its popularity. (I used to be a huge fan of online Goodwill options for baseball cards, but it is becoming harder and harder to find a good deal. With that said, if buying cards in bulk is your thing, you might find some steals.)
eBay
Really, it's insane the amount of stuff you can find on eBay, and if you search and can't seem to find whatever it is you're looking for, it's a good chance what you're seeking is pretty rare or perhaps doesn't even exist.
Go to eBay or download the eBay app (iTunes, Google Play)
Search "baseball cards" or a more specific term if you know what you want.
Look down the lists and play with the filtering to find something specific.
Some of the more useful search filters you can use to your advantage:
Season: Choose the year of card you're looking for. Want something more vintage from the 1950s, or how about one of the best cards from the 1980s?
Product: Do you want a single card? A whole collection of cards? A box of unopened cards? One pack of unopened cards? This is where you'd take action.
Card Attributes: The newer cards can be identified by a number of different attributes. From game-used cards to autographs, 1-of-1s, errors, refractors, rookies. You can use the filtering by attribute to whittle down your list of results.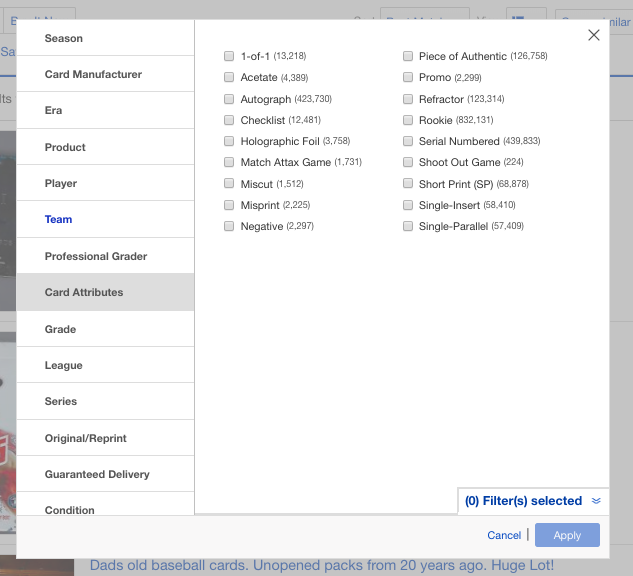 Best For: In my opinion, eBay is best for those who are looking for something in particular, whether it's a team or player, autograph, etc. It's so easy to use the available filtering, and at the volume of cards that are made available, you're probably going to find what you're looking for.
eBay is also great from a pure research perspective. If you want to spend time getting to know what's out there and what's of value, you can't beat eBay…It's probably the best free baseball card price guide available, as you're dealing with a real-time market, and can search what's for sale now, along with seeing what has sold in the past.
Downsides: The things that make eBay good are the same things that could make things frustrating. Meaning, if everyone knows – which they do – that the best place to look for a rare card is eBay, you're going to face competition, and thus, higher purchase prices.
And speaking of bidding, another downside of eBay is that you're going to have to keep close tabs on the cards you want, and be sure to bid when you're down (or even remember to bid at all).
Last, with eBay, you're dealing with other, random people as sellers. The eBay feedback system definitely does help, but things happen, and even a perfect transaction might mean your purchase might take 3-5 days and even longer to be delivered.
As a quick rundown for some of the rest of the options:
ShopGoodwill is an online auction site run by, you guessed it, Goodwill. It used to be a hidden gem, but I personally haven't found a deal on there in some time. Most of the availability is made up of lots and collections, which is cool, but really, if there is any hint of a good card being included, prices seem to jump to astronomical levels. In my opinion, your best bet is to look among the cheapest options and take an educated guess where you can.
PropertyRoom is another auction option, with a twist. You see, the auctions here are made up of repossessed property. As their site states, "PropertyRoom.com has been the leading Police Auction website for over 20 years! With a list of 4,400+ law enforcement agencies and municipality clients, we continue to provide incredible auctions all day, everyday."
MySlabs is a fairly new entrant, and is unique in that it combines different elements from the platforms mentioned above and below. To summarize: Graded cards only, which are listed in a fixed price and best offer format. Cards can be listed on eBay and other platforms while also listed on MySlabs. For sellers, there is only a 1% fee, which is amazing. I really like the emphasis placed on seller screening and fair transactions.
Consignment (COMC, StarStock & More)
If you're just getting back into the hobby, your previous collecting days probably exclusively involved buying cards in person, or, at least as of late, buying them online and then having them physically shipped to you.
Well now, thanks to consignment sellers, that doesn't have to be the case.
Check Out My Cards (COMC)
Meaning, COMC serves two main purposes—one, it can be looked at as a major "stack sale," which is a term used for a card sale where buyers can "stack" cards and have them shipped later. So, similarly, COMC allows buyers to purchase cards and keep them in the COMC warehouse until they are ready to ship.
In addition, though and the second big benefit of COMC is the fact that while your cards are stored with COMC, you can sell them to other buyers as well. So, you can literally buy a card in a matter of seconds and then immediately re-price the card for sale if they wanted. Or, as mentioned above, they can just store it in their inventory.
COMC has a huge following, and in addition, you can still access the vast sea of eBay buyers thanks to COMC's integration with the auction platform. This means that most of the cards you list for sale on COMC will be automatically listed on eBay as well at their fixed prices.
And if you prefer to go the traditional auction route, you can also push cards from your COMC inventory to eBay as well. Again, all of the legwork is performed by COMC, requiring you to only click the few buttons needed to actually list the card. 
I bring it up because as a buyer, you can also buy from COMC eBay auctions and have the cards immediately transferred into your COMC account…again, without even ever touching the card. 
StarStock
In a similar fashion, StarStock is new to the scene and offers many of the same benefits, with some slight differences. Similarly, you ship your cards to StarStock and they do the scanning and listing, while all that's required of you is the pricing. On a different level, StarStock utilizes a grading system, which means when you send cards in to be sold, StarStock reviews the condition of your cards and then assigns a letter grade to each, ranging from A to C. 
Alt
Alt is a site I talk about a lot on here, because behind COMC and eBay, it's the platform I frequent the most. Like MySlabs mentioned, you can only find graded cards, but aside from that, it's an entirely different experience. 
Built on the fact that cards can be considered "alternative investments" Alt is heavy on the data and visuals, which I love. The best features in my opinion is that any card you're considering buying on the Alt platform comes with a list of previous transactions, and a glance at how much that same card is being listed for on eBay at this very moment. 
Alt has also gone all in on the "vault" process, where, like COMC and the eBay Vault, you can buy a card and store, relist it, or ship it home—your choice. 
There is of course a lot more that goes into it, so I encourage you to check out my guide on buying and selling sports cards with ALT. 
Other Websites (Fanatics, OverStock & More)
I'm keeping this one separate from the "retail" section that follows because it really is a different beast. Just look at this list—did you have any idea you could buy cards from:
Read more: How long does it take StockX to ship?
Let's take a look at a few in more detail.
Fanatics
As you'll read below, and as you've probably seen in stores, Target and Walmart have card sections that offer blasters, packs, etc. If there is a new release, it will hit the shelves and be available online.
But with Fanatics, while you shouldn't expect to find much of the same, you will come across a number of high-dollar singles, many graded, and the new release product they do carry will typically be some sort of Fanatics exclusive (here is a Fanatics exclusive Donruss Football blaster, but then full sets as well, like the recently released 2020 Phoenix.)
One thing to be mindful of here is that Fanatics often runs sales, which makes a lot of the single card pricing more appealing.
Retail
Here I'm going to lump all of the retail opportunities under one section. The physical brick and mortar retail stores that have been known to sell baseball cards include:
You might also be able to find them, albeit a much more limited selection from:
Kmart
Barnes & Noble
Rite Aid
CVS
Dollar Tree
Family Dollar
Grocery Stores
Cracker Barrel
One big distinction between buying baseball cards from a retail store is that you're actually purchasing a different product than what is found at a baseball card shop. Meaning, those you buy in box or pack form from retail are labeled as, aptly, retail, while those purchased from a card store are sold in hobby form.
Essentially, what this means is a retail box of 2018 Topps Series One baseball cards is going to present different odds and yield much different results than a hobby box of the same.
Generally, with hobby, you're going to have a better chance of pulling an autograph, game-used, or lower serial numbered card. You're also going to pay more for it. Thus, with retail, you're less likely to pull something big, but will get more bang for your buck in terms of volume.
At the retail level, you'll also see a lot of re-packaged items, and thus, packs that don't really, again, present the greatest chances of a nice pull. Here is a video of one family's trip to the Dollar Tree and buying the baseball items they could find, including cards.
Best For: Thus, buying retail is best for those just getting started and on a budget, and/or those looking to build complete base or general insert sets. For instance, here are some cards found at Family Dollar:
Local Family Dollar just got in 2022 Topps S1 gravity feed packs. Looks like you can only get regular base cards in them. No mention of exclusive parallels. pic.twitter.com/NQgp3wdmts

— SportsAndHype (@_SportsAndHype) March 16, 2022
Retail is also a good option if you're left with little else to choose from, but still want the thrill of walking into a store, buying a pack of cards, and then sitting in the car or hurrying home and busting them open.
Some retail options like Walgreens will not only have cards for sale, but cards that are exclusive to their stores (Walgreens is where you can find Yellow Topps parallels). 
Downsides: On the other side of that, the major downside is that you're probably not going to pull something of value. It's not to say it can't happen (I remember pulling a Billy Butler Chrome RC Auto back when it had some value and thought I struck gold).
One thing to add about retail is that sometimes you'll see "retail exclusives" or various different offerings than you would at another retail store. 
For instance, with 2020 Topps complete sets, there were various box colors that offered different exclusives:
Blue Box: Complete set plus a bonus pack of five rookie variations.
Purple Box: Complete set plus a bonus pack of five rookie variations and a chrome rookie image variation.
Read More: Are Topps Complete Sets Worth Anything?
Orange Box: Complete set plus a bonus pack of five rookie variations and a chrome rookie image variation relic or autograph.
(Here is a thread from the Blowout Cards forum that offers more detail.)
Also, and importantly, cards at retails stores are out in the open, free for anyone to sit and rummage through for hours, mishandling and "pack searching" in an attempt to locate a big hit in an unopened pack of cards.
Yes, it's wrong. Yes, it damages cards for the rest of us. And yes, it happens. If you are going to buy retail I strongly suggest buying sealed, wrapped boxes, and even with that, be sure to examine them closely before buying.
Does CVS Sell Sports Cards?
Yes, CVS sells sports cards. Traditionally you could only find repacks at CVS, but recently, as of July 2021, I saw Topps Heritage baseball packs. It's the first time seeing anything other than repacks, so I'm interested in headin back and taking note of any future releases. 
Baseball Card Shops
Well, while baseball cards shops aren't as prevalent as they once were, there are still some in existence. Heck, there is even one Blockbuster video rental left, so you'd expect for there to be at least one card shop within 50 miles of wherever it is you call home.
Thanks to Google, it really only takes a few seconds to locate a nearby option.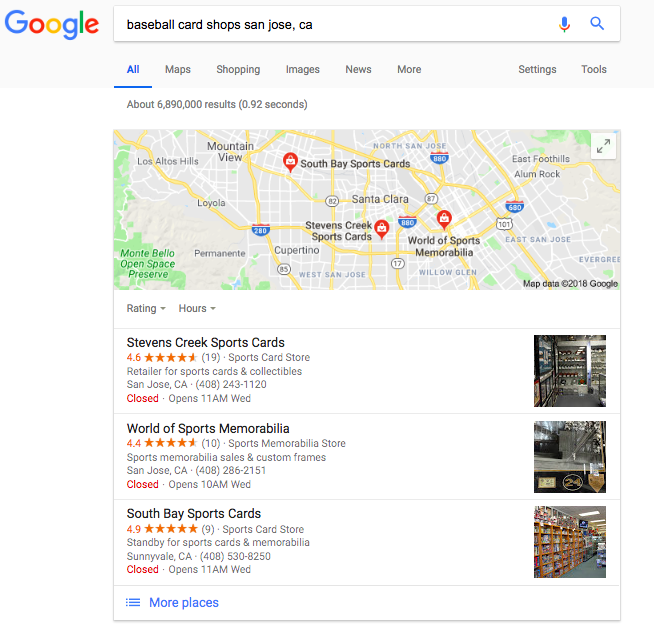 Alternatively, after you search, click directly to "maps" under the search bar to jump right into the local results.
Similarly, you can use Yelp as your search engine to accomplish more of the same you'd find with Google…just with different reviews and ratings if you need them.
Go to Yelp.com
Search "baseball cards"
Choose your location if it doesn't auto-populate to the city you'd prefer.
Best For: Baseball card shops are best for those who want to make card collecting more of an experience. Visiting in-person allows you to take time to get to know the product, and view and even talk through all that's available. If you're also wondering where to trade baseball cards, the local shop might be a good place to start.
Plus, stores usually have pretty good pack selection inventory, and of course, the cards are in-hand the moment you make the purchase.
If you want, you can even open the packs you purchase right in the store to get a little bit more info on your pulls from the shop owner or employee (just don't let them talk you into selling your cards on the spot if you aren't totally comfortable with doing so).
Downsides: One downside to buying baseball cards in-person at the store could be the limited selection if you're looking for something in particular. Meaning, if you're searching for a single card, or maybe even a particular team and you're shopping in a city that's not made up of that team's fan base, you're going to have a tough time.
Online Classifieds (Craigslist, Nextdoor & More)
Some love Craigslist (my step-dad), others aren't too fond of it (me). But, if you're looking for cards, you can definitely turn to the online classifieds to score some (and free baseball cards, too – sometimes – at that).
Craigslist
Similar to the options above, all you have to do is simply go to Craigslist.org and use their search and filter features to find someone's stash of cards up for sale.
Best For: Craigslist actually tends to yield some of the best "scores" if you will. Meaning, while there isn't usually a ton of volume of baseball cards being posted for sale, those that are posted will typically be made available by those who want a quick sell or don't have the patience to list on eBay, etc. That's to the buyer's advantage, allowing you to find and even negotiate better deals.
Also, if you're looking to make a big splash with your collection and buy in bulk, Craigslist is a great option. Most of what you find will be high-value singles, or whole collections posted by people who are moving and want to get rid of some things, or parents who have had kids move out and have left their cards behind, and more.
Downsides: For me, one of the main downsides of buying baseball cards on Craigslist is the unpredictability—and I mean that in a few different ways. One, as mentioned, you never know if any cards are even going to be posted, and when, and thus you'll need to check back often.
Then, from there, if you find something, you might only connect with the buyer a percentage of the time, where with an in-person visit to a card store or on eBay, you're pretty much guaranteed a transaction if you want one.
Last, you might even get to the point of agreeing to meet up with the seller, but then they bail, or, you arrive and they demand a higher price than what was agreed upon previously, trying to take advantage of the fact that you've already made the trip. And then finally, to go along with this point, you have to physically go out and meet a stranger to make the transaction, which isn't always the most comfortable activity for some.
Nextdoor
Think of Nextdoor as a subset of Craigslist, but with better UX, and, being a little bit more predictable given you know for a fact you're dealing with people in your immediate neighborhood.
Not known for being a buying and selling platform, there are a number of benefits to signing up for Nextdoor outside of baseball cards. I encourage anyone who wants a better pulse on things going on in their immediate neighborhood to give it a shot.
Download the app (iTunes, Google Play)
Set up an account and get verified
Search for cards!
From there, the process mimics Craigslist and OfferUp, where you'll typically arrange a meet-up to complete the transaction.
Best For: Really, Nextdoor is best for those not actively looking for cards. Meaning, use the app because it's a good app for other reasons, and if you see someone post that they have baseball cards for sale, then cool.
Downsides: There simply isn't going to be a lot for sale on Nextdoor, so it's definitely something to check into every once in a while, versus what you could do daily or even hourly on a platform like eBay. Also, for whatever reason, I've found people to be a little more rigid with their prices on Nextdoor. Not sure why, and could just be my own personal experience.
Apps (OfferUp & Mercari)
Of the newest entrants in the peer-to-peer buying/selling game is OfferUp and apps like it, which there are many. You can think of it as a hybrid of eBay and Craigslist, where you get the online marketplace functionality of eBay, but the "meet-up" and potential unpredictability of Craigslist.
OfferUp
To get started with OfferUp:
From there, the process usually goes a little something like this.
Send an instant message to the seller to let them know you're interested or to ask a question. You'll then, hopefully, hear back from the seller, letting you know they accept your price or to propose a new price (or to let you know the item has been sold). Once you've agreed on the price, you'll meet up a la Craigslist to complete the transaction.
Best For: I'll use the points above for Craigslist to lay out the pros and cons of buying baseball cards on OfferUp. Thus, OfferUp is best for those looking for a good deal. All of the same info on that point applies here, and then some, as there are usually more cards to be found here than Craigslist. OfferUp also offers a much, much better user interface and experience, making buying through the app pretty enjoyable.
Downsides: Again, like Craigslist, there is a lot of unpredictability. But, no pain, no gain.
Flea Markets & Garage Sales
I love the flea market. It's really what got me into card collecting as I'd take regular trips with my dad, who was an art and antique collector. Even as a kid, I found some really great deals from the flea market…
Flea Markets
First, not sure of the options near you? This site helps.
Best For: Flea markets are great for those looking for a deal, yes, but for me, the flea market was so much fun because you really just had no idea what you were going to come across. Boxes, bags, bins, etc. There is stuff everywhere, and you really have to have a keen eye to sport where cards might be hiding (and sometimes in hiding spots unbeknownst to even the seller themselves).
At the same time, flea markets are great for those who have the time and patience to sit and sift and dig. That goes for the activity of looking for cards at the market, and then also taking them home when digging through your loot. Meaning, you're usually going to come across heaps of cards, often unorganized in those boxes, bags, and bins. You never know what you'll find in such a setup, making things all the more enjoyable.
Downsides: Some of the more undesirable aspects of the flea market include the fact that you're going to have to put in a lot of physical work—walking around parking lots, football fields, etc. and stopping by each space to see what's available. Then, once you find a box, etc. that contains cards, you'll have go through them as well as you can to see if they are in fact worthy of buying.
Garage Sales
You can consider the garage sale to be a smaller scale of what you're going to experience with the flea market, and can be just as enjoyable, depending on how concentrated your neighborhood or surrounding neighborhood might be. Anytime you have people unloading their "unwanted" items to make space for whatever reason, you're going to be in the driver's seat when it comes to negotiation.
Best For: Again, garage sales are great for those thrill-seeking collectors, and those who have some extra weekend time to drive around from sale to sale on the hunt for treasure. And as mentioned, you can find a good deal, with patience!
One other good thing about the garage sale when you compare it to the flea market is that those putting on a garage sale are doing so as a once per year or maybe twice per year endeavor. So, you're seeing the "best" of what they have to offer.
Compared to those selling at the flea market, they might be out there doing so every week or every month, depending on the flea market's setup. Thus, their stash may be picked through by the time you get around to checking in with them.
Downsides: One thing that I didn't mention as a plus for the flea market is the concentration of sellers all in one place, within walking distance. Thus, with a garage sale, unless it's a block sale, you're only going to get a fraction of the opportunity. The other downside is that the early bird definitely gets the worm, with some buyers who don't mind invading the driveway of a soon-to-be garage sale, hanging around and trying to score the best stuff before the advertised start time.
Thrift Stores (Goodwill & More)
Last, but certainly not least, thrift stores like Goodwill are known to produce a nice little pick-up from time to time. If you're thinking to yourself that you've never seen baseball cards at your neighborhood Goodwill, you might need to search a little harder. Then, if you locate them once, there's a good chance that's their "spot." Meaning, each of the stores around me seems to display them in different parts of the store, but when they have them for sale, are in those specific spots.
Some places I've seen cards in thrift stores:
In a glass case near the registers with the "high-end" items
On the top of clothes racks with other random toys
On a big wall filled with smaller "dollar" items; usually in ziplock bags
Thus, you just have to locate them in your store, and then from there, it's a matter of checking back regularly to see if any more are in stock.
Best For: Thrift Stores are good for those wanting a thrill of going to a flea market or garage sale, but with a little more structure. In terms of findings, you're apt to see a lot of late-80s, early 90s junk, but you might also stumble across something worth taking a risk on, or a flat out good buy.
If I had to rank my "scores" and where they were found, the thrift store is a steady third behind the flea market and garage sale, putting it above online options like eBay, etc.
Downsides: The other downside is, while a store might be offering cards, I've seen a few who simply have no regard for how those cards are handled and displayed. Thus, you might see cards packed and crammed in boxes or bags. Maybe they were donated that way, but oftentimes I think it's the store is taking loose cards and putting them in a bag, etc. for easier selling.hard
What are you waiting for?
For me at least, a lot of the thrill in the hobby is tied up in the hunt, and most of these card resources offer some type of "hunt," where you really have to get creative and constantly think about "I wonder if there are cards in there" or, if I were a mom on eBay selling my son's collection, of which I know nothing about, what terms and phrasing would I use in the listing?
Any thoughts, comments, or questions? Would love to hear from you below, or feel free to get in touch on a more "official" note. Best of luck!