Affiliate Disclosure: This post contains affiliate links to eBay, Amazon, and other platforms within the content, sidebar ads, and in other areas. As I am part of the eBay Partner Network and other affiliate programs, if you follow these links and make a purchase, I will receive a commission. Likewise, as an Amazon Associate I earn from qualifying purchases.
I'm not telling you anything you didn't know when I say National Treasures has become one of the most popular basketball card products in history, and even more as of late—each year's release seems to be more anticipated than the last. Thanks to its mix of current stars and retired legends, clean on-card autos, "Logoman" patches, and more, National Treasures remains one of the most collectible basketball card products on the market.
And years later and who knows for how many years to come, let's take a look at where National Treasures began, where it is now, and where it can go from here.
Panini National Treasures Debut
Panini National Treasures basketball cards debuted with the 2009-10 product, which was released on August 4, 2010. There were eight cards included in each box, with an SRP of $400.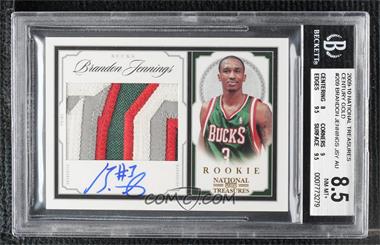 Talk about a time capsule and how much things have changed from then to now. For instance, the showcase rookies included Tyreke Evans, Stephen Curry and Brandon Jennings! The release featured on-card Kobe Bryant autos, and of course, the famous Logoman patches.
Box/Pack Breakdown
National Treasures is now considered a super premium product, and the price tag is set appropriately—definitely far beyond that initial release $400. Knowing what National Treasures is selling for today (more on that below), this figure is laughable in many ways.
That debut release included eight cards in total, with six auto or memorabilia cards, a base card numbered to /99 and then one rookie, legend, or parallel/insert.
Today's Cost
Going back to the above $400 initial price tag, that's an absolute steal compared to what today's price would look like. That is, if you can even find one for sale.
For example, if you wanted to buy a pack of 2009-10 National Treasures today, here are some things to think about.
I don't see any currently listed on eBay or or sold on eBay in the last year (not that I'd expect to)
In June of 2021, an unopened hobby box sold for over $10K with Goldin Auctions
Dave & Adam's is offering $30K for an unopened case of 4 boxes
So, if you figure the above might not be in the cards, how about the 2021-22 release which is tomorrow, actually? The cheapest box available on eBay right now is over $4,500:
Notable Cards
As mentioned above, upon release, names like Tyreke Evans and Brandon Jennings were on a lot of sites and sales sheets. But of course, we now know that it is Stephen Curry who is the notable rookie chaser by a long-shot. Not to mention that the possibility of a Kobe Bryant auto is just icing on the cake.
So, if you can't get your hands on a box for less than $10,000, then you can only imagine what the top cards are selling for these days.
Well, for starters, the 2009-10 Stephen Curry Logoman Patch Auto 1/1 sold for $5.9 Million in 2021, which was a record at the time. The card was PSA graded as an 8 with a 10 auto. That linked Beckett article goes on to say:
"The previous high for a National Treasures Rookie Logoman Autograph was $4.6 million for the 2018-19 Luka Doncic. It was part of a private sale."
And then with Kobe, as DraftKing notes, what's cool is that while he's featured across the checklist, his notable nicknames feature a "Black Mamba" inscription.
So, all in all, the debut of National Treasures Basketball not only kicked off something special, but was very special in its own right—not only featuring super-premium cards, but some of the most desirable and valuable cards to date.