Affiliate Disclosure: This post contains affiliate links to eBay, Amazon, and other platforms within the content, sidebar ads, and in other areas. As I am part of the eBay Partner Network and other affiliate programs, if you follow these links and make a purchase, I will receive a commission. Likewise, as an Amazon Associate I earn from qualifying purchases. June 2023 Update: As if we didn't have enough parallels and cards in general, the 2022 Select Football checklist is debuting a new level, suite level, to round out the 500-card set.
Pack-opening today is a lot more exciting than the 80s, but also a lot more head-scratching at the same time (and no, this is not me yelling at the clouds as I very much enjoy modern cards). Base cards are still base cards, but the introduction of parallels has people chasing "variations" of those base cards more than inserts, because that's where the value is.
Read More: What are the Print Runs of Zebra Cards from Select?
With Topps, I'm talking the number of different refractors down from base and up to the superfractor, and then of course today's topic of conversation, Panini and their different "levels."
I'll also note I've already gone through the different Prizm colors, so will try and stick to the specific "levels" of cards within Select. If you have no idea what I'm talking about, stick with me.
Select Football Card Levels
The different levels of Select football cards include Concourse, Premier Level, Club Level, Suite Level, and Field Level. Just like the seating at a football game, the "concourse" is most common or least desirable, and "field level" is going to be rare and more desirable.
How to Tell Which Level of Card You Have
Just as a refresher and to help frame the conversation, before being concerned with the level of card, you might first want to understand if you're looking at a silver or some sort of Prizm variation. You can do this by either recognizing the rainbow-like finish on the front of the card, or to be sure, flipping it over and looking for the printing of "PRIZM."
Here you see an example of a base card back versus a Prizm back. Notice the "PRIZM" printed just under the card number in the top-center of the card.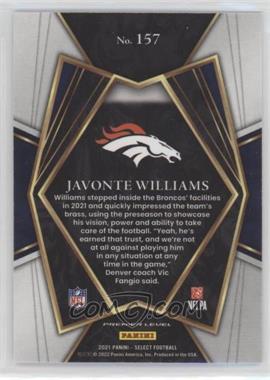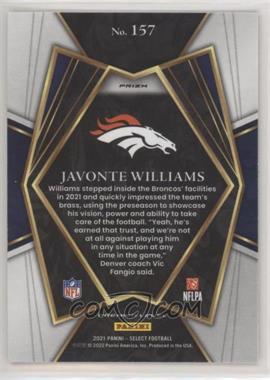 Pretty easy, right?
Since we are here, look again at the example and make your way down the center of the card toward the bottom. Here you'll see "PREMIER LEVEL."
Thus, card #157 in Prizm has been assigned to the Premier Level, which includes the base and the silver cards shown here, along with Williams' other parallels of card #157.
Now, is this the only Javonte Williams cards on the checklist? No, and that's where things get a little trickier.
Javonte Williams is on the base Concourse, Premier Level, Club Level, and Field Level checklists. Going back to the above, while a color parallel will run across cards of the same numbers, field levels will be entirely different cards, at least based on their numbers.
Notice the different design of this Concourse card compared to the Premier Level.
Meaning, in the photos shown previously, both cards were Premier Level cards, and so both were card #157. One card was a base version #157 and the other was a silver Prizm #157.
But when looking at the checklists for the other levels, you'll see Williams does in fact have different cards (and numbers) in each:
Concourse #57
Premier Level #157
Club Level #257
Field Level #357
Which Levels are Most Expensive?
As alluded to above, Concourse is most common while Field Level is rare. So you could summize that all things being equal, a Field Level version of a card should be worth more than a Concourse level, but let's look at the differences.
For this example we will use Patrick Mahomes since Javonte Williams is hurt, and prices might be a little unstable, and we will stick with Silver Prizms.
The cheapest available cards on eBay Buy It Now for each are as follows (including shipping cost):
Silver Concourse #2: $5
Silver Premier Level #102: $6
Silver Club Level #202: $12
Silver Field Level #302 $25
And then looking at Tom Brady:
Silver Concourse #1: $5
Silver Premier Level #101: $6
Silver Club Level #201: $12
Silver Field Level #301 $20
So, pretty similar pattern—based on this, Concourse and Premier Level are similar in value, Club Level is about 2x Premier, and Field Level is about 2x Club.