Affiliate Disclosure: This post contains affiliate links. As I am part of the eBay Partner Network and other affiliate programs, if you follow these links and make a purchase, I will receive a commission. Likewise, as an Amazon Associate I earn from qualifying purchases.
While sports card values hinge on a lot of "it depends" rationale, I can tell you one thing with certainty—things move fast. One day a card can be a best seller and the next it can be down in the dumps. More exciting, a card can be worth absolutely nothing, only to shoot up the charts.
Knowing that, the question is, how do you keep track? How do find the best selling cards at any time?
Frankly, you need automation or a tool of some sort. Sure, you could cobble things together manually, but why? The hobby has evolved into such a presence that now we don't only have cards, but a number of card tools and resources to make things a lot easier, and a lot more valuable.
As of September 1, 2023 these are the best-selling sports cards in terms of volume over the last 7 days (baseball, football, and basketball; according to Market Movers):
When I say "volume" I mean the number of cards sold. So, at the top of the list is Corbin Carroll 2023 Topps Chrome #95 Base Raw, and 126 of that particular card have been sold over the last 7 days.
As you go through the list, there are some obvious notes—one being, a lot of rookie cards. The second, a lot of Shohei Ohtani. No surprise, right? But what about Spencer Jones? Or how about Will Benson? What gives. Who is Kyle Harrison? Might be worth a deeper dive.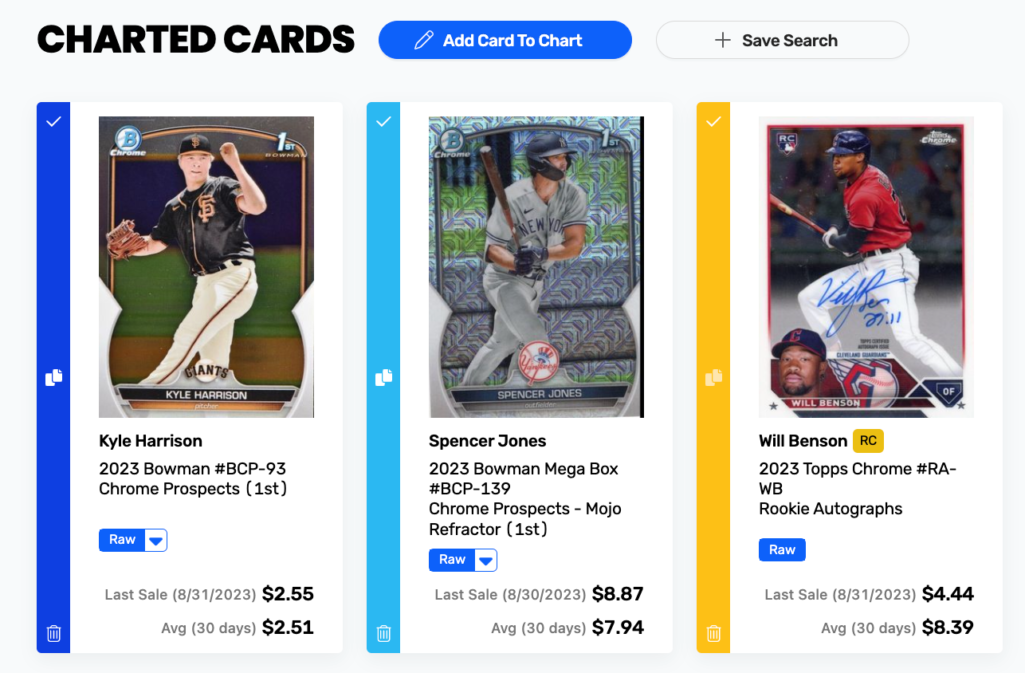 Anyway, we will get to that point. For now, let's take a look at how to find these best selling cards.
1. Go to Market Movers by Sports Card Investor
Don't walk, but run. Market Movers isn't only the hobby's most powerful price guide and collection tracking platform, but it's the perfect way to track the best selling cards on eBay.
Yes, it costs money, but only $9.99/month. Even better, you can grab a 14-day free trial plus 20% the lifetime of your subscription but clicking here (or the graphic below) and using my exclusive code, BALLCARDGENIUS.
2. Go to "Movements"
Once you're in, you'll see a few different tab options on the left. While all are useful, today we want to go to "movements" where you'll see a popular card chart like this: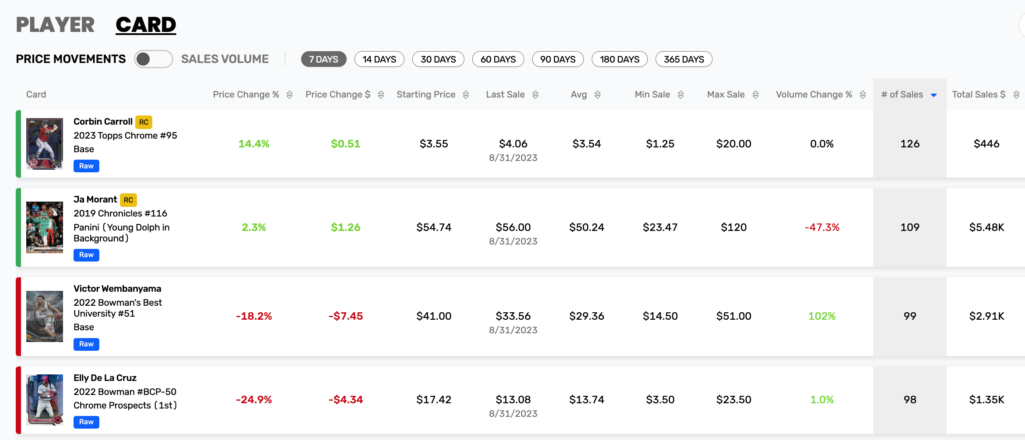 Before moving ahead, let me recognize that a chart like this can be quite overwhelming. Data is great, but too much data is a momentum killer. So for now, try not to look at and build an understanding of every piece of info. I'll continue to outline what to look at to find the best selling cards on eBay right now.
3. Define "Best Selling"
At this point, you need to make a decision—what are you really trying to find when thinking about the "best selling" cards? Is it the card that is selling the most in terms of number of sales? Is it the total value a card is generating (number of sales multiplied by sales price)? Is it the card experiencing the greatest change in average price?
4. Find Relevant Columns
From the above, let's assume you are seeking information on "hot cards" or cards that are selling in larger volumes due to a spike in popularity. As such, locate the # of sales column and then sort it in descending order so the highest number is on top. I personally like to change the date filter to the last 7 days to give me a more recent window.

Looking at the two examples above, I can see the 2023 Topps Chrome Corbin Carroll #95 rookie card tops the charts with 126 total sales. Right beneath is one of the more popular cards with celebrities in the background, the 2019 Chronicles Ja Morant #116 rookie card with Young Dolph, the Blindside parents, and others.
5. Filter
Now that you know how to read part of the chart, you'll want to filter things down to zero in on the sports, players, or other card aspects that make the most sense for you.

From this example, you can see I've selected baseball, football, hockey, and basketball for the sports, but you can also drill into the year, player, price range, grade, set, variation, and minimum and maximum sales.
6. Go Further
And with all of this, we have only really talked about one column of data. Other methods of locating top selling eBay sports cards include:
# of sales (as mentioned)
Total sales $ (number of sales multiplied by avg. sale amount)
Volume change (percentage difference
You can spend hours with the data, but my best suggestion is to have a plan—what are you looking for?