Affiliate Disclosure: This post contains affiliate links to eBay, Amazon, and other platforms within the content, sidebar ads, and in other areas. As I am part of the eBay Partner Network and other affiliate programs, if you follow these links and make a purchase, I will receive a commission. Likewise, as an Amazon Associate I earn from qualifying purchases.
I like to think that I learned to read as a kid by routinely thumbing through baseball cards and scanning their backs—the stats, the card numbers, and more. (In reality, this is probably far from the truth, but again, it would have made for a nice story given where I am today.)
Anyway, I've been reading baseball cards since a very young age, but I also realize that many others are just getting into card collecting, and would love to know more about the best way to read and interpret everything on a card, front and back.
And while some of it might just be for general knowledge's sake, reading a baseball card correctly is a key piece to properly identifying important bits of information that should help when researching and attempting to value your cards.
Reading the Front of the Card
When reading cards, the most useful info will be found on the back of the card, but there are some key pieces of information you can glean from the front. This includes player name, team name, player position, and baseball card brand.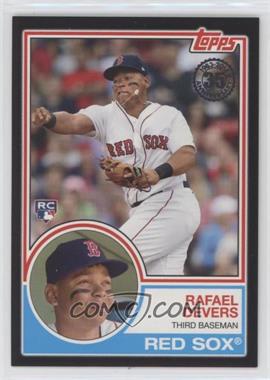 Using the example above, reading the front of this specific baseball card tells us:
Player Name: Rafael Devers
Team Name: Boston Red Sox
Player Position: 3rd Base
Card Brand: Topps
From this card, we can also see the "RC" shield which designates this card as a rookie card, and the 35th-anniversary stamp, which is unique to this specific Topps release.
But even from the above, there are still some key pieces of information missing.
Reading the Back of the Card
As the above shows, you can get some key card info from the front. However, without reading the back, you probably wouldn't be able to properly research and value the card.
So, flipping the card over, this is what we see:
Serial Number
A couple of things jump out. One, there is a lot more information back here, right? But two, you probably see the "/299" card number near the top. That is called a serial number, and tells us how many of this specific card have been printed. In this case, this card is the black variation, of which 299 have been printed.
Not all cards have serial numbers, but those that do will generally carry a premium, especially the lower the number they are. For instance, it's reasonable to assume that a card /25 is going to carry more value than one /299.
In addition to the serial number, you'll see a lot of the same information we pulled from the front of the card—player name, team name, etc. But you'll also see the player's bio, fun facts, and more.
Stats
The bulk of the card information in the center is the player's stats, and can be read from left to right according to the table headers located above each column. So, starting on the left, the "year" refers to that player's season, "club" is the team they played on that year, followed by all of their statistics as you move to the right.
Also keep this in mind—the more years of professional stats you see, the more likely the card is one from a player's later years. Meaning, if you see a card with only one year of stats, you could be holding a rookie year issue card, as opposed to something with 10 seasons of information.
Trending on Ballcard Genius
Card Number
When trying to research a card, a big clue is the actual card number. Why? Because sets can have hundreds of cards, which means a single player might have multiple cards in a single set, which includes different subsets like league leaders or variations, and more.
Most card numbers will be near the top of the card, and usually in the left or right corner. And for most base sets of cards, the number is going to be a straightforward whole number like 50, 402, 337, etc.
In this example, we see the card number as "83-19" and that's because it's part of the 1983 insert set within 2018 Topps. So, "83" is a number to identify the set. This number could have been anything Topps wanted, like 83T, 1983, etc. This number will be present on every single card in the set.
In terms of a unique identifier, the "19" of 83-19 is the one that tells us, according to the set's checklist, which card this is. So, if you look at the 1983 Topps checklist, you'll see card number 19 of the 1983 set is in fact Rafael Devers.
Card Set & Year
To figure out the card set and year by reading a card, you have a few options. One, look to the bottom of the card to find a paragraph of info. On the Devers example, you'll see the following:
"2018 THE TOPPS COMPANY…"
From this, we can this is a 2018 card, and from Topps. With that said, this year isn't always 100% accurate, but it's reliable much of the time. Also, while we know this card is from Topps, Topps also puts out a number of different sets. So, in addition to this flagship set in the example, there is Topps Finest, the Bowman Products, and more, and you might not be able to pick that up from this information.
One last note on card year—going back to the stats section, if you
Other Information
Now, in addition to the above, while it's close to impossible for everything you might encounter on the back of a card, here are some things to look out for.
Refractors and Prizms
Your eye might be trained to the point of being able to tell a silver prizm from a base card by just seeing the front of the card. However, if you know how to read a card, you can be certain one way or another.
We won't spend a ton of time here, as this post has all of the details, but as a quick info bit when reading cards, check the back for printed words of "prizm." This will be the all caps, bolded, italicized, and more or less standing on its own—and not the Prizm brand name that's in the card set info printed in the sentence or paragraph on the bottom of the card.
Here is an example, where you see the "PRIZM" in the lower right of the card.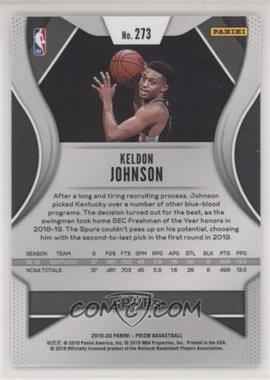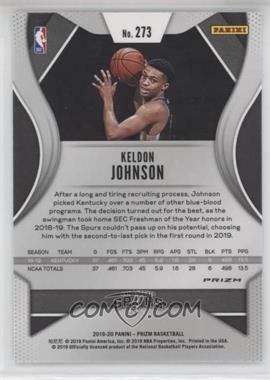 The same goes for refractors (and here you go if you don't know the difference between prizms, holos, and refractors). The only difference is "refractor" is usually printed near the actual card number.
I've also heard people ask about the meaning of TCG on their baseball cards, which simply stands for Topps Chewing Gum, which could be found printed on cards up until 1975.
So, there you go! hopefully you feel better equipped to read your next card. Have other questions? Feel free to reach out on Twitter, Instagram, or TikTok!