When it comes to cards, a lot of things just don't make sense. There are rookie cards that aren't rookie cards, prospect cards that are more valuable than many Hall of Famers, and a whole lot more. And while today's post is talking about Michael Jordan in a baseball uniform, that's not even where the confusion begins, oddly.
What is the Michael Jordan Rated Rookie Card?
The Michael Jordan "Rated Rookie" card is not an official baseball card, and can be easily confused with the Donruss brand of cards. According to the back of the card, it was produced in 1990 by Fun City Cards, Inc. Because of it's unofficial status, you won't find the card recognized by Beckett in their Online Price Guide.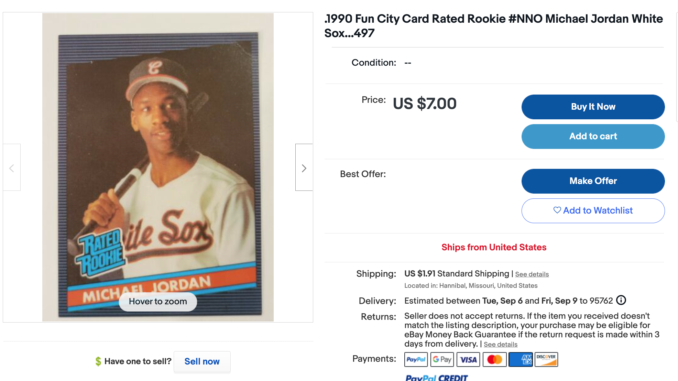 Can You Buy or Sell the Card?
Even in light of the above, the card is bought and sold plenty. As of right now, there are currently 62 Michael Jordan Fun City Rated Rookies for sale on eBay, with the lowest price available at buy it now being $7 plus $1.91 shipping. As for sales, the last one sold yesterday, 8/28/22, and for the price range, it's a bit all over the place. Here are the last few sales:
$3 + $4.80 shipping
$10.50 + $1 shipping
$7.50 + $5.50 shipping
What Makes the Card Appealing?
With this Michael Jordan is not being an official card, you may be wondering why it is still mildly popular? Well, especially in an age where custom cards are accepted and even coveted by man, this Rated Rookie stands out as something someone would probably want to create anyway. Not to mention it looks every bit of what a rookie card generally looks like (until you flip it over).
You have the greatest basketball player of all time on a card that supposedly pre-dates his jump to play baseball for the Chicago White Sox. (I honestly can't find a ton written about the card, but pretty much everywhere has it listed as a "1990" card, which probably stems from the 89-90 stats on the back of the card.) Combine that with a popular "Rated Rookie" logo that everyone in the hobby knows, and on the design that brought us the popular Jose Canseco RC, and boom, there you have it.
Is There an Official Donruss Rated Rookie Michael Jordan?
There is not a a Donruss Michael Jordan Rated Rookie card, unfortunately. In terms of baseball rookies, many opt for the 1991 Upper Deck SP1 Michael Jordan, although it's not recognized as a rookie card given Jordan didn't make the jump to baseball until 1994.
So, looking at 1994 and which of MJ's cards mention "rookie" and can be accepted as rookie cards, we have the 1994 Collector's Choice Michael Jordan RC #661 (here is the silver signature parallel):
And the 1994 Upper Deck Michael Jordan RC #19 (here is the Electric Diamond version):