Affiliate Disclosure: This post contains affiliate links. As I am part of the eBay Partner Network and other affiliate programs, if you follow these links and make a purchase, I will receive a commission. Likewise, as an Amazon Associate I earn from qualifying purchases.
Cal Ripken Jr., fondly known as "The Iron Man" of baseball thanks to his consecutive games streak and long-standing record, has not only shined bright on the field but still does in the world of baseball card collecting.
Over the past 90 days, according to Market Movers, several of his cards have seen significant appreciation in value. Of course, simply being a snaphot in time, these cards could go either way depending on the window of time selected. What's important to know is that these are some of the most valuable Cal Ripken Jr cards one can possess, and knowing about their existence and backstory can help fuel your collection or profit.
In terms of how I went about this, I'm only going to mention a card once. Thus, if a 1982 Topps Traded PSA 10 is the most valuable, and the same card as a BGS 9.5 is the second most valuable, I'll only list and talk about the PSA 10.
1. 1982 Topps Traded #98T Base PSA 10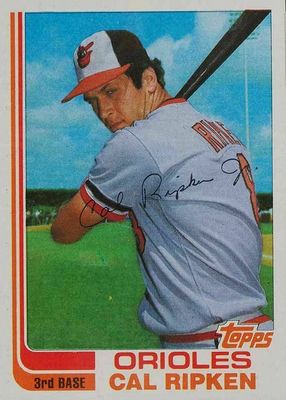 1982 Topps Traded is a small but mighty set for collectors, and the Cal Ripken Jr. card stands out as one of its crown jewels. Showcasing Ripken's first standalone card appearance, the card seen a significant appreciation over the past 90 days. Starting at an average price of $4,099, it has risen by an impressive 143.90%, now valued at $10,000. With 21 sales in this period, the card has accumulated a sales volume of $153,254, with prices ranging between $3,840 and $10,000.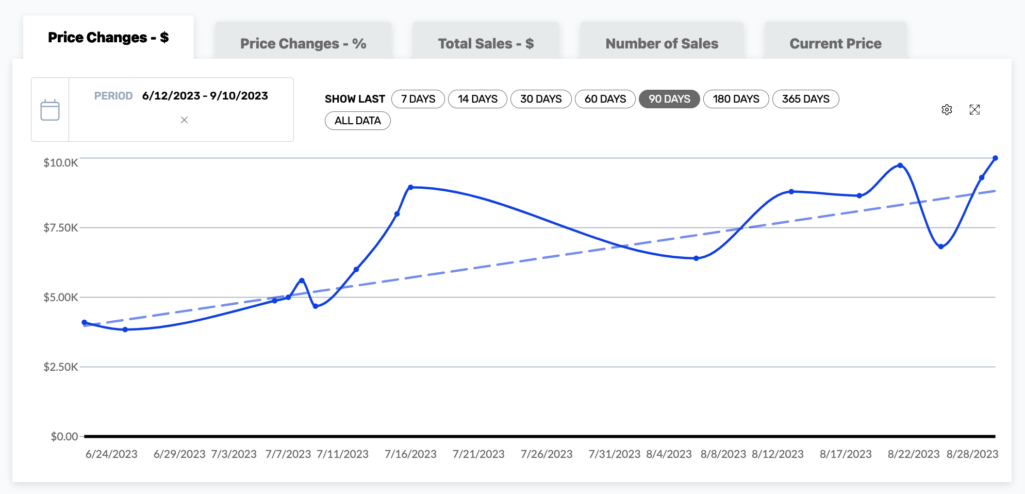 Interestingly, while this card represents Ripken's first standalone feature, it's not officially recognized as his rookie card—a point highlighted by John from John's Sports Cards in his deep dive into the 1982 Topps Traded series.
The unique design of this year and the memories it evokes make it a favorite among many. And, the distinction of what constitutes a rookie card has added an intriguing layer to the card's value and perception in the collecting community.
2. 1982 Donruss #405 Base PSA 10 – Cal Ripken Jr.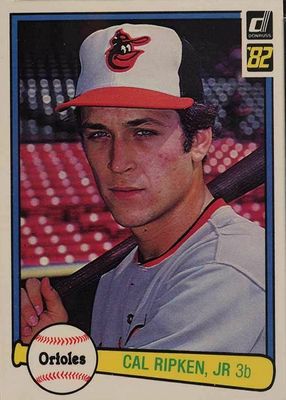 1982 Donruss holds a special place in the hearts of many collectors thanks to its "bat and ball" design, and the Cal Ripken Jr. card is undoubtedly the set's main attraction. Over the past 90 days, this card has seen a staggering 364.71% increase in its value. Initially with an average value of $510, it's now upwards to $2,370. With 20 sales in this period, the card has garnered sales totaling $18,544.97.
That said, the last sale was a bit of an outlier. Even so, the card has been seeing a steady rise.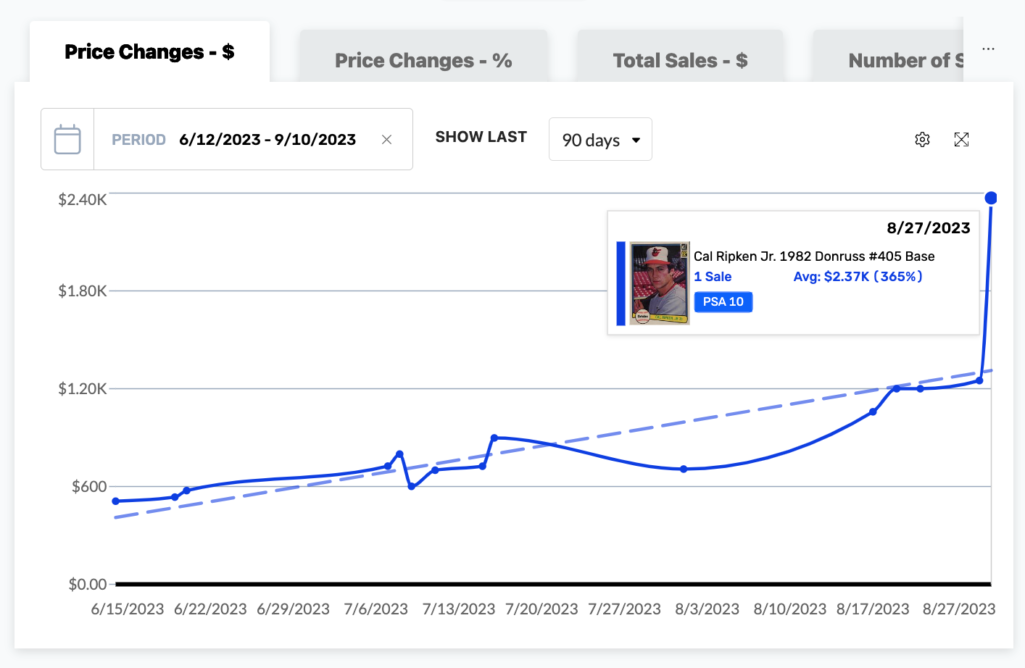 A recent video exploration by hobbyjon unwrapped into the 1982 Donruss series, emphasizing its unique charm. The video highlighted the challenges of finding well-centered cards from this set, given the inconsistent cutting quality. This makes the high-grade Cal Ripken Jr. cards even more impressive and valuable.
3. 1982 Fleer #176 Base PSA 10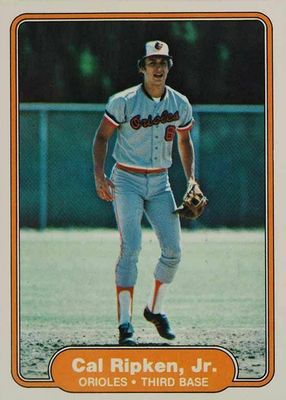 The 1982 Fleer set is a polarizing set in my opinion, offering a mix of iconic rookie cards and unique errors that have become legendary in the hobby. The Cal Ripken Jr. rookie, graded PSA 10, has maintained its value over the past 90 days, valued at $2,112 based on the latest sale at the time of writing. This card, though sold only once in this 90-day period, remains a sought-after piece for many enthusiasts. (I like to think it's because its Ripken's first true action shot.)
A recent unpacking showcased the allure of the 1982 Fleer set. Apart from Ripken Jr., the set is also known for the John Littlefield reverse negative error, a unique misprint that has added to the set's lore. The excitement of potentially finding these cards in unopened packs, especially in the grocery rack packs, captures the essence of card collecting during that era.
4. 1982 Topps #21 Future Stars PSA 10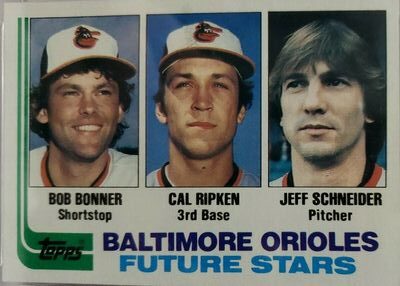 Back to Topps, but this time a nostalgic trip down memory lane for the base Cal Ripken Jr., featured in the "Future Stars" subset. Over the past 90 days, this card has seen a slight decrease of 6.03% in its value, moving from an initial average price of $1,625.00 to its current value of $1,527.00. Despite this, it remains a cherished item, with seven sales in this period and a sales volume of $11,747.00.
In a recent review of the 1982 Topps set by Frank's Card Corner, the set was fondly referred to as the "hockey stick set" due to its unique design. The set, which expanded to 792 cards that year, is filled with iconic cards and memorable moments, particularly its "In Action" cards—a throwback to the early '70s, and the league leaders from the '81 season.
The Cal Ripken Jr. card, in particular, represents a significant moment in baseball card history, capturing the early days of a legend in the making. And for those who like to look elsewhere given Ripken is featured with other players, just remember Nolan Ryan's rookie card, Pete Rose's most valuable card, and the 1963 Topps Willie Stargell all follow the same.
5. 1981 TCMA #15 Base PSA 10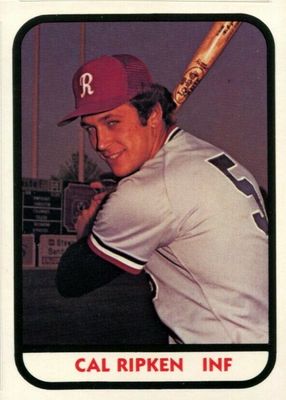 Like many players (and often forgotten), Before Cal Ripken Jr. graced the major card manufacturers' sets, he made an appearance in 1981 TCMA as a minor leaguer. This card, graded PSA 10, has seen a slight decrease in its value over the past 90 days. Initially priced at $1,025.00, it has dropped by 7.32%, settling at $950.00 with the last sale.
Despite the decrease, its allure remains intact for collectors. As one of the earliest cards featuring the "Iron Man," it holds a special place in the cardboard corners of the hearts of many collectors.
6. 1991 Topps Desert Shield #150 Base BGS 9.5 – Cal Ripken Jr.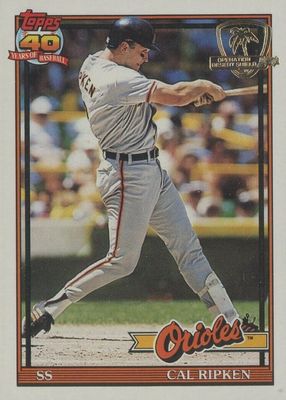 Switching gears a bit and fast-forwarding to a new decade, the 1991 Topps Desert Shield set is one of the most iconic in baseball card history. Amidst the heart of the junk wax era, this set stands out not just for its rarity but also for its historical significance. The Cal Ripken Jr. card from this set, graded BGS 9.5, last sold for $649.00.
For some background info, 1991 Topps Desert Shield set was produced in the backdrop of Operation Desert Shield, with each service member stationed in the Middle East receiving a pack. These packs, indistinguishable from regular Topps packs, contained cards that were identical to the 1991 Topps set, except for a gold foil stamp indicating "Operation Desert Shield." This stamp, featuring a palm tree and a flag, is the sole differentiator, making these cards highly sought after.
Interestingly, while almost 7,000 of each card were produced, the actual number that made it to collectors is much lower. Many service members, not being collectors, discarded them or didn't preserve them in mint condition. This rarity is further emphasized by the low PSA grading percentages, with only 18% of the cards achieving a PSA 10 grade, according to the video above.
7. 1985 Topps Tiffany #30 Base PSA 10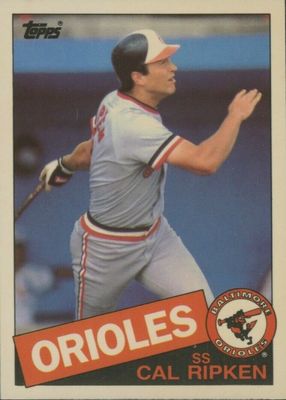 Venturing deeper into specialized card territory, the Cal Ripken Jr. from the 1985 Topps Tiffany set has seen a notable appreciation in its value over the past 90 days. Initially selling at at $264.00, it has risen to a current value of $331.36. With three sales during this period, this PSA 10 graded card remains a sought-after piece, reflecting its significance and the consistent demand among collectors.
The allure of the Topps Tiffany sets lies in their distinctiveness and rarity. Produced exclusively from 1984 to 1991, these cards were distributed in factory set form directly to dealers. Unlike their standard Topps counterparts, Tiffany cards boasted a glossy finish, achieved through printing on a pristine white stock. This unique touch, combined with their limited print runs during an era of mass production, has cemented their status as treasured collectibles in the baseball card community.
8. 2022 Topps #LHA-2 Home Field Advantage (SSP) Raw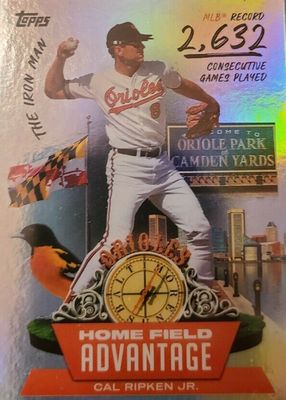 I'll add a special note here to say this card wasn't next on the list, but I'm including it here because it's new and different. That said, the 2022 Topps set introduced the familiar-felling Home Field Advantage, a fresh addition that immediately caught the attention of collectors for better or worse (more below). The Cal Ripken Jr. sold once in July 2023 and once in August 2023 for $300 and $299, respectively.
In a recent discussion by Big Al's Cards, the Home Field Advantage cards were compared to the iconic Panini Downtown cards. Both card types showcase players in an artistic style, highlighting their respective cities and unique characteristics.
While the Downtown cards have been around for several years, the Home Field Advantage cards were introduced in 2022, drawing immediate comparisons due to their similar design and concept.