Affiliate Disclosure: This post contains affiliate links. As I am part of the eBay Partner Network and other affiliate programs, if you follow these links and make a purchase, I will receive a commission. Likewise, as an Amazon Associate I earn from qualifying purchases.
It feels weird to be doing one of these rookie guides for a vintage card. That is, whenever I'm talking about Julio Rodriguez rookie cards or anyone from the modern (or sometimes even junk wax era), the bulk of the post is talking about all of the hundreds of different variations and parallels that today's card offers.
But with vintage cards, there wasn't much of that at all—Topps printed an annual set of "flagship." There wasn't Series 1, Update, Heritage, Archives, or Chrome; there were subsets, but no inserts.
Meaning, there was one Nolan Ryan rookie card (and it's among the best Nolan Ryan cards), and that's it. Right? Well, yes, but no. Believe it or not, the different Nolan Ryan Rookie Cards include:
1968 Topps #177
1968 O-Pee-Chee #177
1968 Topps Milton Bradley #177
1968 Topps Venezuelan #177
That's right, the 1968 Nolan Ryan rookie card had four versions: Topps, Milton Bradley, O-Pee-Chee, and Venezuelan Topps. The alternate versions are comparatively harder to come by, particularly the Venezuelan. Although all four Ryan rookie cards share a similar overall design, there are subtle distinctions.
1968 Topps Rookie Stars Nolan Ryan/Jerry Koosman #177
Starting with the classic "flagship" and true Nolan Ryan rookie card, the 1977 Topps #177, with Jerry Koosman. We've talked about the idea of a shared rookie card versus the traditional standalone, but it's worth mentioning again. I mean, can you imagine if the only Mike Trout rookie card we had was one with him and Mark Trumbo?
Besides that, this card is pure hobby perfection. I've been lucky enough to find one of these in a collection I purchased, and then stupid enough to sell it way too quickly. (In my defense, it was pretty beat up, but I should have treasured it for longer).
Read More: 1977 Topps Nolan Ryan Info
But that's how special this card is—a PSA 1 (the worst grade a card can get) will sell for a few hundred bucks on eBay.
1968 O-Pee-Chee Rookie Stars Nolan Ryan/Jerry Koosman #177
The 1968 O-Pee-Chee Nolan Ryan rookie remains today as one of the toughest cards from the 1960s to find in perfect (Mint) condition. Neither PSA nor SGC have graded one. Even those examples that have been graded NM-MT are extremely limited compared to the Topps. pic.twitter.com/recyM7W8q7

— BMW Sportscards (@BMWSportscards1) April 26, 2023
If you're familiar with sports cards, you've probably heard of the O-Pee-Chee name a bit here and there over the years. It's a company with a long history, but for the sake of our baseball card conversation, think of it as "Canadian Topps."
Now, over the years, Topps and O-Pee-Chee would establish an agreement to produce and market cards in Canada. For the collector, the differences between the cards were subtle, and it wasn't until Topps began putting the Topps logo on their cards that you could really tell the difference when looking at the front of the cards. (Mainly because the O-Pee-Chee versions would have the Topps logo replaced with the O-Pee-Chee logo.
In 1968 though, this was not the case, and looking at a 1968 Topps Nolan Ryan rookie card next to a 1968 O-Pee-Chee Nolan Ryan rookie card, you could hardly tell the difference. Even when you flip the card over, the back has all of the standard text (in English) and even has the "T.C.G" initials at the bottom of the card.
But if you keep looking, just to the right of the "T.C.G" you won't see the familiar "PRINTED IN U.S.A" but instead "PTD. IN CANADA."
In terms of rarity, there have been 135 total cards graded, with the highest grade being a PSA 8 (of which there are 13). Of the last few sold over the last year, around $3,500 seems to be the going price for a PSA 5.
1968 Topps Milton Bradley Nolan Ryan/Jerry Koosman #177
Nolan Ryan has 4 Rookie Cards!
Topps, O-Pee-Chee, Milton Bradley, and Venezuelan

Which one is displayed on this tweet? pic.twitter.com/rtY1s5x0FO

— Breakout Cards (@breakoutcards_) November 23, 2022
Don't worry, if you want more of a visual challenge, the 1968 Topps "Milton Bradley" Nolan Ryan rookie card might be the one for you.
Complete with all of the same features, design, and logos of the regular 1968 Topps version, the Milton Bradley Ryan rookie is said to have a brighter back of the card. Of course, "brighter" is a comparative adjective, which means if you don't have the cards next to each other, and say, only have the Milton Bradley on its own, it might be tough to tell which is which.
Beyond that, though, thanks to some great knowledge being shared via tweet, apparently if there is a smudge on the "T" of "Stars," it's a good (perfect?) indicator that the card is the Milton Bradley version.
Milton Bradley

Sometimes: White line (centering dependent)

Always: T-smudge pic.twitter.com/w2tOWTxuCX

— Waxing Nostalgic Cards (@WaxNostalgicInc) November 23, 2022
Looking at the PSA population reports, believe it or not, 458 copies have been graded—which is about 4x the amount of the O-Pee-Chee version. A PSA 4 sold for $1,200 in April 2023.
1968 Venezuela Topps Nolan Ryan/Jerry Koosman #177
Highest-Grade 1968 Topps Venezuelan Nolan Ryan Rookie Card Up for Auction https://t.co/8veFHe0UWk pic.twitter.com/MG7uddzTxc

— Ryan Cracknell (@tradercracks) August 9, 2018
So far we have covered the United States, Canada, and, well, baseball card games. Last, we will go down south to talk about Topps Venezuelan.
Jumping straight to the good stuff—look for the distinguishable "gray stock" and orange background, and even more obvious, the "Hecho en Venezulela – C. A. Litoven" on the bottom (of most 1968 cards).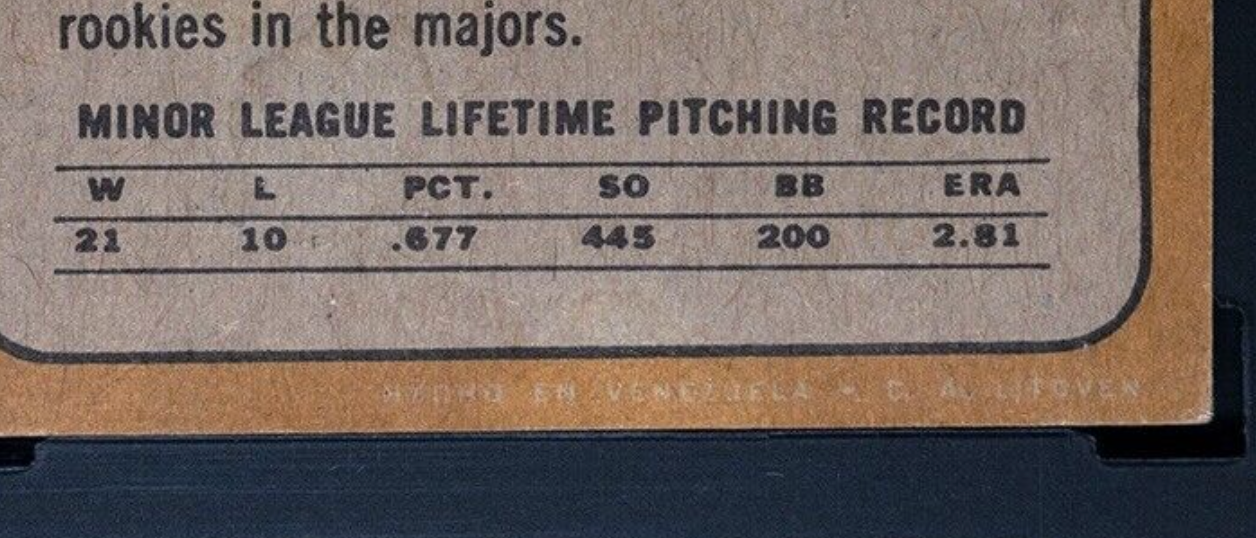 Of all of the Nolan Ryan rookie cards, the Venezuela Topps looks to be the most rare, with only 26 graded ever (with a PSA 5 being the highest grade). And to give you an idea of how this rarity translates to value…a ripped and torn SGC "Authentic" sold for $3,900.