Affiliate Disclosure: This post contains affiliate links. As I am part of the eBay Partner Network and other affiliate programs, if you follow these links and make a purchase, I will receive a commission. Likewise, as an Amazon Associate I earn from qualifying purchases.
Love him or hate him, Mark McGwire continues to have a huge presence in the baseball card hobby. As a name that is included in seemingly every Topps release and checklist (including the upcoming 2023 Topps Sterling Baseball), there is no denying that McGwire's cards are still very much in demand.
And this includes non-auto cards from years ago. For the sake of this list, that's exactly what we will be looking at—not only the 14 most valuable Mark McGwire cards, but those that are valuable for reasons other than being signed and autographed. In no particular order…
Before getting into the list, if you want a more recent snapshot, here are the top McGwire cards over the last 30 days, according to Market Movers: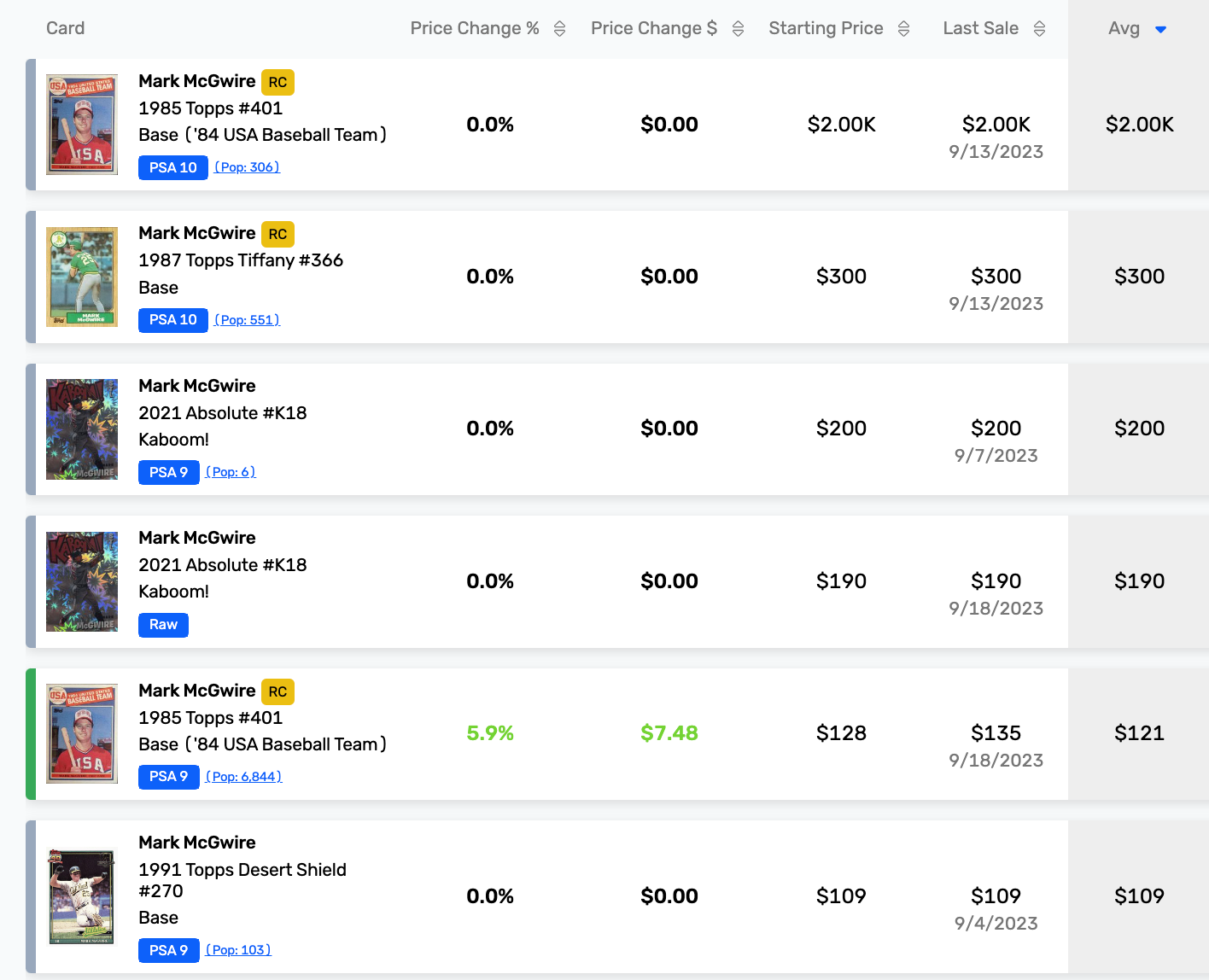 You'll see a lot of overlap between the cards above and below, with one notable difference being the 2021 Absolute Kaboom card in both PSA 9 and raw condition (averaging $200 and $190 sales prices, respectively).

Before he was slugging for the Oakland A's, Mark McGwire spent time in the minors like most major leaguers. However, McGwire's stint with the Modesto A's produced one of the bopper's most coveted cards—but not for its beauty (or accuracy).
This 1985 Chong Modesto A's card spells McGwire's name as "McGuire" and because of the error, has become quite coveted across the hobby. As you can see here, a PSA 10 copy sold in April of 2023 for over $700. (That said, this card has also been counterfeited a number of times, so proceed with caution.)

In the early 1990s, a variation version of the 1991 Topps Baseball set called 1991 Topps Desert Shield Baseball emerged, and has become one of the most valuable sets of the junk wax era. Approximately 6,500 to 7,000 sets were made and given out to troops involved in the first Gulf War, and thus the set gained popularity due to its history, rarity, and a few standout cards.
As you can imagine, cards are not easy to find in great condition, as many were discarded or mishandled during their journey. One card that stands out is the sliding Mark McGwire card (#270), with 1991 Topps being a sneaky good one from a photography perspective (especially at a time when Stadium Club was bursting onto the scene.
As was the case with the Chong card mentioned above, collectors after this card should exercise caution, as the market for these cards has also attracted counterfeiters.

If you haven't yet, let me welcome you into the mesmerizing world of the 1993 Finest baseball card set, where a hidden gem awaits those with a keen eye. That is, if you're lucky enough to possess a 1993 Finest Mark McGwire in good condition, there's a chance it might be the elusive refractor, elevating its value to astronomical heights. But how can you distinguish the 1993 Finest refractor from its common counterparts?
To unravel the mystery, simply hold the card under direct light and tilt it at an angle. As beams of light dance upon its surface, you'll witness a captivating display of vivid hues and a breathtaking rainbow effect. (In comparison, the base card reflects light with a single, uniform tone, lacking the vibrant allure of its refractor sibling.)
To comprehend their allure, we must travel back to 1993, the dawn of Topps' "chrome" or "chromium" releases. It marked the inaugural year of the refractor, a groundbreaking innovation that would shape the future of collectible cards. Refractors were a rarity, with just two tantalizing specimens concealed within each box.

Totally Certified was a different card offering at the time given that it was a three-card pack, which contained two Platinum Red cards (/3999) and one Platinum Blue (/1999). So, all cards were numbered. But then on top of that, you had a chance of pulling a Platinum Gold parallel which was /30, and far more valuable.
For example, a PSA 10 McGwire red sold for just over $30 in May 2023, while the true sales price of this gold was $600 (as a PSA 9).

The concept of a rookie card always sparks an intriguing debate among collectors today. So, while the 1985 Topps Mark McGwire may seem like a regular-issue and thus an RC, there's an interesting twist. Mark McGwire's Major League Baseball debut didn't occur until August 1986.
Anyway, despite differing opinions, many collectors unanimously recognize it as such, especially when compared to McGwire's 1987 woodgrain Topps. In fact, this card holds historical significance, making it a gem within the entire hobby given that it marked the introduction of Team USA in a Topps release.

If you're new to the hobby, I recommend you get to know the Essential Credentials' name. Across baseball, basketball, and football, Essential Credentials carry good value, and typically stand out as some of the most coveted cards for each sport.
They are shiny, acetate, and low-numbered—what's not to love! This 1998 "Future" McGwire is /90, and even in what isn't considered a top grade in a BGS 8.5, still sold for over $1,400.

And since we are talking coveted 90s inserts that make up some of the best cards ever created, we might as well dive into Precious Metal Gems (PMGs). You might have recently heard "PMG" come up in basketball talk thanks to a record-breaking 1997-98 Metal Universe Precious Metal Gems Emerald Kobe Bryant, and while this McGwire doesn't come close to Mamba's value, $4,200 is nothing to sneeze at.
One difference between this card and the others on this list is that it wasn't graded when sold. What would a PSA grade and authentication mean? For context, a Derek Jeter of this same card recently sold for over $11K…as a PSA 5!

Not much to say here given we covered 1993 Finest up above, only this card is a PSA 10 and the other was a PSA 9. I will say, I'm actually a little surprised this one didn't sell for more. For reference, the Ken Griffey Jr. of this card sold as a PSA 10 for over $18K!

Another "precious metal" though this one is a bit different than the PMG mentioned earlier. Still cool though, as the name references the fact that each card is printed with one-half ounce of silver, gold, or platinum that is embedded into the card. As you can see here, McGwire is gold (Griffey is platinum).

Is it wrong that out of all the shine and sparkle of a lot of cards on this list, that this cartoon card just might be my favorite? I'll answer my own question and say "Not at all." I think anyone who was born in the early 1980s would agree with me, too.
Linking McGwire back to his 1985 Topps USA card, this 1991 Fleep Pro Visions card can actually be had for $1 if you wanted. That said, the black border is a killer for grading, which makes the $676 price tag on this PSA 10 a little more digestible. I mean, the population of a PSA 10 McGwire is only 10.
11. 1997 Finest Embossed Gold PSA 9

While modern collectors today might get fed up with all of the different terms one card can take on, like sonic boom lava logofractor, etc., it's always been that way! I mean, here we have an embossed, rare gold refractor.
And no, these aren't just keywords the seller is trying to stuff into their listing title to make it more appealing. Embossed refractors are officially part of the 1997 Finest checklist, and if you flip the card over, you'll see the "rare" designation.
12. 1998 Leaf Fractal Axis Die Cut /20

Ok, I told you my favorite card on the list, and now it's time for my least favorite. And, I understand that as a card expert tasked with informing without bias, it's tough when you see all of these amazing A's cards, only to come across Big Mac in a Cardinals uniform.
But anyway, beyond the threads, these 1998 "fractal" cards have always confused me, so I'm going. to turn it over to baseballcardpedia.com to explain this one.
"Each Fractal Materials parallel is also available as a die-cut (similar to the Fractal Matrix set in the base 1998 Leaf set). For the X-Axis designation, the first 200 serial-numbered copies of each card (regardless of material) were die-cut, the first 100 of each Y-Axis were die-cut, and the first 50 copies of each Z-Axis Fractal Material cards are die-cut. Given the four materials (plastic, leather, nylon, wood) and the three die-cut patterns (X, Y, and Z) there are 12 Fractal Materials distinctions."
That's but a glimpse of how involved this set can be.
13. 1998 Donruss Preferred Precious Metals Gold /50

Again, if this post is going to teach you anything, it's that "precious metal" and "essential credentials" cards can be valuable. So, while we already highlighted the 1997 Donruss Preferred version, here is 1998. The difference here is that this is a PSA 10 limited to a /50 print run while the 1997 gold was /100. (And again, Griffey Jr.'s card in 1998 was of the platinum variety.)
14. 2000 Skybox Essential Credentials Future /48

As I was saying…but let me also use this as a good spot to remind you that when you see the price crossed off like this in a sold eBay listing, that means the card was actually sold for a different amount than what is being shown.
So, you have two options. One, go back to eBay and search "mcgwire 2000 skybox essential credentials future." When you do, you'll the option for the "eBay Price Guide" pop-up. Click that option and scroll down until you find this same card.

So, the card actually sold for "only" $350. But as a buyer or seller looking to comp your own card or one you want to buy, this is important info. (The other option is to go to 130 Point and perform the same search, where you should find the same info.)
And with that, I'll bring this to a close. Thoughts, comments, or questions? Don't hesitate to be in touch.