Affiliate Disclosure: This post contains affiliate links. As I am part of the eBay Partner Network and other affiliate programs, if you follow these links and make a purchase, I will receive a commission. Likewise, as an Amazon Associate I earn from qualifying purchases.
The most valuable Michael Jordan Upper Deck cards over the last 90 days include:
According to average sales price from Market Movers data over the last 90 days.
The funny thing about Jordan cards, is, if you wanted to just put together a list of the most valuable cards overall, you might not ever stop writing. Thus, it's almost necessary to break things down by brand, and even that's still difficult.
All in all, as you can see from the list above and the summaries below, if you have a Jordan hologram or an Electric Court parallel, check and see if those cards are worth grading. From the 11 cards listed, two are hologram cards (what Upper Deck was known for early on) and three are Electric Court.
In terms of how I put the list together, I'm using Market Movers and looking back 90 days. If a card was listed twice on the list, I'm only including it once. Meaning, while a PSA 10 might be listed as the most valuable, the BGS 9.5 of that card might be nearly as valuable. But, to not clog things up, I'm only including the most valuable of that card, so the PSA 10 in this example.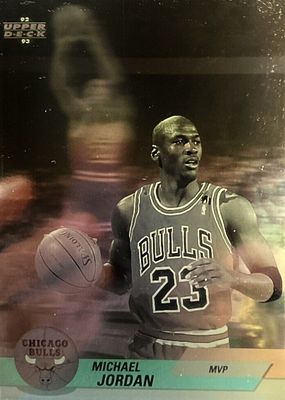 Holograms are cool, but what if there was a way to get them to display so clearly all the time, and not just in the right light? I guess like having a refractor shine non-stop. Anyway, this PSA 10 Jordan last sold in early September 2023 for $1.5K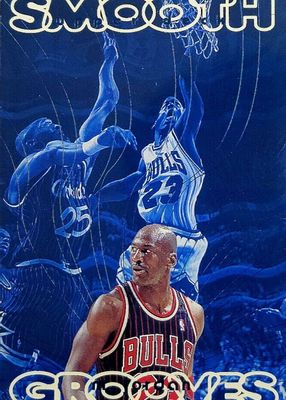 As mentioned above, certain card companies are known for certain things. Upper Deck? They were the hologram card company, while also being the first to introduce pack-inserted autos and relic cards. So, an innovator for sure. But when it comes to inserts, you won't find many that can stack up against Fleer, Ultra Fleer, and others.
All that said, here is a 1996 Upper Deck Smooth Grooves, selling in June 2023 as a PSA 10 for $1.25K.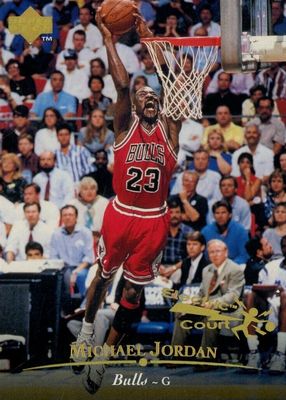 Alas, our first Electric Court! If you aren't familiar, Electric Court is essentially the same card as the base version, but with the Electric Court stamping. According to this Blowout Forums thread, Electric Court parallels fell one per pack while Electric Court golds fell one per box!
If that doesn't say enough about its rarity and value, the card last sold for $787…as a PSA 8!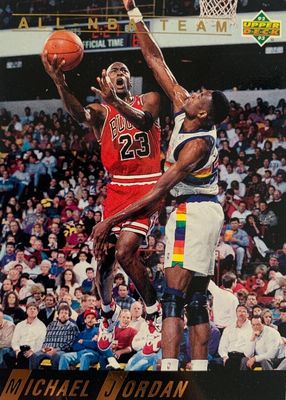 I'll be honest—I've never seen this card before…and perhaps many people haven't either? At a pop 10 for a PSA 9, the card at least in good condition seems extremely rare. Trading Card Database notes that these were "inserted one per Low Series Locker pack."
The last one sold in August 2023 for $710.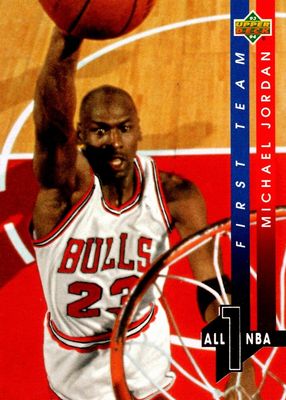 Do you know what makes rare Barry Sanders cards cool, or the most valuable Ken Griffey Jr. cards fun to look at? The fact that you can just feel the pose Sanders is striking must be a touchdown run, or the swing Griffey is getting into or finishing up resulted in a home run.
And that's why I love this card—Jordan where is supposed to be…in the air and up near the rim.
This 1993 Upper Deck All-NBA as a PSA 10 sold for $480 in August of 2023.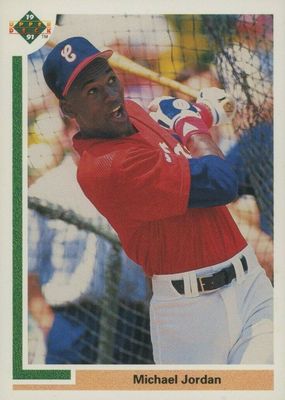 Ah yes, Jordan in a White Sox uniform and on the diamond. While this baseball card wasn't from Jordan's hiatus from the orange ball to the much smaller white one, it's still a collector's dream. This is one of Upper Deck's most valuable baseball cards, but had to put it on the list. Not a rare PSA 10 by any means, accumulating 57 sales over the last 90 days, but still quite valuable, averaging $385.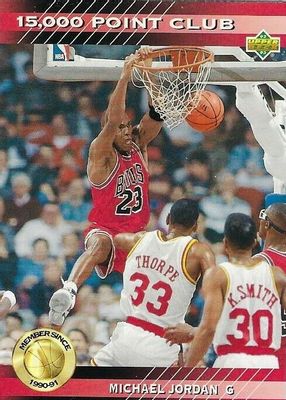 Again, what more could you ask for from a basketball photo (well, stay tuned for the next entry). But for now, a two-handed slam as Kenny Smith looks on, with a card commemorating Jordan joining the 15K point club is quite the combo. A PSA 10 has sold three times over the last 90 days at an average of $350.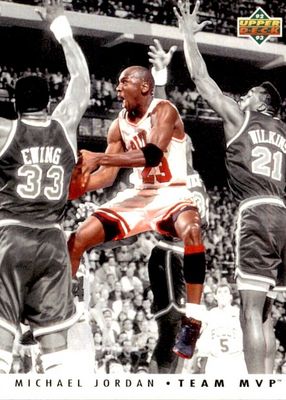 Hands down my favorite card on the list. As if it wasn't easy enough for Jordan to stand out from the crowd, having him illuminated as he performs an up and under against long-time rival and fellow Hall of Famer Patrick Ewing, is an all-time spotlighting.
This card is part of the 1995 Upper Deck Team MVPs set, and has sold for over $300 on average of two sales over the last 90 days.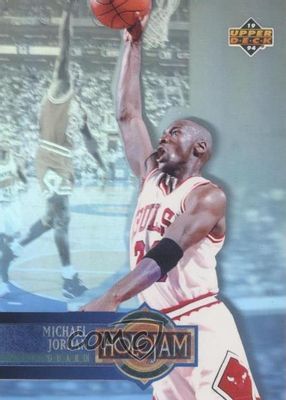 If playing by the rules, this card actually wasn't next on the list. But, since the next two don't really stand out as being anything new or different from what we've talked about already, I'm making the executive decision to jump right to the goods. 
(Though, those cards are here if you wanted a glance. The left is 1995 Upper Deck Rookie Years Electric Court PSA 10 and the right is also from 1995 Upper Deck, but card #335 "Images of '95" Electric Court Gold, BGS 9.)
So, in the spirit of ending with a bang, this card is half hologram half amazing, complete with two different jams—one as a photo and one as a hologram in the background. The PSA 9 of this card has only sold once over the last 90 days, and that was for $250.