Affiliate Disclosure: This post contains affiliate links to eBay, Amazon, and other platforms within the content, sidebar ads, and in other areas. As I am part of the eBay Partner Network and other affiliate programs, if you follow these links and make a purchase, I will receive a commission. Likewise, as an Amazon Associate I earn from qualifying purchases.
Believe it or not, there was a time when hologram technology was the thing with baseball cards (not too long after Sportflix, and 3D motion cards, probably). But yet, after all of these years, and the introduction of superfractors, jersey cards, and more, here we are, still talking about holograms.
Point being, who doesn't love them? And for new and young collectors, they are for the first time experiencing all of the joy many of us going to experience years ago.
So, let's take a look at a few of the earliest, best, and most talked about hologram baseball cards out there just waiting to be ripped and collected.
1994 SP Holoview FX
If memory serves me correctly, these were the first "hot" hologram to chase, and the die cuts even hotter. Something I recently learned, though, is that there are error issues from this set where the player pictured in the hologram differs from the player featured on the card. For example (and while not knowing exactly what combinations there might be) you could have a Jose Canseco card but with a no Vaughn hologram. 
In terms of value, the "blue" Holoview FX cards are more common and thus less valuable than their "red" Special FX counterparts (which are also die cut). And with that "face" error, it doesn't look like they are much of a chase, as a Mattingly card with a Delgado hologram recently sold for $10 as a BGS 10. This is in comparison to a $40 raw "red" (and a base "blue" which can be had for around $1 or so).
1991 Upper Deck Heroes of Baseball
For the longest time I thought this was a Dennys issue hologram (definitely more to come on those) but it turns out even a ballcard genius can be wrong at times. It's on the list as one of the earlier holograms, but I wouldn't say it's the most exciting. Sure it's hank Aaron, but just Hank Aaron, and an older hank Aaron with a hologram that doesn't feature much action. Value reflects how basic this card is (not to mention the quantity available) with it being available for around $1.
1991 Upper Deck Denny's Grand Slam Hologram Cards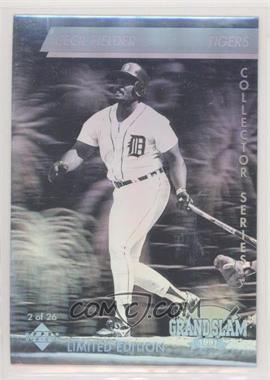 Here we are, basically the king of the hologram card given that everyone seemed to have one of these in their collection. And while the background fireworks make these hologram cards cool for most people, my favorite part is the checklist. Brook Jacoby, Kelly Gruber, Alvin Davis—these just aren't names you see on a lot of special or subset cards.
Now, devil's advocate can say, yeah it's great to have variety, but shouldn't a set be true to its name? As in, while Alvin Davis did have in face have nine career grand slams, Jacoby and Gruber only had two each. I'm not sure Ricky Jordan – another name on the list – even had more than one, if one at all.
Update: What's interesting is I was reading about this set on Baseball Cardpedia and it mentions: "1991 Denny's Grand Slam Hologram baseball card set was produced by Upper Deck. The 26-card set contains one player from each Major League team, who was selected on the basis of the number and circumstances of his grand slam home runs."
So, maybe each player isn't a "grand slam hitter" but the best option on their team?
Anyway, these Grand Slam holograms were a mainstay for much of the decade and represent some of the best cards of the 90s, with the design differing each year, and 1995 being my personal favorite given it included a standard photo of the player as well.
1993 Upper Deck Diamond Gallery
When I've heard people talk about the reasons they don't like hologram baseball cards, it's because they don't look or feel like traditional baseball cards. Well, on one hand, duh. But secondly, while that is the point, I do see the angle these people are taking, and, that while yes, the card aren't traditional cards, the lack of traditional elements is tough to look past.
So, when you look at the 1993 Upper Deck Diamond Gallery cards pictured above, it's the incorporation of these more traditional elements, like photos, name panels, team names, etc. that make them appealing. Not to mention that they also include action player holograms with jersey numbers behind each.
The one drawback, though, is that these cards come from a 36-card boxed set, where if you're like me, I'd rather chase a set with a smaller checklist and inserted into packs versus one packaged tidily into a complete set.
1994 Upper Deck Collector's Choice Home Run All-Stars
For all of the reasons why you might enjoy the set mentioned above, you might enjoy this one even more. One, it's pack-inserted and a much smaller checklist—featuring Ken Griffey Jr., Barry Bonds, and others. Second, the design has a lot of the same elements, but the brick framing, home run derby swings and shots, and facsimile silver and gold parallels takes things to a new level.
1994 Wendy's Roberto Clemente Hologram Card
I'm all for "odd ball" card releases and actually enjoy seeing different issues and offerings; the odder the better, and not to mention from regional products and companies I've never even heard of. But in this case, it's almost like Denny's owns the hologram card given their natural "grand slam" baseball tie in and the fact they did it first on the large scale.
So, with cards like this, sure they are cool and all, but they just don't live up to what collectors have already seen and collected from Denny's. What I do like, though, is the the actual hologram carries out an action sequence (a swing) rather than just a pretty picture. Plus, it's Roberto Clemente. Also, cool.
Upper Deck Comic Ball Holograms
A few years before the 1996 film that saw Michael Jordan balling it up with the Looney Tunes squad, it was Nolan Ryan, Ken Griffey Jr., and featured with Bugs and others, but only on their very own baseball cards. While most of the cards from each set were your standard Upper Deck stock with zany combinations of cartoon characters and baseball players, each set had holograms as well.
In 1990 these Comic Ball holograms featured the cartoons themselves on the diamond, but in 1991 we were treated with Nolan Ryan and Reggie Jackson interacting with the famous animated characters, and again in 1991 with Jim Abbott, Ken Griffey Jr., and others.
Other Cards
In addition to all the above, there are a handful of other hologram cards to keep an eye out for. I'll keep adding more and more here as I come across them, but for now: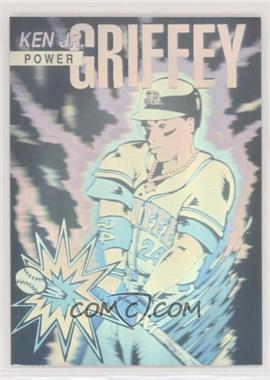 1992 Holoprism (Knoblauch & Bagwell)
With all of that said, special shout out to all of those hologram stickers found in older packs of Upper Deck as well. While they aren't official entrants on this list, our most valuable Upper Deck cards, or probably any other list I put together soon, they're still fun enough to at least mention. For me personally, it's the only thing that gets my oldest to want to open a pack of sports cards. So, until he is hunting rare Barry Sanders cards or cool 90s inserts, I'll take it.